The beautiful beach town of Manzanita offers a variety of fantastic restaurants to satisfy any palate. Enjoy dinner for two at a romantic bistro, pop into a coffee shop for a morning latte and scone on the way to the beach, or relax in the evening with a glass of pinot noir at a local winery.
We all know how tiring it can be to cook a meal every night of the week. If you don't feel like doing a pile of dishes while you're visiting the Oregon Coast, you're in luck!
Whatever you're craving, these Manzanita restaurants will have you coming back for more! Here are some of AvantStay's favorites.
A Local's Guide to the Best Dining in Manzanita
The Pacific Northwest dining culture is truly a foodie's playground. Throughout our region, you'll find creative chefs using the excellent local ingredients we have available here, with bountiful farm-to-table options to choose from. Many of the restaurants in Manzanita and other small beach towns along the Oregon Coast support this culture. In fact, did you know that there are practically no chain restaurants in Manzanita?
With such a wide variety of excellent options to choose from, we know it can be difficult to decide where to dig in first. To help you make the most of your visit, we asked some of our local team members for their tips on the best new restaurants in Manzanita. Check out their recommendations below!
Salmonberry Saloon
If you're looking for dining with a view, head to Salmonberry Saloon. While technically not in Manzanita, it's worth the 10 minute drive to Wheeler to enjoy the beautiful setting. When you visit Salmonberry Saloon, you'll find outdoor seating on the deck that overlooks the water and, if you prefer indoor seating, a view from every table! It's the perfect place to go to watch the activity in the bay like kayaks, paddleboarders, and fishing and crabbing boats going out to sea. Salmonberry Saloon offers a full bar with happy hour and appetizer menu. You'll also find a lot of seafood options. Best of all, Salmonberry Saloon sources their ingredients locally and buys all produce, fish, and wine from local producers.
Yolk
Located in the famed Blackbird location on Laneda Avenue that sadly closed down in recent years, Yolk has ushered in something new to the Manzanita breakfast scene. Perfect for a casual breakfast or lunch, Yolk offers excellent service, a friendly atmosphere, and a laidback setting. When you visit, you'll have your choice of seating. For a quick trip before heading off to explore, sit at the convenient counter. Or, if you'd like to stay and linger over a cup of coffee, you may also sit down at a table.
When you visit, we recommend the egg scramble with fresh veggies and cheese. It is excellent and comes with a choice of housemade potatoes or salad greens. And, you won't want to leave without trying a sweet treat. Yolk makes their own breads, muffins, pastries! In addition to their breakfast offerings, Yolk also has a lunch menu and is open until 2 pm.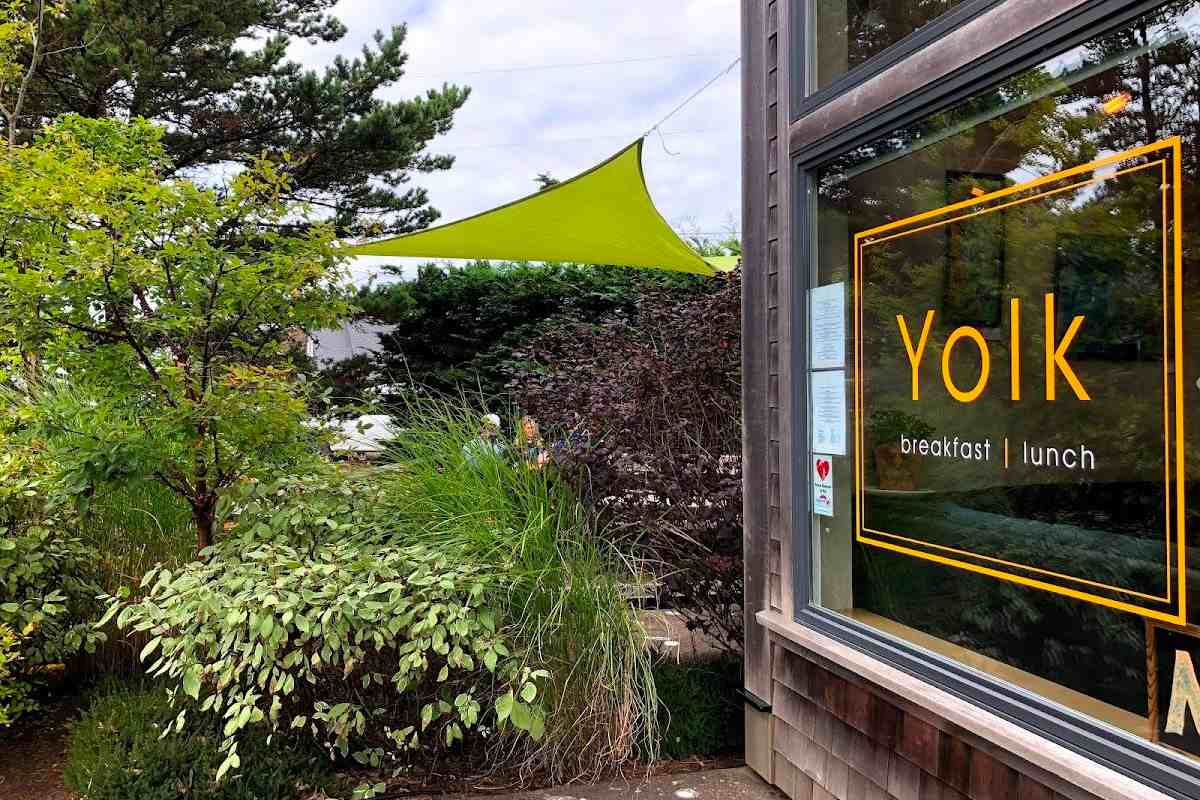 Bread and Ocean
Bread and Ocean is another great staple of Manzanita dining. Traditionally, it's best known as a bakery and deli that offers lunch options like salads, sandwiches, baked goods, and desserts. But, now it is offering something new! Bread and Ocean is also open on Friday and Saturday nights for dinner, serving freshly made comfort food. Yum!
In addition, Bread and Ocean recently expanded their seating options, so there's more room to bring your whole crew. As in the past, Bread and Ocean is still a delicious and fresh deli counter for breakfast and lunch orders. You'll find to-die-for fresh bread made onsite. Insider tip – fresh gluten-free bread and treats are available, too.
When you visit, know that it can be a long wait to order and it may take a while to get your food. So, come when you aren't rushed and can enjoy a leisurely experience and a bit of people watching. Perfect for a lazy vacationer's day!
Left Coast Siesta
In the mood for Mexican? Look no further than Left Coast Siesta. The relaxed atmosphere, large portions, and one-of-a-kind hot sauce bar make this place one of the best Manzanita restaurants. Enjoy a gourmet twist on Mexican comfort food like burritos, enchiladas, quesadillas, and tacos. Or, kick back and munch on chips with salsa and guacamole. Left Coast Siesta is open every day of the week except Monday.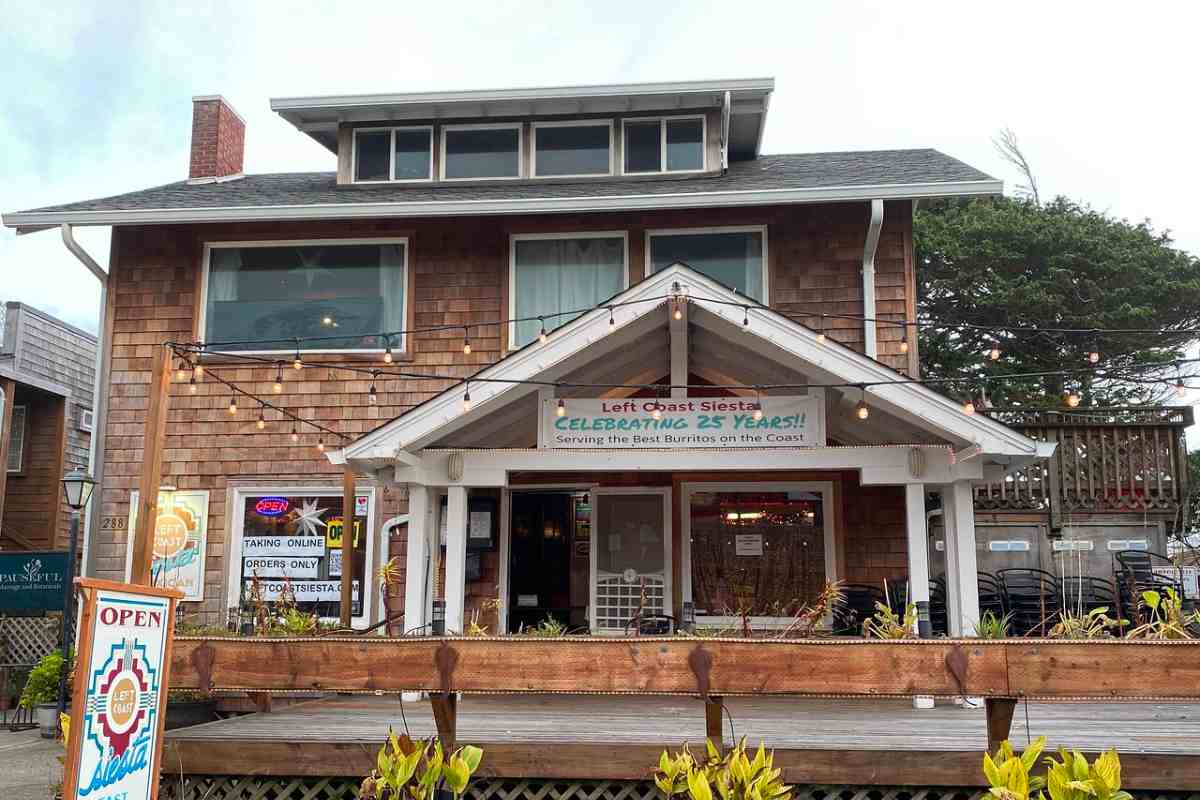 The Mighty Thai
Get your Thai food fix at this authentic spot tucked away in an inconspicuous location on the outskirts of Manzanita. Enjoy traditional Thai offerings including pad Thai, pad basil, three varieties of curry, and even some Vietnamese options like the Mighty Pho. Vegetarians will love the veggie-forward menu including pad spicy eggplant and avocado fried rice.
Neah-Kah-Nie Bistro
Perfect for date night, Neah-Kah-Nie Bistro offers a romantic atmosphere that makes dinner on the Coast even more special. The Bistro menu features everything from appetizers and small plates to rotating dinner specials. If available, order the fresh Cajun-spiced Dover Sole with creamy goat cheese polenta and Oregon Bay shrimp. It's absolutely delicious!
Insider tip: if you're planning to visit this popular Manzanita restaurant, we recommend making reservations in advance.
San Dune Pub
Recently named one of the top 10 best bars outside of Portland by Thrillist, this bare-bones pub doesn't rely on overstated decor or complex cocktails. Order one of their 17 beers on draft and get cozy around the stone fireplaces while listening to some of Oregon's best live music. Sports fans can enjoy their favorite game on one of the five big-screen TVs, or check out the charming back patio. Offering an eclectic food menu, San Dune Pub is famous for their Tuesday night baby back rib special. You can also try the smoked salmon chowder or the oyster burger for a delicious taste of something different.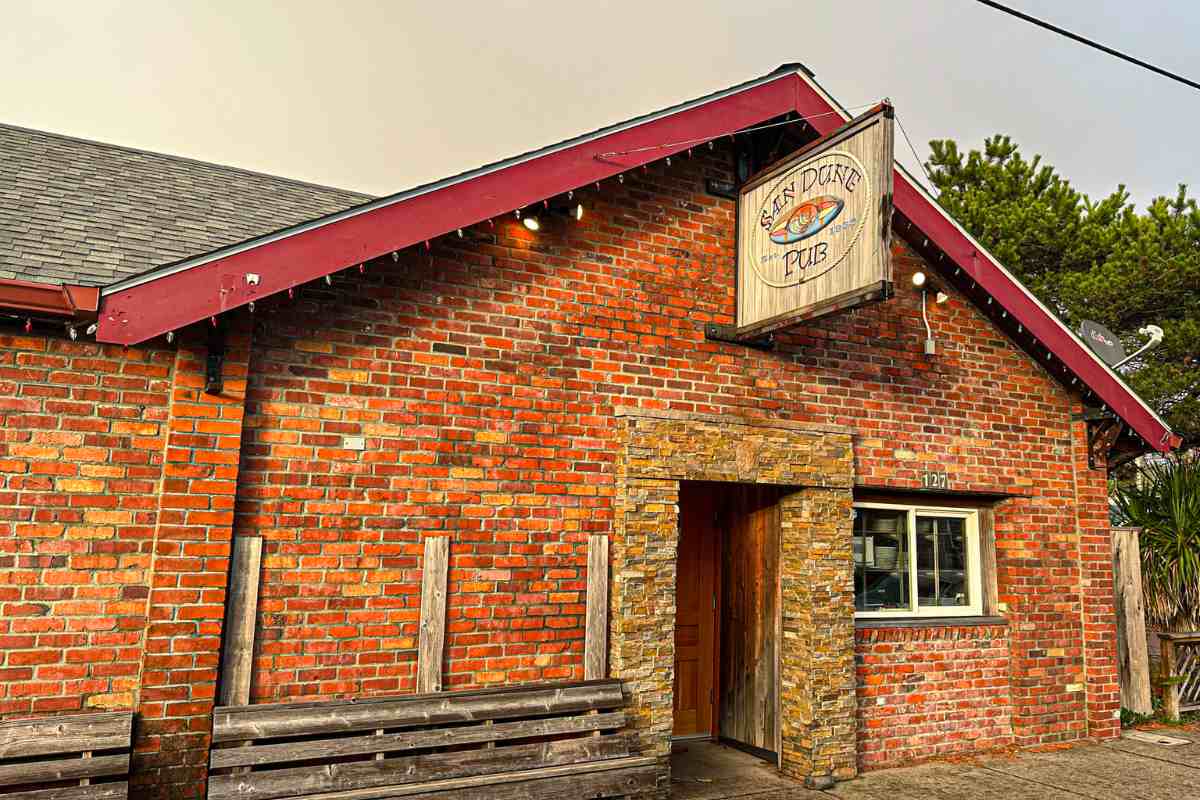 The Winery at Manzanita
Spend your evening sipping a locally-made wine in the romantic courtyard of this newly established winery. The Winery at Manzanita offers a fantastic ambiance and it's a great place to sit outside and sip a glass of wine. At the Winery at Manzanita, guests are encouraged to roast s'mores over outdoor fire pits or enjoy turkey and avocado sandwiches, yam and kale wraps, and grass-fed burgers for dinner. (If the weather is less than ideal, try different wine varietals in the cedar-shingled tasting room.) Stop by in the morning to take in the ocean view from the second-floor patio over an Oregon-roasted cup of coffee and a pastry or breakfast sandwich.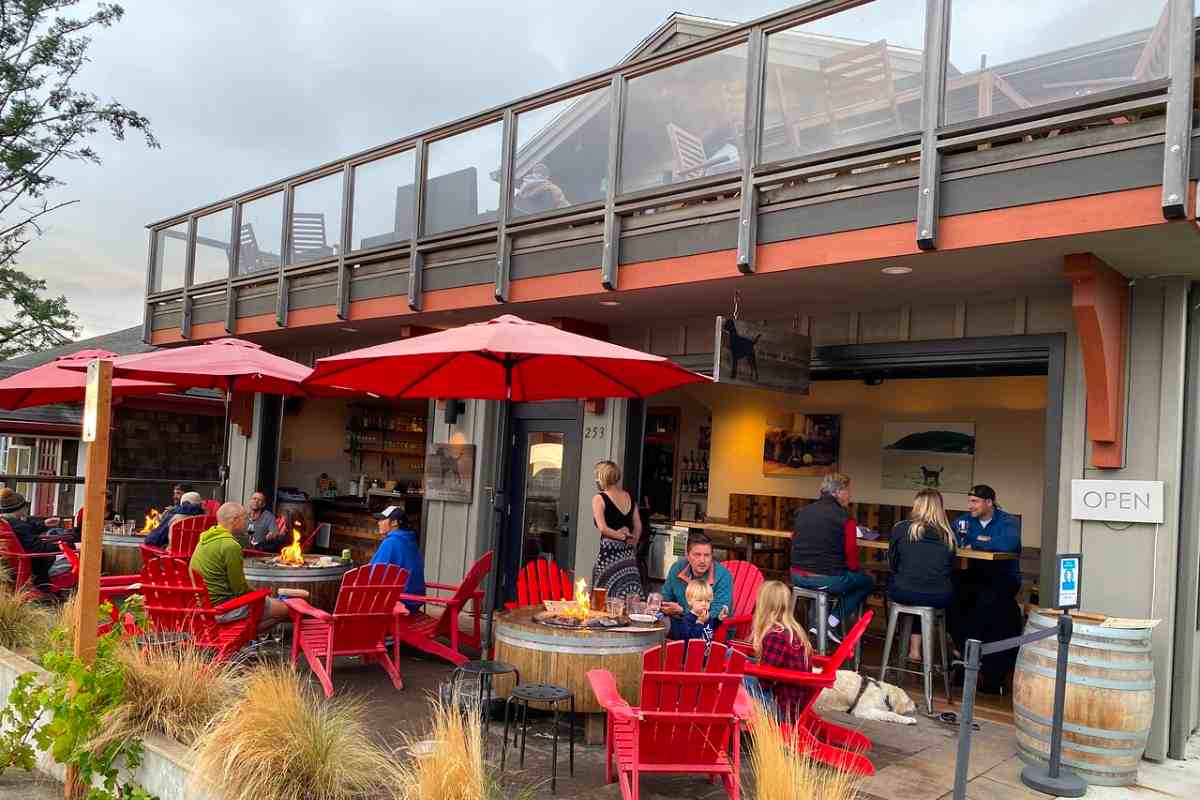 MacGregors Whiskey Bar
Located just three blocks from the beach, MacGregor's Whiskey Bar offers an exceptional selection of whiskeys from around the world and an incredible food and cocktail menu to match! Highlights include the charcuterie boards, of which they have five, and their delicious desserts. MacGregor's offers outdoor seating with a fire pit, and they are open a bit later than most restaurants in town. It's the perfect place to visit for a late-night drink!
Searching for Local Goods to Use in Cooking at Home?
Our area is also rich with options for locally sourced produce, meats, and more. If you'd like to cook a fresh meal at home, or in one of our Oregon Coast vacation rentals during your Manzanita vacation, consider visiting The Little Apple Grocery and Deli or the Summer Farmer's Market on Friday nights, 5-8 pm. Both places offer great local coastal products, food, and a true taste of the Oregon Coast.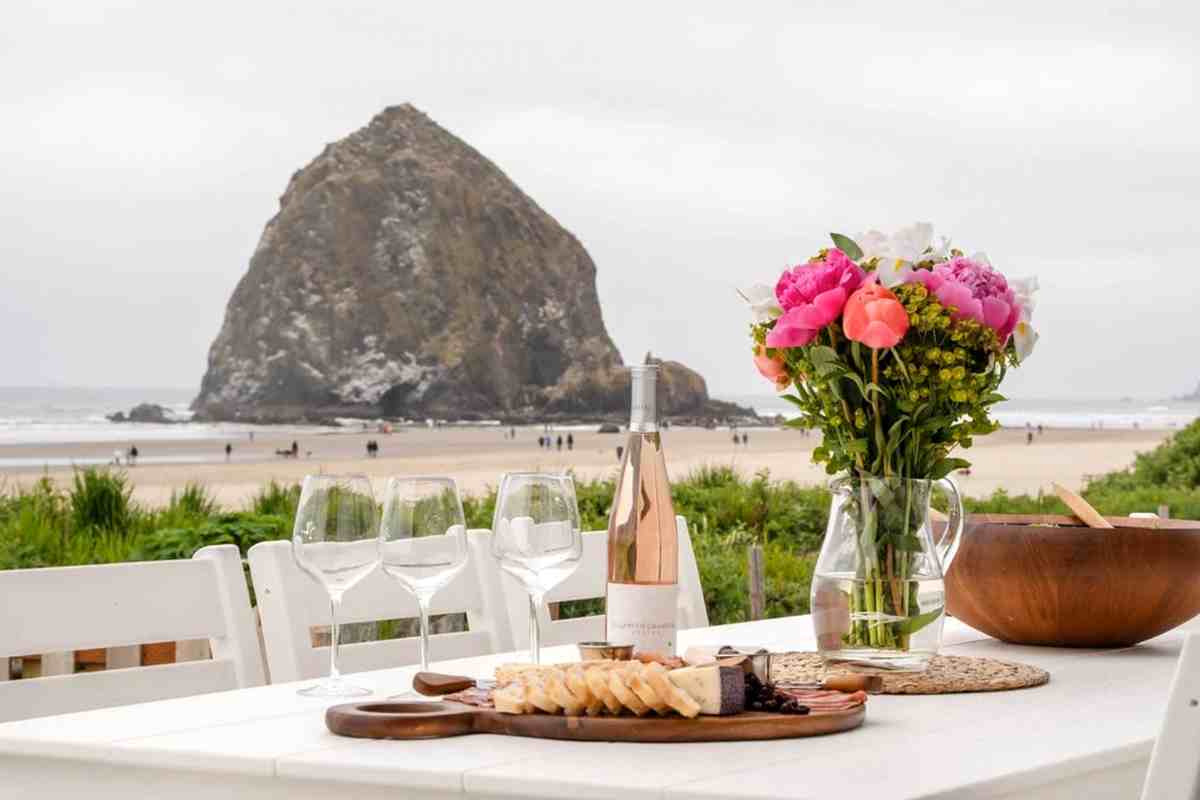 Experience the Best of Oregon Coast Dining and Stay with AvantStay
If you're searching for a secluded hideaway on the Oregon Coast, our Manzanita vacation rentals have just what you need. You can spend the day indulging, then return to a peaceful home-away-from-home with all the amenities you're used to. Comfortable bedrooms, spacious living areas, and spectacular views are just some of the things you'll enjoy during your stay. We look forward to having you!