Located in Broward County in South Florida, Fort Lauderdale is a popular tourist destination known for its beaches, arts and culture scene, and an array of activities. The city is situated on the Atlantic coast and has many canals and waterways, giving it the nickname "Venice of America."
Fort Lauderdale is also home to Port Everglades, one of the busiest cruise ports in the world. The subtropical climate, geographical location, and ample sunshine make it a perfect place to enjoy the outdoors and take part in swimming, sunbathing, paddle boarding, sailing, and fishing.
So, if you're looking to make Fort Lauderdale your next vacation destination, what beach will you make your home away from home? Whether you're a first-time visitor or a longtime local, here's our guide to the best Fort Lauderdale beaches to explore along Florida's majestic coastline.
Deerfield Beach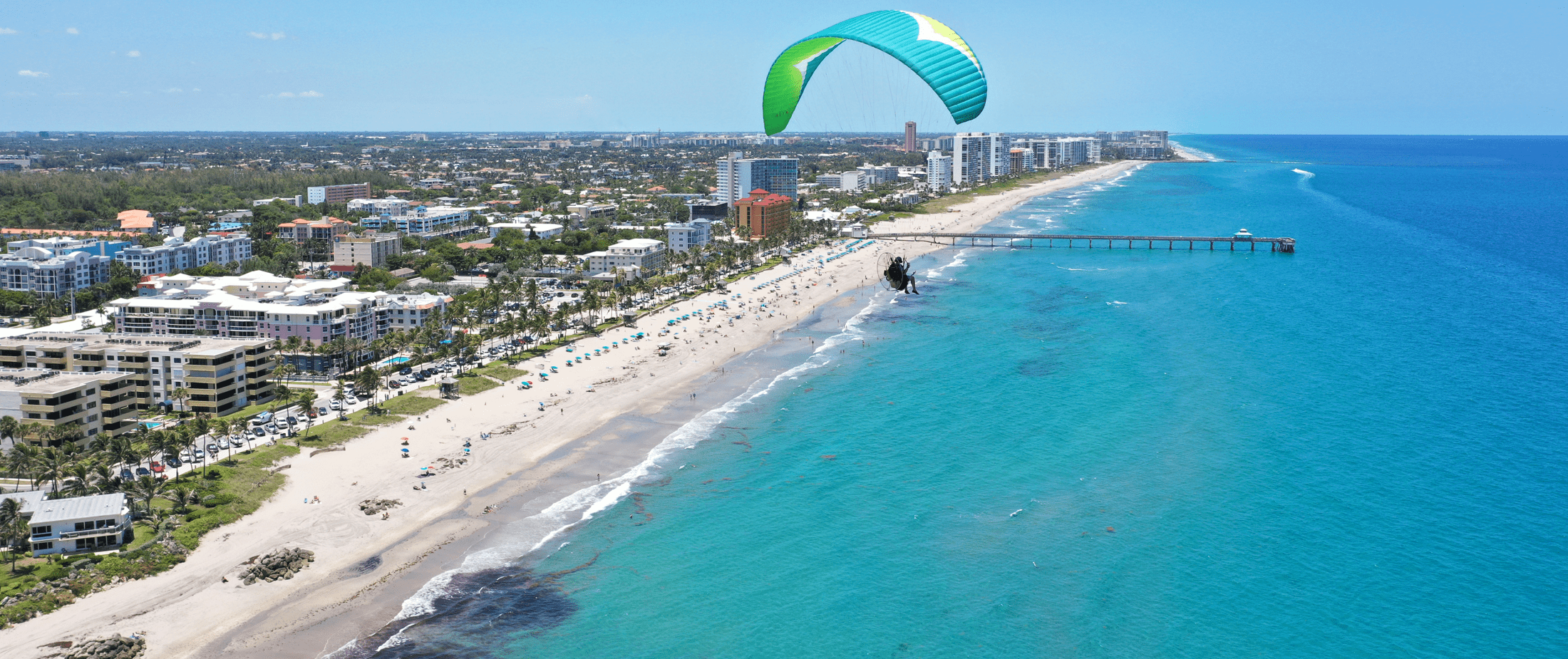 Few places can boast the natural beauty of Deerfield Beach. Located in Ft. Lauderdale, Deerfield Beach's clear blue waters and soft white sand make it a perfect place to relax and enjoy the incredible views of the Atlantic ocean.
The beach is ideal for staying busy, with activities ranging from swimming and sunbathing to fishing and kayaking. Many charter companies lie within proximity of the beach, too, if you want to spend a day fishing or exploring the deeper depths. In addition to the many activities available here, the beach is in immaculate condition and well-maintained, with trash cans and showers always available.
Deerfield Beach is near many other attractions in Ft. Lauderdale, such as Las Olas Boulevard and Intracoastal Waterway, and many restaurants, bars, and shops. Ultimately, there's a little something for every type of beach-goer at Deerfield.
Hollywood Beach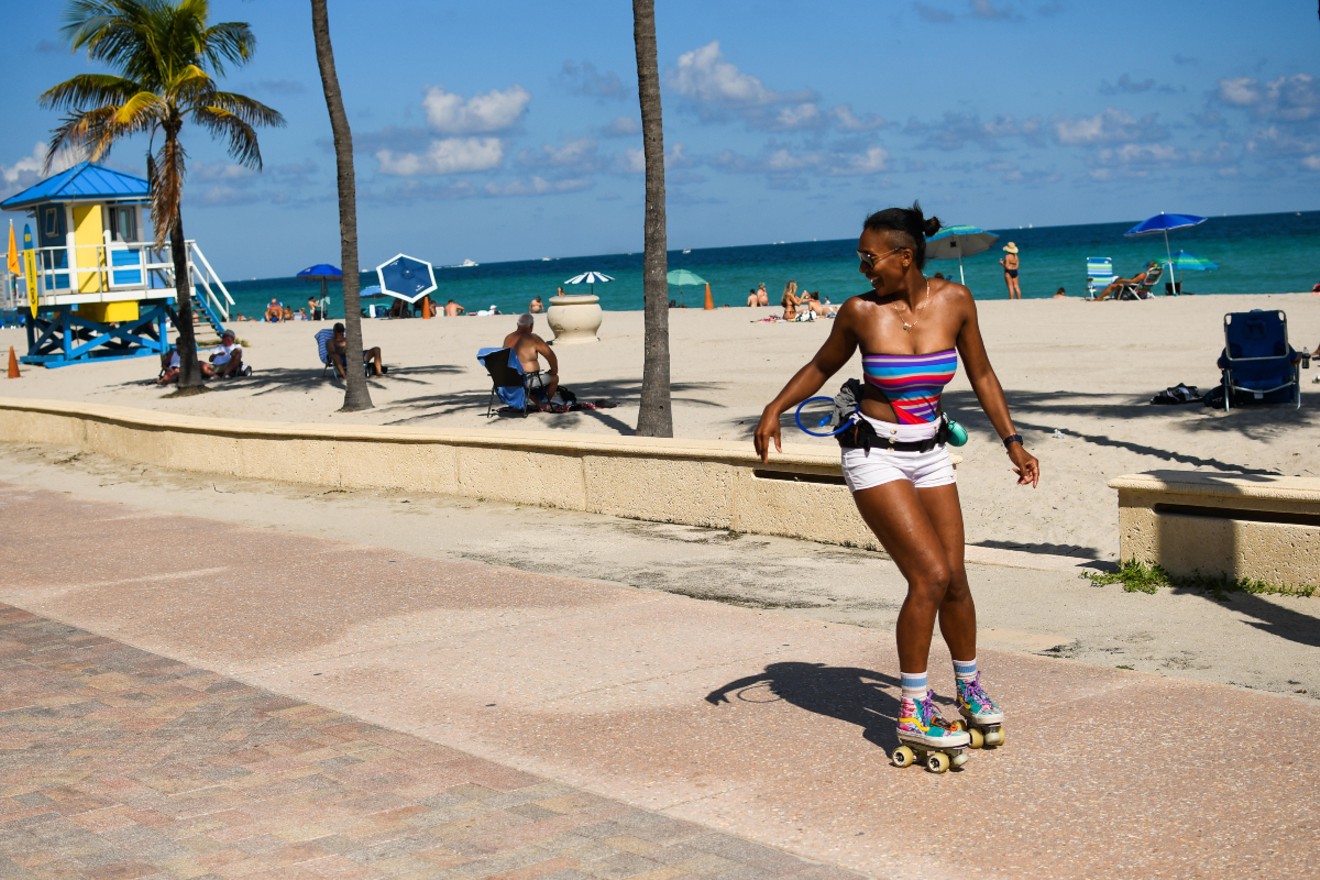 Hollywood Beach is one of the best beaches in Ft. Lauderdale. It's wide and clean, with plenty of space to set up a beach chair and umbrella. The water is usually pretty calm, making it perfect for swimming, boating, jet skiing, and fishing.
The boardwalk offers a scenic walk and an opportunity to bike ride or just people-watch. Of course, the most impressive of all is the stunning views of the Atlantic Ocean.
In addition to relaxing on the beach or splashing around in the cool blue sea, Hollywood Beach is a shopper's delight. The beach is home to many boutiques and malls for those looking to indulge. And, when you wear yourself out from the sun and shop, you can relax at one of the many oceanfront bars and restaurants.
Hillsboro Beach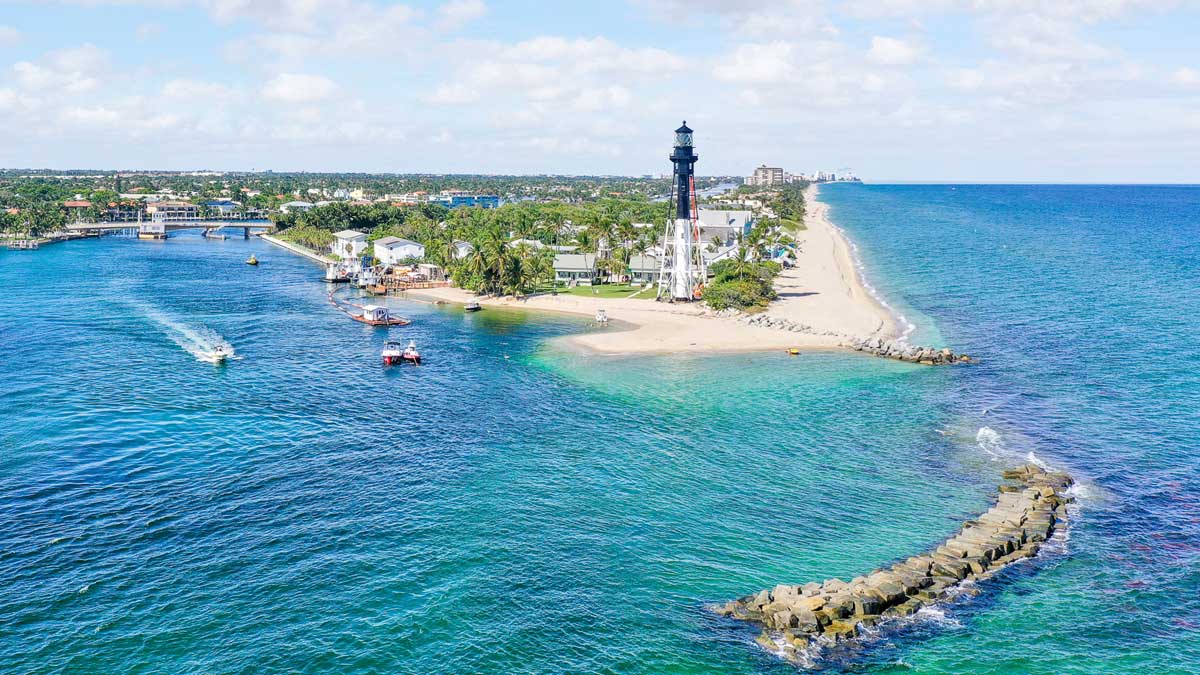 Located just a short drive from downtown, Hillsboro Beach is a charming place to get away from the hustle and bustle of the Ft. Lauderdale city style. This convenient pristine stretch of sand is perfect for relaxing, swimming, and immersing in the incredible views. Plus, the water is clean and clear, and the sand is fluffy and white, like a dream beach.
Once you're here, you'll have access to lots of parking and amenities. And, if you're lucky, you might spot a sea turtle or two, or three. Hillsboro Beach is a popular destination among sea turtles, specifically for nesting. You're most likely to see this phenomenon throughout the spring and summer and sometimes into the fall.
Hillsboro is much more than a gorgeous beach for relaxing on. The three-mile stretch of coast also contains several historical sites. In particular, you can find the majestic Hillsboro Lighthouse and see the unusual Barefoot Mailman statue—a tribute to one of the most iconic symbols of Florida.
Pompano Beach
If you're looking for the best beaches in Ft. Lauderdale, look no further than Pompano Beach. Otherwise known as the Heart of the Gold Coast, Pompano Beach is well-known for its beautiful white-sand beaches and clear blue waters that look as if they belong on a postcard.
Visitors can enjoy various activities along the beachfront, such as swimming, sunbathing, fishing, and many nearby restaurants and bars. When you need a break from the sand, you can explore all the town offers, from its vibrant shops and restaurants to its historic pier. This beach is also pet friendly so travel with ease knowing your furbabies can join along in the fun.
Pompano Beach is also relatively close to neighboring cities, like Miami and Palm Beach. So, if you want to explore more of South Florida, you can hop in your car for a short drive to set out sightseeing the rich culture in the Ft. Lauderdale neighborhood.
Fort Lauderdale Beach Park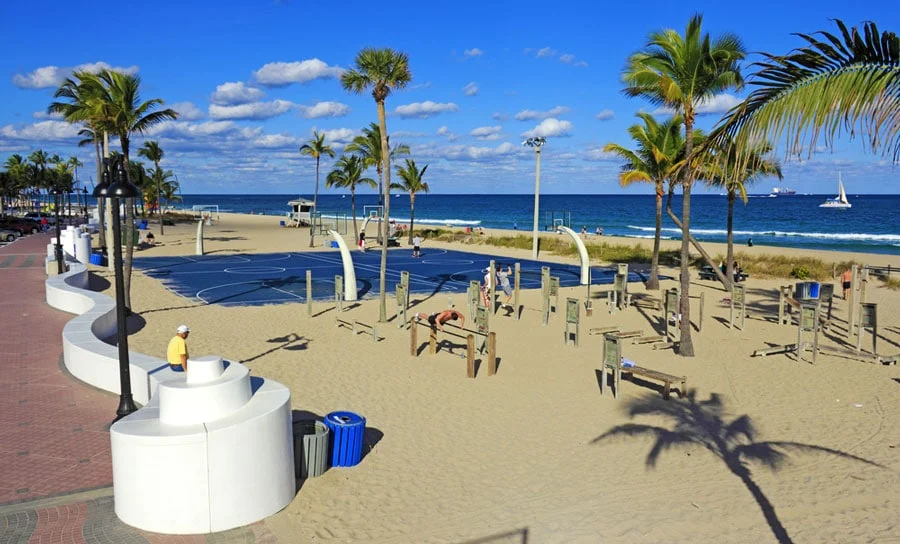 Fort Lauderdale Beach Park is a stunning destination, boasting sand that is white and powdery, and water that's crystal clear. You will also have abundant tropical shade thanks to numerous palm trees and other tropical plants. On any given day at this paradise, you'll see a mix of locals and tourists enjoying the sun, surf, and amenities.
Speaking of amenities, Fort Lauderdale Beach Park has a diverse variety, including showers, picnic tables, and a family-friendly playground.
The best time to visit the beachside is early in the morning when the beach is relatively deserted. As the day goes on, the crowds build up at Ft. Lauderdale Beach, so arrive early if you want to get a spot in the shade.
Las Olas Beach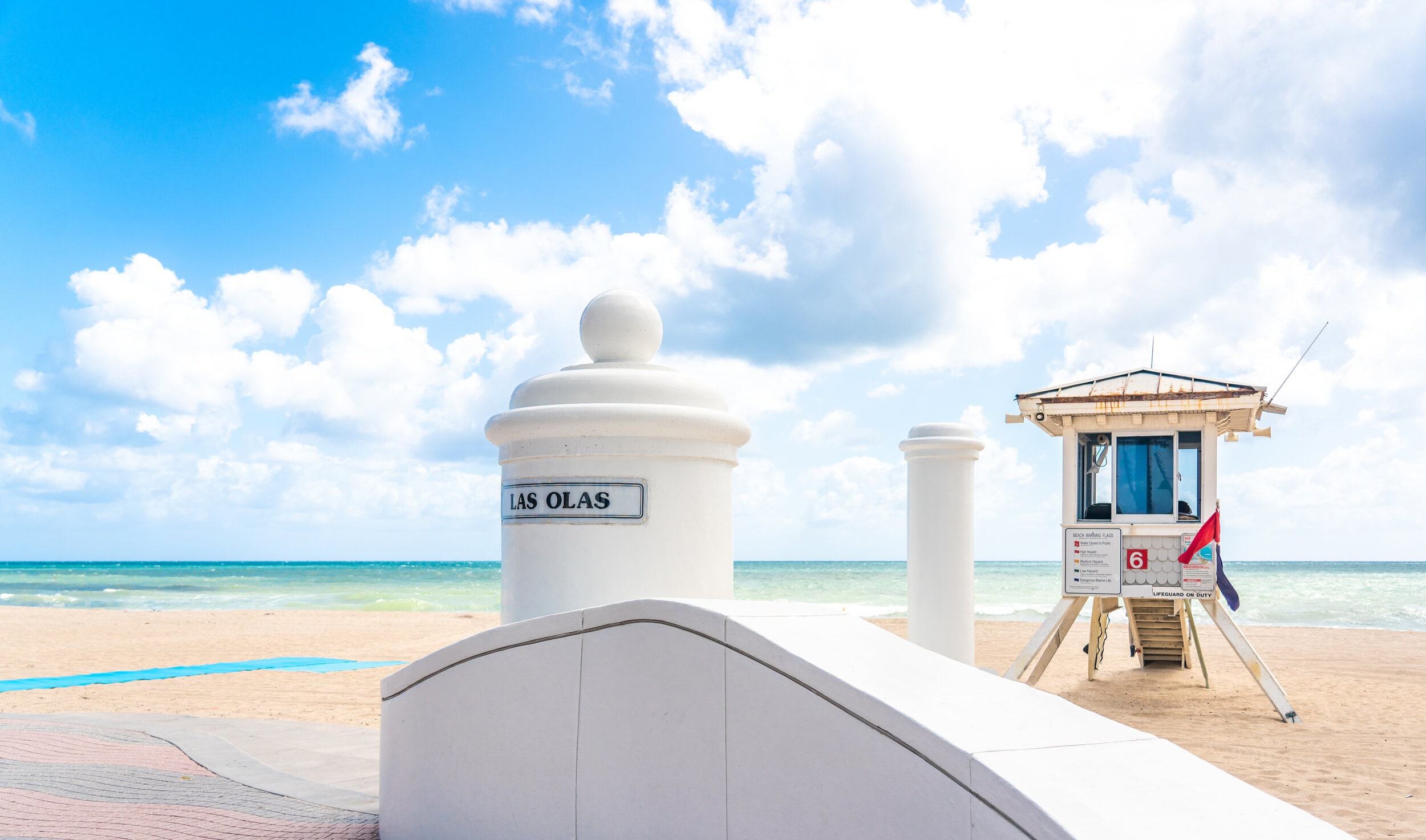 Most people associate Fort Lauderdale with its plethora of beaches, and for good reason. The city is known for its stunning stretches of sand, and Las Olas is one of the most beautiful beaches in the state.
Located in the heart of downtown, Las Olas Beach is a popular spot for locals and tourists. As such, you can expect to find a hearty mix of families and singles, all enjoying the Florida sun. The beach is in excellent condition and offers plenty of amenities, including showers, changing rooms, and restrooms.
Beyond the beach's impressive amenities, you'll find many shops, restaurants, and bars along the popular Las Olas Boulevard. While this small stretch of beach is charming and welcoming, keep in mind the college spring break schedule. Unless you're in the mood to get a bit rowdy, you might want to avoid the beach at that time since college kids flock to the area.
Von D. Mizell-Eula Johnson State Park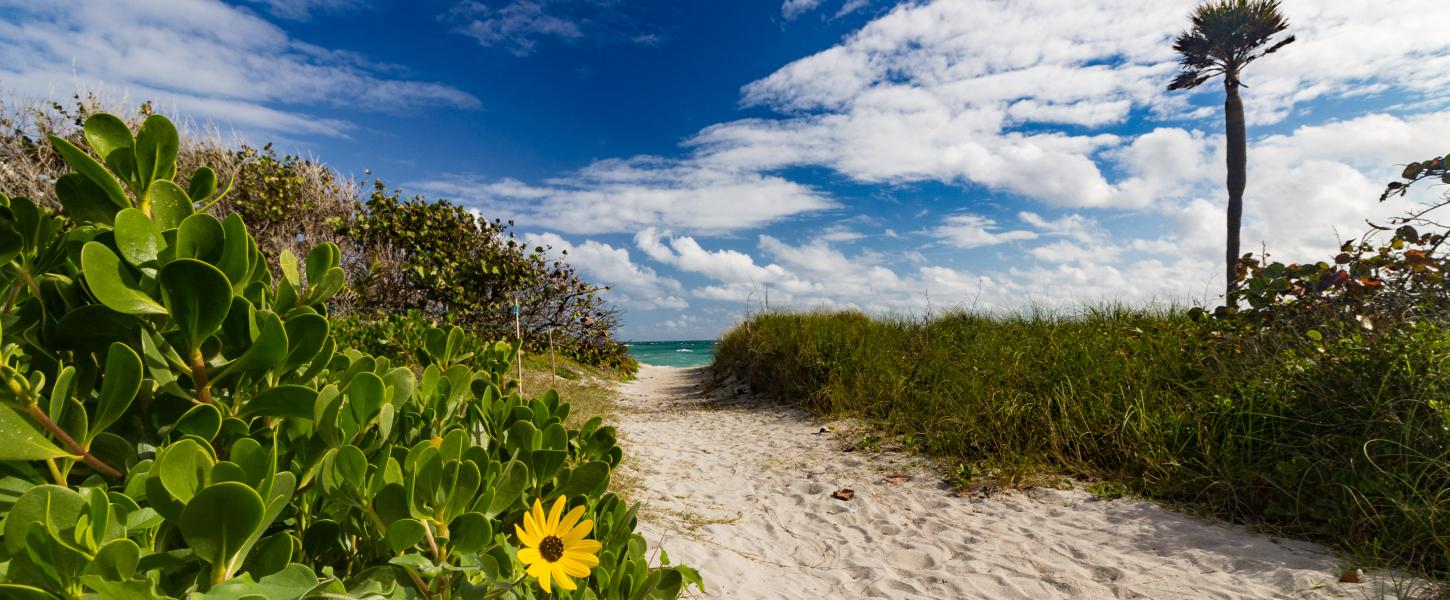 Dr. von D. Mizell-Eula Johnson State Park, often simply called Neighborhood Beach by locals, is one of the best beaches in Fort Lauderdale for swimming, sunbathing, picnicking, and fishing. In addition, the park has a boat ramp, making it a popular spot for boaters as well.
The park is named for two important figures in the history of civil rights in Fort Lauderdale. Dr. Von Mizell was a prominent physician and civic leader who fought for racial equality, while Eula Johnson was a highly respected educator who worked to improve conditions for African American students in Broward County. This state park was the first beach to be accessible to African Americans in the country.
Besides its historical significance, the park is beloved for its natural beauty and vibrant wildlife. The wide, sandy beach is flanked by coral reefs, which protect the shore from waves and create a tranquil lagoon for swimming and snorkeling.
Dania Beach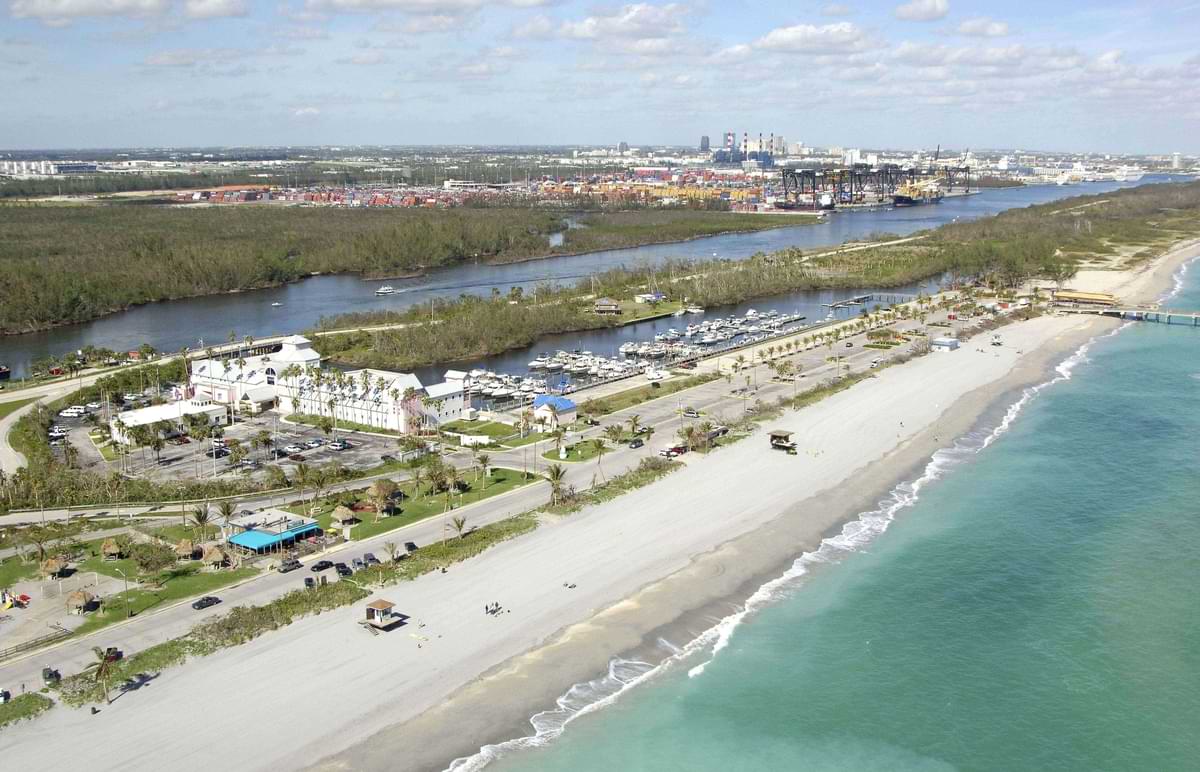 With its proximity to the airport, Dania Beach is an optimal place to catch some sun and waves before or after a flight. The beach is wide and open, making it ideal for swimming, sunbathing, and playing beach sports. Dania Beach has a blue wave certification, a classification that can only be met if a beach maintains a high standard of cleanliness.
If you fancy yourself an angler or love the serenity that fishing offers, Dania Beach's iconic pier will be a must-visit. There, you can walk the stretch for some leisurely exercise or cast your pole into the crystal depth to catch a prize fish or at least a guppy.
Elsewhere, restaurants and cafes abound with a great selection of food and drink, and the dune walkovers provide access to the beach for visitors with disabilities. Whether you're looking for a place to relax or play, Dania Beach is worth experiencing.
Hallandale Beach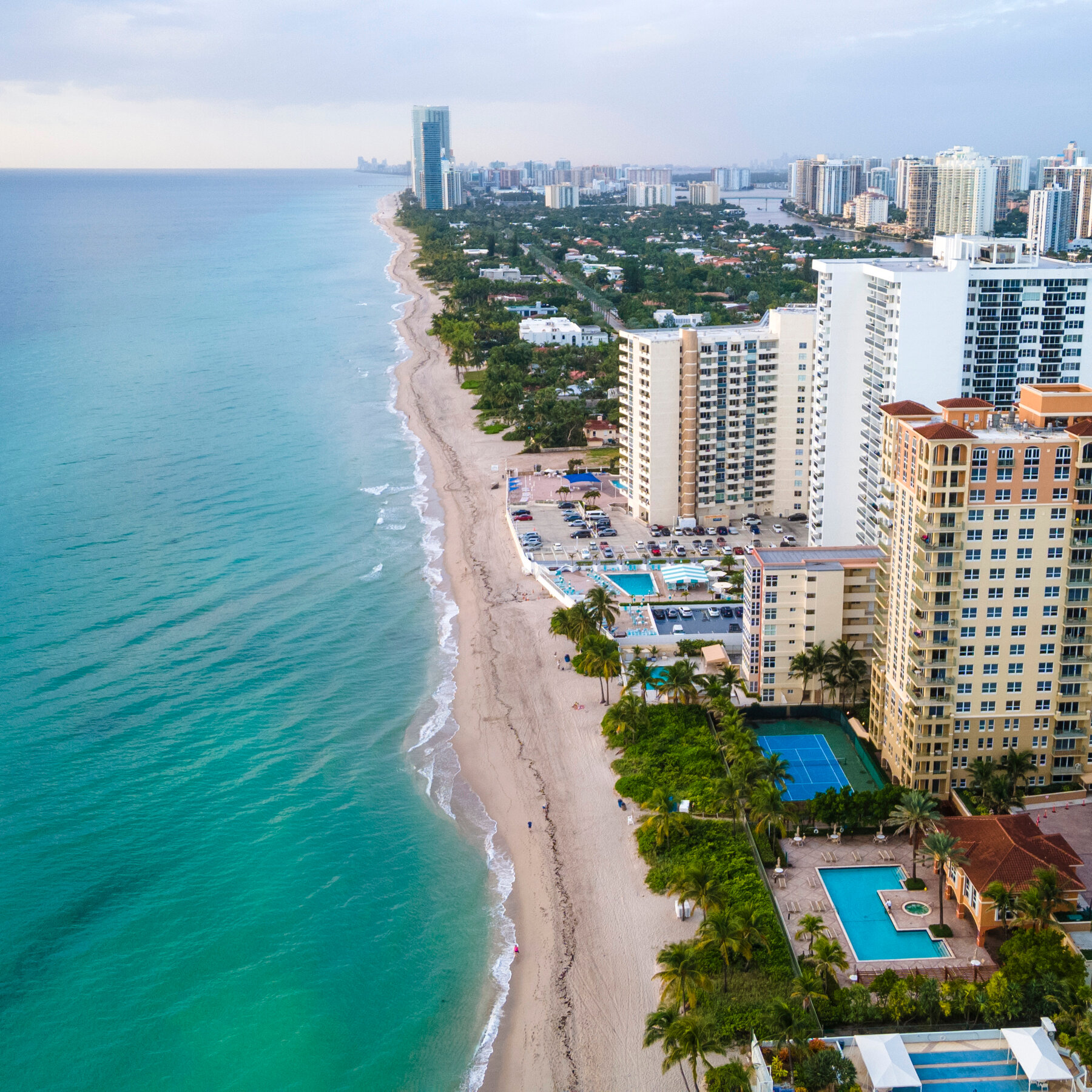 Hallandale Beach is one of the best beaches in Ft. Lauderdale for swimming, sunbathing, and simply taking in the stunning views. The average water temperature is a comfortable 78 degrees Fahrenheit, making it perfect for swimming year-round. Expect to find a well-maintained beach, with ample umbrellas and chaise lounges for visitors.
The town itself, located in the Greater Fort Lauderdale area, is home to lots of entertainment. So, if you get sick of the sea and sun, you can retreat to a race track or casino for fun. What's more, this beach has an active nightlife with clubs and ballroom dance spaces for you to make a night off your beach trip.
While you might find a vendor or two on the beach for a bite to eat, you cannot beat the fine-dining restaurants nearby. Ultimately, Hallandale Beach is a relaxing escape with a touch of upscale style.
Lauderdale-by-the-Sea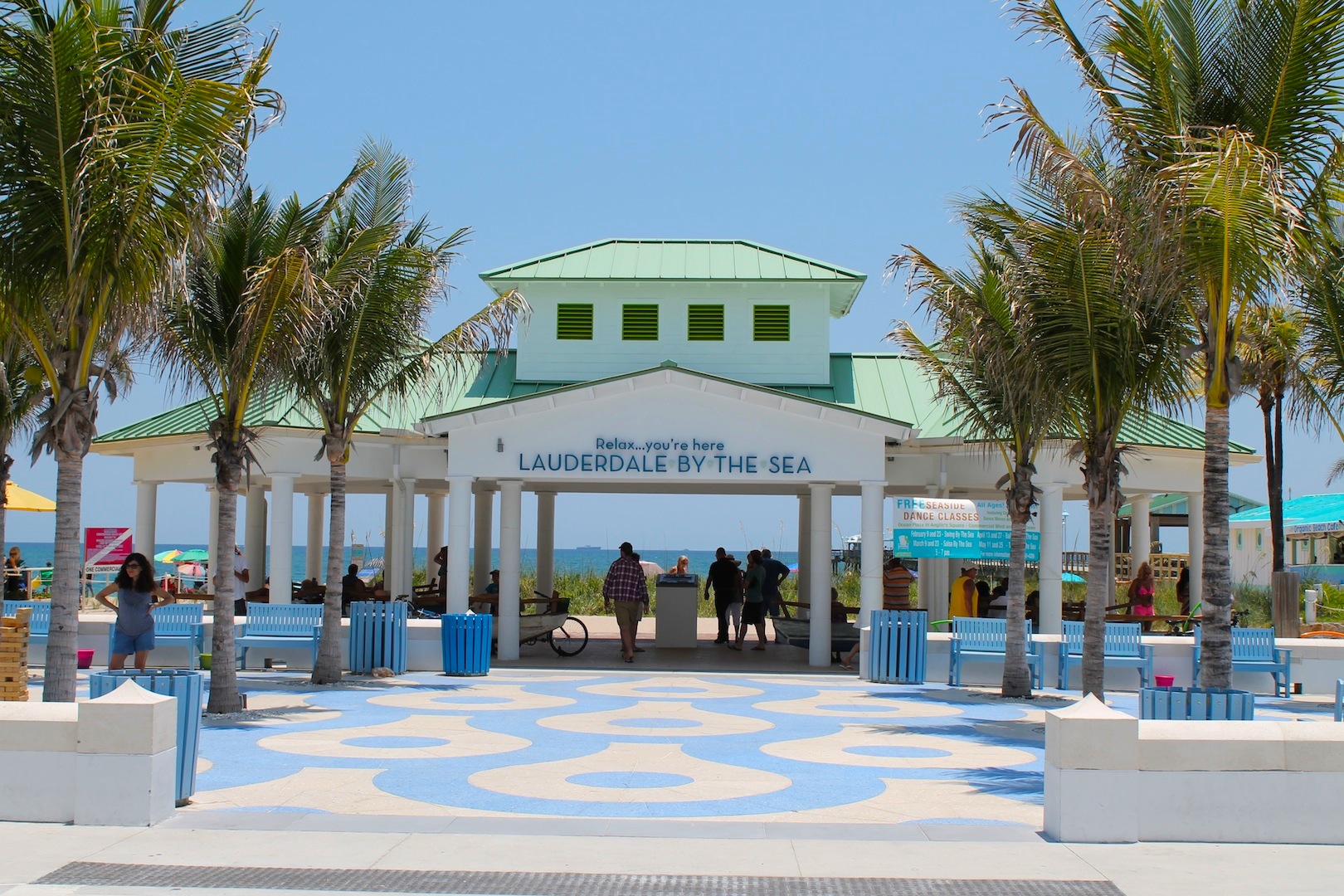 Lauderdale-by-the-Sea is one of the best beaches in Fort Lauderdale. With its sparkling white sand and clear blue waters, it's no wonder that it is a popular spot for locals and visitors alike. Crucially, it's clean and well-maintained, with plenty of trash cans and regular beach cleanings.
Here, you'll find various beach amenities, including a playground, a pavilion, showers, and restrooms to make your trip comfortable and convenient. And, if it's safety you're worried about, Lauderdale-by-the-Sea always has a lifeguard on duty.
When you feel your stomach grumble or need to quench your thirst after a day in the sun, you'll find no shortage of delicious restaurants and bars just a short walk from the seaside. The only downside is that it can be a bit crowded on weekends. But overall, Lauderdale-by-the-Sea is a memorable spot to have a day in the sun.
Sebastian Street Beach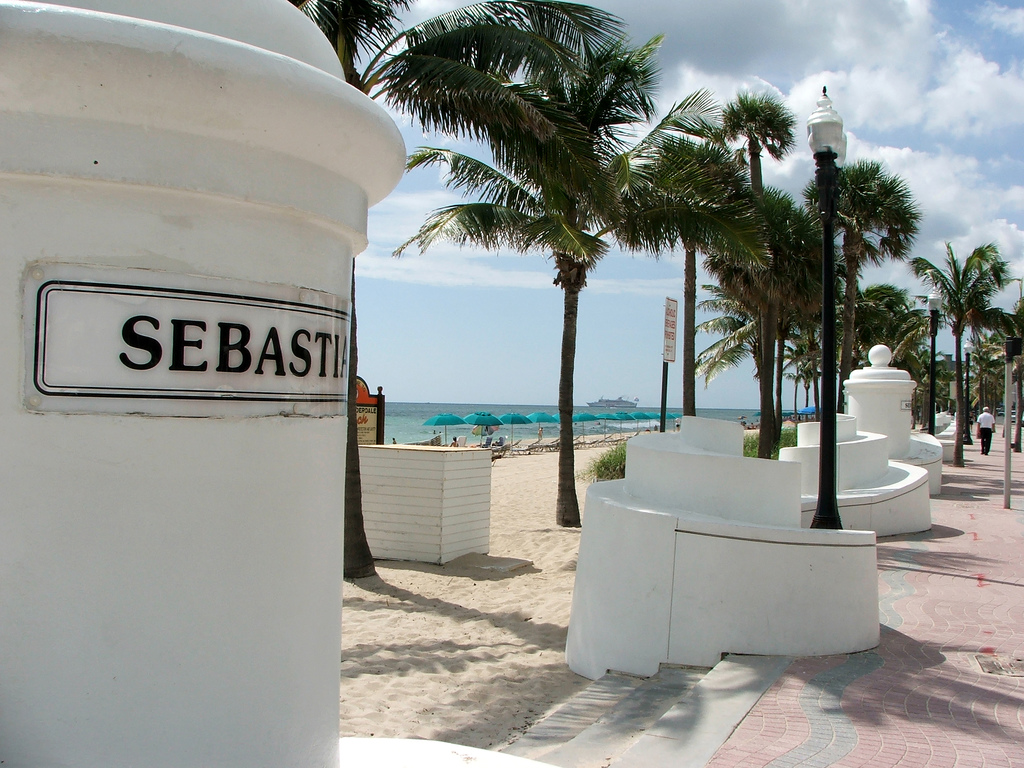 Sebastian Street Beach has got everything you could want in a beach: soft sand, clear water, palm trees, and abundant space to spread out and unwind. And it's not just us humans who love it. Sebastian Street is also a popular spot for dolphins, who often come close to shore to play in the waves. If you're lucky, you might even spot a manatee or two.
Sebastian Street Beach is well-known for being an LGBTQ+ friendly community beach. You'll find it near many LGBTQ+-friendly resorts and businesses, making it a popular tourist destination.
Despite being a popular tourist and local destination, Sebastian Street Beach isn't too crowded to the point that it's unbearable like some other neighboring beaches. In addition to its reputation and beautiful sandy shore, the beach has a boardwalk that runs along the shore, which is perfect for walking, jogging, or riding bikes.
Loggerhead Park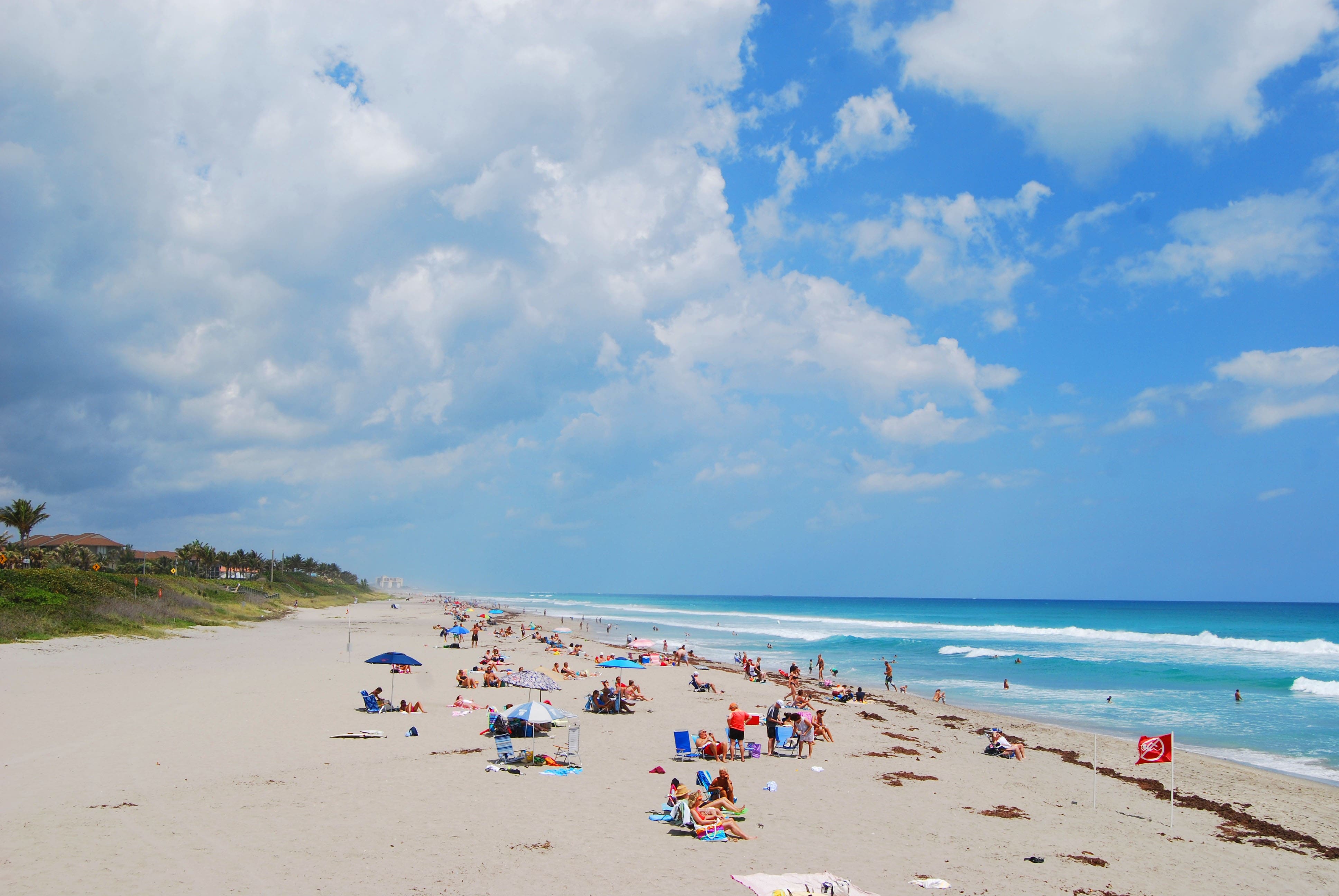 Loggerhead Park beach is situated on a barrier island, so there's lots of natural beauty to enjoy. Even though the beach is located in the park, there are numerous spots for swimming, sunbathing, fishing, and playing games. For picnics, you'll find several tables and grills offering meals with a view.
The best time to visit Loggerhead Park is definitely during the week when the crowds are smaller and the atmosphere is more relaxed. In terms of specific months, March to May is recommended as it is when the weather is warm and the water is calm. So if you're looking for a great beach in Ft. Lauderdale, be sure to check out Loggerhead Park during this period for an unforgettable time.
Final Thoughts
If you're looking for a great beach to relax on, Fort Lauderdale has got you covered. With miles of coastline and world-famous beaches, there's something for everyone in the greater Fort Lauderdale area.
Whether you're looking for family-friendly fun or want to find a spot to catch some rays in peace, we've got the perfect beach for you. So what are you waiting for? Pack your swimsuit and sunscreen and head to Fort Lauderdale Beach. And, if you're looking for beach rentals, you might want to check out Florence or Tidal, a gorgeous four-bedroom Ft. Lauderdale vacation home.