Find yourself dreaming about the perfect getaway? The kind of vacation where you can let your hair down (or fur, in your pet's case) and run wild without a care in the world? Picture this: You and your fur baby frolicking in a lush backyard, chasing tennis balls, rolling in the grass, all while staying in a luxurious vacation rental with a fenced-in yard. No leash, no boundaries—just tons of tail wagging. That's exactly what it's like to stay at these homes, so let's get to it.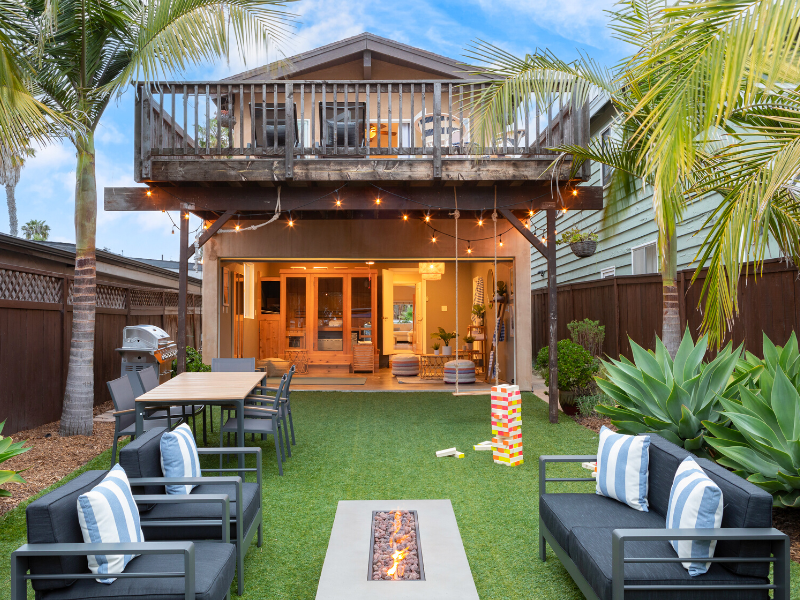 Oliver
Starting off this article with one of our go-tos for a pet-friendly paradise! Oliver is a 3 bedroom stay that features a built-in sauna, ideal fenced-in yard, and a swing so you can really let loose. Spend nights by the fire pit, enjoying dinner outside, and relaxing on the bean bags in the converted garage. In the morning, take a nice long beach walk with your furry friend (as long as they're the kind that stays on a leash) and enjoy all that San Diego has to offer!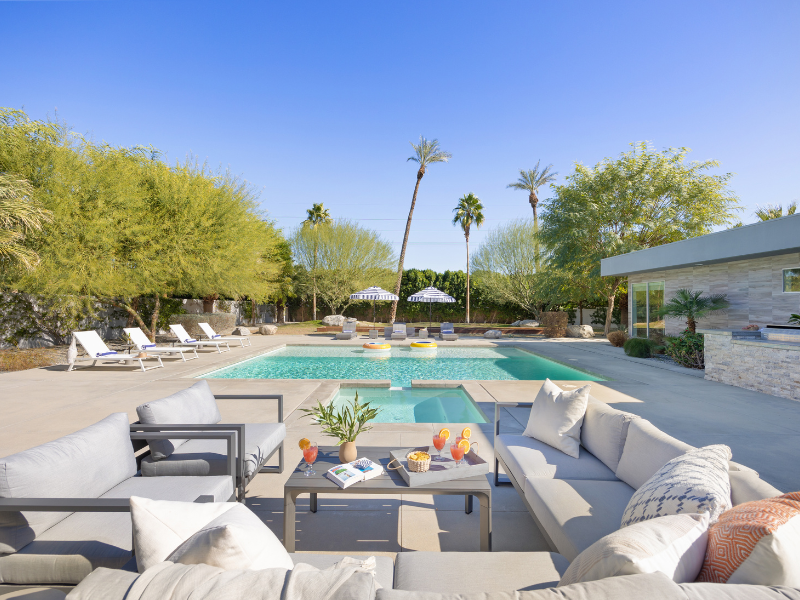 Polo Villa 11
Nestled within a gorgeous Coachella Valley gated community, Polo Villa 11 is a spacious 5-bedroom, 4-bath retreat with sleek, contemporary design and 16 ft vaulted ceilings. Set on a generous half-acre lot, this stay provides you and your pup with an oh-so-dreamy private oasis—complete with a sprawling pool, spa area, and an inviting outdoor fire pit.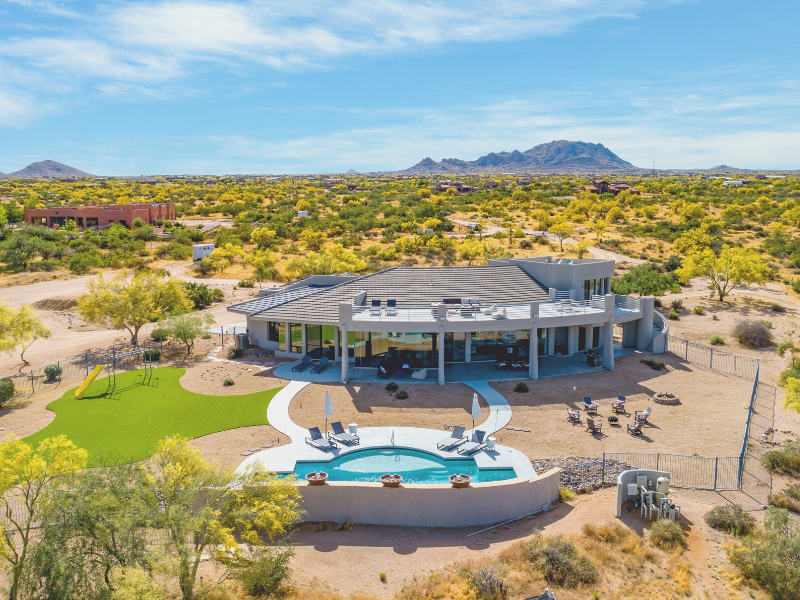 Fallbrook
Discover your desert sanctuary in Scottsdale. Fallbrook is a sprawling estate complete with private horse stables, breathtaking mountain views, and so much room for your pet to explore. If you're craving a little adventure, head to Tonto National Forest for a good hike or venture into town for one of the nearby wellness spas.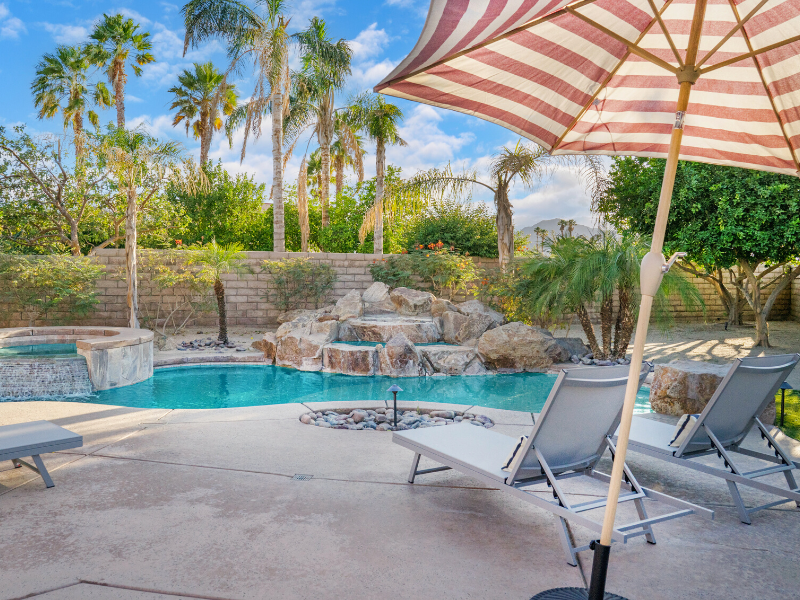 El Mirador
Welcome to El Mirador in Palm Springs. While your furry friend enjoys the fenced-in yard, you can unwind by the pool with margaritas in hand, challenge your companions to a game of corn hole, or cozy up for a movie night in the den.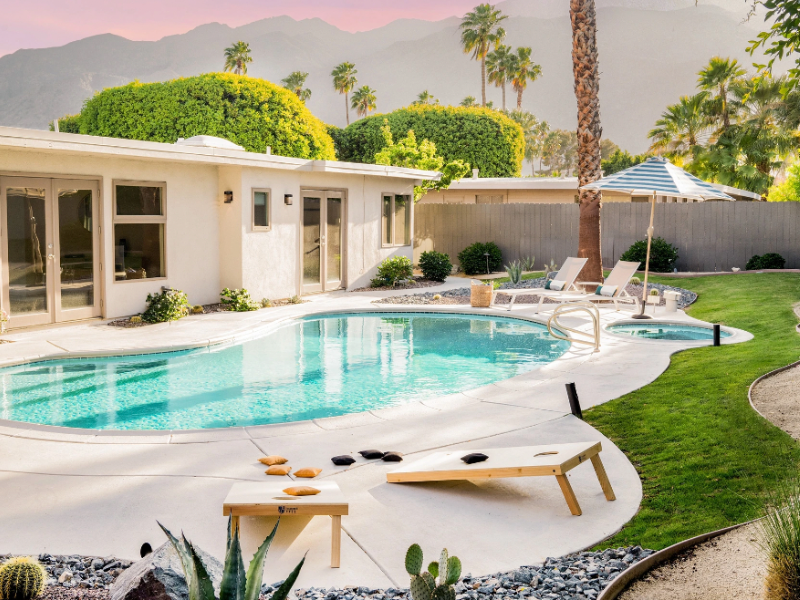 Coppola
Nestled in the heart of Sonoma, Coppola boasts a spotlight-stealing backyard. Featuring a secluded casita for added privacy, a bocce court perfect for pre-dinner games, and a back bar for pool enthusiasts, this property is a treat for both you and Fido. For a touch of nostalgia, settle into vintage theater seats and catch a movie under the stars while enjoying a delightful al fresco meal.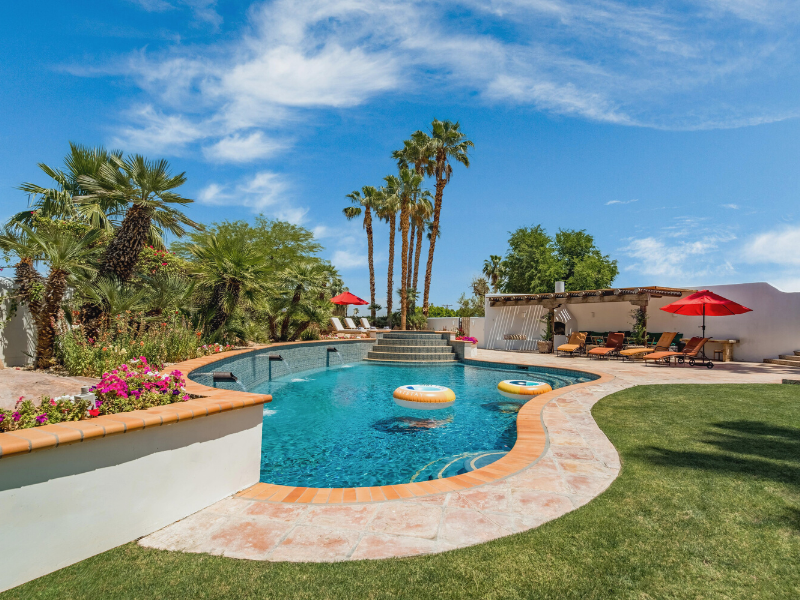 Casa Cariba
Enter: your dream Coachella Valley vacation home. Casa Cariba is a long-term rental (30+ days) featuring a pup-approved backyard with a covered dining area, hot tub, modern firepit, hammocks, and a pool with views for days. While the outside is its own oasis, the inside features high ceilings with wooden beams, open-air interiors, bohemian style, a billiards table and private theater.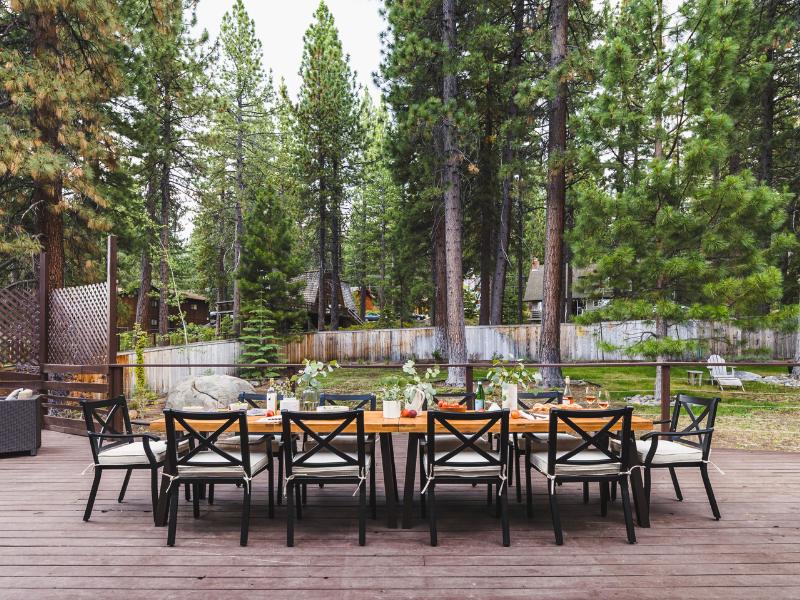 Ponderosa
Ponderosa is a Lake Tahoe stay with room for up to 10 guests. Your crew (Fido included) will absolutely adore the large windows, perfect for watching snow hit the surrounding pine trees. Warm up inside by the kitchen's pizza oven and engage in some friendly competition in the game room complete with a pool and shuffleboard table. As the sun sets, dine al fresco and cheers to the good life.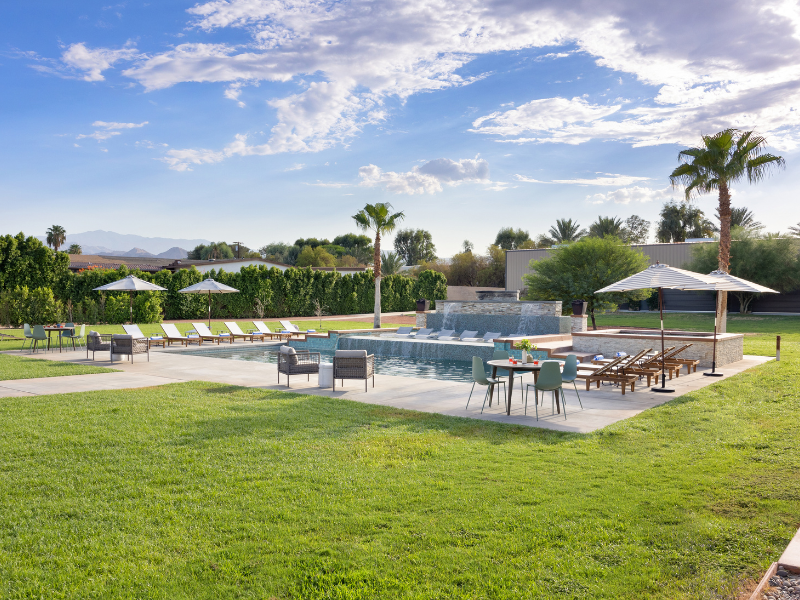 Starlight Estate
Best for last. Would you believe us if we told you that Starlight Estate is one of the only properties in this area of Coachella Valley with a private, indoor tennis court with AC? Doesn't matter, it's true. After a good game, head to the pool area, complete with a waterfall and hot tub. As your pup gets their zoomies out, you can post up under the covered lounge area with its outdoor dining table, ceiling fans, and TV. If you're craving a change of scenery, try sitting at the bar and grilling area or additional terrace beyond. Plenty of options to spread out—just the way your pet likes it.
For more vacation rentals that tickle your fancy (or in this case, rub your belly), click here!