Hey there, adventure-seekers and culture enthusiasts! If you're yearning for a blend of picturesque landscapes, artsy vibes, and a side of culinary heaven, look no further than the charming haven of Asheville, North Carolina. Nestled cozily in the Blue Ridge Mountains, this city is bursting with an array of activities that'll keep you grinning from ear to ear. So, grab your hiking boots, your appetite, and your sense of wonder as we dive into the top 21 things to do in Asheville.

1. Explore the Biltmore Estate: A Glimpse into Extravagance
Let's kick things off with a bit of opulence! The Biltmore Estate isn't just a house; it's practically a castle. With 250 rooms, sprawling gardens, and a history that reads like a novel, this place is the very definition of grandeur. It's like stepping into a time machine and experiencing the glamour of the Gilded Age firsthand. Pro tip: Don't forget to raise a glass at the winery—they make vino that would make Bacchus jealous!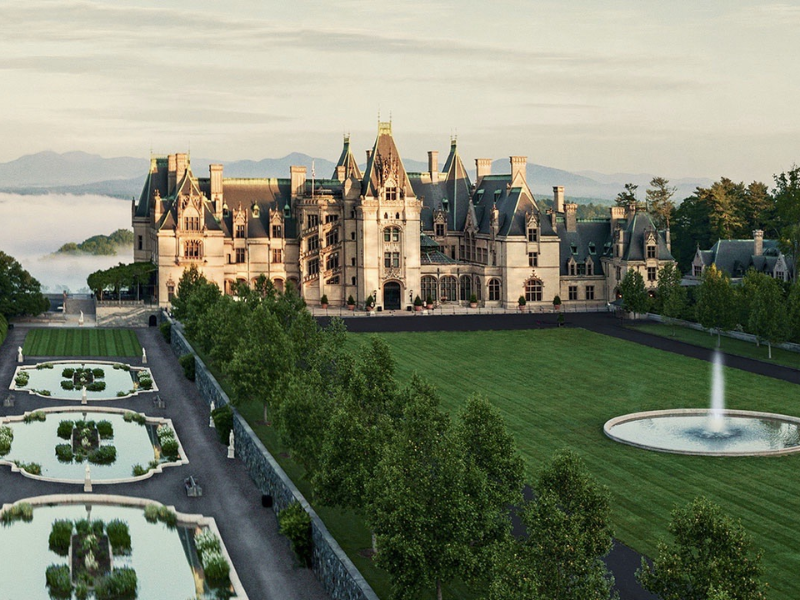 2. Wander Through the River Arts District: Where Creativity Blooms
Calling all art lovers! The River Arts District is your haven. Imagine strolling through streets adorned with vibrant murals, peeping into artist studios where creativity is contagious, and snagging one-of-a-kind masterpieces. You might even catch the artists at work, giving you an inside look at the magic behind the masterpiece.
3. Discover Downtown Asheville: Food, Shops, and Fun
Downtown Asheville is like a treasure chest waiting to be opened. From quirky boutiques and art galleries to farm-to-table eateries that'll have your taste buds dancing the tango, there's something here for everyone. Pack Square Park is your perfect picnic spot, and the Grove Arcade is a slice of architectural beauty that's easy on the eyes.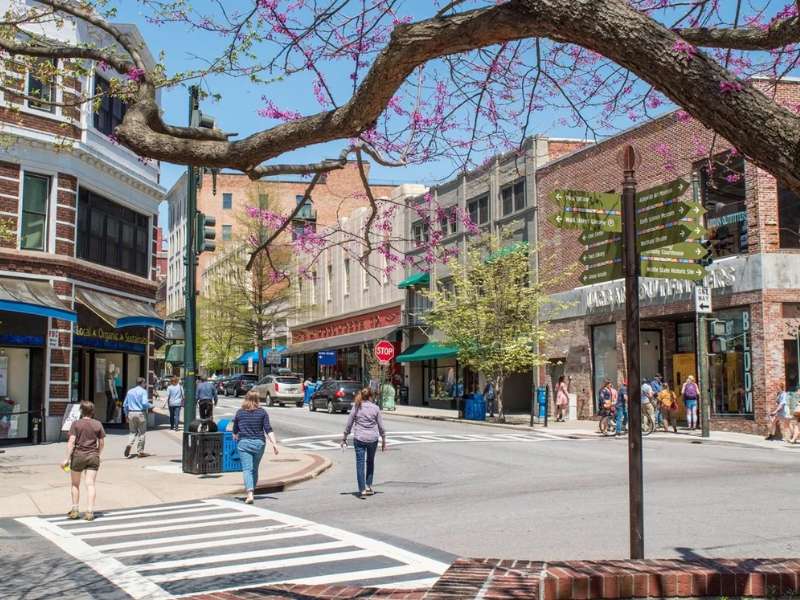 4. Hike in the Blue Ridge Mountains: Trails for All Adventurers
Time to lace up those hiking boots and hit the trails! The Blue Ridge Mountains offer hikes for every skill level, whether you're a seasoned pro or a newbie who's just getting started. Feel the crunch of leaves underfoot as you embark on the Appalachian Trail, or soak up the panoramic views from Craggy Gardens—it's a bit like stepping into a nature-inspired painting.

5. Enjoy the Views from the Blue Ridge Parkway: A Scenic Symphony
There's scenic beauty, and then there's the Blue Ridge Parkway. Picture this: meandering roads, lush forests, and breathtaking overlooks that'll make your jaw drop. Seriously, every curve reveals a new postcard-worthy vista. Whether you're snapping pics or simply soaking in the view, this is a road trip you won't forget.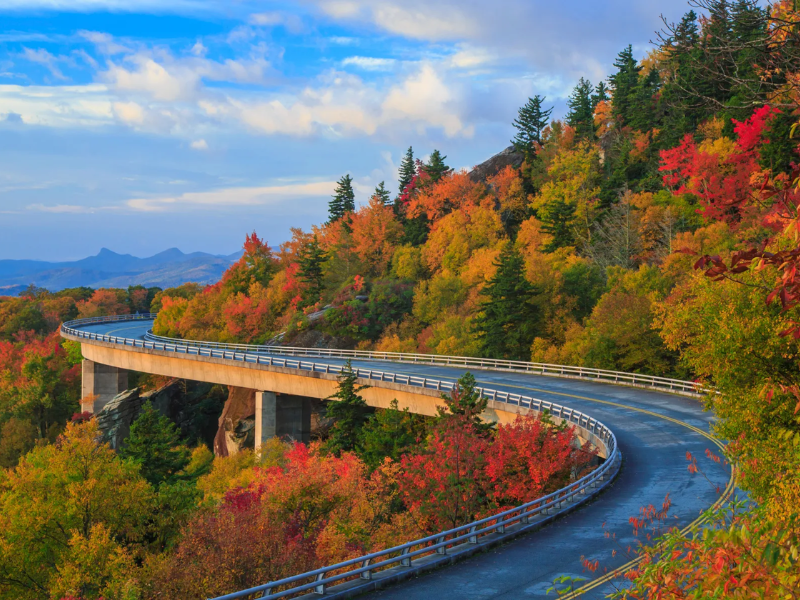 6. Indulge in Local Craft Breweries: Cheers to Craftiness!
Beer lovers, rejoice! Asheville is practically the Narnia of craft beer. With a plethora of breweries offering everything from hoppy IPAs to rich stouts, it's a beer paradise. New Belgium, Highland Brewing—these names aren't just brands; they're legends. Take a brewery tour and let your taste buds dance to the tune of liquid gold.

7. Experience the Asheville Food Scene: Where Every Bite's a Delight
Calling all foodies and flavor aficionados! Asheville's culinary scene is a whirlwind of deliciousness. From farm-to-table eateries that know how to treat a tomato, to eclectic international joints that'll make your taste buds travel the world, your belly's in for a treat. Don't forget to sample the local delicacies—you might just discover your new favorite dish!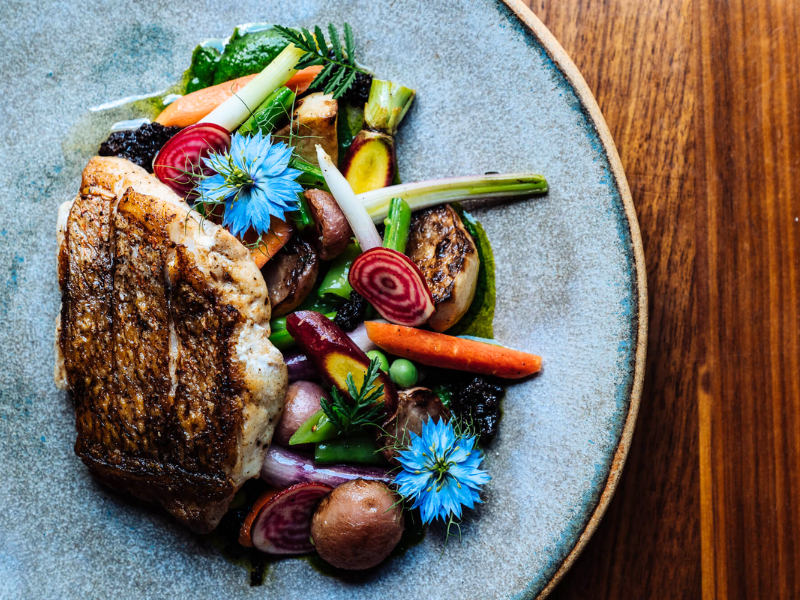 8. Visit the Folk Art Center: Where Art and Heritage Converge
Ready to dive into the heart of Appalachian culture? The Folk Art Center is your ticket. It's not just an art gallery; it's a celebration of the region's rich heritage. Get lost in the masterpieces, catch live craft demonstrations, and maybe even take home a piece of art that tells a story older than time itself.

9. Immerse Yourself in the Music Scene: Dance to the Beat
Asheville's music scene is like a magnet for soulful tunes and toe-tapping beats. From street performers with melodies that fill the air to iconic venues where the music flows like a river, you'll find your groove here. Bluegrass, folk, indie—you name it, Asheville's got it.

10. Explore the Botanical Gardens at Asheville: A Date with Nature
Sometimes, all you need is a quiet escape with Mother Nature. The Botanical Gardens at Asheville are like a tranquil oasis, offering a break from the hustle and bustle. Stroll through themed gardens, discover native flora, and let the serenity of the surroundings wash over you.

11. Go on a Ghost Tour: Hauntingly Fun Adventures
Ready for a bit of spook? Asheville's haunted history will give you goosebumps in the most thrilling way. Join a guided ghost tour, explore eerie sites, and listen to spine-tingling stories that'll have you clutching your friend's arm. It's like a history lesson with a supernatural twist!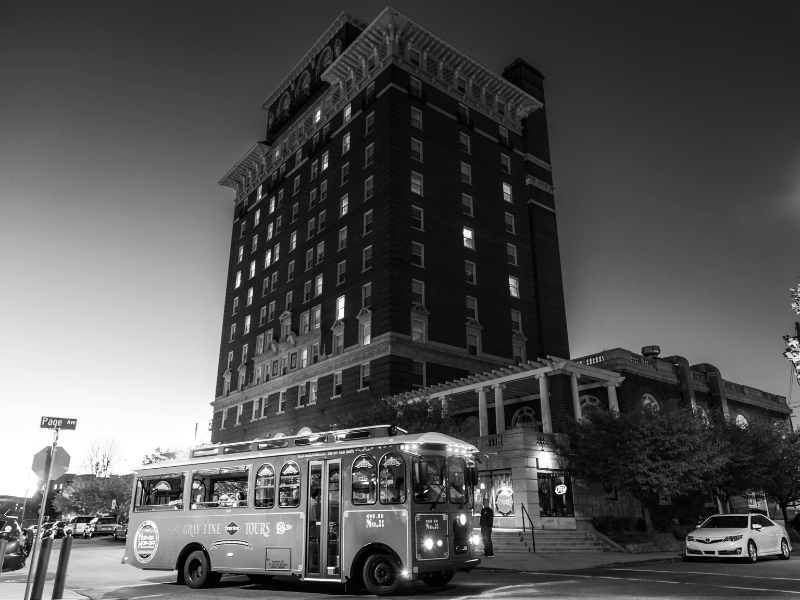 12. Experience the Drum Circle at Pritchard Park: Beats and Bliss
Friday night fever? Head to Pritchard Park for a dose of rhythmic euphoria! The drum circle here is a gathering of spirits, where the rhythm takes over and your feet might just start dancing on their own. Whether you're banging a drum or swaying to the beat, it's all about community, connection, and some seriously good vibes.

13. Take a Hot Air Balloon Ride: Soar Like a Bird
Ready to see Asheville from a whole new angle? Get ready to take flight in a hot air balloon! Imagine drifting above the treetops, feeling the wind in your hair, and marveling at the sweeping vistas below. It's a bucket-list-worthy experience that'll leave you feeling like a modern-day explorer.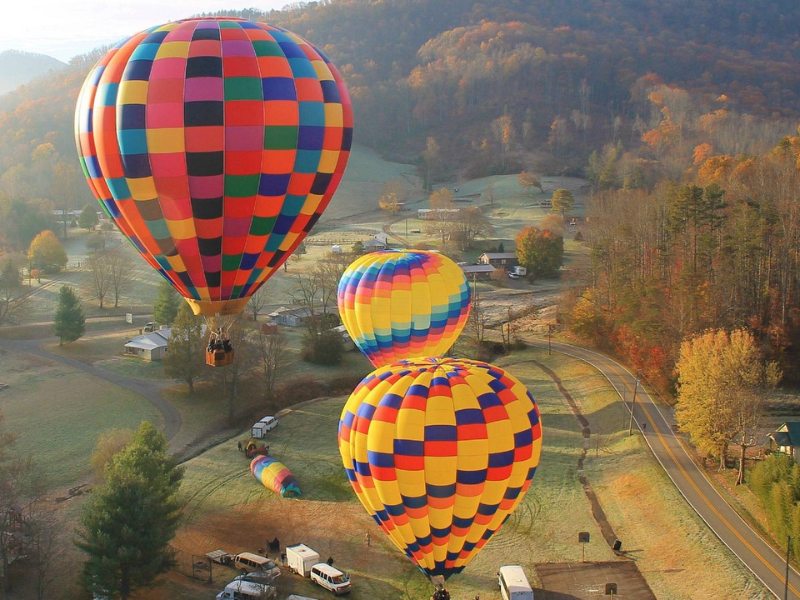 14. Visit the Thomas Wolfe Memorial: Literary Time Travel
Bookworms, this one's for you! The Thomas Wolfe Memorial is like stepping into the pages of a novel. Explore the childhood home of the literary legend himself, feel the inspiration that lingered in every corner, and immerse yourself in the world that shaped his stories. It's like a time capsule of words and wonder.

15. Go Ziplining through the Forests: Adventure Awaits Above
Ready to unleash your inner Tarzan (or Jane)? Ziplining through Asheville's forests is your chance! Feel the rush of wind as you zoom through the treetops, soaking in panoramic views that are anything but ordinary. It's like a roller coaster through nature—with a dash of adrenaline and a sprinkle of awe.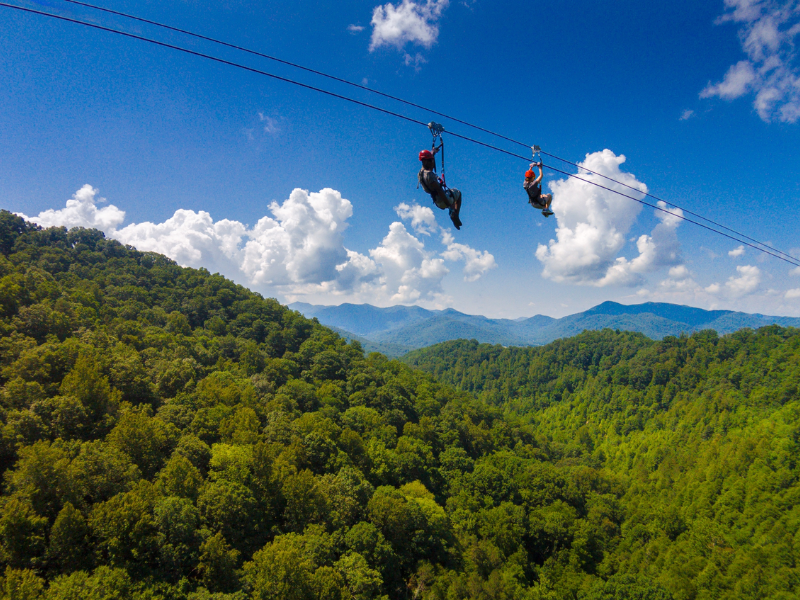 16. Attend a Local Festival or Event: Celebrate the Spirit
Asheville loves a good party, and there's a festival for every occasion! From music festivals that'll have you grooving to craft fairs that'll make your inner DIY-enthusiast rejoice, these events are like the city's heartbeat. Don't just visit Asheville; join in the festivities and become a part of its colorful tapestry.
17. Relax at the Asheville Salt Cave: Zen, the Asheville Way
Need to unwind? The Asheville Salt Cave is your personal oasis of tranquility. Imagine lounging in a cave lined with salt, surrounded by calming vibes that soothe your soul. It's like a hug from the earth itself, a chance to recharge your batteries in a space that's as serene as it is rejuvenating.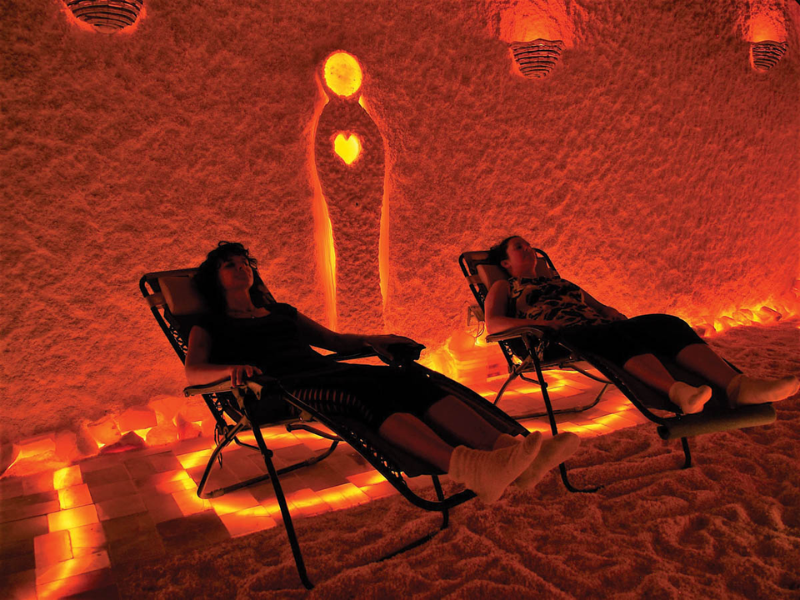 18. Take a Guided Art Studio Tour: Where Imagination Takes Flight
Ever wondered what goes on behind the canvas? Embark on a guided art studio tour and peel back the layers of creativity. Get up close and personal with artists at work, hear their stories, and maybe even find yourself inspired to pick up a brush. It's like a backstage pass to the world of art.
19. Discover the North Carolina Arboretum: Nature's Playground
The North Carolina Arboretum is like a playground for nature enthusiasts. Wander through gardens that showcase flora from around the world, explore hiking trails that lead you deeper into the beauty of the outdoors, and take in outdoor installations that'll have your artistic side swooning.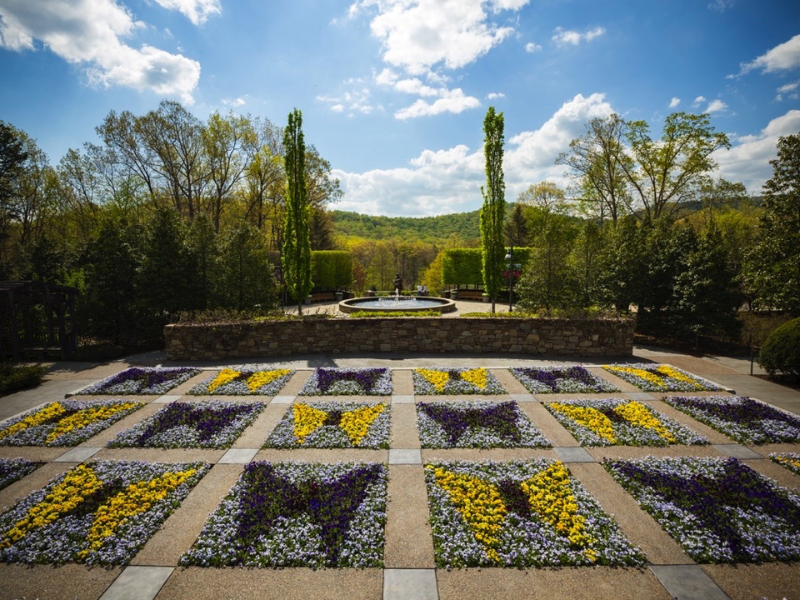 20. Go Tubing or Rafting on the French Broad River: Ride the Rapids
Ready to make a splash? The French Broad River is your playground for water adventures. Whether you're tubing lazily down the stream or tackling the rapids in a raft, you're in for a wet and wild time. Get ready to paddle, laugh, and create memories that'll have you grinning for years.
21. Marvel at the Sunsets from Sunset Mountain: Nature's Canvas
The view from Sunset Mountain is the ultimate masterpiece. Imagine the city and mountains bathed in hues of gold and pink—a scene so breathtaking, you might just forget to snap a pic. Soak it all in, and let the moment etch itself into your memory.

Your Asheville Adventure Awaits! Asheville is more than just a city; it's a medley of experiences waiting to be savored. From grand estates to down-to-earth hikes, from artistic wonders to culinary delights, this place has it all.

And when you're looking for the perfect place to rest your weary head after a day of exploring, consider AvantStay, one of the best options for vacation rentals in Asheville. So pack your curiosity, your appetite, and your sense of adventure, because Asheville is ready to show you the time of your life. Let's go make memories!