If you're looking for things to do on Hilton Head Island, look no further than this travel guide.
Hilton Head Island is one of the most popular destinations on the East Coast, with 2.5 million tourists visiting the best beaches, bike paths, and boutiques each year. It's a top destination for families and couples alike—and it's easy to see why.
The island was connected to the mainland by a bridge in 1956, making it easy to get there. The island is just 35 miles away from Savannah, Georgia, and 95 miles away from Charleston, South Carolina.
There are 12 miles of beautiful beaches that you can enjoy all year round, as well as protected wildlife preserves where you can learn about the natural environment of the island.
You'll find dolphin tours and boat charters available at many locations around the island, and bike trails are great for exploring nature at your own pace or taking an afternoon ride with friends or family members (just be sure to bring your bikes!).
Restaurants abound throughout Hilton Head Island—from casual fare at places like Red Lobster or Olive Garden to more upscale options like Ruth's Chris Steak House or Bonefish Grill—so you'll never have trouble finding something delicious no matter what kind of meal you're craving!
Hilton Head Island
Readers of Travel+Leisure Magazine selected Hilton Head Island as the #1 Island in the Continental United States and the #1 Island in the United States for multiple years. It ranked as the #2 Best Islands in the World in 2017. Hilton Head Island was chosen as the best island in the United States by Conde Nast Traveler readers.
1. Shelter Cove Towne Centre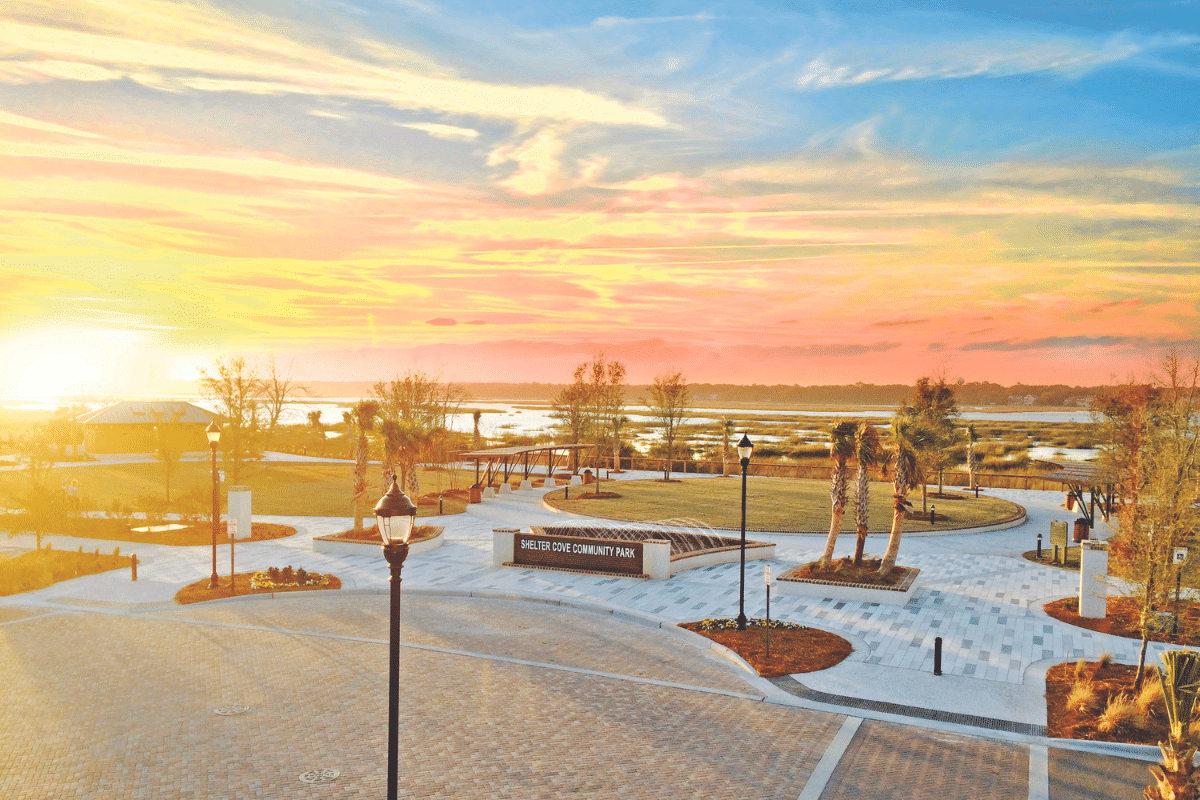 Shelter Cove Towne Centre is an oceanfront shopping and dining area built around a marina. The waterfront walking village has 290,000 square feet of shopping, dining, and activities.
It's a great place to go to get some fresh air and enjoy the views of boats and salt marshes. It's also where you can find many resort-style stores and high-end attire.
Shelter Cove Towne Centre is also easy to get to via bike or car from Palmetto Dunes. Located mid-island, it's the perfect spot for a day trip!
2. Daufuskie Island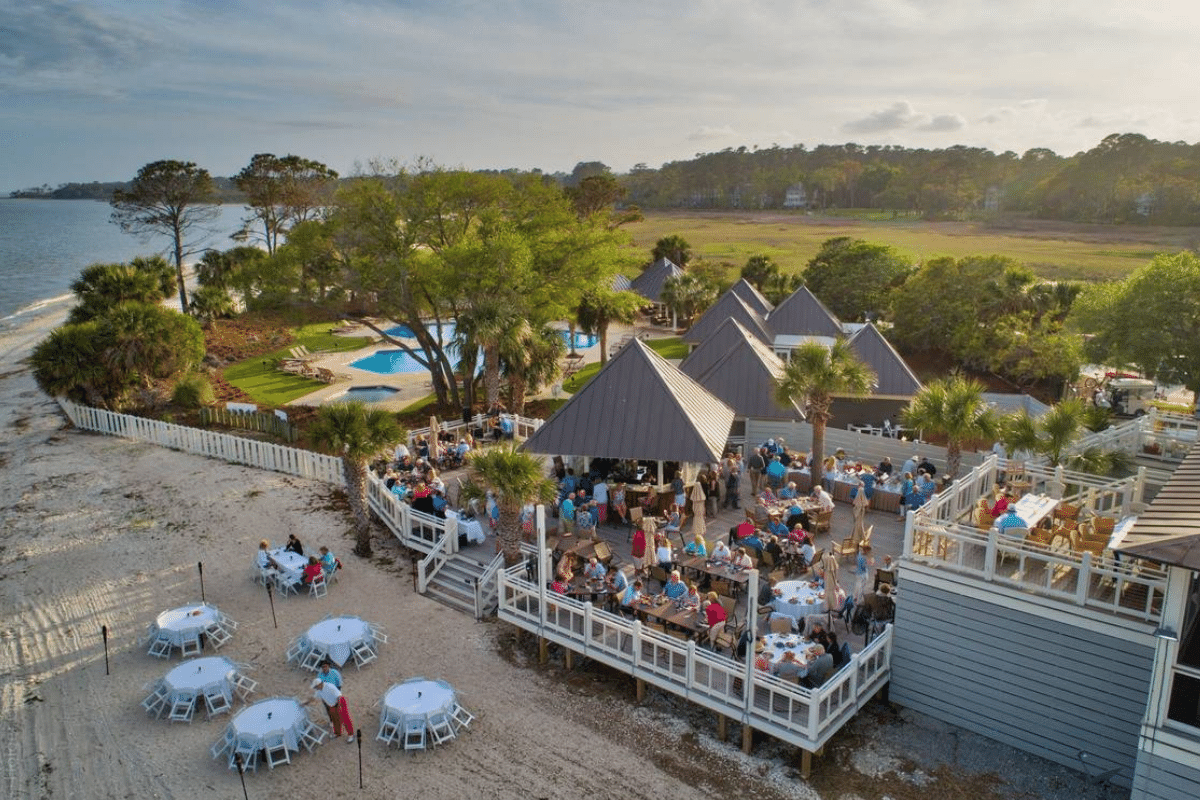 If you've ever dreamed of escaping to a secluded island, Daufuskie is your place. Located just off the coast of South Carolina, it's accessible only by boat or ferry—so you'll feel like you're on your private island.
Daufuskie Island has a long history: Spanish moss oak trees, crowd-free beaches, and a rich Gullah culture all make this one of the most unique islands in the Carolinas.
It was first settled in the 1730s by English colonists who established several plantations on the island. After the Civil War, freed slaves found themselves on Daufuskie, forming the Gullah community; this allowed their culture and language to grow in an isolated place.
Today visitors can explore off-road biking trails, paddleboard or kayak waterways, ride horses at the farm, golf along the beach—or take a self-guided tour along Robert Kennedy History Trail.
Art studios and galleries abound, along with rum distilleries, breweries, and community farms that grow organic produce for the local farmers' market.
3. Pinckney Island National Wildlife Refuge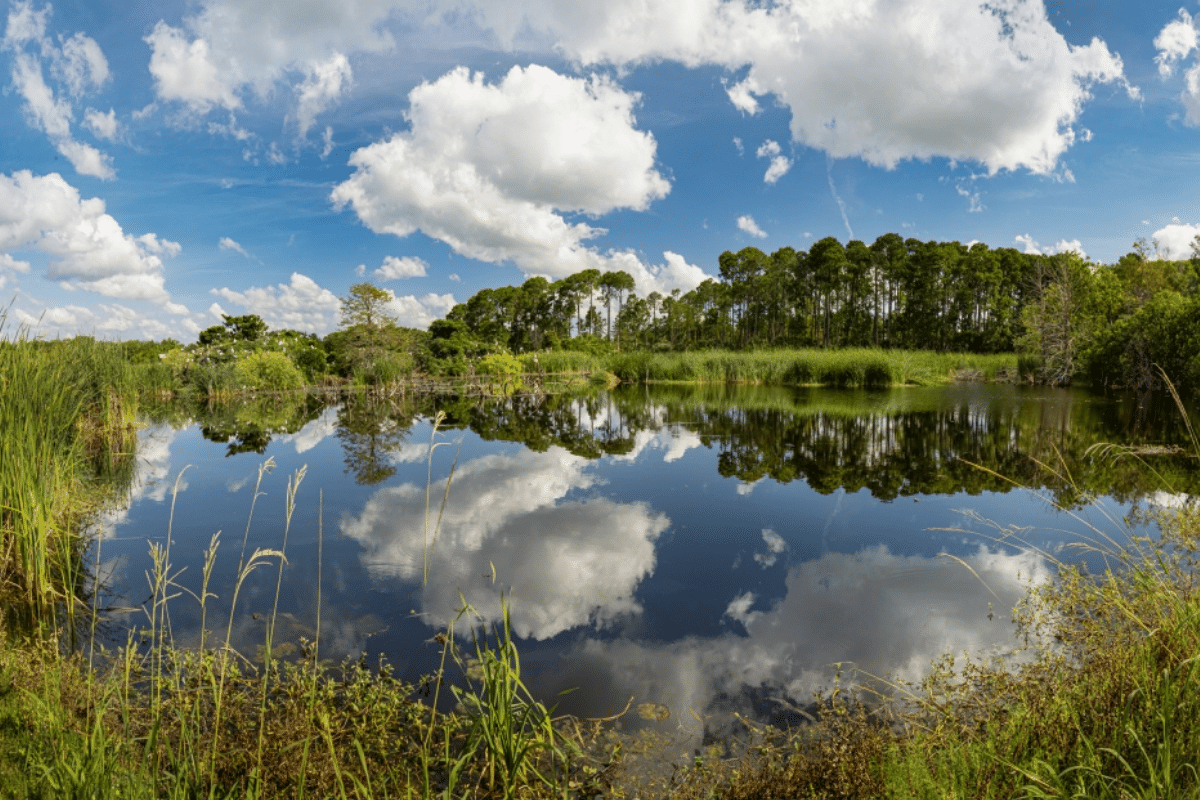 If you're looking for a place to get away from it all, grab a car rental and head over to Pinckney Island National Wildlife Refuge for a nature excursion. With no zoo and only limited access by foot or bike, this refuge has tons of wildlife and provides a great escape from the hustle and bustle of everyday life.
Pinckney Island National Wildlife Refuge came about in 1985 as part of an effort to protect the environment and wildlife of South Carolina. The refuge encompasses 4053 acres, including Pinckney Island (open for public use), Corn Island, Big Harry Island, Little Harry Island, Buzzard Island, and the surrounding waters.
There are 14 miles of hiking and biking trails through freshwater ponds, salt marshes, and maritime forests. You'll see alligators, turtles, deer—even white ibis!
There are several ways to visit Pinckney Island National Wildlife Refuge: by boat, from the beach, or by kayak/canoe. You can park at Daufuskie Landing on Daufuskie Island and then take one of their tours for about $17 per person (including a boat ride).
4. Stoney-Baynard Plantation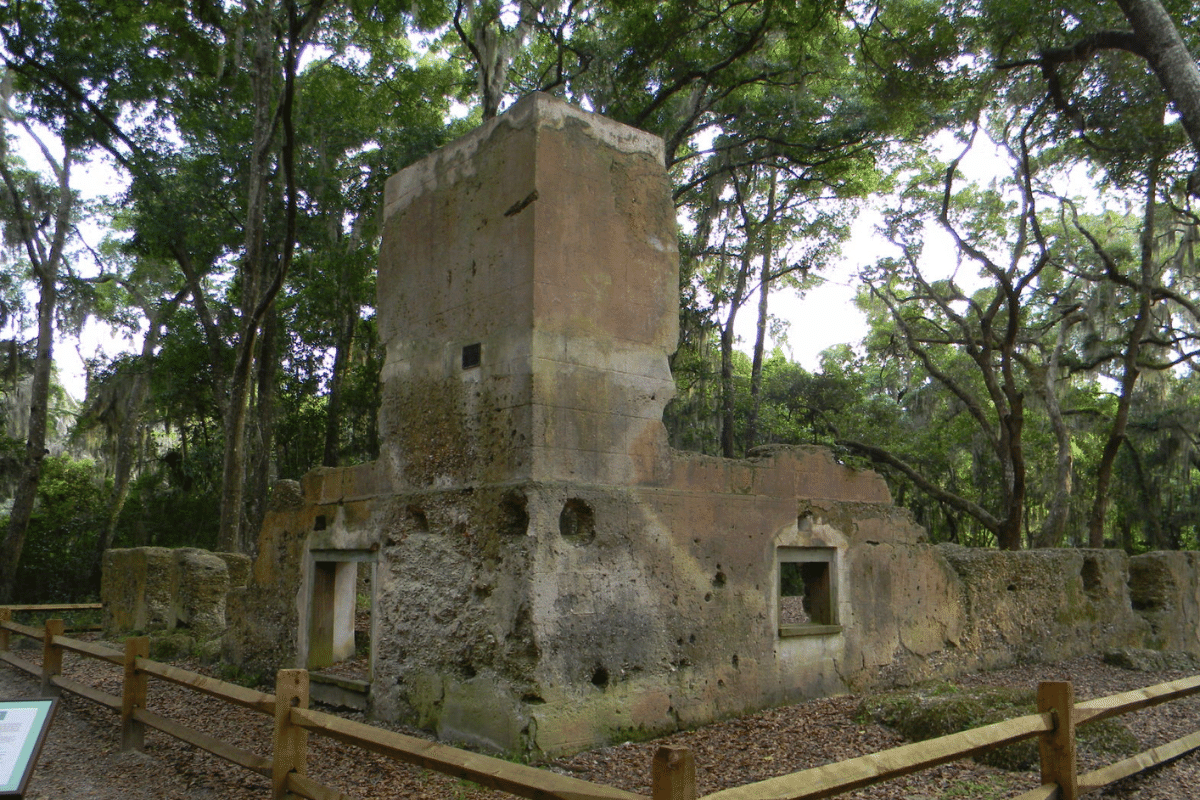 The Stoney-Baynard Ruins are a national historic site located on Hilton Head Island. Captain Jack Stoney built them in the 1790s, and they served as antebellum plantation houses overlooking Calibogue Sound.
Legend says that Captain Jack Stoney lost a poker game to William Baynard in 1840, and he lost the property to Baynard. Baynard's family occupied it until Union forces invaded Hilton Head in 1861, and the Baynards left. It became the Union headquarters before being burned down.
Paranormal activity has been reported at the ruins—apparitions of a man have been seen walking through the ruins. Some think this is William Baynard, who died after being shot during the Civil War.
The plantation house museum holds many artifacts from early settlers of the island, including furniture and household goods like plates, bowls, and glasses. You can also see some of the original documents that were signed when Stoney Baynard Plantation was established as well as an old map of Hilton Head Island.
5. Harbour Town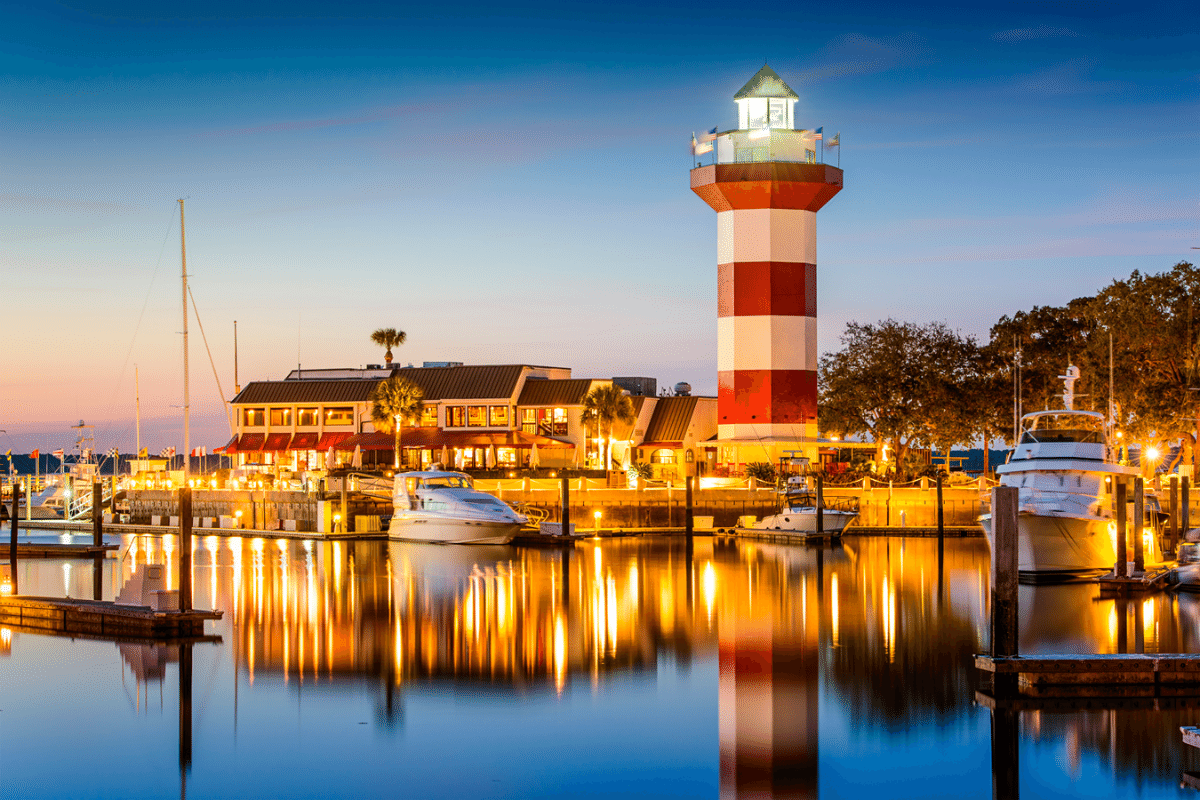 Whether you're in Hilton Head for the first time or have been coming back year after year, there are plenty of things to do at Harbour Town.
If you've got a car, drive up to Harbour Town Golf Links and watch golfers hit the ball around the course. It's one of the best golf courses in South Carolina, and it hosts the RBC Heritage tournament every spring. If you don't have a car, there are always cabs waiting outside the gates of Sea Pines Resort.
If you're feeling adventurous, climb up to the iconic candy cane-striped lighthouse for a fantastic view of Harbour Town's yachts and rental properties. There are also many restaurants and shops in this area if you want to grab lunch or a souvenir before heading down the hill.
Harbour Town is also home to The Liberty Oak at The Harbour Town Yacht Basin—a live music venue where local bands play every night from April through October (free entry for everyone). If you're looking for something different, try renting out one of their boats or taking a dolphin-watching excursion—both will get you closer than ever before!
6. Harbour Town Lighthouse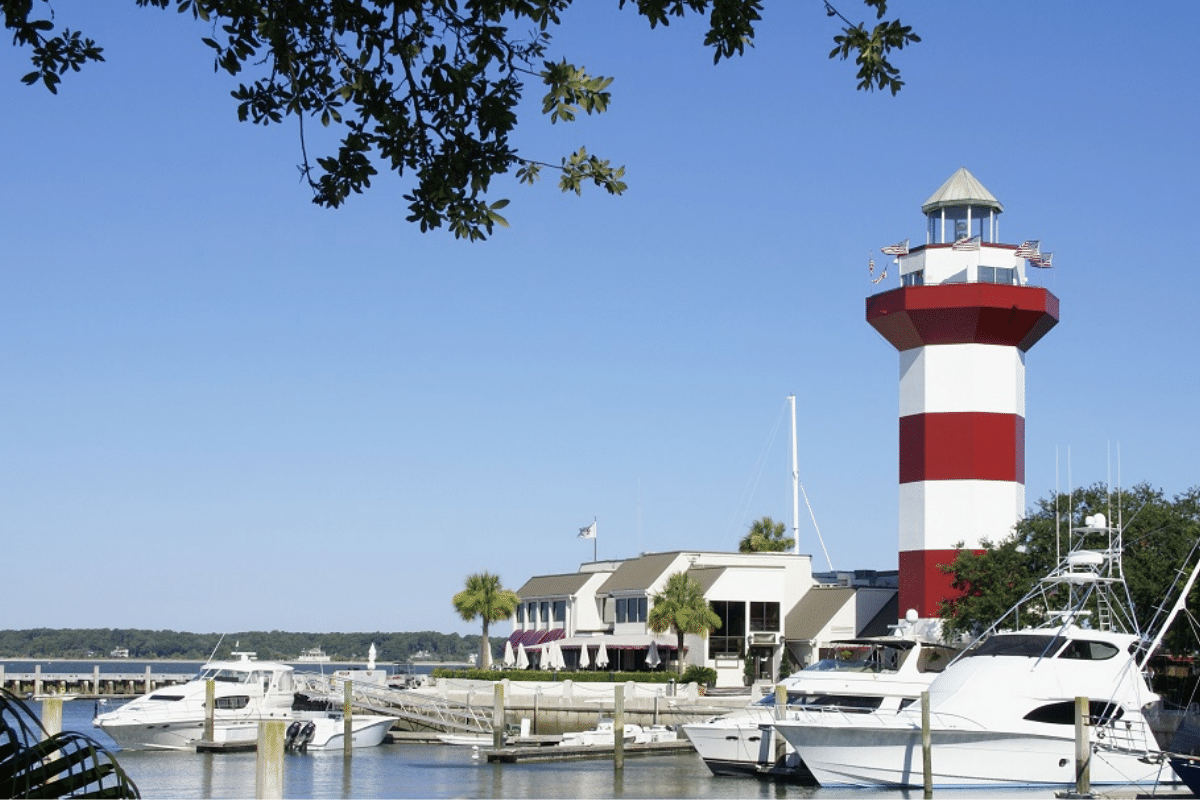 The Harbour Town Lighthouse is the only museum on Hilton Head Island that tells the story of lighthouses and the people who operated them.
Located in the Yacht Basin, this 50-year-old museum has an extensive collection of lighthouses and how they used them for navigation, as well as a 16-foot hand-built model of the Eagle, a historic 295-foot cutter.
The Lighthouse Legends Tour features a climb up to the top of the lighthouse to learn about local history at each level. You'll also learn about lighthouse keepers who spent their lives tending to these critical structures.
The Coast Guard Exhibit features equipment used by Coast Guard members domestically and abroad.
7. Folly Field Beach Park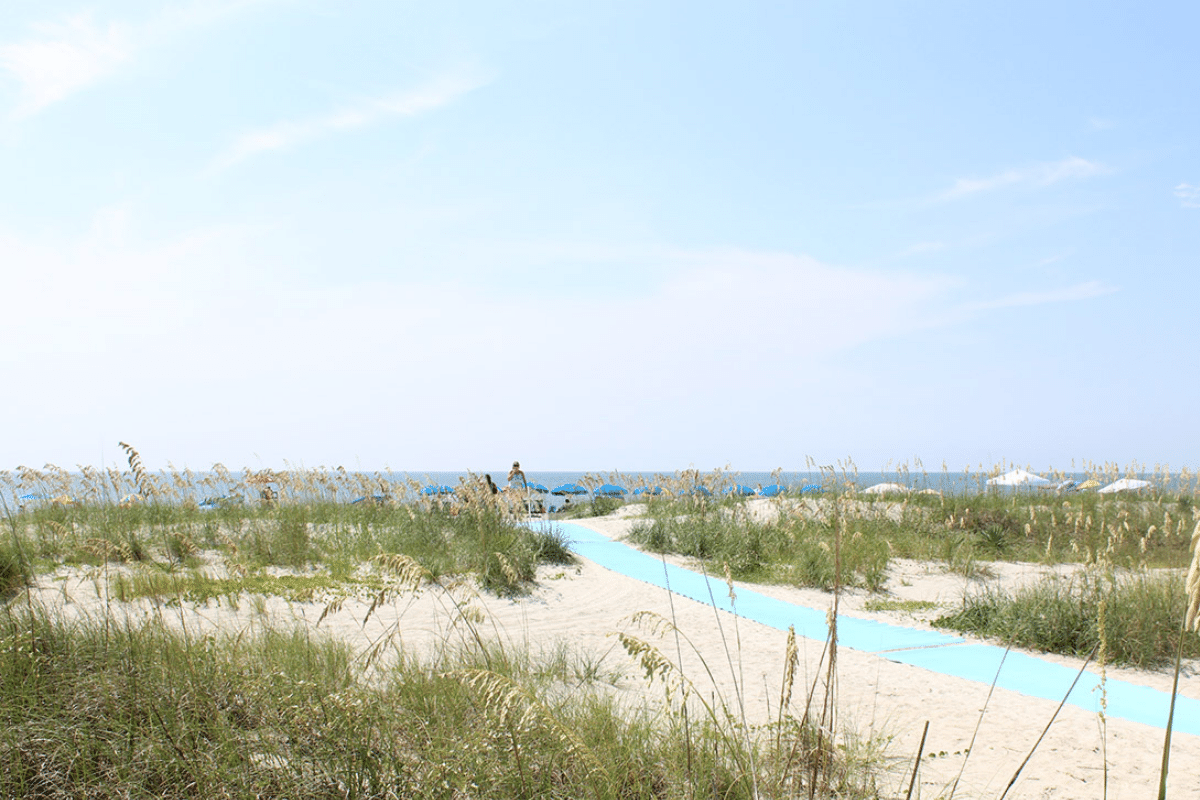 Folly Field Beach Park is an excellent place for a day of sun, fun, and food. Located in the heart of Hilton Head, Folly Field has something for everyone: playgrounds with slides, swings, and teeter-totters; picnic tables; volleyball courts; basketball courts; picnicking areas; a pier with benches overlooking the island's incredibly blue waters.
If you're looking for some exercise beyond swimming or playing on the beach there are also walking paths around the perimeter of this lovely park that lead through wooded areas where you may find deer grazing or birds nesting in trees.
8. Coligny Beach Park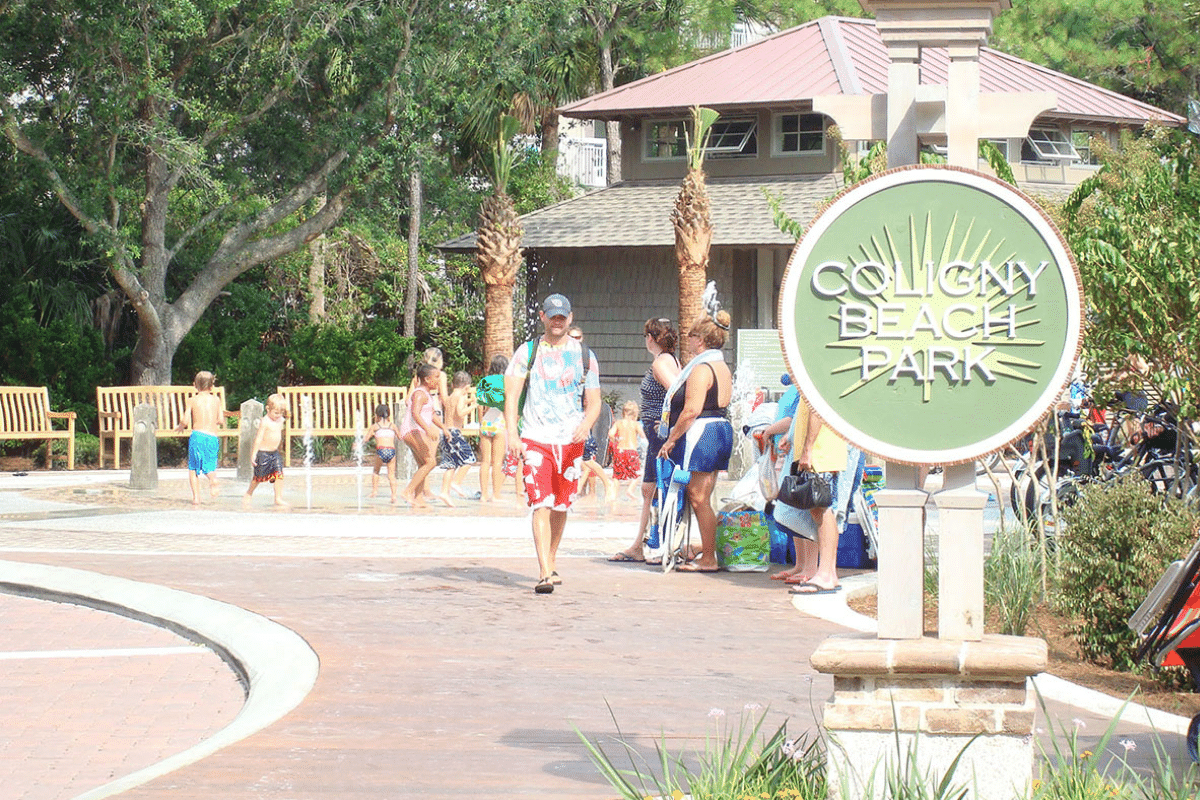 Coligny Beach Park is the most popular beach in Hilton Head. It's a vast, sandy shoreline with plenty of room for you and your family to spread out, and it offers amenities like restrooms and showers, changing rooms, benches, and gazebos. You'll also find coffee shops, ice cream shops, seafood restaurants—and even rentals of umbrellas and beach chairs!
The best part? Free beach access is available 24 hours a day during the summer months (March through October). Lifeguards work between 6 am-9 pm from March to October, and 6 am to 6 pm from November through February.
There's always something to do at Coligny Beach Park. Events have included sunrise yoga, a winter polar plunge, Sunday church services, and a bicycle obstacle course.
9. Coligny Plaza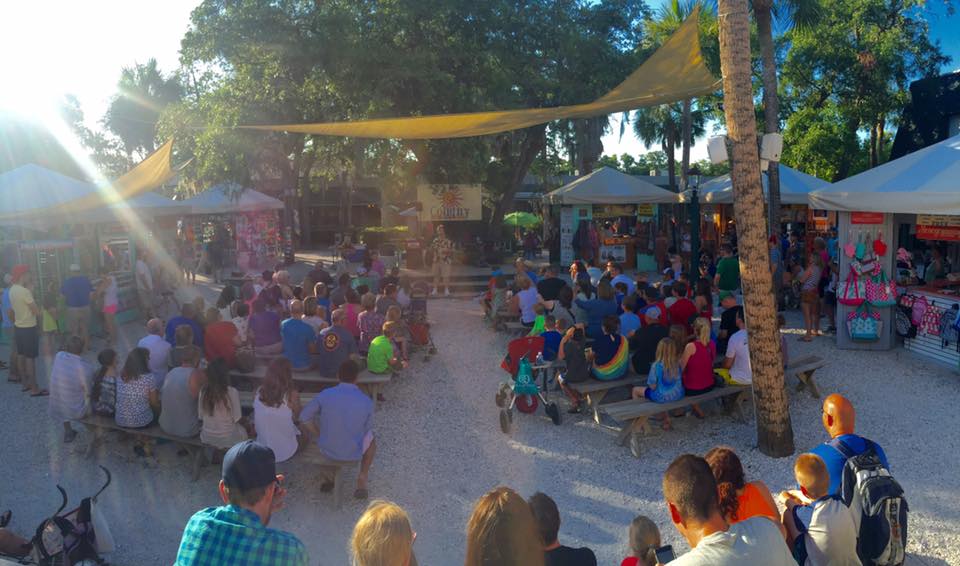 Coligny Plaza is the perfect place for a day of shopping, dining, and entertainment.
The plaza boasts 60 stores, including clothing, jewelry, gifts, bicycles and rentals, toy stores, and a pharmacy. Dozens of restaurants include bakeries, sandwich shops, cafes, bars and grills, and ice cream shops.
There are also special events throughout the year, such as the annual Jazz Festival in May and the Christmas Tree Lighting Ceremony in November.
Coligny Theatre or The Island Theater is an "art house" mostly showing films by independent producers. It is located on the second floor of Coligny Plaza.
10. Lowcountry Celebration Park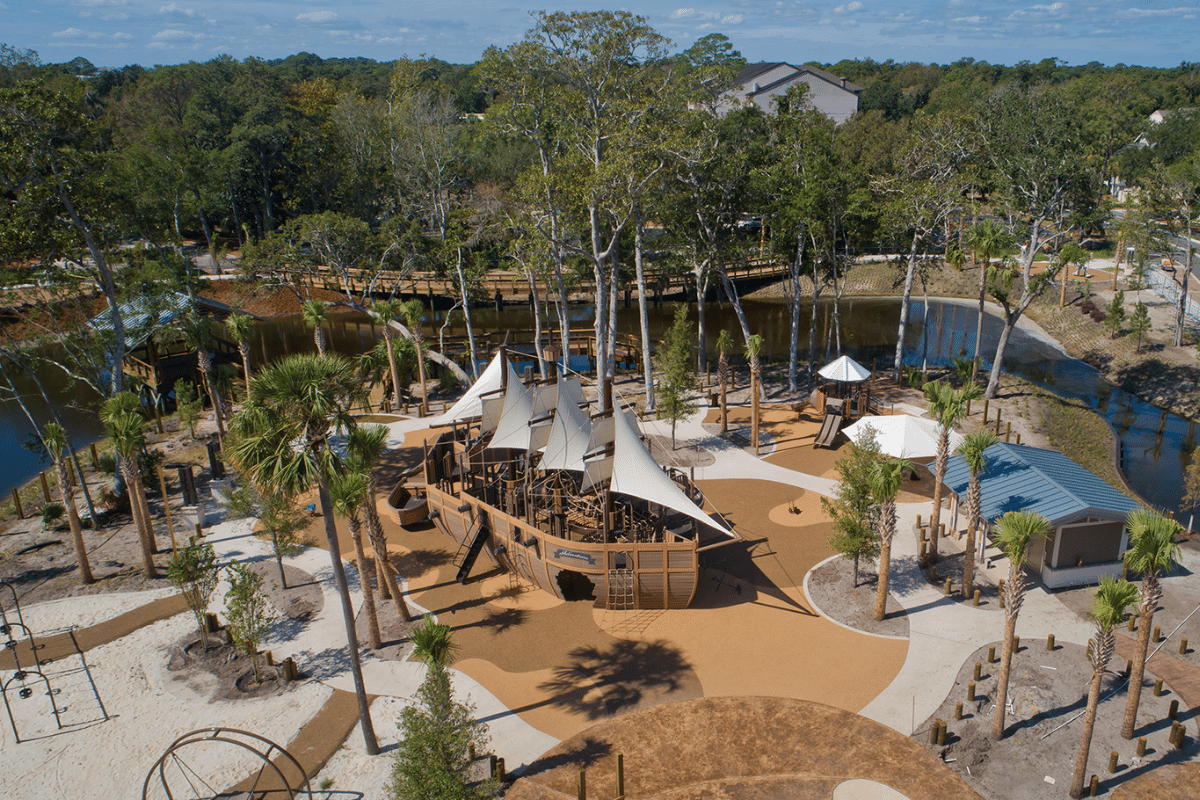 Lowcountry Celebration Park has a lot to offer! Here are some of our favorite things to do.
Adventure Playground, named after Captain William Hilton's ship, is the perfect place for your kids to let loose and run around. They'll feel like they're on a pirate ship with all this playground equipment!
If you want to spend some time in the sun, take a stroll through the Open Pavilion and relax on the lawn. The lighted perimeter walk will keep you safe as you enjoy this beautiful setting.
The Setting Sun Sculpture is one of Lowcountry Celebration Park's most popular features—you can't miss it! If you love art, you'll love this piece.
Fitness stations are provided so that you can stay active while enjoying your time here in Hilton Head. Just bring your mat or towel if you want to take advantage of them!
If you need a break from all that activity, take some time out at The Sandbox Children's Museum. They have tons of fun things to do and exhibits to learn from for kids of all ages.
11. Driessen Beach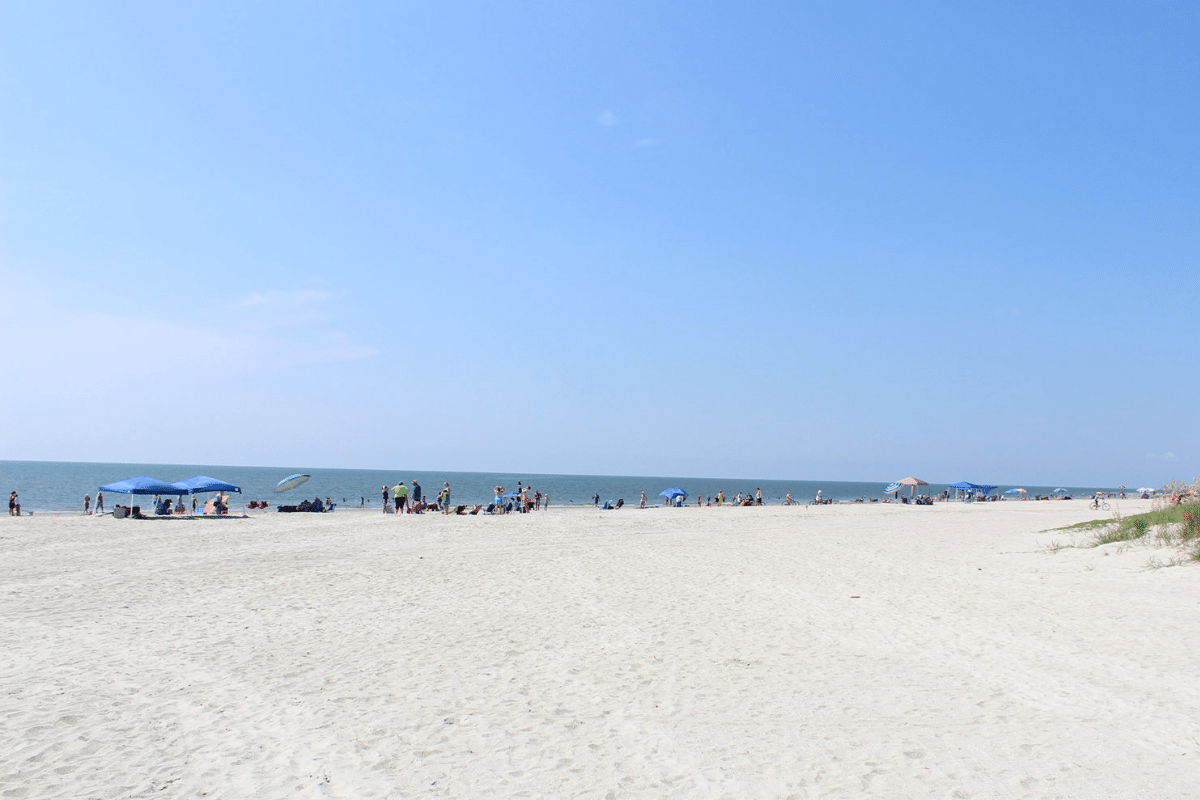 If you're looking for a change of pace from Coligny Beach Park, Driessen is for you. It's tucked away in a wooded area, which means it's less crowded than other beaches in the area.
Amenities include restrooms and outdoor showers, plus a picnic pavilion and playgrounds. Grills are available on-site, and bike racks are available nearby. Lifeguards are on duty during the summer months.
The resort along Driessen Beach offers food options if you want to go off-site while visiting the beach, but there are also many restaurants nearby that offer food delivery services if you want to spend more time at the beach!
Driessen Beach is just as easy to access as Coligny Beach Park—just follow the long wooden boardwalk from your parking area down to the shoreline.
12. Islanders Beach Park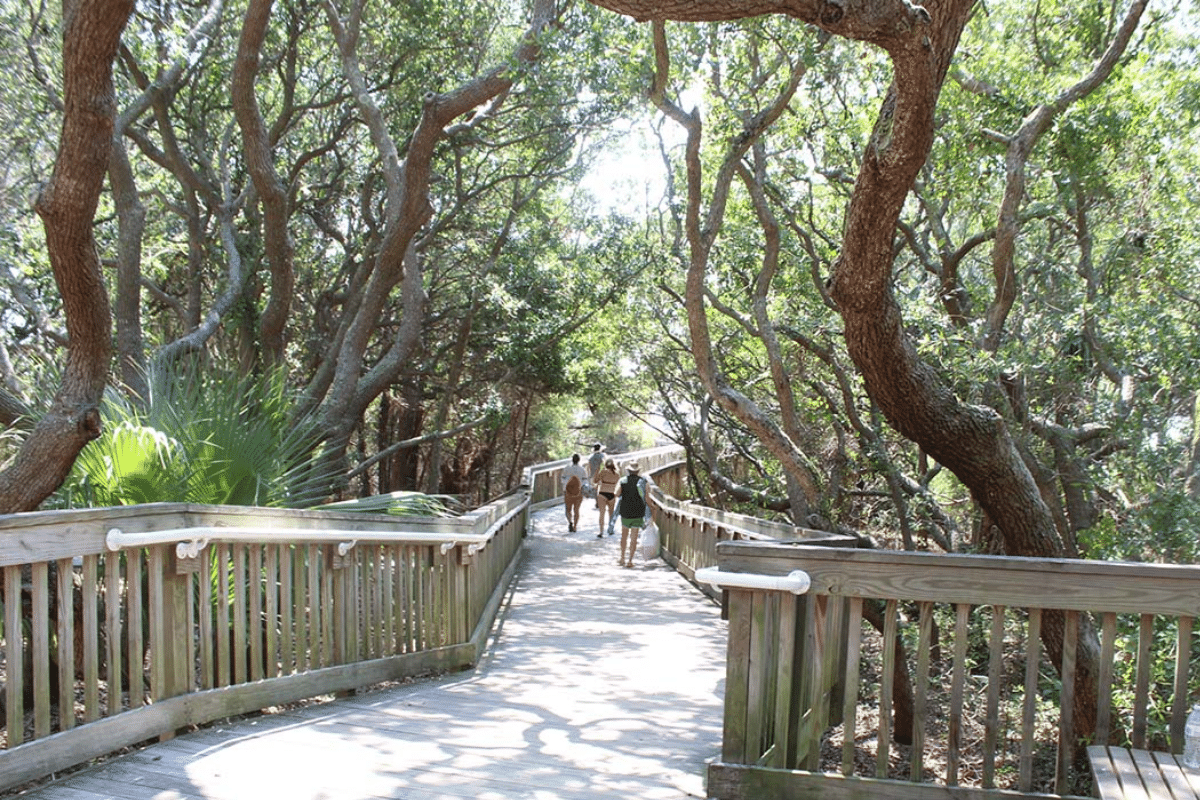 Islanders Beach Park is the perfect place for you to relax, unwind and make memories with your family and friends.
The park offers sweeping views of the water. The boardwalk through the dunes will lead you down to the beach matting that will help you navigate the sand safely. There's also a playground where kids can burn off some energy before settling in for a picnic at one of our pavilions.
The park features amenities including restrooms and outdoor showers, a water fountain, and more.
13. Coastal Discovery Museum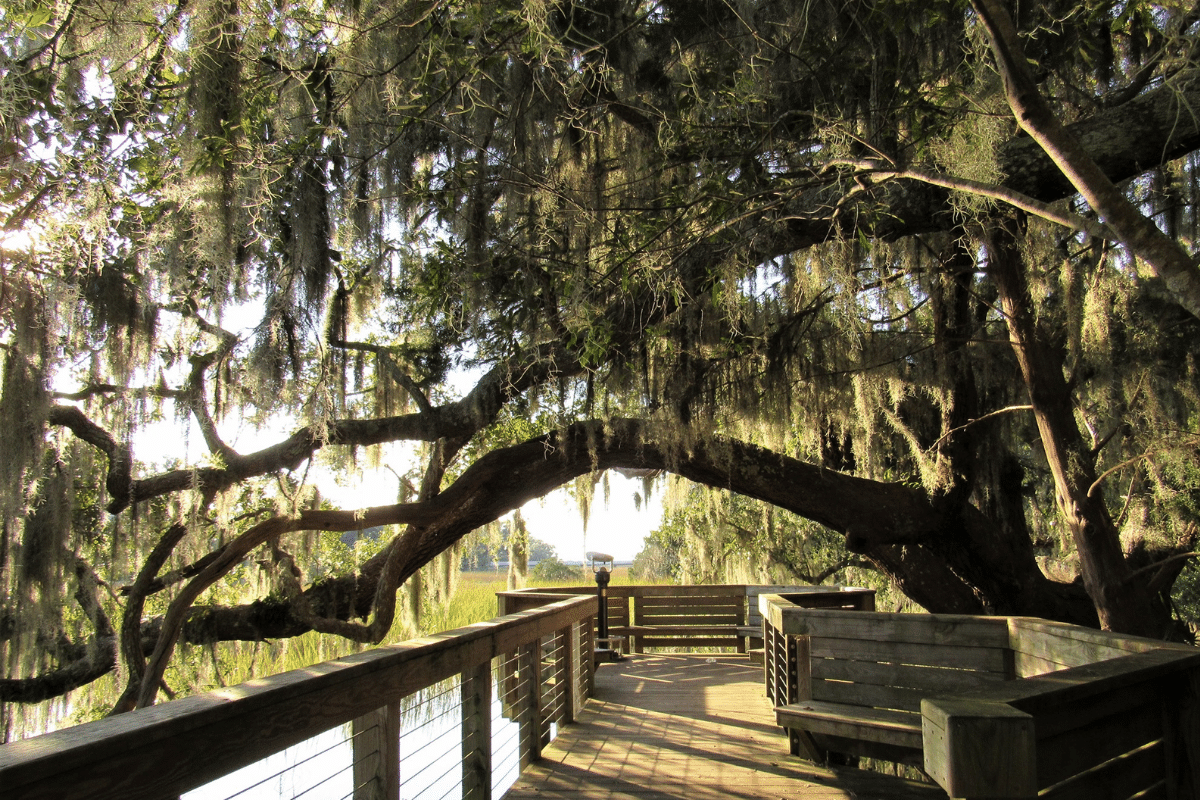 Coastal Discovery Museum is a place to learn about the local area, interact with animals, and explore nature.
This 68-acre property features live oaks, a butterfly habitat, and trails. Some gardens host native plants used by early settlers for food and medicine. Guided kayak tours, jet ski rentals, and bottlenose dolphin cruises are offered at the museum's marina.
The Museum barn houses rare Marsh Tacky horses. Honey Horn Slave Project archaeologists discovered slave cabins and artifacts here. The project is still ongoing, so discoveries are expected!
Coastal Discovery Museum is just 4 miles south of Pinckney Island National Wildlife Refuge. A $5 suggested donation allows you access to this educational experience.
14. Sea Pines Forest Preserve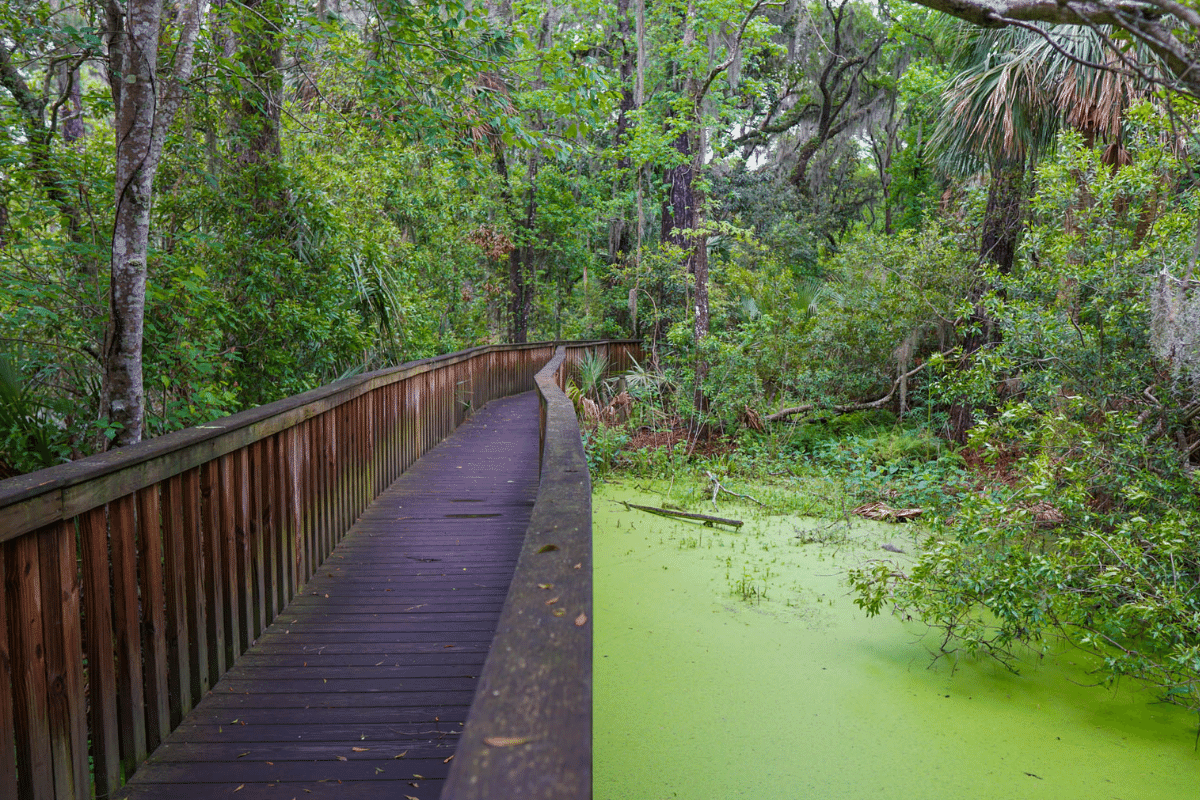 Sea Pines Forest Preserve is a 600-acre protected land for alligators, snakes, deer, and more than 200 species of birds.
A guided boat tour or wagon is available at no cost. Fishing charters or horseback rides are also available for a nominal fee.
The Warner W Plahs Wildflower Field is a popular attraction during the spring and summer months when the flowers are in bloom.
The Fish Island or Vanishing Swamp is another popular attraction that allows visitors to explore an area where the water level is low enough to see many historic artifacts from Native Americans who lived there thousands of years ago.
The Sea Pines Shell Ring is an archaeological site dating back four thousand years that was used as a gathering place for early Native Americans. It was made up of clams and muscles as well as oysters.
Outside guests are charged a daily $9 visiting fee (cash only) to enter the gated enclave at Sea Pines Resort.
15. Bluffton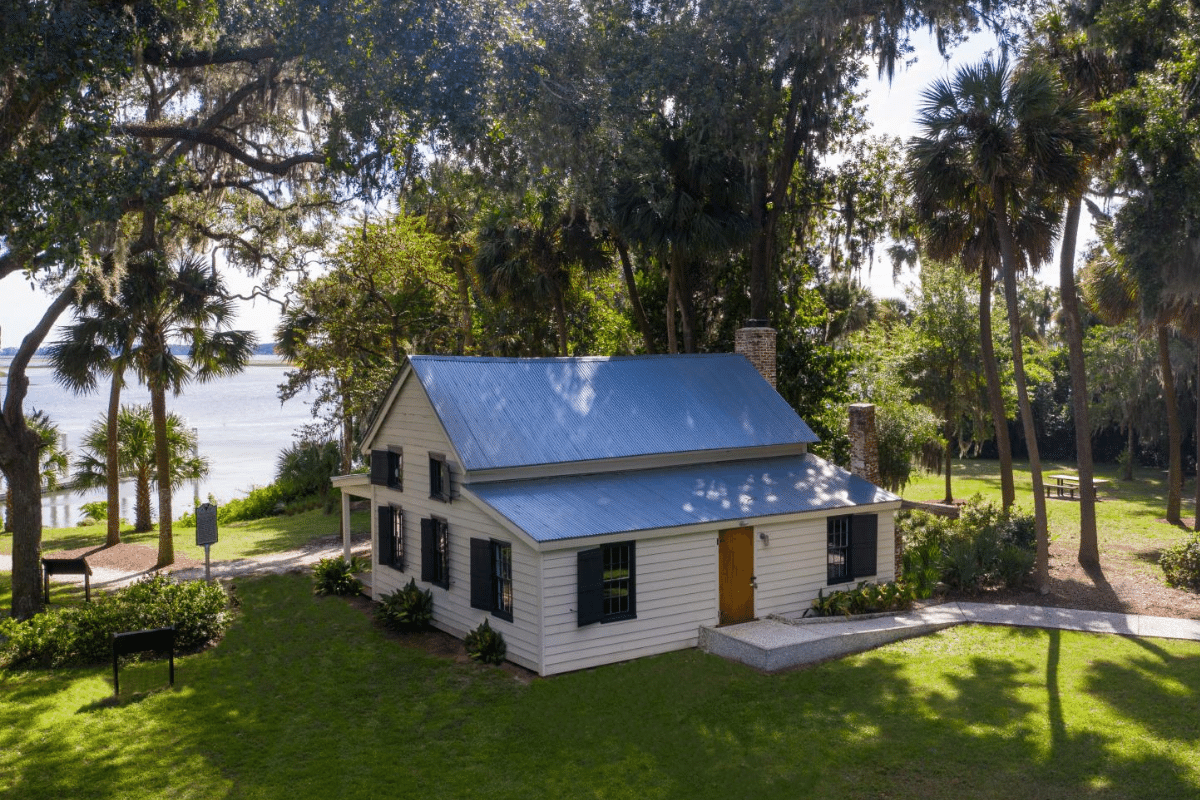 Kayaking, biking, hiking, and fishing along the May River are all great ways to explore the area. If you're looking for something a little more guided and educational, consider taking a tour through Old Town National Register Historic District with 80 historic structures.
Bluffton also has 120 cultural attractions and hosts three dozen festivals and events throughout the year.
Palmetto Axes ax throwing is a great place to get your adrenaline pumping while learning how to throw some axes! They will also teach you how to create your personalized wood handle.
Tanger Factory Outlet is a great place to find discounted designer clothes without having to leave town. You'll find brands like Michael Kors, Ralph Lauren, Coach, and more here!
If you're looking for art galleries, then look no further than the Art Gallery of Local Artisans, which has been showcasing local artists since the late 1980s. The gallery specializes in pottery, sculpture, and painting from various local artists from all over South Carolina.
The May River Golf Course, designed by Jack Nicklaus overlooking the river, has eco-friendly turf and white-sand bunkers – what more could you ask for?
The entire city is surrounded by water and greenery. The waterfront in Bluffton Beach is one of South Carolina's most popular attractions for swimming and sunbathing—especially since there are so many public access points!
16. The Sandbox: An Interactive Children's Museum
The Sandbox Children's Museum is a hands-on, interactive museum for early childhood up to age 12. Kids explore creativity through themed activities and exhibits. They offer free play and exploration in a museum environment with staff-guided programming, activities, and crafts.
In addition to their main museum, we have two additional locations: The Shrimp Boat Playground, located at DuBois Park in downtown Bluffton; and the Maker Space, located on Bluffton Parkway.
Exhibits are designed to engage children in a variety of ways—through creative play or hands-on explorations. They offer 11 different hands-on experiences for your little ones:
Kinetic sand table
Pirate ship
Two dress-up stations
Derby racetrack
Airplane flying experience
Café with a kitchen
Wind tunnel
Two arts and crafts spaces
Reading nook
Supermarket checkout line
Self-guided discovery stations allow them to explore their senses. They also offer special events like art workshops or story time with a local author.
Their goal is to provide an opportunity for children to engage with their world through an exciting atmosphere where they can explore new ideas while having fun!
17. Palmetto Dunes
Palmetto Dunes has a little something for everyone. For the golfers in your group, Palmetto Dunes is home to three championship golf courses. Travel and Leisure Family magazine named it the #1 family resort in the US, so you can be sure your game will be in good hands.
If you're looking to relax on the beach, Palmetto Dunes offers 3 miles of beach access and vacation rental homes. You can also rent surfboards, umbrellas, and chairs if you want to feel like you're really on vacation.
If you want to get out of town for a bit, there are 200 miles of bike trails, beaches, and local shops nearby to explore. If you'd rather just stick around the resort itself, there are plenty of things going on there too: an outdoor pool, beach pavilions, tennis courts, and day spa—not to mention all three golf courses!
18. Mitchelville Beach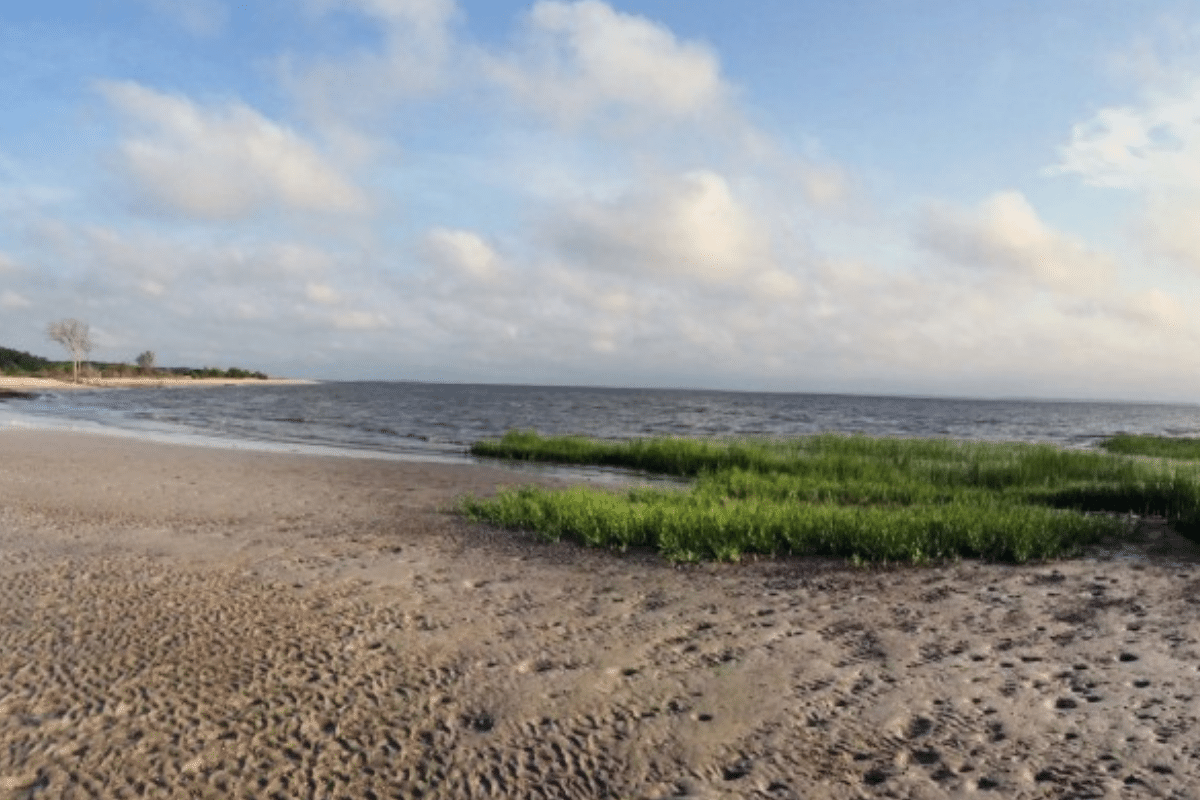 Mitchelville Beach is a lesser-known beach on Hilton Head Island, but it's a great spot for shelling and exploring.
The beach is located near the Hilton Head Island Airport, so it's a bit secluded and rugged compared to Coligny and Folly Field. There are fewer crowds here, so if you're looking for a more peaceful experience with fewer people around, this is the place for you!
Mitchelville Beach has restrooms and outdoor showers, as well as picnic tables where you can sit down with your friends or family and enjoy some fresh seafood.
The best part of Mitchelville Beach is that it's better for shell collecting than swimming. The sand is coarser than what you'd find at other beaches on Hilton Head Island, which means fewer shells are being washed away by the tide. You'll also find more salt marshes and wetlands here than other beaches on the island—and they're beautiful in their own right.
If you visit during low tide when salt marshes and beach tide pools are visible, this is one of our favorite spots on Hilton Head Island!
19. Mitchelville Freedom Park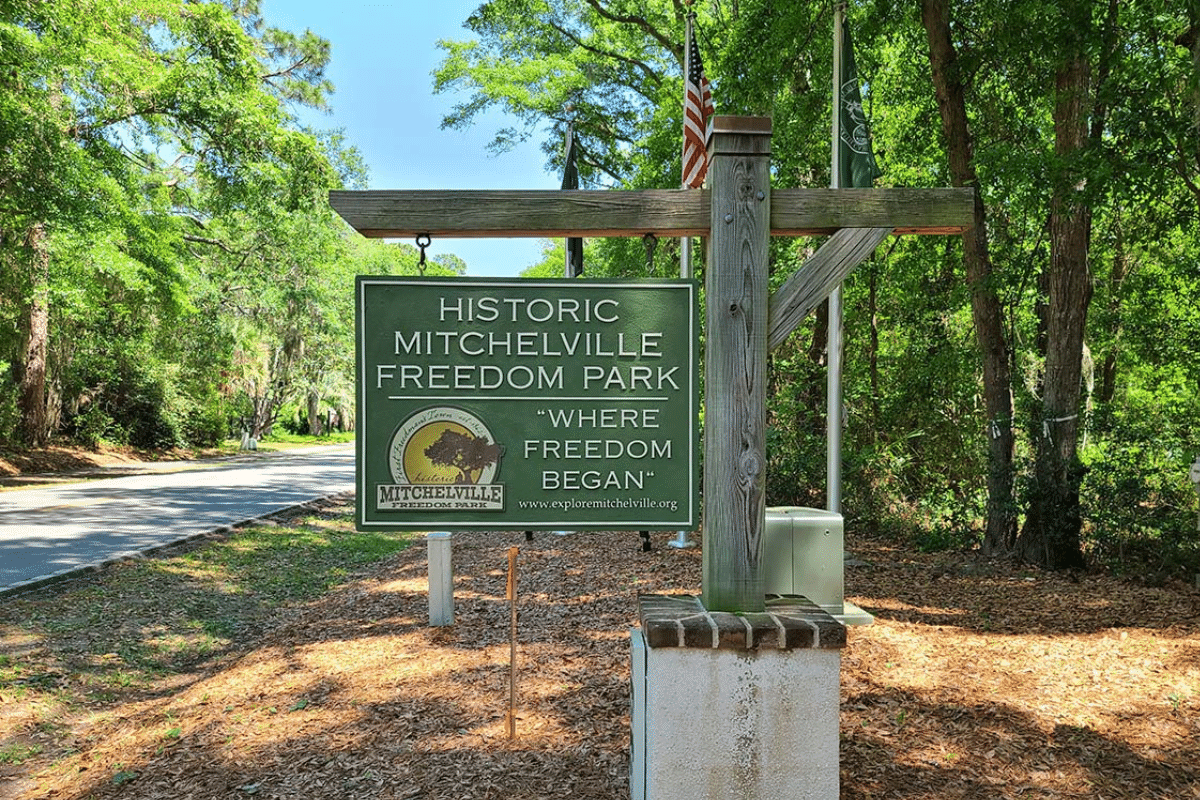 Historic Mitchelville Freedom Park is the first self-governed community of former slaves in South Carolina. It was founded in 1862 when escaped slaves built a town for themselves on Hilton Head Island.
The town had roads, homes, churches, stores, and schools. The enslaved people elected officials who mandated that children between 6 and 15 receive an education—the first town in South Carolina to implement compulsory education laws.
Today Historic Mitchelville Freedom Park preserves the history and traditions of these ancestors through exhibits like replicas of Praise Houses and Homestead Houses, as well as a tool shed.
Celebrate Juneteenth and the Holiday Lights Show each year at the park. The Amenities include restrooms, free parking, walking trails, a picnic pavilion, and beach access.
Conclusion
If you're looking for a place to have some family fun, or are traveling alone and want to meet new people, HHI is the perfect destination. In addition to being an island getaway that welcomes tourists all year round, this area is also home to several attractions that will allow visitors and locals alike to enjoy themselves no matter what season they visit.
When it comes to activities while visiting Hilton Head Island, there's no shortage of things that can be done! From walking along the beach in search of seashells and other treasures at low tide or going fishing off one of the piers on Folly Field Beach (which boasts some great views).
There are plenty of opportunities for people who enjoy sports such as swimming and surfing—plus all manner of water sports, including sailing lessons! In addition, there are many golf courses around town if golfing is your thing. Otherwise, there are also tennis courts available so both indoor/outdoor fun can be had by all!