Nestled between the Pacific Ocean and the Laguna Mountains on the southern California coast, San Diego is the Golden State's second-largest city and home to postcard-perfect beaches, rich Spanish colonial history, chic eateries and breweries, and vibrant, locally inspired arts and culture scene.
It's also frequently overshadowed by nearby Los Angeles and San Francisco, which makes it one of California's best-kept secrets and the perfect place to visit year-round. It's never too crowded, the weather is idyllic, the locals are welcoming, and you'll never run out of fun things to do.
If you love fun in the sun, San Diego is an outdoor paradise with over 70 miles of palm-lined beaches like Mission and Pacific Beach, dozens of mountain parks and protected areas, desert hikes, oceanfront boardwalks, biking trails, and endless opportunities for watersports like surfing, kayaking, kiteboarding, boating, and sailing.
For culture aficionados, San Diego is California's creative hub. Balboa Park is the city's cultural epicenter featuring 17 museums and performing arts venues. It's also home to two Tony Award-winning theaters as well as countless historic sites, art galleries, and gardens while also hosting dance performances, film festivals, and other cultural events year-round.
For families, San Diego is California's Orlando, including the world-famous San Diego Zoo and Safari Park, SeaWorld San Diego, Sesame Place San Diego, LEGOLAND California, and the Birch Aquarium at Scripps Institution of Oceanography. There are also dozens of museums for all ages, including the Maritime Museum of San Diego, the San Diego Air and Space Museum, and the USS Midway Museum.
So, whatever brings you to "SoCal", piques your interests, satisfies your cravings, or gets your heart racing, here are 33 top fun things for locals and visitors to do in the San Diego area to savor everything this picture-perfect city has to offer.
1. Balboa Park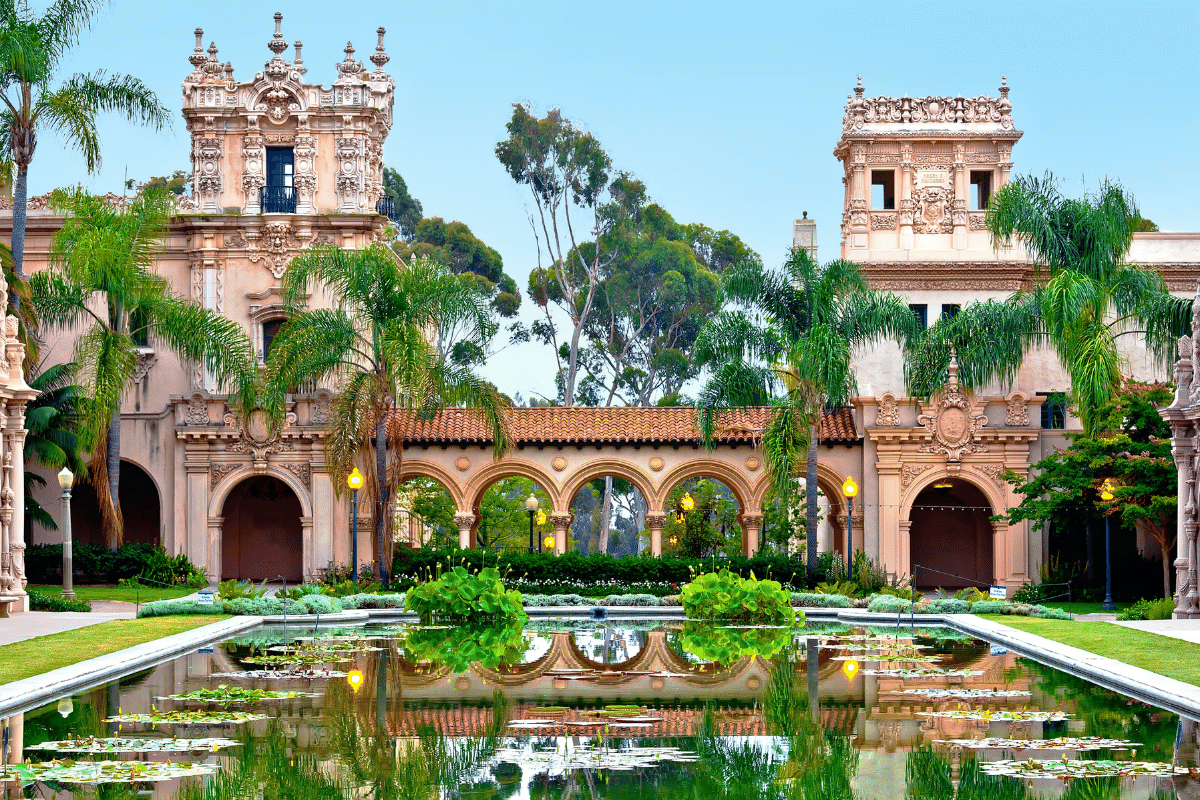 No destination is more iconically San Diego than Balboa Park. Established in 1884 and sprawling across 1,200 acres of impeccably manicured grounds, gardens, and trails just northeast of downtown, this National Historic Landmark fuses nature, culture, sports, history, and the arts into something for everyone. It's home to 17 museums, an aerial tram, sports complexes, concert stages, dog parks, playgrounds, a puppet theater, Japanese gardens, several award-winning restaurants, and of course, the world-famous San Diego Zoo. Balboa Park should be your first San Diego stop if you are looking for stunning scenery, rich history, and an endless array of things to do.
2. San Diego Zoo
Set in the middle of Balboa Park on 100 acres, the San Diego Zoo is one of the largest, most visited, and most famous zoos in the world. Featuring more than 3,500 animals, 700,000 plants, 650 rare and endangered species, and dozens of "bioclimatic" exhibits like the Gorilla Tropics, Lost Forest, and Sun Bear Forest, it's also one of the most diverse. Visitors (and locals) can explore the zoo on a three-mile guided bus tour, the aerial tramway, or stroll through the zoo's endless maze of interconnected paths and trails. Families also shouldn't miss the Wildlife Explorers Basecamp, where kids can interact with hundreds of live animals.
3. San Diego Zoo Safari Park
Spread across 1,800 acres thirty miles northeast of San Diego, the San Diego Zoo Safari Park offers visitors the rare opportunity to experience wild nature face to face and witness some of the rarest African and Asian "mega" animals roam free as if they were living in their natural habitats—all without needing a passport. Perfect for families, kids can watch a cheetah run at full speed, see endangered birds like the Andean condor, take the African Tram Safari, come face to face with lions, tigers, gorillas, giraffes, and elephants, and learn about rare wildlife and habitat conservation efforts.
4. SeaWorld San Diego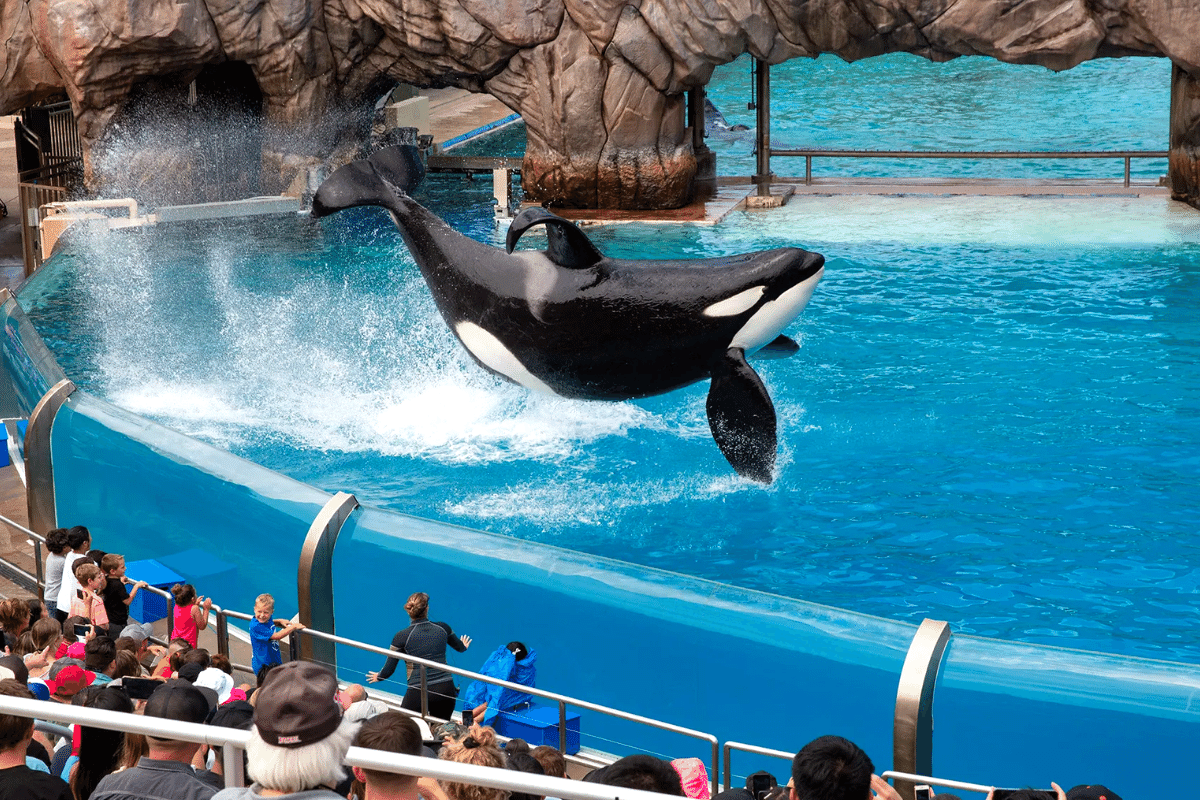 If you want to create the memories of a lifetime, SeaWorld San Diego is a can't-miss destination for adults and kids alike. Located in the middle of shimmering Mission Bay on over 2,000 acres north of downtown, SeaWorld is one of the largest marine parks in the world, offering jaw-dropping live animal shows with dolphins and whales along with dozens of massive aquariums and habitat exhibits that feature some of the rarest marine mammals in the world—including Emperor penguins, sea turtles, beluga whales, and walruses. SeaWorld also offers several rides and rollercoasters on the water to double up the fun.
5. LEGOLAND California
A short drive north up Interstate 5 (or a little longer up scenic coastal Route 1) from San Diego past the beach towns of Encinitas and Del Mar is LEGOLAND California. This 128-acre theme park can literally keep your kids entertained for an entire weekend, which is why in addition to sixty different attractions, rides, and shows, it also includes its own LEGO-themed, 250-room hotel—the first in the country. The SEA LIFE Aquarium and LEGOLAND Water Park next door, featuring seven slides, also ensure that when you've had enough LEGOS, you'll still never run out of things to do.
6. La Jolla Cove
La Jolla Cove and its adjacent offshore Marine Reserve and underwater park is without exaggeration one of the most scenic spots in America for watersports and beach lovers to put their toes in the sand for a day. Not far from tony La Jolla Shores, which is a local Mecca of fine dining, boutiques, and surf shops, visitors can enjoy a kayak or paddleboard rentals, charter a boat, scuba dive in the kelp forests, pack a picnic, listen to sea lions bark, or photograph the sun dropping into the Pacific Ocean. Just remember to pack your sneakers in addition to your flip-flops—parking, especially on the weekends, is a challenge.
7. Sunny Jim's Sea Cave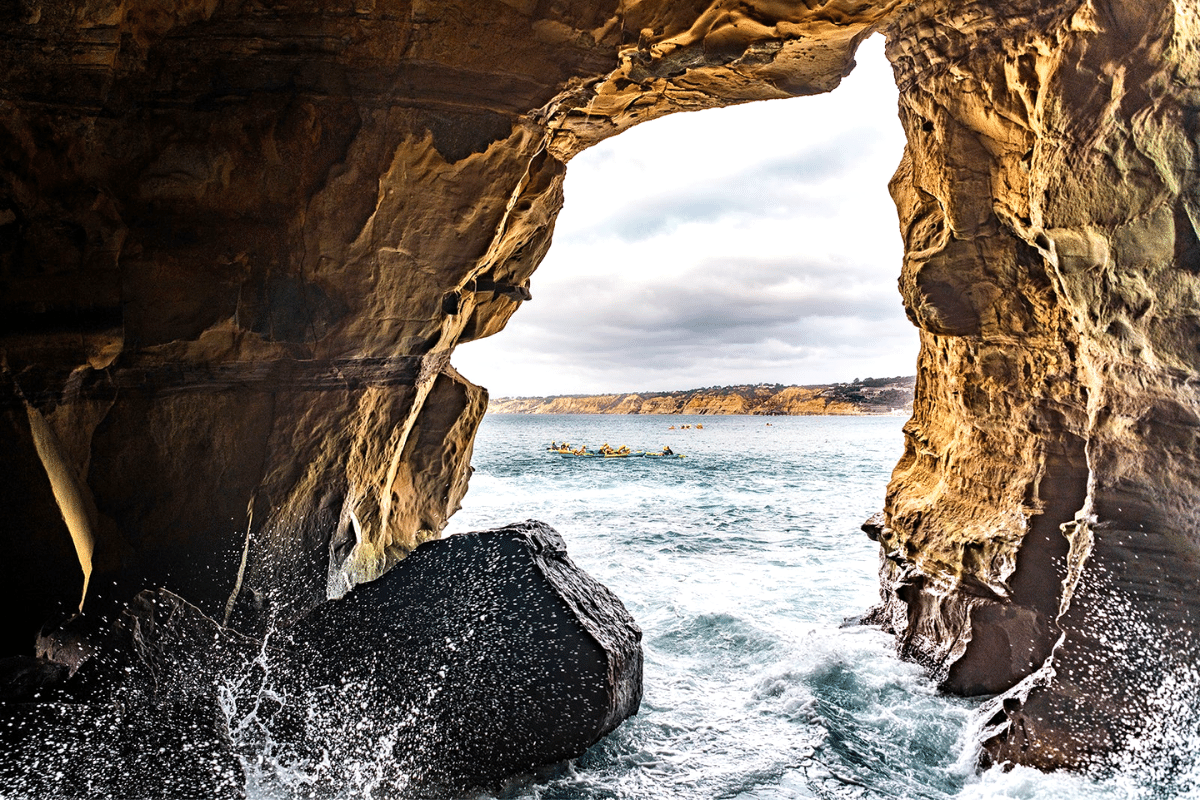 Sunny Jim's Sea Cave is one of La Jolla Cove's top things to do and one of the coolest places to visit in the San Diego area. Dating back to 1902 when a local German settler first dug out the cave from the underlying rock from the surface—and named by Frank Baun who wrote The Wizard of Oz—the cave offers one of the most unique and beautiful views of the Pacific Ocean and the sunset through a wide rock window at sea level. To get there visitors need to navigate down (and back up) 145 stairs through the eerily lit cave itself which is half of the fun.
8. Torrey Pines State Natural Reserve
Torrey Pines State Natural Reserve just north of La Jolla Cove (and adjacent to the famed Torrey Pines Golf Course) is 2,000 acres of coastal state park and one of the most stunning, protected stretches of the Pacific Ocean front wilderness remaining along the Southern California coast. If you love hiking, wildlife, quiet, and feeling the sunshine on your face, the 2.3 Torrey Pines Beach Trail Loop traverses across a high plateau above a saw tooth landscape between rugged cliffs, canyons, and tide pools and is one of the best places to see the sunset over the Pacific in the San Diego area.
9. Point Loma
One of the West Coast's first lighthouses built in 1855 and demarcating the western entrance to San Diego Bay, the Old Point Loma Lighthouse is one of the most iconic symbols of San Diego's seafaring and maritime history. When it was built on top of a cliff at what is now Cabrillo National Monument it was the tallest lighthouse in the U.S. Today, the lighthouse offers multiple oceanfront hiking trails and one of the most stunning 360-degree views of downtown San Diego and on a clear day, visitors can see all the way to Mexico.
10. Cabrillo National Monument
San Diego's rich place in Spanish Colonial history and the settlement of North America is one of its most underrated attractions, especially for those with a penchant for understanding how we all got where we are today. Juan Rodriguez Cabrillo led the first European expedition that explored what is now the West Coast of the U.S., and in September 1592, he landed at what is now San Diego Bay. Cabrillo National Monument was built in 1949 in his honor and today it's one of the most Instagram-worthy spots in San Diego with views both east overlooking the city and west over the Pacific Ocean.
11. Embarcadero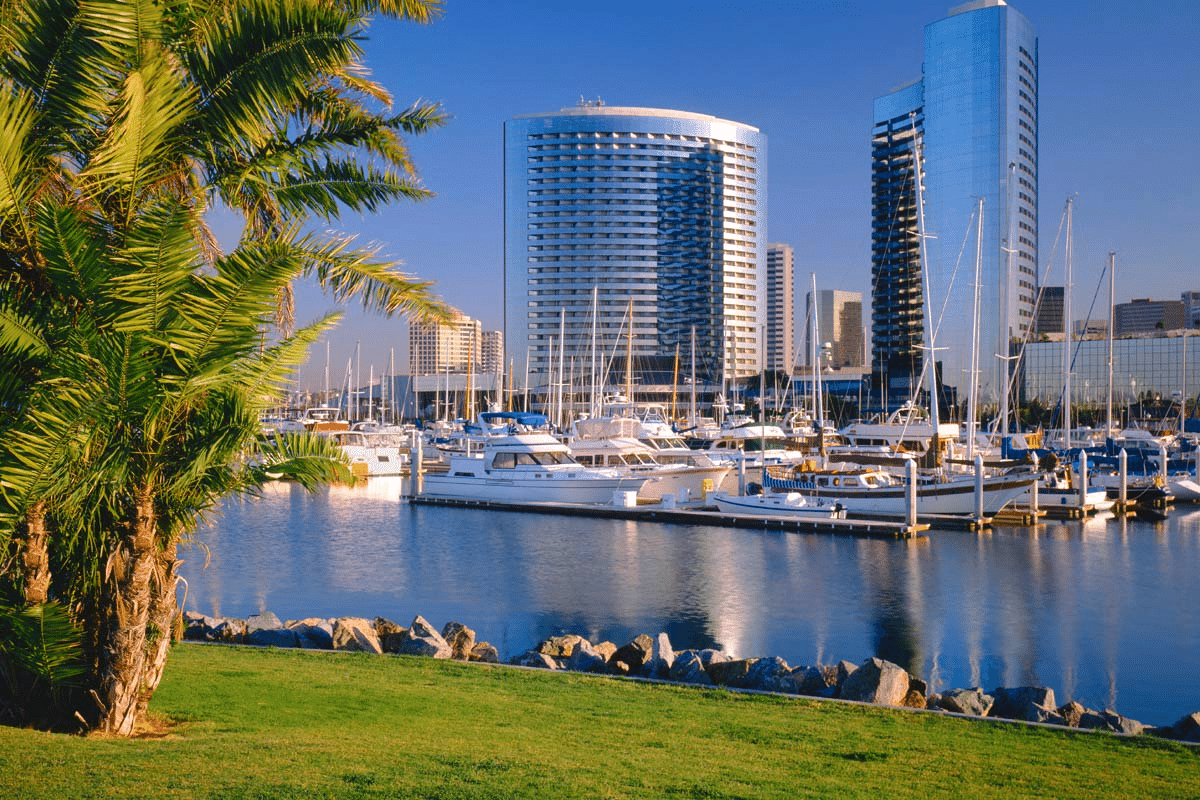 The Embarcadero (a.k.a. the "landing place") is the beating heart of downtown San Diego's bustling waterfront, home to some of the city's most famous maritime visitor attractions and museums including the USS Midway Museum, the Maritime Museum of San Diego, and the Museum of Contemporary Art. It's also home to over 50 chic eateries and boutiques, playgrounds, splash fountains, and waterfront parks and piers making it the ideal place to spend an afternoon or evening on the water or watch the sunset over Coronado Island.
12. USS Midway Museum
Docked on Navy Pier along the Embarcadero, the USS Midway Museum is one of San Diego's most jaw-dropping attractions and the most visible symbol of the city's rich naval heritage. The now-retired U.S. Navy aircraft carrier was part of America's active fleet from the end of WWII all the way until 1992, making it the longest-serving aircraft carrier of the 20th century. Visitors to the museum can explore deep into the bowels of the ship including the engine room, officers' sleeping quarters, the galley, and the brig while reliving six decades of naval and world history through a guided audio tour. The 4-acre flight deck also houses more than 20 historic aircraft.
13. Seaport Village
After an afternoon exploring the USS Midway, Seaport Village just south along San Diego's Embarcadero is the perfect next stop if you've built up an appetite or just want to spend a few more hours discovering the city's world-famous downtown waterfront. This quaint village modeled after a traditional West Coast seaport features over 70 shops and chic boutiques as well as dozens of restaurants ranging from fine dining to American fare to Mexican food. If you're looking for a waterfront stroll at any time of day or one of the city's best views of San Diego Bay, Seaport Village is a must-visit.
14. Maritime Museum of San Diego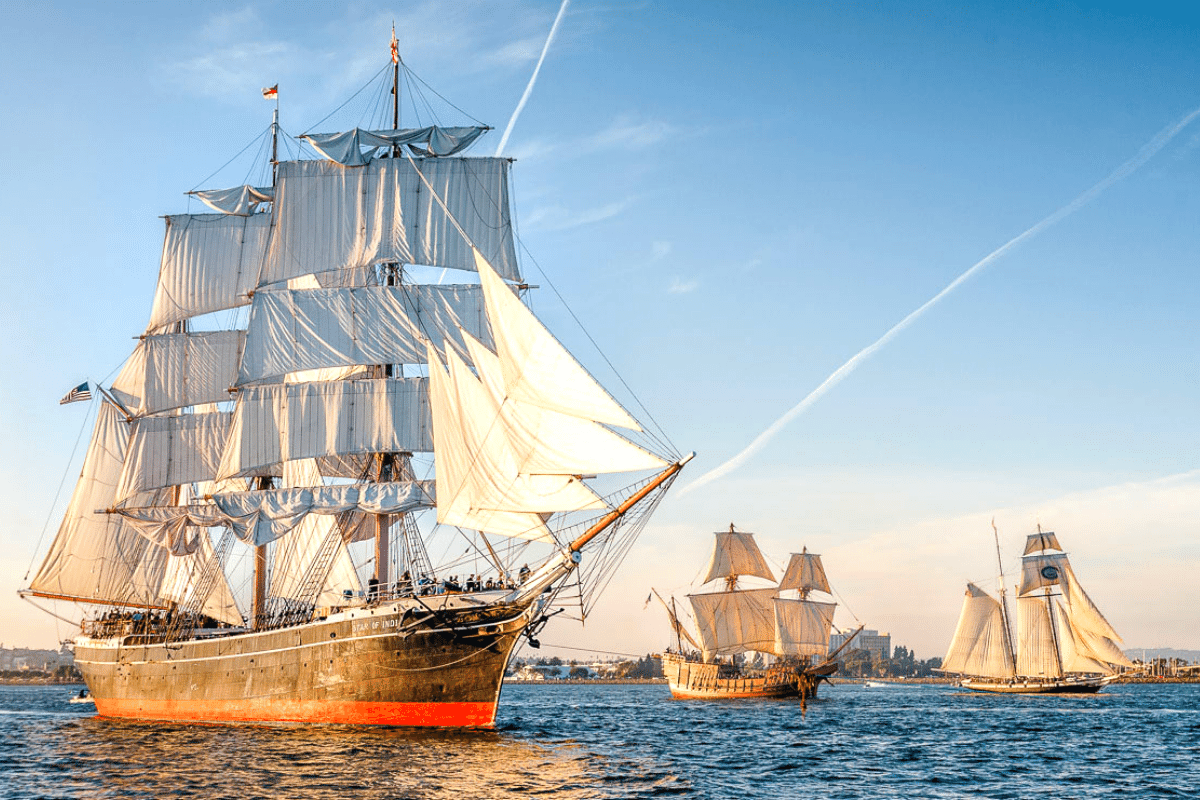 In the other direction north of the USS Midway Museum is the Embarcadero's next best place to visit—the Maritime Museum of San Diego. Showcasing one of the world's finest collections of historic sea vessels, this floating museum pays homage to the history of nautical architecture and maritime exploration through many of the actual ships that plied the world's oceans over the past 300 years. The museum's Holy Grail and not to be missed is the Star of India built in 1863 and the world's oldest active sailing ship. If you're a maritime or seafaring buff this is definitely bucket list stuff.
15. Ocean Beach
Ocean Beach is San Diego's longest and most famous city beach, stretching for over a mile on Point Loma just minutes from downtown. It's also one of the city's most vibrant, bohemian beach towns where surfers, sunbathers, volleyball players, and weightlifters gather year-round on the boardwalk, and fishermen while away the hours on Ocean Beach Pier—the longest concrete pier on the West Coast at almost half a mile. A few blocks inland Newport Ave, Bacon St, and Abbott St bustle with local taco shops, surf boutiques, farmer's markets, and craft beer pubs. If you want a true taste of the "SoCal" lifestyle Ocean Beach is it.
16. Waterhorse Charters
San Diego is surrounded by and historically rooted in the ocean, and there's no better way to see and experience the city than from the water. So, if you're looking to get out on San Diego Bay, cruise around Coronado Island, deep sea fish offshore, go snorkeling through kelp forests, scuba diving into sunken wrecks, whale watching, or simply enjoy the sunset over the Pacific Ocean on a slow, champagne cruise, Waterhorse Charters can make that happen.
17. Compass Balloons
It's impossible to go to San Diego without wanting to see America's Finest City from the water. But what about getting a sweeping bird's eye view of the San Diego skyline, its picture-perfect beaches, Balboa Park, the desert mountains, and the California coast from a few thousand feet in the air? Compass Balloons, an award-winning hot air balloon company with decades of experience can make that unforgettable trip possible. Compass offers group tours as well as private rides for anniversaries, weddings, and birthdays. All you need to do is pop the champagne and let the hot air do the rest.
18. iFly San Diego
If you've always wanted to skydive or feel what it's like to defy gravity, but aren't so keen on jumping out of a real plane from 15,000 or landing in a parachute, iFLY San Diego in Mission Valley is the perfect way to get the whole family's adrenaline pulsing—especially on the rare day that it rains in San Diego and you need to find family-friendly activities indoors. This heart-racing virtual skydiving experience lasts for an hour in an enclosed wind tunnel and offers training programs if you're eventually interested in doing the real thing. No prior experience is necessary.
19. San Diego Air and Space Museum
The San Diego Air and Space Museum located in Balboa Park celebrates the evolution of aviation, space flight, and aerospace technology while paying homage to the place San Diego has played in that history including the Coronado Naval Air Station where scenes from the original "Top Gun" movie as well as the recent sequel were shot. The museum's exhibits feature models, pictures, and video galleries of astronauts and pilots who pioneered air and space exploration and also include actual historic aircraft including a Spitfire Mk. XVI, and an A-4 Skyhawk jet. If your kids want to grow up to be "Maverick" (a.k.a. Tom Cruise) this is the place to start.
20. Fleet Science Center
Located along the famed El Prado in the center of Balboa Park and named for aviation pioneer Reuben H. Fleet who founded the U.S. Air Mail service, the Fleet Science Center is one of the crown jewels of San Diego's museums. It pioneered the first IMAX dome theater in the world and set new standards for planetarium projection technology (and still does). Today, the Fleet remains one of the top places in San Diego for families and kids to spend a day with more than 100 interactive and hands-on exhibits ranging from outer to inside the human body.
21. San Diego Museum Of Art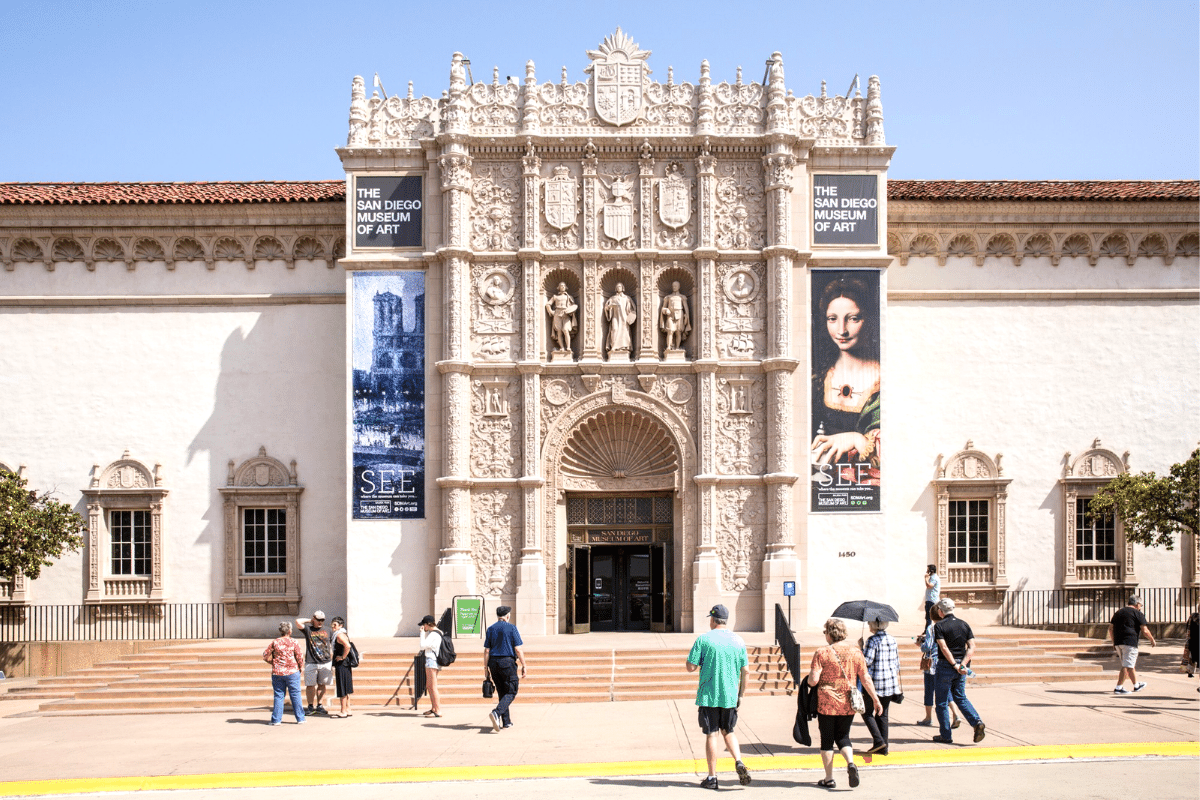 Just down Balboa Park's El Prado from the Fleet Science Museum and housed in a jaw-dropping Spanish Colonial building is the San Diego Museum of Art, one of the largest and oldest art museums in the western U.S. founded in 1926. For art aficionados visiting the San Diego area, there is no better place to immerse yourself in the works of Italian, German, and other European artists—and specifically Spanish art. The museum includes dozens of permanent collections featuring rare, one-of-a-kind pieces as well as historical memorabilia, documents, artifacts, sculptures, and paintings dating back to 5000 B.C.
22. California Tower
The California Building and adjoining California Tower are among the most recognizable and architecturally significant landmarks in San Diego, built as the grand entrance to the 1915–16 Panama-California Exposition. Today, the California Building houses the Museum of Us and the eight-story, 198' California Tower offers some of the most stunning 360-degree views of San Diego, the Pacific Ocean coastline, and the surrounding mountain landscapes from the top. Combining elements of Baroque and Gothic architecture in its ornate façade, blue-and-gold dome, and multi-colored tiles and carvings the California Building and Tower are also breathtaking in themselves to behold. This is definitely one of the most Instagram-worthy spots in San Diego, especially in the morning and late afternoon light.
23. Coronado Island
Built in 1969, the bridge from downtown San Diego to Coronado Island curves and arcs more than two miles over 180' in the air, and is one of the city's most visible architectural landmarks with views from the top stretching all the way to Tijuana. On the other side, Coronado Island itself is one of the city's toniest spots to eat, shop, people watch, and dig your toes in the sand whether it's for a day or a weekend. There are five postcard-perfect beaches on the island's Pacific Coast side (one is dog friendly). Just make sure you bring your earplugs if you're going to Coronado Beach proper. The "Top Gun" pilots taking off from the North Island Naval Air Station might blow your ear drums out.
24. Hotel Del Coronado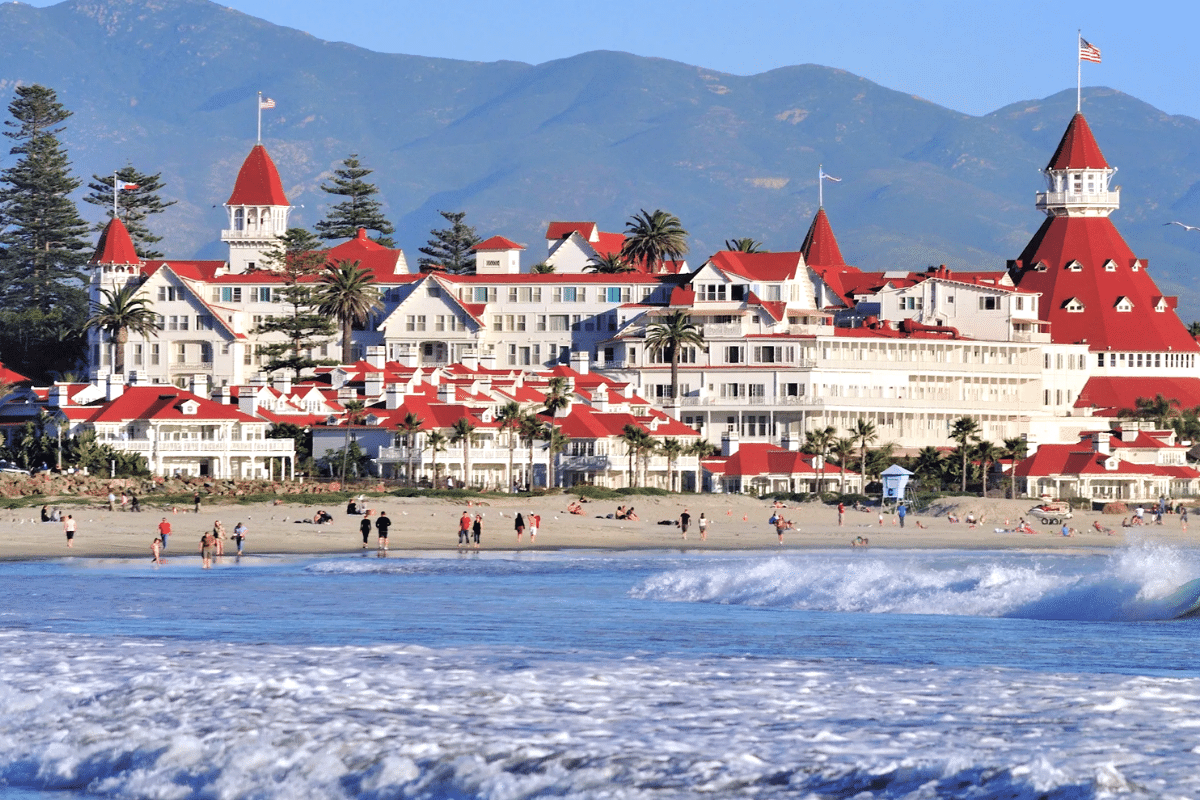 The Hotel del Coronado on Coronado Island is a San Diego icon and living architectural legend. Built in 1888 and infused with the memories of guests across two centuries, the now 4-star Hilton hotel is a Victorian gem and one of the last surviving grandiose hotels on the West Coast from that era (most of the others burned down). Over its more than 140 years in operation, "The Del" as it's otherwise known has hosted Marilyn Monroe, Madonna, Brad Pitt, Bill Clinton, George W. Bush, and Oprah Winfrey among dozens of other celebrities so don't be surprised if you rub some A-list elbows when you stay or dine here.
25. Mission Basilica San Diego
Founded in 1769 and known as the "Mother of the Missions", Mission Basilica San Diego de Alcalá was the first Roman Catholic mission built in California by Spanish friar Junípero Serra, marking the beginning of Christianity in the American West. Today, it's one of the most historic and picturesque must-see landmarks in San Diego if you want to get an understanding of Spanish Colonial influence on the settlement of Southern California and the arc of San Diego's history. The Mission is open to the public daily from 9:00 am to 4:45 pm for self-guided tours.
26. Old Town San Diego
No trip to "America's Finest City" would be complete without visiting Old Town San Diego, the earliest European settlement in California and San Diego's oldest neighborhood. Sprawling across 230 acres roughly halfway between Mission and San Diego Bays, Old Town features over 32 interpretive historic sites, 75 boutiques, 30 different restaurants ranging from fish tacos and brunch to Italian and sushi, gift shops, as well as ten hotels all within walking distance of one another. There is no better place in San Diego to get a feel for the city's rich Spanish and Mexican history while enjoying an endless array of fun things to do.
27. Little Italy
San Diego is a city of neighborhoods and one of its most historic and famous is Little Italy which got its name from the Italian tuna fishermen who settled here back in the 1920s. Today San Diego's Little Italy is the largest in the U.S. at more than 48 square blocks and for visitors a veritable feast of patio cafés, restaurants, brew pubs, boutique art galleries, chic shops, upscale hotels, urban wineries, and beautiful Amici Park. The Little Italy Mercato is also the largest farmer's market in the San Diego area with over 200 vendors open Saturday and Wednesday.
28. Gaslamp Quarter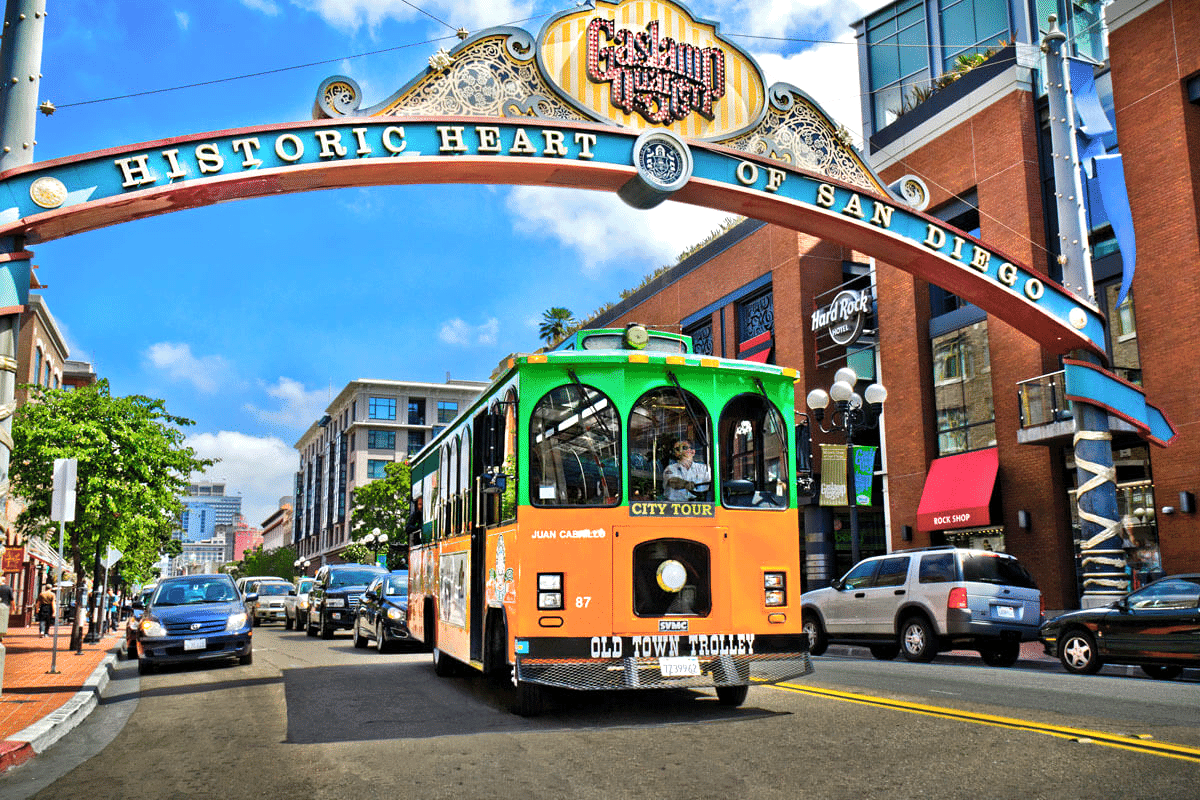 The 16-square block Gaslamp Quarter is the heart and soul of downtown San Diego and the city's most famous neighborhood for nightlife, live music, and entertainment. Originally called "New Town" (as contrast to Old Town), the streets were the first in the city to be lit with gas lamps—hence the neighborhood's name. Today, the Gaslamp Quarter bustles with nightclubs, cocktail lounges, bars, and restaurants drawing locals and visitors alike. The Spreckels and Balboa theaters host music, comedy, and drama shows, while high-end nightclubs like the Oxford Social Club are famous for A-list sightings—like Snoop Dogg.
29. Catch A Padres Game at Petco Park
Most major league baseball stadiums, especially the newer, more modern ones, tend to be located outside of downtown in more industrial or fringe areas where there's still space to build. Not so with San Diego's Petco Park. Built in 2004 and located just a few blocks east of the Gaslamp Quarter, it's one of the best places to visit if you love sports and live events. Home to the San Diego Padres, Petco Park also hosts concerts, rugby, soccer games, and other special events. If you're spending a few hours in the Gaslamp Quarter you can also get into the park just to explore when no other events are scheduled.
30. Mission Trails Regional Park
Along with Balboa and Mission Bay parks, Mission Trails Regional Park is often called the "third jewel" of the city of San Diego's park system. Started in 1974 and located eight miles from downtown, the park encompasses more than 8,000 acres of natural and developed recreational areas, rugged hills, valleys, and open areas as well as over 60 miles of hiking trails, offering visitors and locals a quick way to escape San Diego's hustle and bustle. Visitors can also enjoy boating, kayaking, and paddleboarding on Lake Murray, camping in Kumeyaay Lake, and learning about San Diego's history at the state-of-the-art Visitor and Interpretive Center.
31. Sunset Cliffs Natural Park
There's no better place in San Diego to watch the sunset after a day of sightseeing than the eponymously named Sunset Cliffs Natural Park. Just south of Ocean Beach on Point Loma, it features one of the most beautiful views of the Pacific Ocean on the West Coast along with 68 acres of protected land, bluffs, canyons, and trails to walk, hike, meditate, or do yoga. If you're lucky you also might just catch a glimpse of the cliff divers who frequently congregate here at sunset.
32. Belmont Park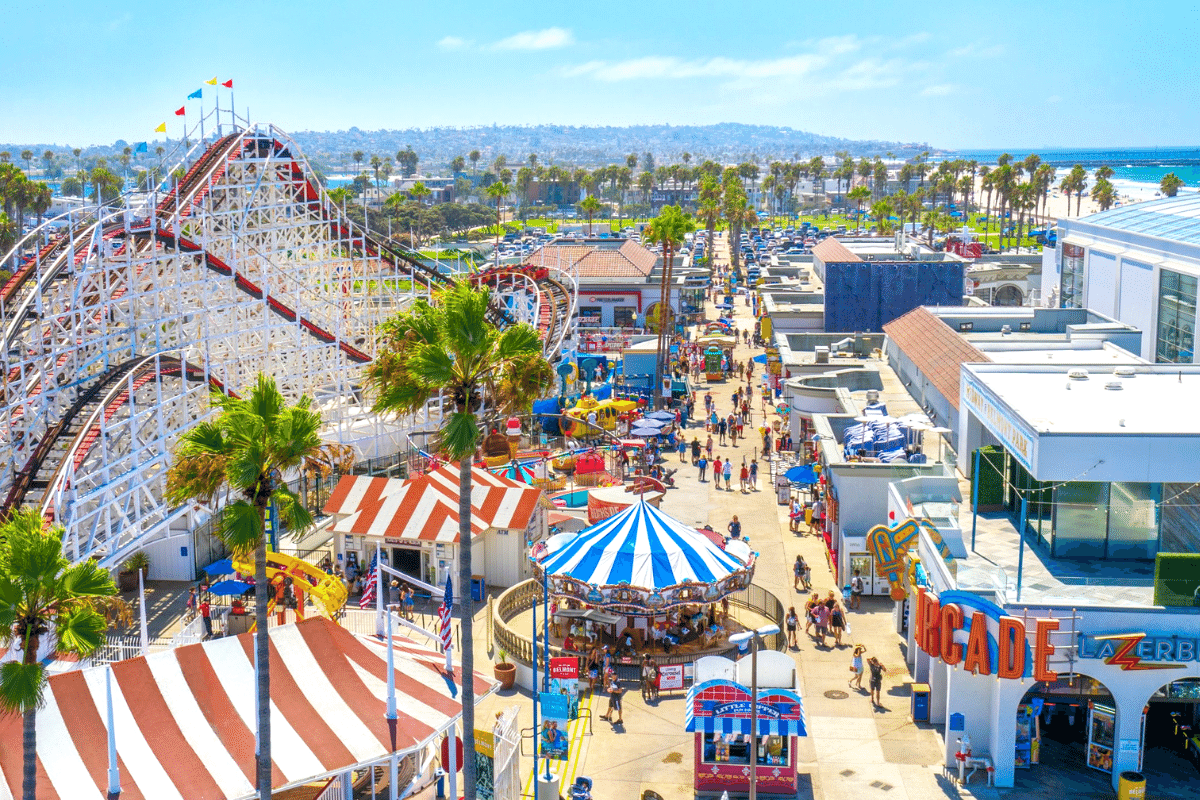 Belmont Park on Mission Bay is one of the oldest amusement parks on the West Coast built in 1925 and a must-visit if you are coming to San Diego with kids. Located right on the water, Belmont Park's slides, carousels, zipline courses, plunge, and other rides attract millions of visitors every year. The centerpiece of the park is the Giant Dipper roller coaster—one of only two wooden roller coasters remaining on the West Coast featuring views of the San Diego skyline and mountains in the background that might just take your breath away faster than the roller coaster itself.
Planning a trip to San Diego? Be sure to check out our San Diego vacation rentals.