Located in western Massachusetts, the Berkshire Mountain range is part of the Appalachian Mountain system. While cities like Boston and vacation destinations like Cape Cod receive much attention, don't overlook the Berkshires for your next getaway.
From daring outdoor adventures to awe-inspiring museums, the small towns within the Berkshires make for an idyllic place to escape, even for a day trip thanks to its close proximity (less than three hours!) to both Boston and New York City.
So take a peek at the 35+ exciting, educational and physical activities we've gathered for you in the Berkshires. Whether you're a local looking for something new or a visitor hoping to explore, you'll be able to find exactly what you're looking for… And then some!
Hike Mount Greylock
Hikers won't get bored in western Massachusetts, especially when sleeping amongst the slopes.
The first on our list is Mount Greylock, the highest point in the entire state. This nearly 3,500-foot summit is located in the Mount Greylock State Reservation, where you can see almost 100 miles and five states.
Several hikes will take you to the top. Some are harder but quicker, while others are easier but longer. You get the gist. In the summer, you can even drive to the summit.
Enjoy live music at Tanglewood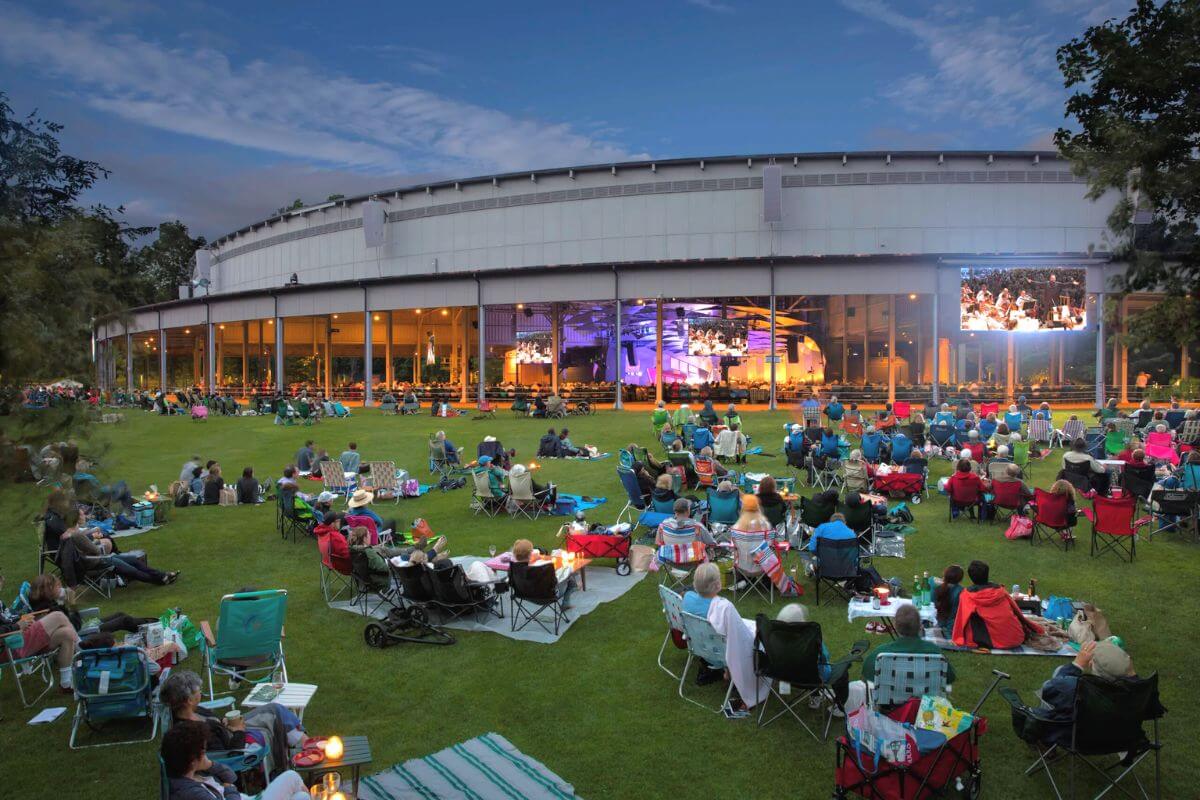 The name Tanglewood might sound familiar if you've ever browsed a summer concert tour schedule. This outdoor amphitheater in Lenox is a popular stop for acts of all kinds.
Tanglewood isn't just for rock concerts, though. It's the summer home of the Boston Symphony Orchestra and often features classical performances. Lawn tickets for these events tend to be reasonable. Pack a blanket and picnic and enjoy the warm mountain air.
Tanglewood also has an outdoor center and year-round events besides what's happening on the main stage. Check them out for tons of opportunities for cultural enrichment.
Walk, run, or bike the Ashuwillticook Branch Rail Trail
One way many New England towns are choosing to utilize unused rail tracks is by converting them into pedestrian trails. The Ashuwillticook Branch Rail Trail in Cheshire, Lanesborough, and Adams is one of them.
At ten feet wide and more than 12 miles long, there's room for all activities. The trail offers spectacular views of the Hoosic River, the Cheshire Reservoir, and the flora and fauna of the area. There are parking lots and restrooms (parents rejoice!) at a few designated stops.
Explore Natural Bridge State Park
Natural Bridge State Park features North America's only natural white marble stone arch. It was formed by a massive glacier more than 13,000 years ago. The enormous natural bridge stretches over a 60-foot gorge. It's a must-see for geologists and rock enthusiasts alike.
Take a guided tour or explore on your own with a myriad of walking and hiking trails.
Best places to see fall foliage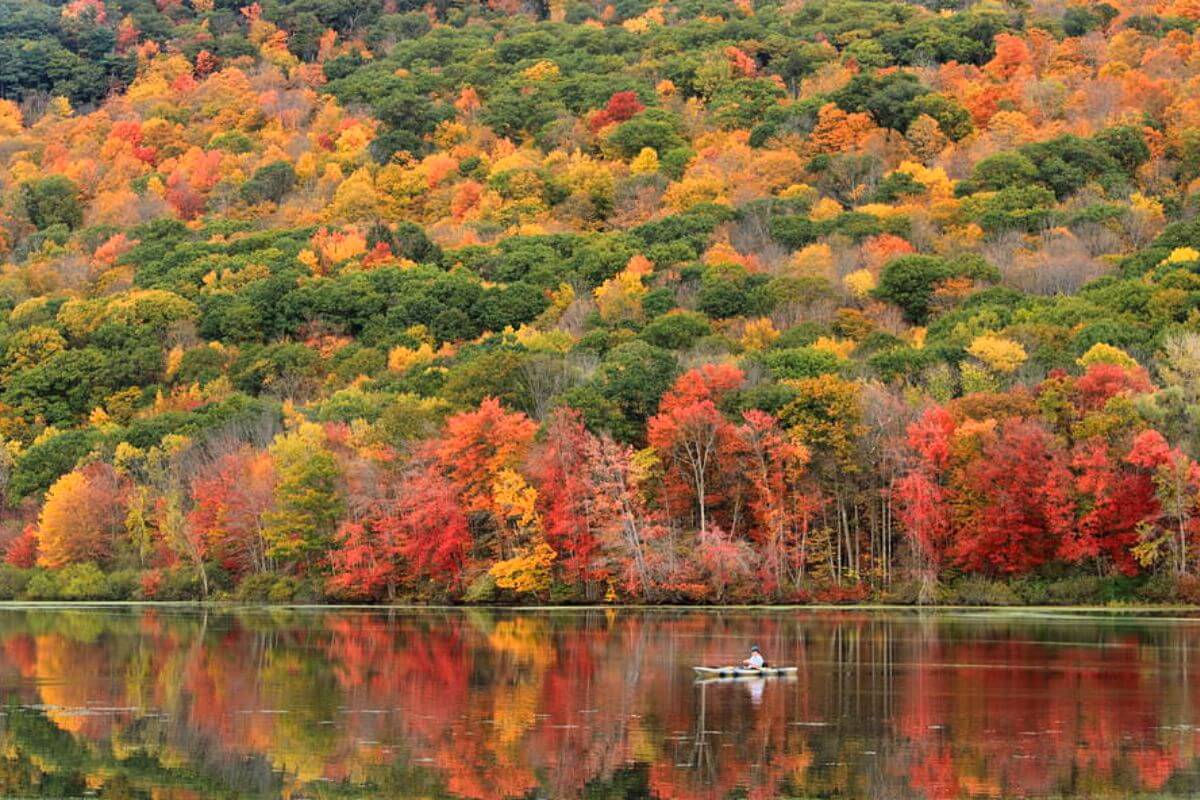 Depending on the time of year you visit, the Berkshires gives us breathtaking displays of fall foliage.
One of the best places to see it is the October Mountain State Forest in Lee. The largest protected forest in Massachusetts, it has numerous hiking and walking trails. It's also dog-friendly if you plan to travel with your pup.
We already mentioned Mount Greylock, but keep reading to learn about Monument Mountain, Onata Lake, and other tremendous places with gorgeous views of autumn leaves.
Pick apples at Hilltop Orchard
Of the many seasonal outdoor activities in the region, we might love apple picking the most. Hilltop Orchards in Richmond is a terrific place to do it.
Not only do they have apple picking in the fall, but there are several other year-round activities that include sampling some of the region's most delicious apple products, including apple cider, apple cider doughnuts, and apple pies. Also available? A winery and cidery on-site. Head onto their hiking trails for gorgeous Berkshire views when you're done.
Ski Jiminy Peak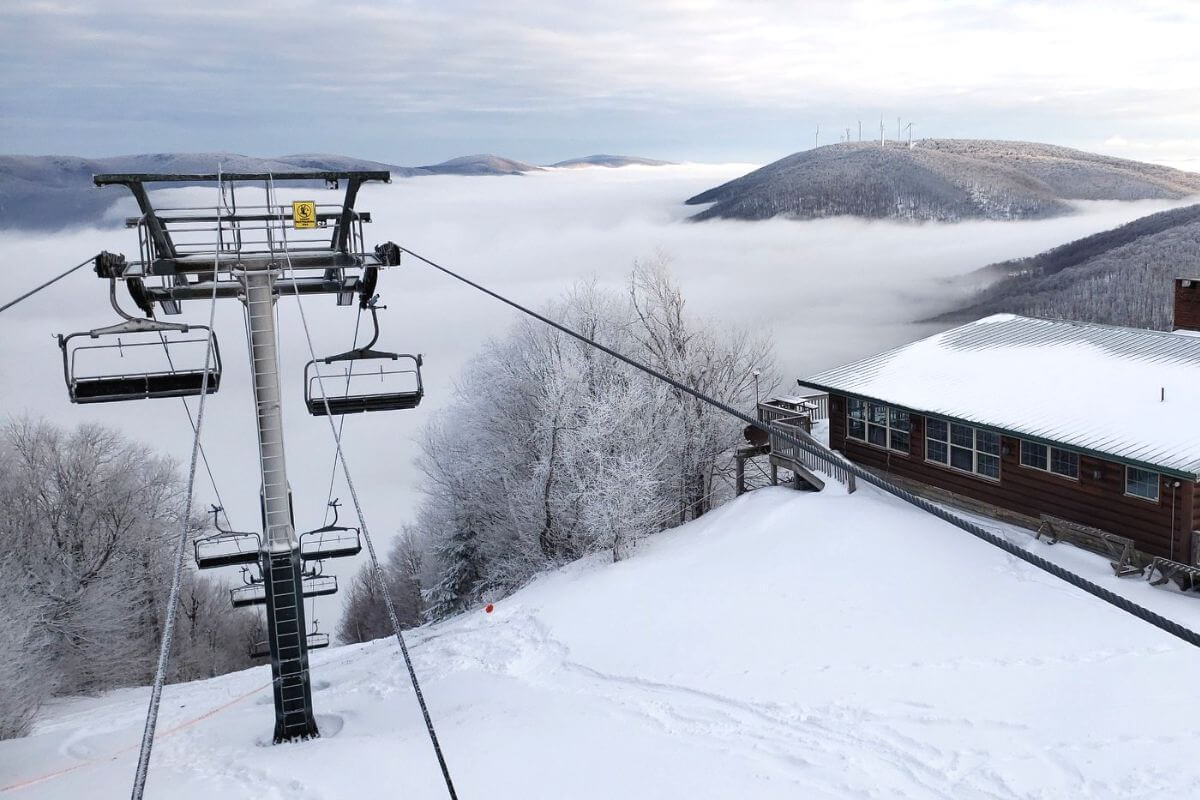 Jiminy Peak is one of the best places to ski or snowboard in the northeast, but this ski resort is also much more. They maintain numerous ski trails for both beginners to black diamond skiers. They even make their own snow to extend the season as long as possible and offer night skiing.
Outside of winter, hiking trails, an aerial adventure course, and mountain biking await. The lodge is open year-round and is always a bright yet cozy place to hang out.
Learn about local ecology at the Berkshire Botanical Garden
The Berkshire Botanical Garden in Stockbridge is old and enormous. Started in 1934, it covers 15 acres. You can visit year-round, where they grow plants in greenhouses, indoor gardens, and outdoor fields.
There's a special children's discovery garden that welcomes little hands, an herb garden, and more. In the summer, tours depart daily at 11 a.m.
Stroll the Housatonic River Walk
Located in Great Barrington, the Housatonic River Walk is more than a gorgeous trail with stunning views. There are other things to see along the route, historic places included.
In addition, the city intends the park to be part of a native plant and tree restoration. Experts monitor growth in the park and help remediate the land. Check their website for periodic public events, including opportunities to help with ecological efforts.
Get your thrills at Catamount Aerial Adventure Park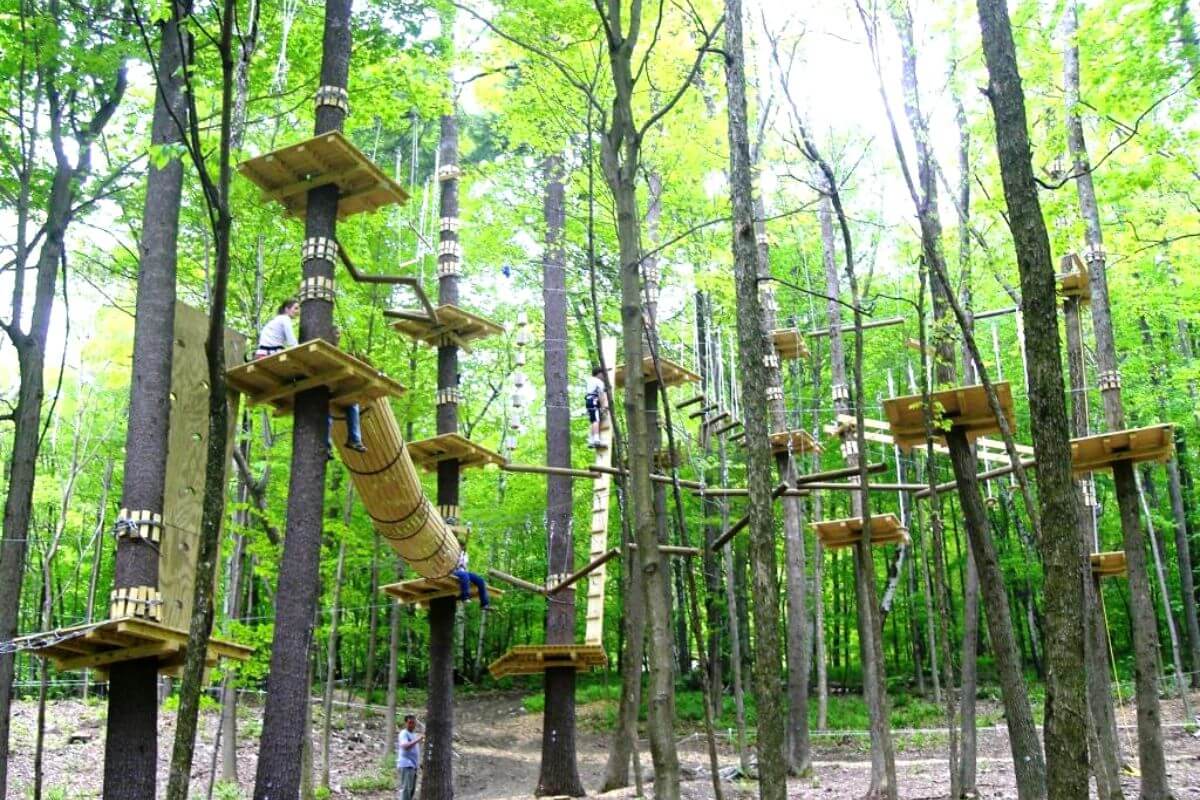 If you have kids with a lot of energy to burn, take them to Catamount Aerial Adventure Park. This impressive climbing complex has multiple outdoor courses built into the trees. They have a zipline on several courses, and they're graded according to the difficulty level.
Grab your skis or snowboards in the winter because Catamount is another fantastic Massachusetts ski resort.
See Bash Bish Falls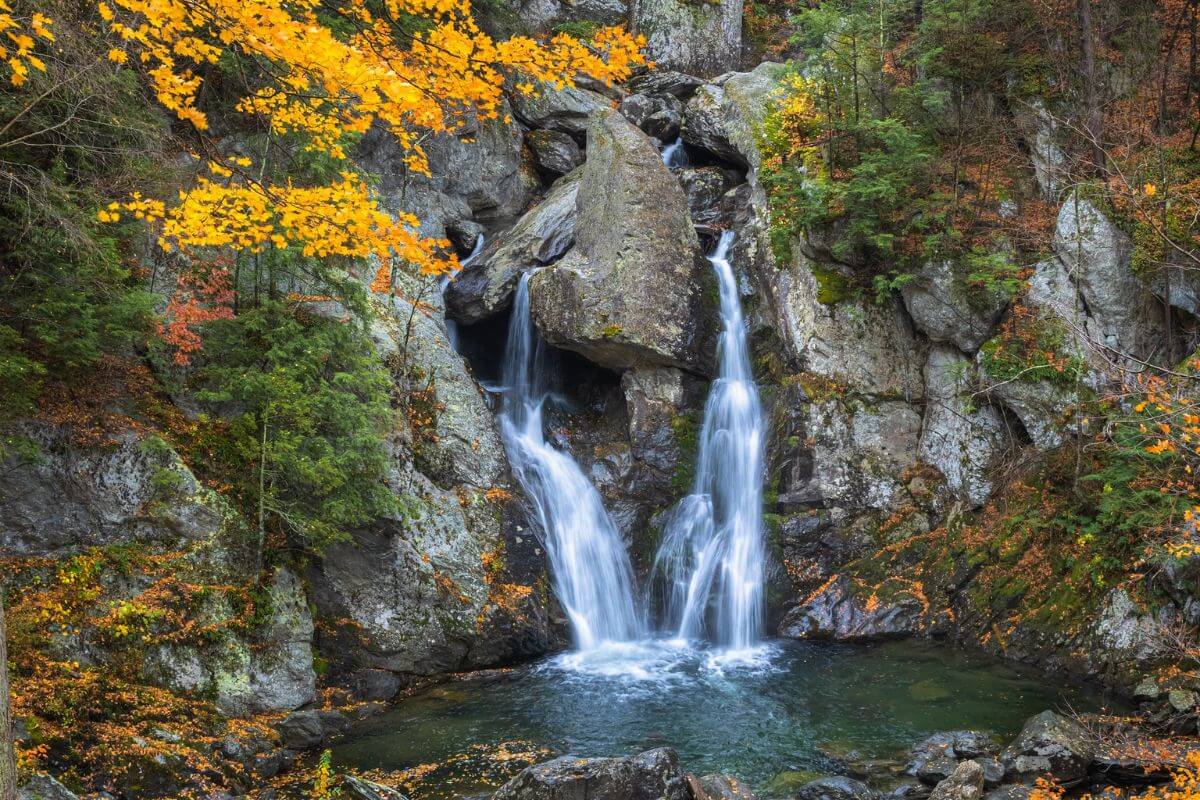 It might have a silly name, but Bash Bish Falls is quite breathtaking. The Bash Bish Falls State Park is located very close to the New York border in Mt. Washington.
Once inside the park, follow one of several trails to its centerpiece: the dual waterfall. You'll find it has a calming yet inspiring energy as it flows into the emerald-blue pool. If you're hoping to spend more time, Taconic Park on the New York side has camping and other amenities.
Enjoy Onata Lake (or one of many others)
Run by the city of Pittsfield, Onata Lake has a long shoreline packed with things to do. Try kayaking, canoeing, or other watersports at one of the rental shacks along the shores.
You can also relax at one of the many waterfronts; the lake is excellent for fishing.
Hike up Monument Mountain for stunning views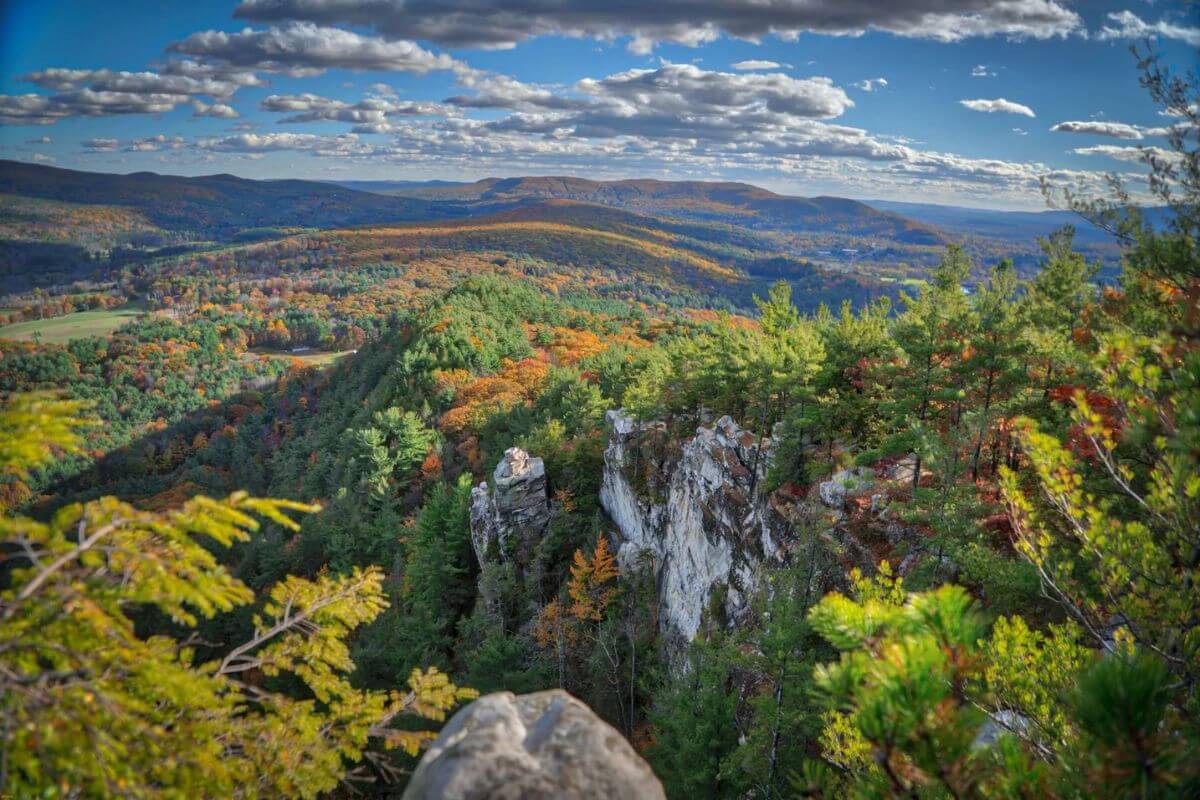 Mount Greylock might be the highest point in the state, but the summit of Monument Mountain is no less breathtaking. Known as Squaw Point, gaze out upon the Housatonic River Valley and southern Berkshires from this spot in Great Barrington.
Several hiking trails will take you to the summit, with varying degrees of difficulty. It's a rather steep 720-foot ascent so make sure your body can handle it.
Explore Pittsfield State Forest
Pittsfield State Forest is another protected outdoor area that you can take the family to or head out solo for peace and quiet. There are several walking trails, and you can also hike, bike, or even ride your horse. There are even campsites if you're looking for somewhere to stay.
In the winter, rent snowshoes to explore many of the trails, which remain clear and well-marked. It's a terrific opportunity to see wildlife and enjoy views of the snow-capped mountains.
Learn about animals of the Berkshires at Pleasant Valley Wildlife Sanctuary
The Massachusetts Audubon Society runs the Pleasant Valley Wildlife Sanctuary in Lenox. They have more than 1,000 acres of protected wetlands, marches, and forests where you'll see unique Massachusetts wildlife.
There are seven miles of hiking trails with views of Pike's Pond and the Housatonic River. Enjoy breathtaking vistas of the surrounding area once you reach the summit of Lenox Mountain.
Don't forget about the animals! Your family can see tons of wildlife on your own or on a guided tour. They also rent canoes and have programs for kids and adults.
Sample local beers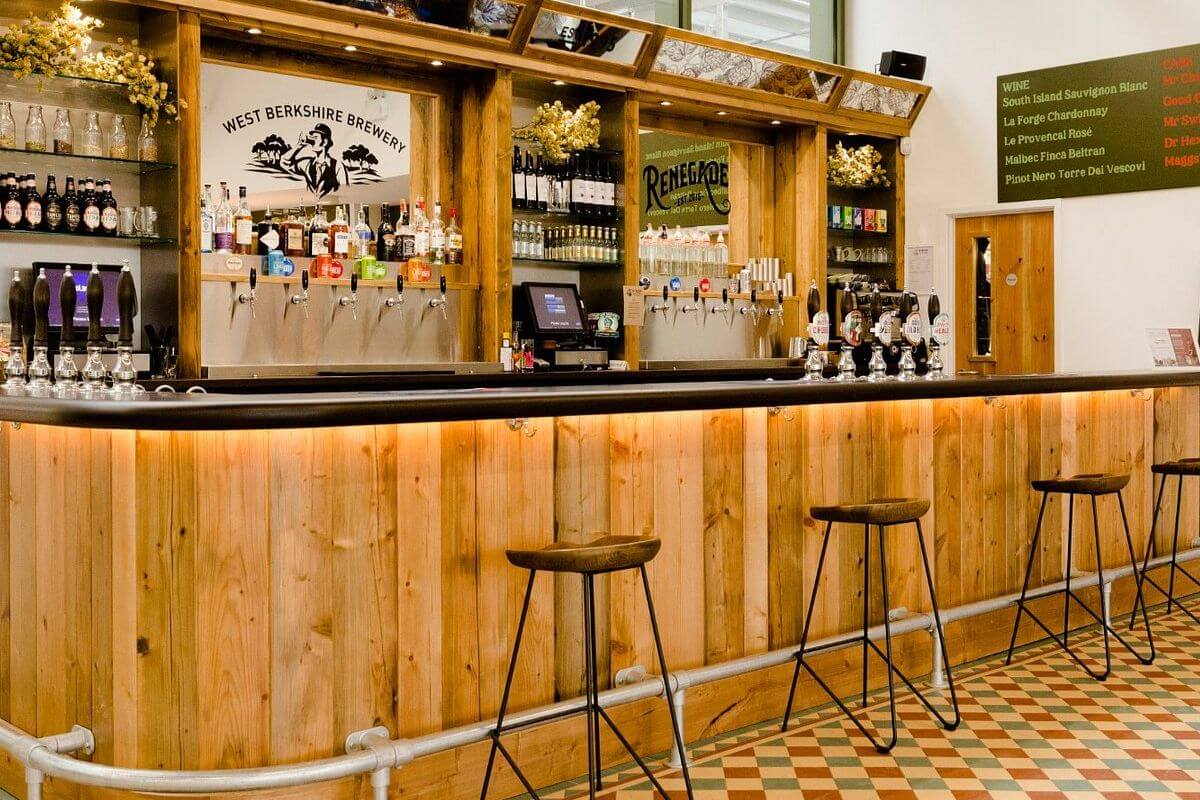 The brewery game is strong in western Massachusetts! There are several small, independently-owned craft breweries in the Berkshires where you can quench your thirst. Many breweries also double as restaurants and have play areas for kids.
These are some of the region's most popular breweries:
Sip local cider and wine
In addition to breweries, the Berkshires are also home to some incredible wineries and cideries. Hilltop Orchards, discussed above, makes delicious hard cider from the apples they grow on-site. It's also home to the Furnace Brook Winery.
Check out these other destinations:
While we're on the subject of local libations, recreational cannabis is legal in Massachusetts. For those who partake in the high life, the Berkshires is home to several dispensaries where visitors 21 and over can enjoy cannabis.
Experience history at the Red Lion Inn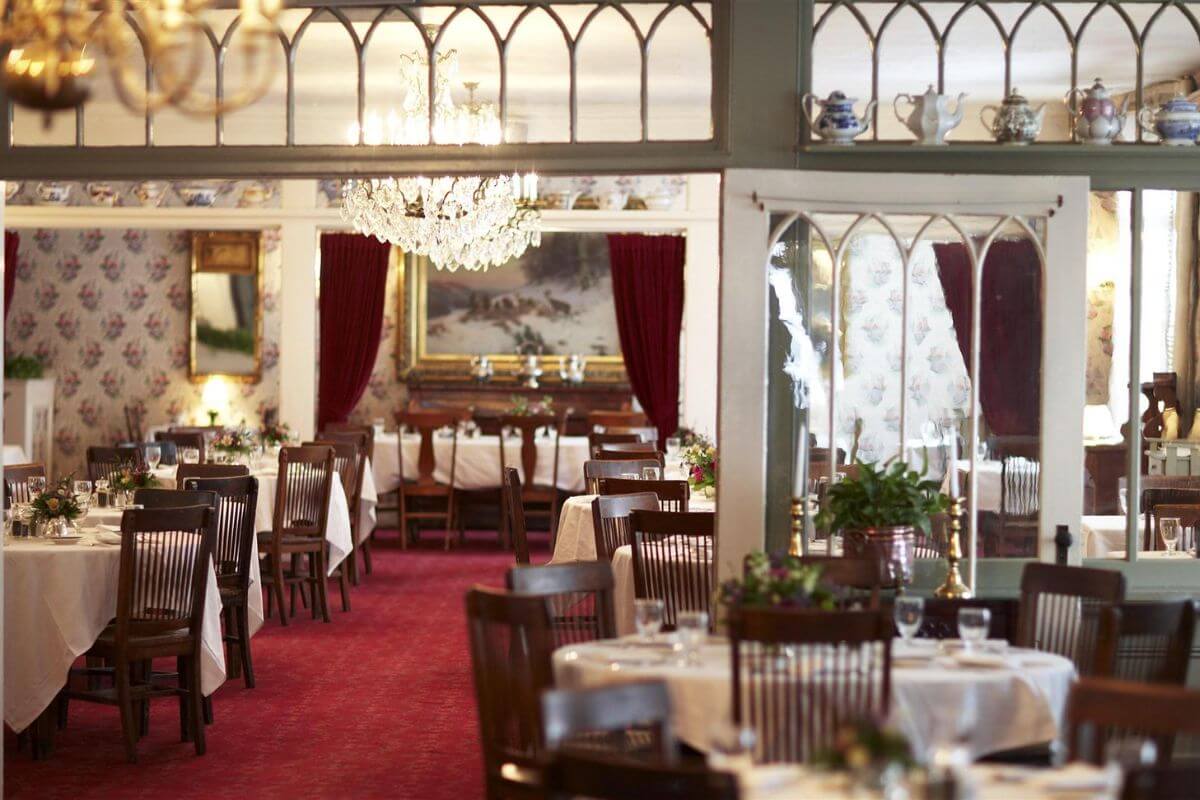 Located in the heart of downtown Stockbridge, the Red Lion Inn is one of the Berkshires' most historic places to stay. It has operated since before the 1800s.
Presidents and other historical figures have graced its halls and stayed in its rooms. It was a crucial Revolutionary War meeting place and has seen debates about virtually every major event in American history. Some people even believe it to be haunted!
Not to mention, you don't have to be a guest to check it out. Enjoy access to a lounge, bars, and a restaurant on site. Staff is usually enthusiastic about bringing visitors up to speed on its history.
Renew your body and mind at the Kripalu Center
If you enjoy yoga classes or meditation for the relaxing, calming effect it has on your body and mind, spend some time at the Kripalu Center. They hold day or weekend-long retreats, as well as frequent workshops on topics related to wellness and holistic healing.
View modern art at Mass MoCA
The Massachusetts Museum of Contemporary Art in North Adams, also known as Mass MoCA, is one of many places to view fine art in the Berkshires. It has masterful works of art, including large-scale installations like EJ Hill's Brake Run Helix or Amy Hauft's exploration of our relationship to the landscape in 700,000:1 Terra + Luna + Sol.
The entire family will enjoy a visit to Mass MoCA. For adults, there's a brewery on site and many public presentations and educational seminars. Kids can visit Kidspace and the Artbar for hands-on creative time. Docents give guided tours throughout the day.
Visit the Norman Rockwell Museum
You've likely seen his art even if you haven't heard of Normal Rockwell. The Normal Rockwell Museum in Stockbridge is exceedingly well-done. There are over 900 original paintings created by the artist at this museum alone!
Learn about his work at the Saturday Evening Post and tour his studio at his last home, converted to this museum after his death.
See the Clark Art Institute
The Clark Art Institute in Williamstown is undoubtedly one of the hidden gems of the Berkshires. Its curators work diligently to represent significant art movements in Europe and the US so local residents can experience them close to home.
See masterpieces from the Renaissance, French impressionism, and the 20th century. The Clark also puts together clever, creative, and unique exhibits that rotate throughout the year.
The grounds are almost as beautiful as the art. The marble museum looks stunning against its natural backdrop, whether cloaked in snow, bursting with greenery, or painted in autumn colors.
Learn about Shakers at the Hancock Shaker Village
The Shakers were an important religious sect and community in the northeast United States during the 18th and 19th centuries. Learn more about them at the Hancock Shaver Village in Pittsfield.
This particular Shaker community dates to 1783. Many of their original structures remain, while others have been meticulously recreated so that you're able to understand how this unique group lived and how their religious and social values played out in their day-to-day lives.
Schedule a guided tour or explore on your own.
Discover the Berkshires in-depth at the Berkshire Museum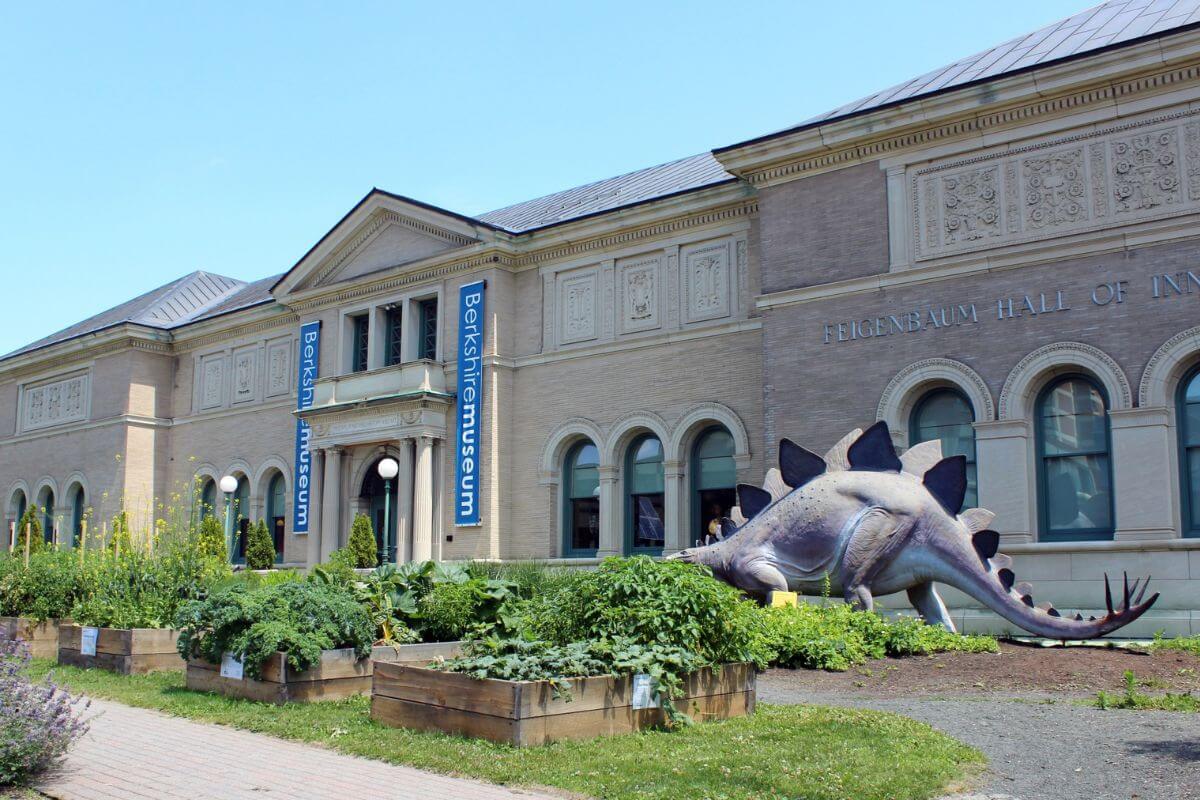 Learn about the Berkshires and its people at this Pittsfield History Museum. It aims to do more than just display history. Instead, its many rotating and permanent exhibits show how art, history, science, nature, and other forces that intricately connect and impact our lives.
This mission lends itself to hands-on activities and exhibits. There's plenty for kids (and adults) to touch, experiment with, and learn from. Be sure to check out special events before you go.
Get some art, history, and outdoors at the Chesterwood Museum
The Chesterwood Museum in Stockbridge (open May-October) is the former home of sculptor David Chester French, whose most famous work is undoubtedly the Lincoln Memorial in Washington, D.C.
At this artist's retreat, he designed and worked on many of his pieces. There are dozens of bronze and marble sculptures on display at Chesterwood. You can tour the home and learn about French's work and the world in which he created it. The grounds are also open to visitors.
Visit Edith Wharton's home, The Mount
Although her most famous book is The Age of Innocence (1921), Edith Wharton was a prolific author. She was the first woman to win the Pulitzer Prize in literature and is representative of the art movements and culture of the Gilded Age.
The Mount wasn't just Wharton's home; she also considered it one of her most significant accomplishments. She designed the entire home and lovingly selected the furnishings. Today, take a tour and learn about Wharton's life, work, and world.
See where Melville wrote Moby Dick
You might imagine Herman Melville writing his most famous novel in a cold, coastal New England town, but he was actually at Arrowhead in Pittsfield, where he decided to gaze at mountains rather than waves.
Members of the Berkshire Historical Society have restored the home to what it would have looked like when Melville worked on his magnum opus. Take a guided tour of the house or explore the grounds on the nature trail.
Experience luxury at Ventfort Hall, the Museum of the Gilded Age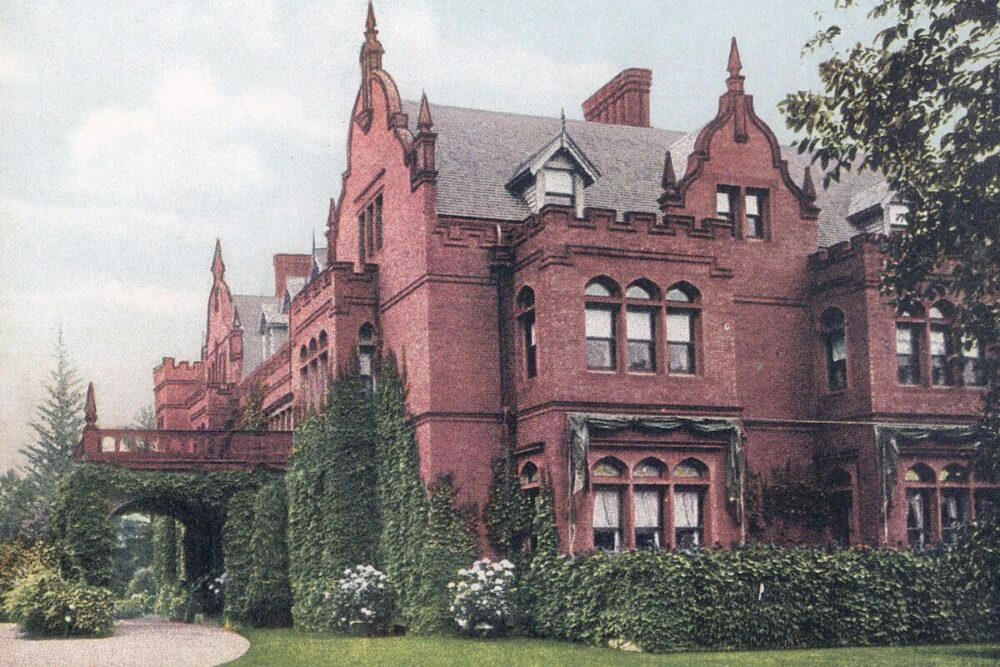 Several homes and historic sites in the Berkshires connect to the Gilded Age, but this historic landmark is wholly dedicated to it. Ventfort Hall is an awe-inspiring mansion built in 1893. It has 15 bedrooms, 13 bathrooms, and several opulent spaces for entertaining visitors.
Museum officials have restored many of the rooms to their original glory with period-appropriate decor. Schedule a tour year-round.
Get more Gilded Age at Naumkeag
Even if you have no interest in the Gilded Age, Naumkeag is worth a visit. This home is remarkably well-preserved and looks nearly as it did when workers and designers completed it in the 1880s.
Back then, the Choate family used it as a summer "cottage" even though it has more than 40 rooms. You can only see the home by guided tour from April to October, so be sure to schedule ahead.
Equally as impressive are the grounds. Luckily, you're able to explore these on your own during the warmer months of the year.
See a Shakespeare play at Shakespeare and Company
See a show at Shakespeare and Company in Lenox if you love classical theater. They have a full range of performances in their season, including Shakespeare (obvs) and other types of plays like stand up comedy shows and holiday musicals.
If you're local, check out their educational programs. They have classes for actors of all ages.
Catch the Williamstown Theater Festival
If you love the performing arts, there's a great deal to love about the Berkshires. The Williamstown Theater Festival lasts all summer long at Williams College in Williamstown.
This spectacular residency program features classes and performances by top names in the industry. It also has some major donors and sponsors. Best of all, you're supporting young artists by seeing a show.
See a dance performance at Jacob's Pillow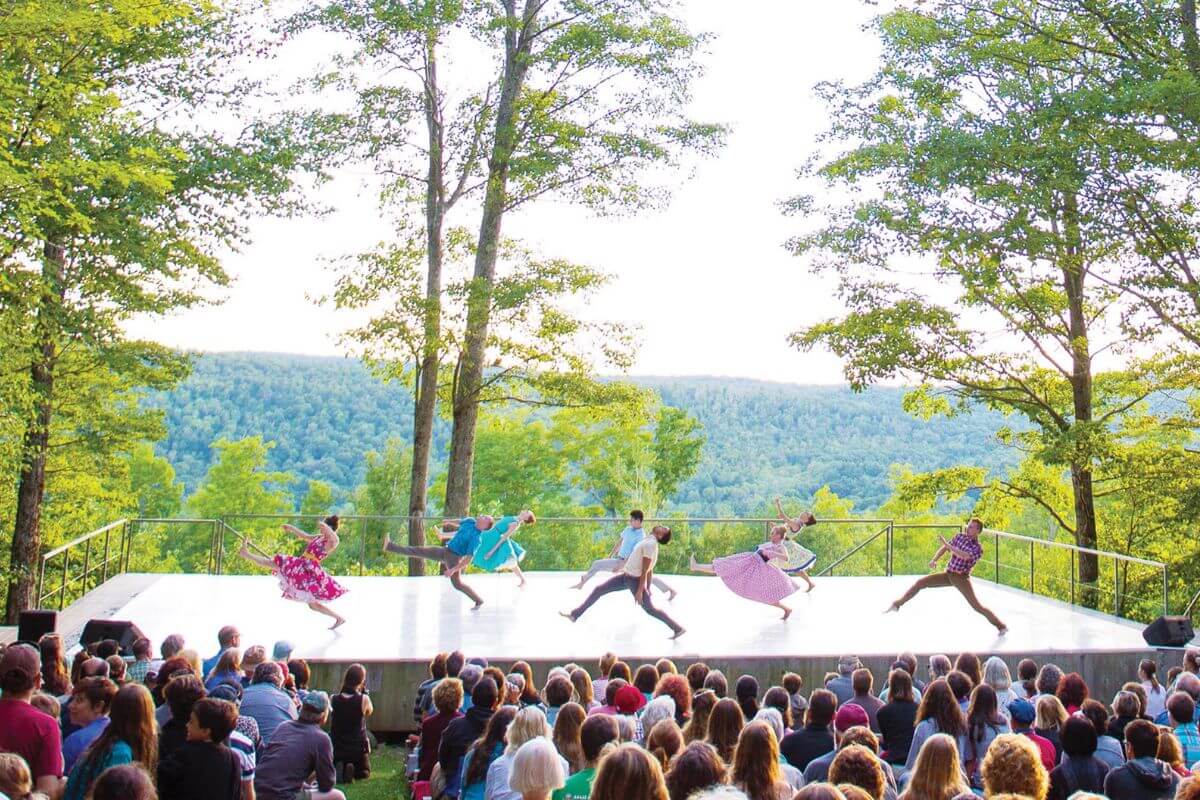 Jacob's Pillow is one of the most unique dance centers in the world. In addition to being a National Historic Landmark, Jacob's Pillow offers sign-up and drop-in classes. They teach all skill levels in many types of dance.
Check out their annual dance festival that brings thousands of people to the Berkshires every year, including some of the most innovative dancers, choreographers, and other artists, or attend a lecture or public event (most of which happen year round!).
Browse books at The Bookloft
Book lovers rejoice! The Bookloft in Great Barrington is one of the coolest independent bookstores in the northeast United States.
Designed to be a comfortable, welcoming place for visitors, even non-readers will enjoy this shop where you can browse everything from the classics to local authors. The Bookloft also does a lot to support local authors and artisans in the community.
Check out other great shops
The Berkshire region is a mecca for anyone who loves to check out small, independent shops. Several towns have vibrant downtown areas, including Stockbridge and Great Barrington. Once there, spend hours browsing everything from blown glass to pet accessories to clothing.
Satisfy your appetite
With so many wonderful things to do in the Berkshires, you're sure to work up an appetite. Luckily, the region offers many delicious options.
Berkshire Mountain Bakery, Housatonic or Pittsfield
One of our favorite places in the Berkshires is this old-fashioned bakery in Housatonic. Everything is lovingly handmade using old recipes. The Pittsfield Berkshire Mountain Bakery also does pizza.
John Andrews Farmhouse Restaurant, South Egremont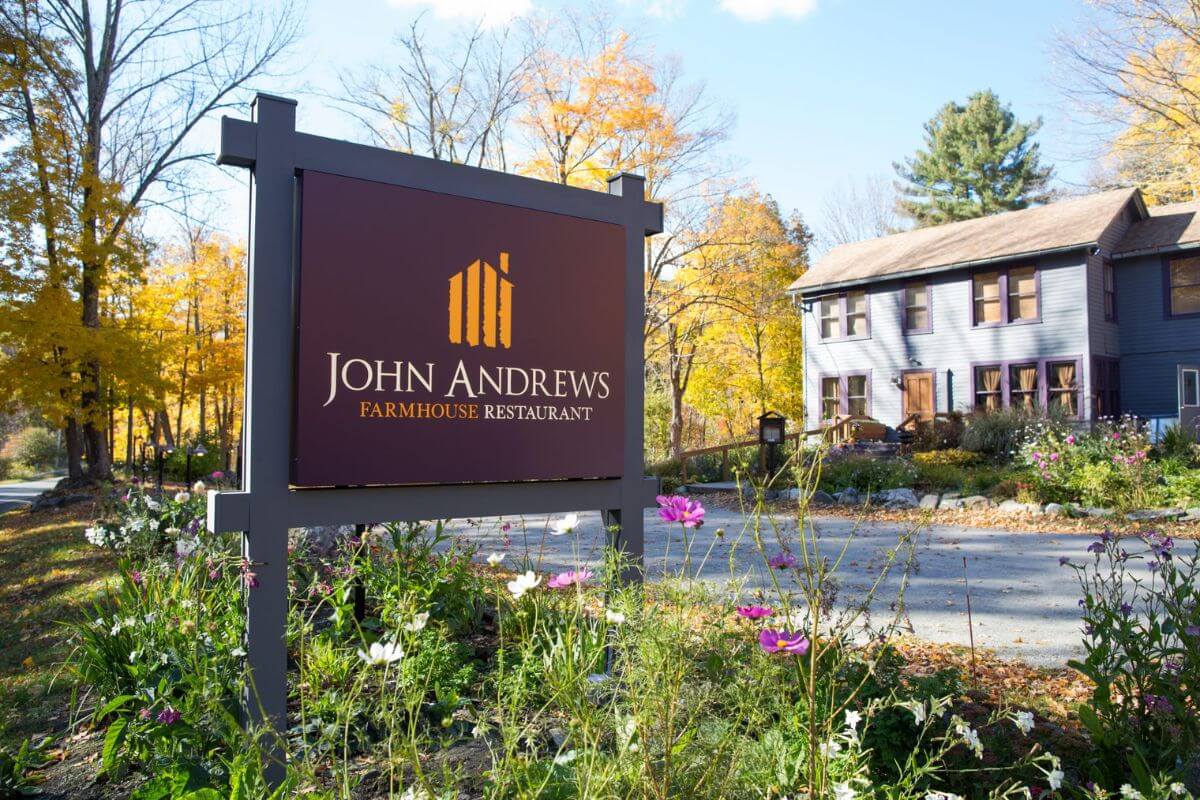 Enjoy a meal in the picturesque gardens of this 18th-century farmhouse. John Andrews Farmhouse Restaurant truly brings the farm to the table with al fresco dining on the beautiful, pastoral grounds.
If you love the farm-to-table experience, consider staying in an old farmhouse.
Six Depot Roastery and Cafe, West Stockbridge
If you love coffee—really love coffee—then this West Stockbridge coffee shop is the place for you. Six Depot Roastery and Cafe takes their coffee very seriously. From the ground size to how you prepare it, coffee snobs will love this spot.
Moreover, all of their beans are sourced ethically and sustainably. Grab a bite to eat and one of the best cups of coffee you'll ever taste.
The Prairie Whale, Great Barrington
At The Prairie Whale, enjoy delicious, locally-sourced meals that always showcase what's fresh and seasonal in the region. It's a fun place to hang out with ample outdoor space and patio games.
Enjoy your time in the Berkshires
Clearly, there are so many things to do in the Berkshires. Whether you and your travel companions like history, consider yourselves foodies, or want to experience the outdoor beauty of the Berkshires, there are tons to do for all ages.
Browse the listings and activities above, and start planning your getaway to the Berkshires now. Remember, it all starts with the perfect accommodations.