It's a bird, it's a plane, no—it's an AvantStay!
If you're tired of the same old travel experience and crave something exceptional, you're in the right place. In this blog, we'll take you on a virtual tour of unique vacation rentals that go above and beyond, offering a myriad of unique amenities that will leave you (and your followers) in awe.
From luxury treehouses to villas with swim-up bars, these extraordinary accommodations redefine the concept of a perfect vacation. Get ready to discover a world of enchanting escapes and prepare to indulge in the most extraordinary amenities that will take your vacation expectations to new heights.
Waterslides
Whether you're seeking a family-friendly getaway or simply want to unleash your inner child, these homes with waterslides guarantee a memorable and fun-filled vacation. These stays offer the perfect blend of luxury and adventure, so go ahead and dive in.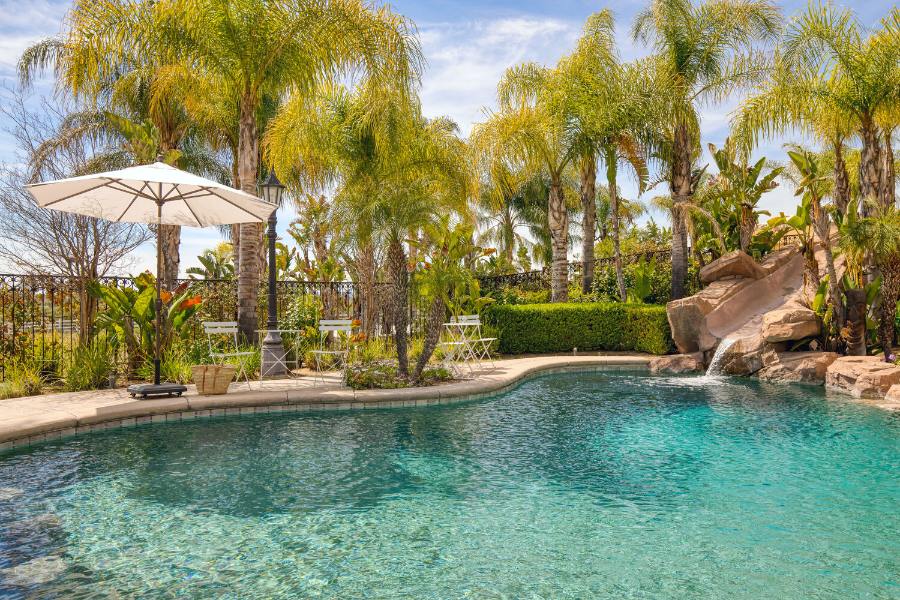 Sky Lantern — Temecula, CA
Leave no one behind at this 7-bed stay in Temecula. Whether you'd rather compete in a lively round of cornhole or volleyball, unwind with some local wine on the cozy hammock, or take a refreshing dip in one of the two inviting pools (one being in a cave), the decompression sessions are all yours at Sky Lantern.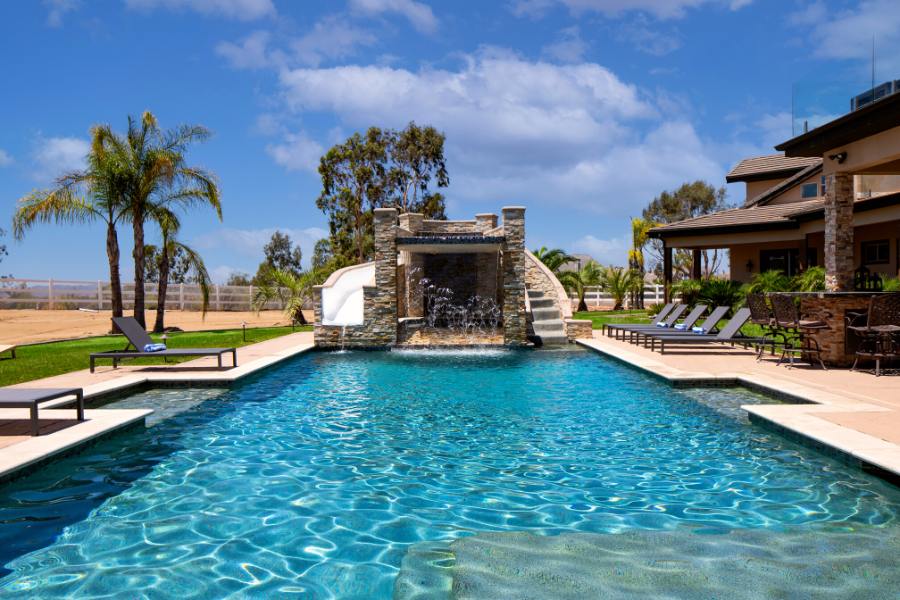 Villa Cabernet — Temecula, CA
Villa Cabernet is an extraordinary home with an array of experiential amenities. Enjoy the ultimate outdoor oasis with a fully equipped outdoor kitchen, complete with a pizza oven, grill, warming drawers, and a dishwasher—allowing you to indulge poolside all day long. Throw in the thrilling water slide, waterfall, and grotto in the pool, and you'll never want to check out of this Temecula vacation home.
For even more waterslides, check out our 7 Best Vacation Rentals with Water Slides.
Swim-up Bars
Picture a place where you can bask in the sun, cool off in the pool, and sip on your favorite drink without ever leaving the water. Vacation rentals with swim-up bars offer a unique blend of relaxation and entertainment, allowing you to swim right up to a beautifully designed bar and enjoy refreshing cocktails (or mocktails) without leaving the water.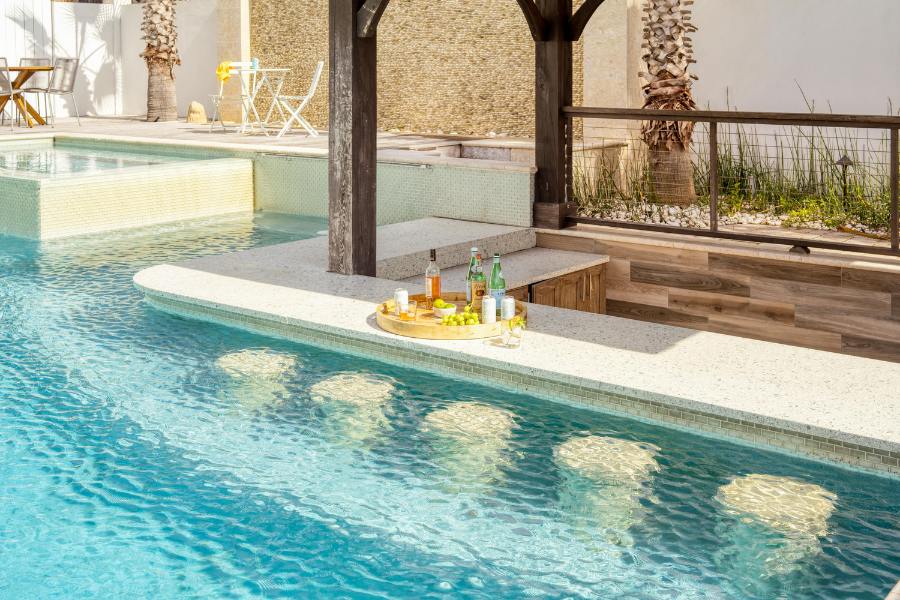 Monarch — Destin, FL
One of our go-to stays in Destin, Monarch is the ultimate coastal estate. Enjoy resort-style amenities like the Baja shelf pool, hot tub, outdoor kitchen with a TV, swim-up bar, rooftop patio, and a game room with its own bar. Whether you're cooking a delightful group dinner in the fully-stocked kitchen, taking in breathtaking views from the rooftop patio, or simply enjoying the beach, this stay is the epitome of luxury and coastal bliss.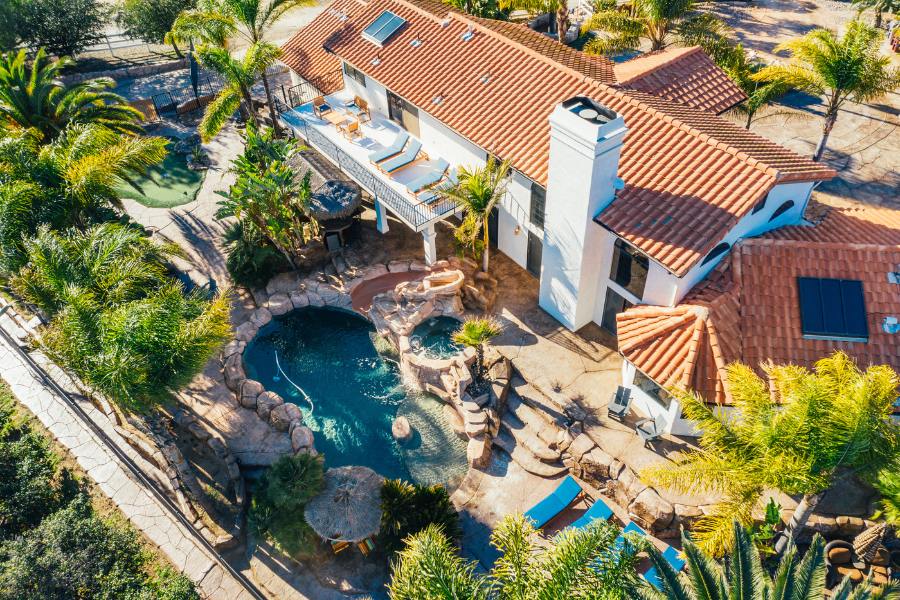 Moana — Temecula, CA
Welcome to Moana, a stunning Mediterranean-style in the hills of Temecula. Start your day with an exhilarating plunge down the built-in stone waterslide into the refreshing pool. Relax and unwind at the swim-up bar, play a game on the outdoor putting green or seek shade under the gazebo. When you're ready to explore, indulge in the town's world-class wine and dining scene, or head back home to host a BBQ sesh at the grill.
Private Sports Courts
Imagine stepping out onto your own private court on vacation, whether it be for a lively game of basketball, a challenging tennis match, or a thrilling pickleball showdown. After a good game, you can unwind and relax in the comfort of your luxurious rental, knowing that your personal sports court is just a few steps away whenever you're ready for another round.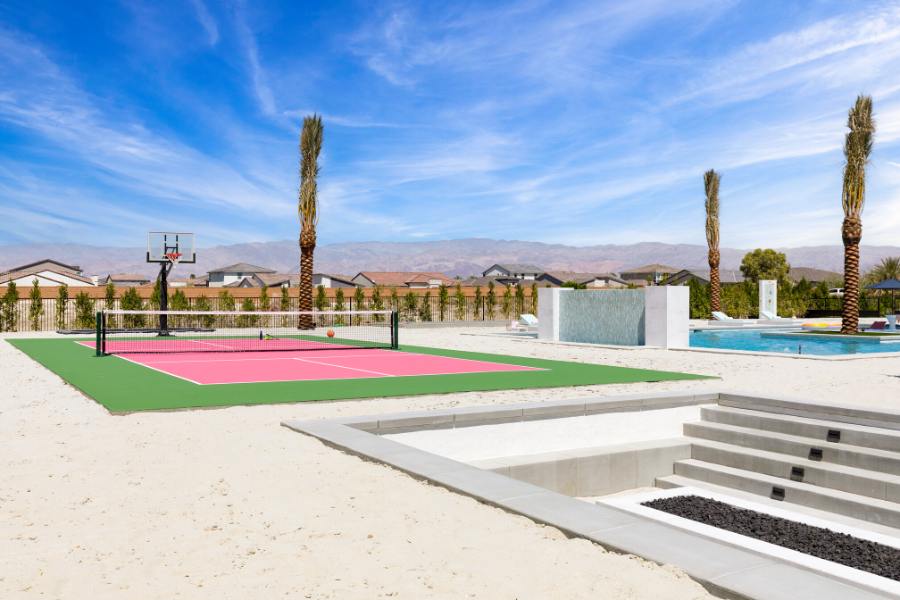 Nahana — Coachella Valley, CA
Experience the ultimate escape at Nahana, a brand-new estate nestled on a sprawling 1-acre lot within a private guard-gated community in Coachella Valley. Lounge by the expansive pool on plush sunbeds, indulge in thrilling games of pickleball or volleyball on your very own court, and as the sun sets, gather around the hot tub or the inviting fire pit lounge for s'mores or friendly bocce ball matches.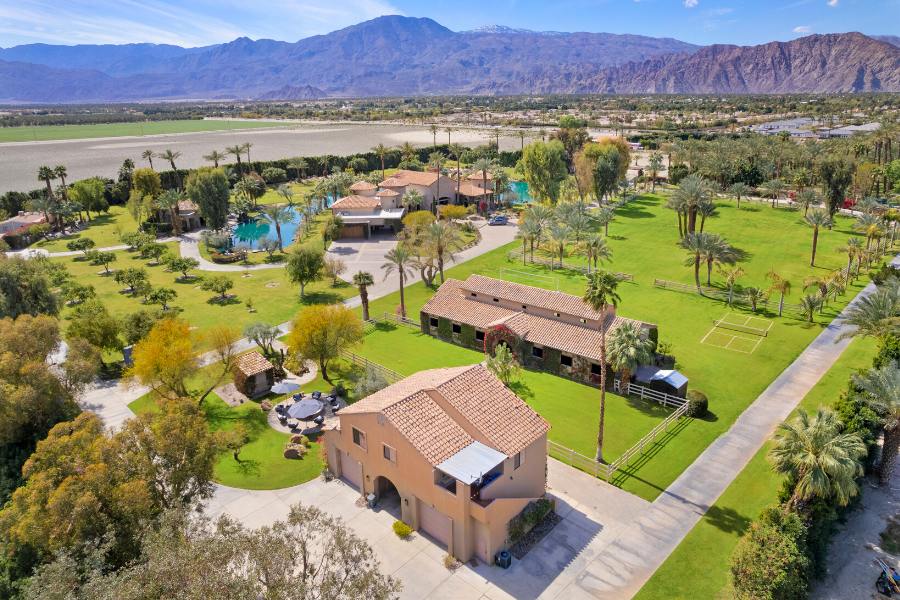 Mirabella — Coachella Valley, CA
Discover the beauty of Mirabella — a Coachella Valley equestrian compound with three homes and a blend of modern, oriental, and Mediterranean design elements. Every aspect of this compound is remarkable, from its seamless indoor/outdoor living to its impressive amenities like private tennis, pickleball and volleyball courts, a 5-hole pitch, putt golf course, and a private lake complete with a dock for kayaking and paddle boating.
If you're ready to get your game on, check out even more of our vacation rentals with sports courts. We have dedicated posts for homes with their own pickleball courts, basketball courts, and tennis courts.
Arcade and Game Rooms
Step into a new type of vacation, this time one filled with classic arcade games, pinball machines, air hockey tables, and more. For notes of nostalgia and endless hours of entertainment, these stays guarantee a chance to unleash your skills and embark on an unforgettable vacation filled with fun and friendly competition.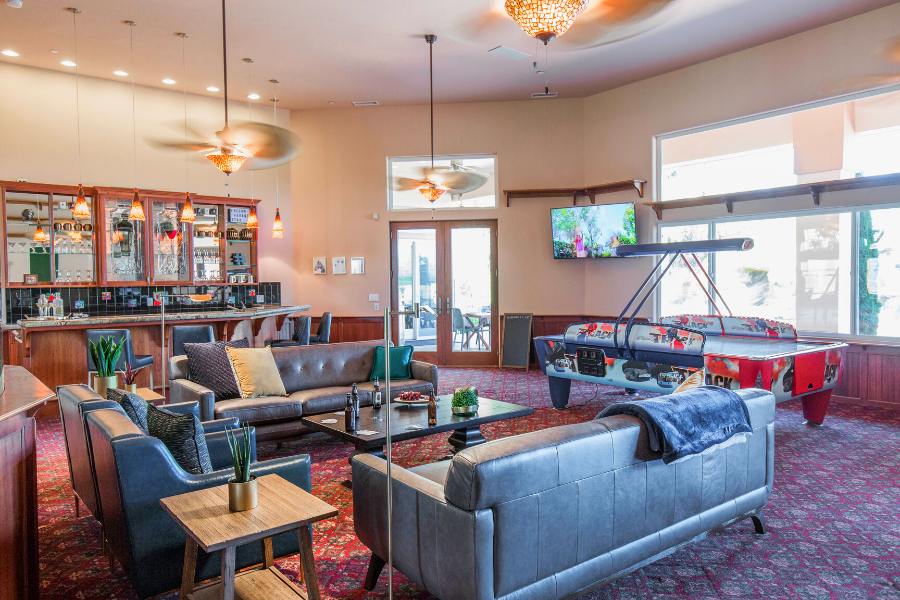 Mermaid — Paso Robles, CA
Discover Mermaid, a hidden gem amidst Paso Robles vineyards and farms. Enjoy an enormous backyard with a sand volleyball court, shuffleboard, bocce ball, horseshoes, an outdoor dining area, lounge chairs, and a waterfall. Inside you'll find arcade games like Dance Dance Revolution, air hockey, and Golden Tee.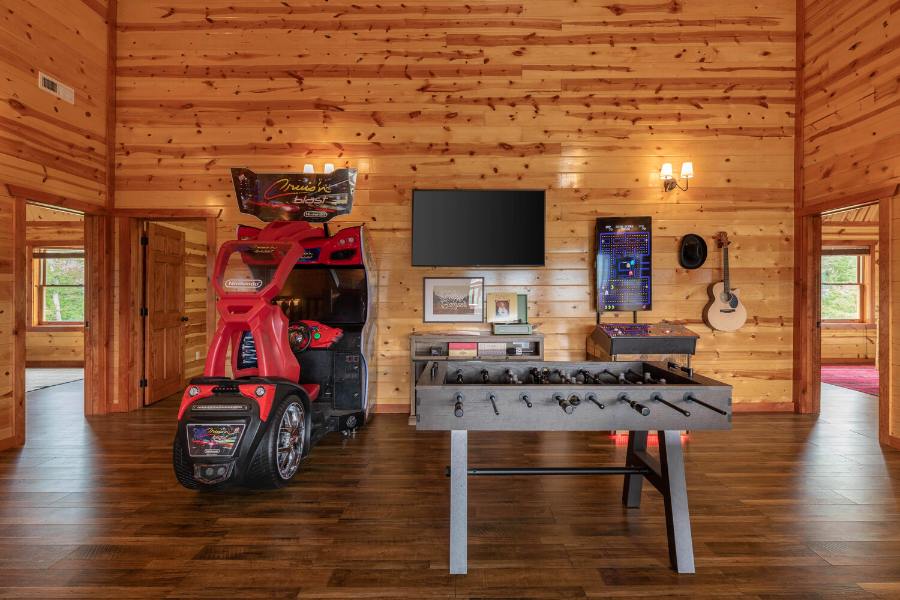 Sugarland — Smoky Mountains, TN
Immerse yourself in nature and soak up panoramic views of the Smokies from every angle at Sugarland. Discover a world of entertainment within this home's game room with its car racing arcade game, pool table, home theater, foosball, and indoor pool. Outside, the balconies beckon for gatherings with a covered deck for grilling and al fresco dining.
To keep the fun going, check out our Top Rentals with Arcade Rooms.
Even More Amenities
We have so much more to offer when it comes to extraordinary amenities. Check out these other posts where we dive into more of what makes AvantStay a cut above the rest: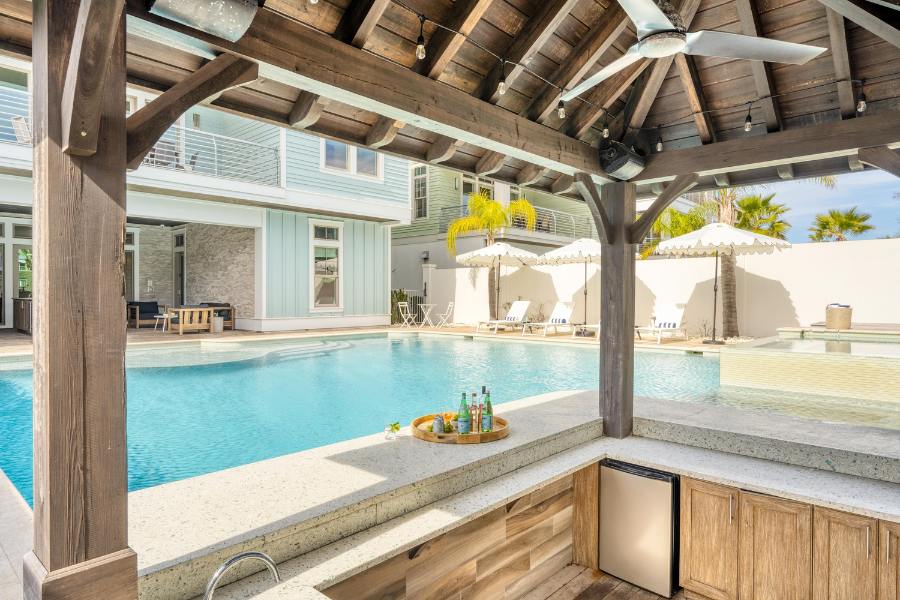 Apart from its seamless group travel experience and a plentiful selection of luxury in-app upgrades, AvantStay homes are in primo locations—even more than what we just covered in this article. Click here to see all our destinations and we'll see you soon!