Working from home is so last year! Going forward, we vow to Work from Vacation Home. Whether you're looking for a Zoom background to make your coworkers jealous, or need a clear space for a clear mind, this round-up includes some of our favorite WF(V)H spots where you can disconnect to reconnect, and hit that mental refresh button.
1. Edendale – Los Angeles, CA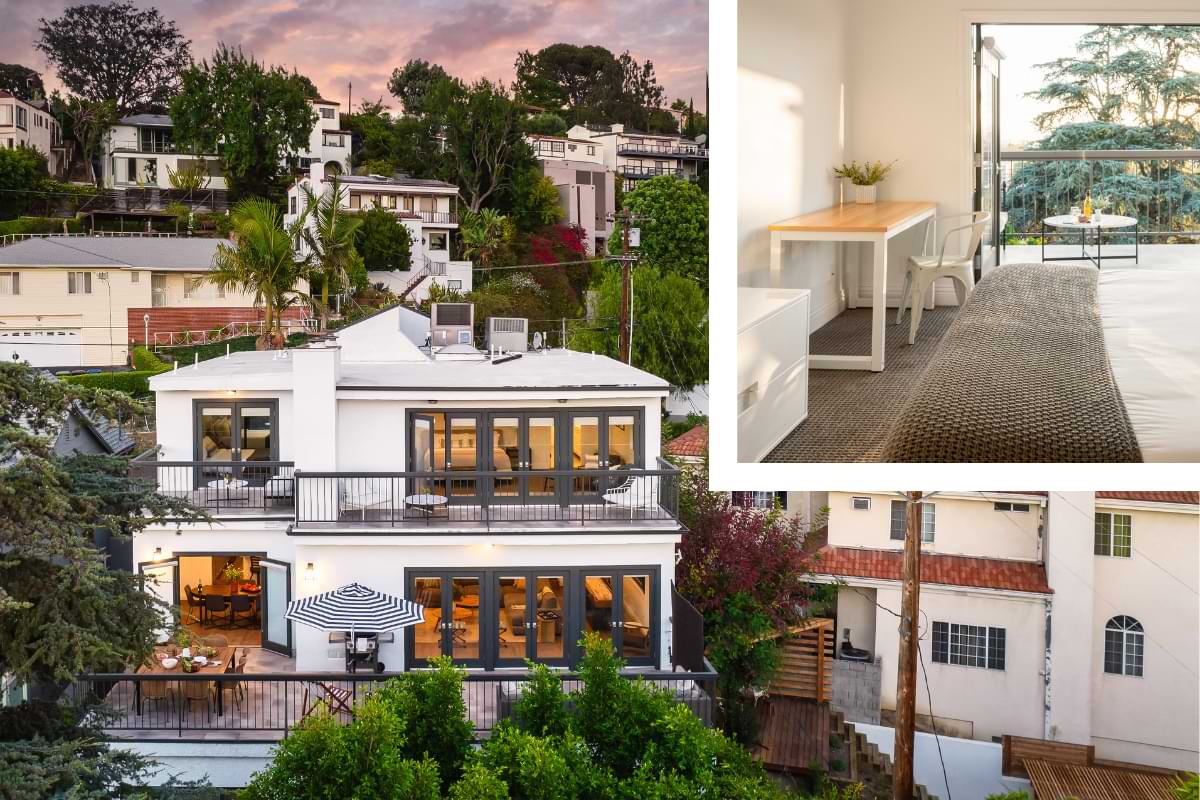 Looking for inspiration? Search no further than Edendale in this Hollywood Hills WFH space – where you'll have access to a comfortable bedroom desk set-up, lightning fast WiFi, and plenty of lounging areas to take that well-deserved Siesta. When the work day's all said and done, head to the must-see Hollywood sign for a sunset to remember.
2. Edgewater – Destin, FL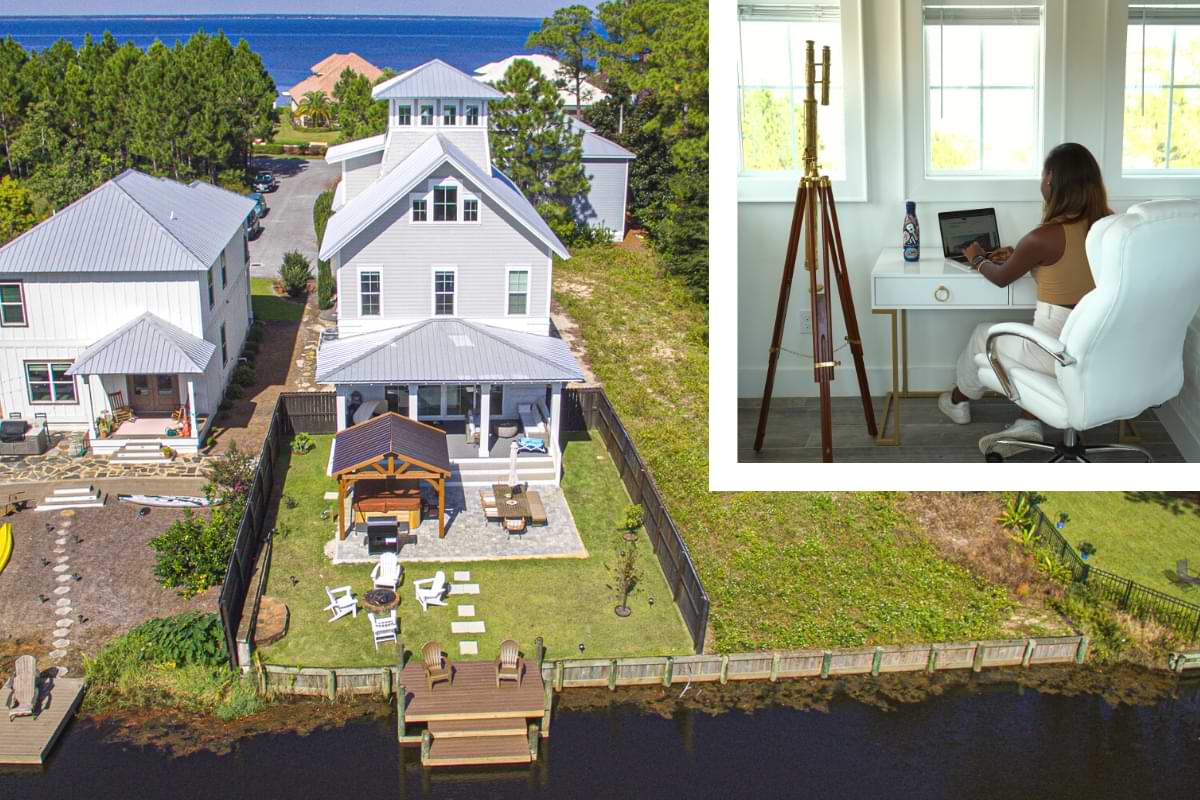 Where work meets water. This home is bringing nostalgia back! As a summer-camp worthy lake house with an extended dock for all those summertime hangs, Edgewater is the home you always dreamed of as a kid. Spend nights toasting s'mores with your crew, then engage in friendly competition with a healthy selection of games in the dedicated game room.
3. Bay Breeze – Newport Beach, CA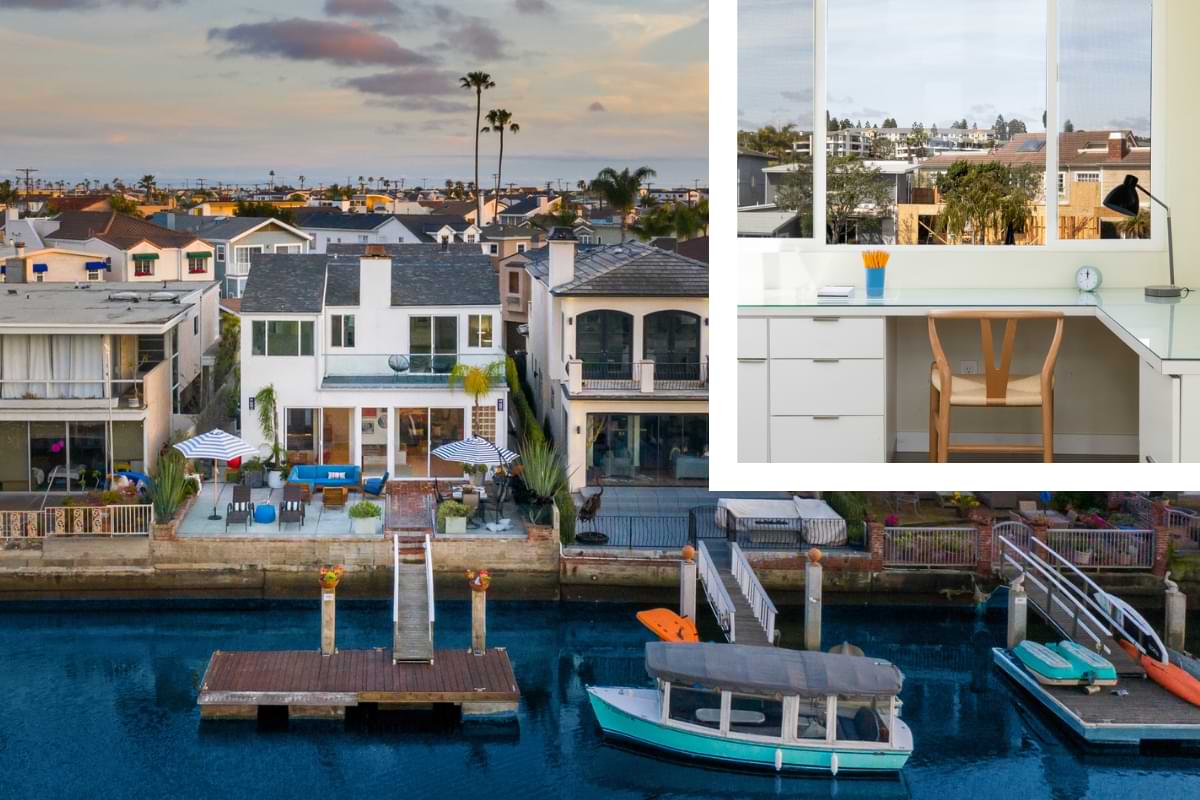 Breathe in, breathe out, and say hello to a cleansed mental palette, perfect for tackling work tasks – true to its name, Bay Breeze is great for fresh air and cool bayside breezes. This home comes with its own dock, paddleboards, fire pit, and gaming area, making it ideal for a decompression session after your 9-5.
4. Crystalline – Smoky Mountains, TN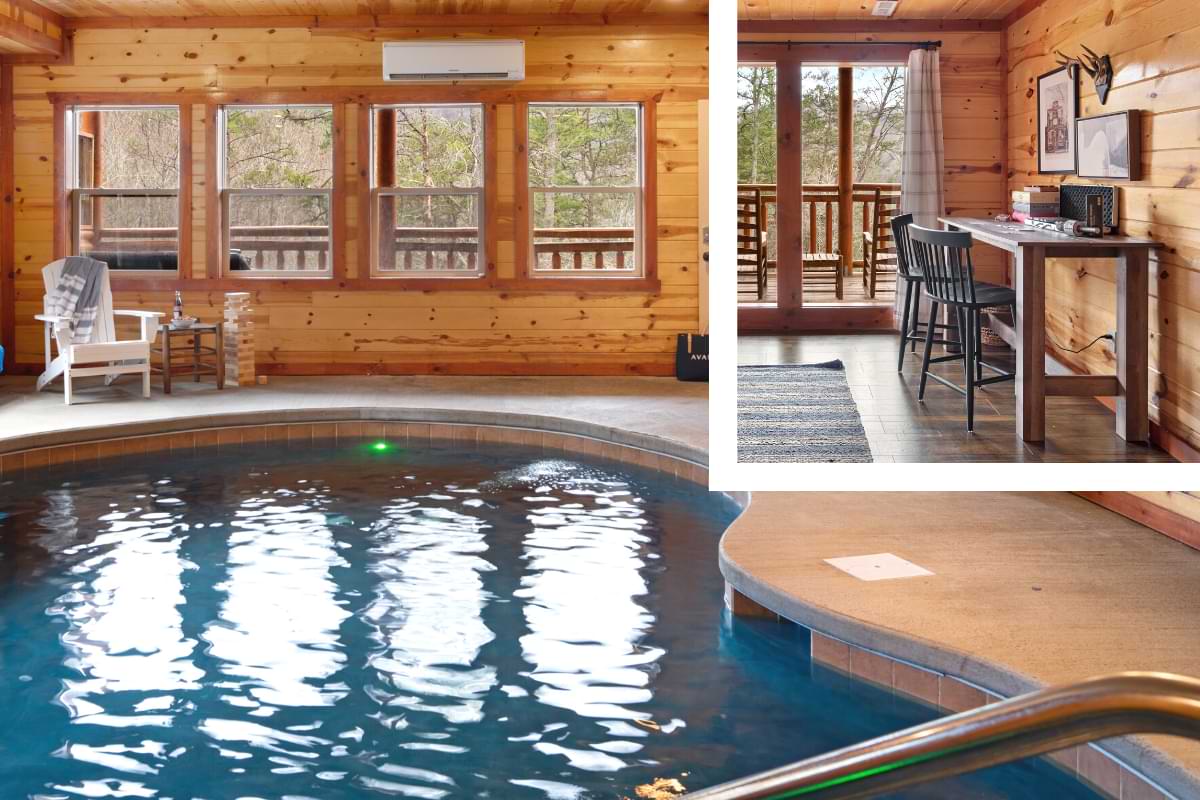 Work from comfort in this quintessential mountain home, Crystalline, surrounded by the Great Smoky National Park. This stay comes with a desk right by the expansive wraparound patio, so you can get all of those Zoom calls out of the way with a view before you regroup with the crew for a drink or too. In Tennessee, it's always 5 o'clock somewhere!
5. Juniper – Lake Tahoe, CA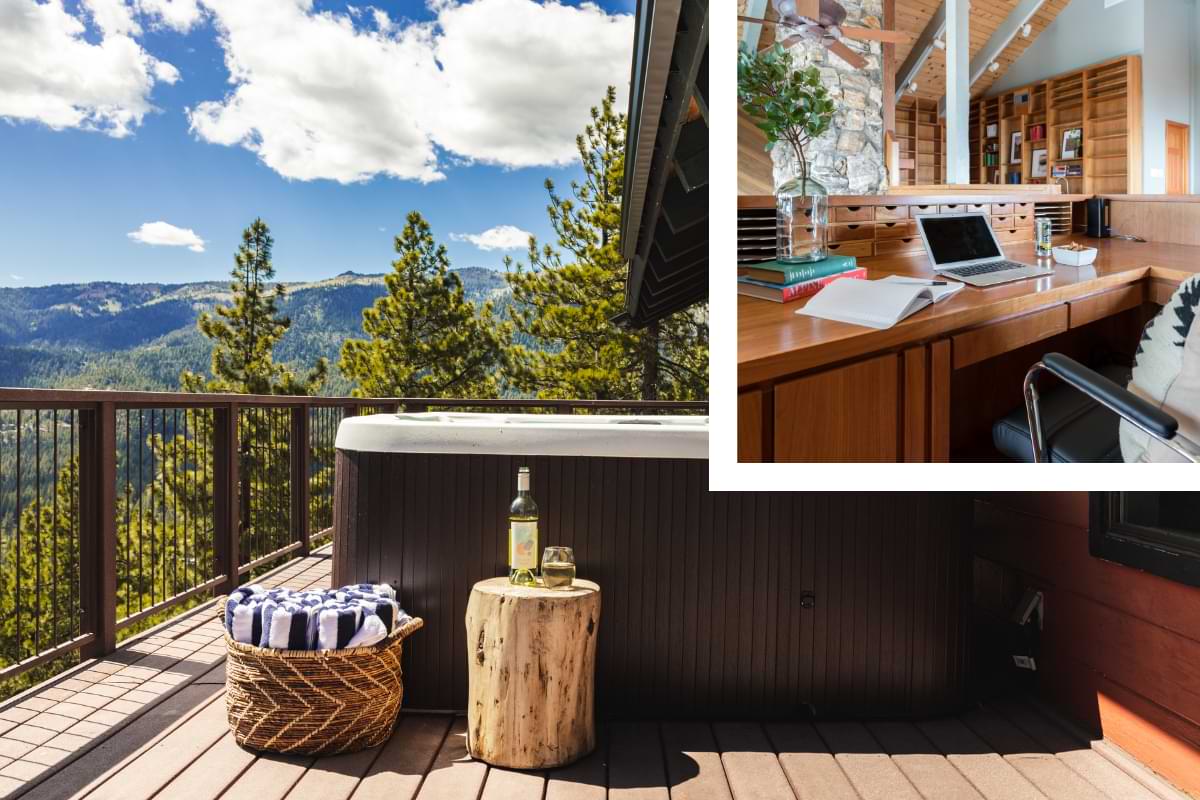 This Taho(m)e is the perfect retreat from bustling city life. Our favorite part about Juniper is how the decor mimics the beauty of the surrounding forest. At the end of the workday, sip on wine and watch the sun grace the horizon as you cheers to a work day well done!
6. Encore – Park City, UT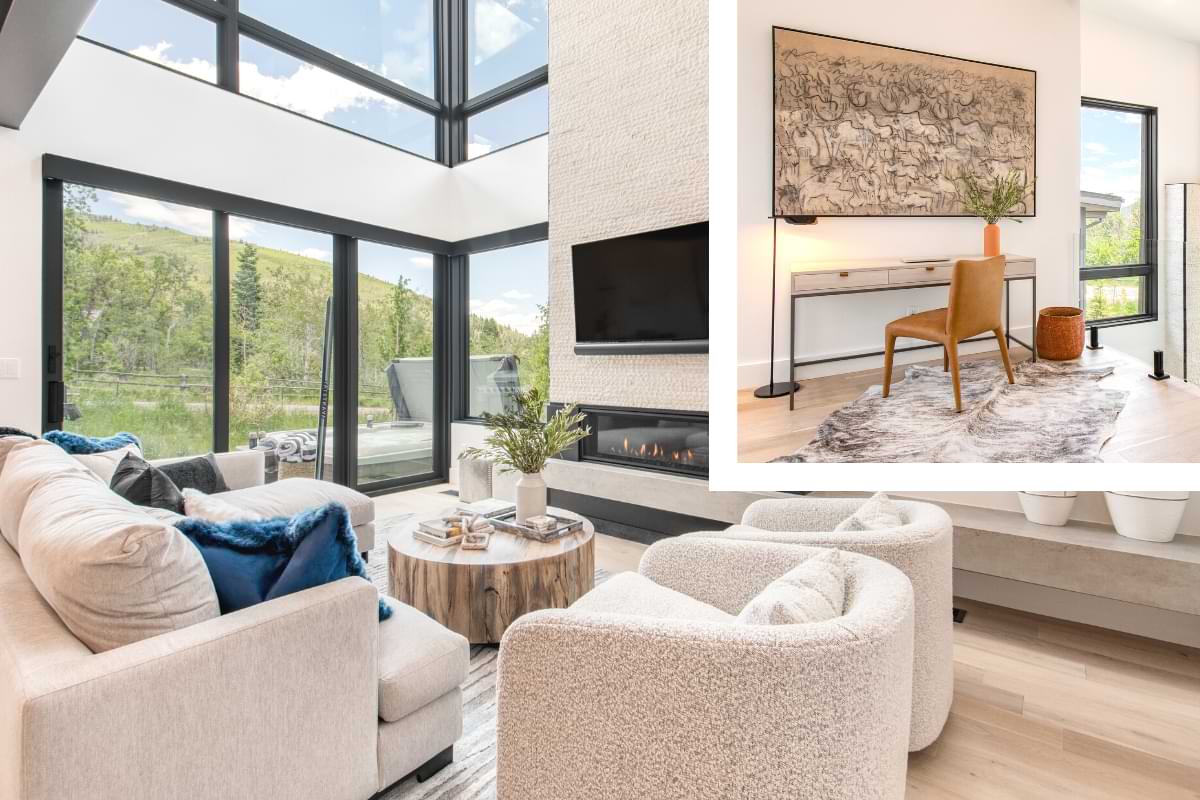 ISO a laid-back mountain town home to work from? Meet Encore in Park City, UT. This is the home for those who are looking for a change of pace, and a new Zoom background. With relaxed dwellings and the smell of the mountain air, this stay makes for the perfect getaway to get through your to-do list with a clear, stress-free mind.
7. Moonshine – Coachella Valley, CA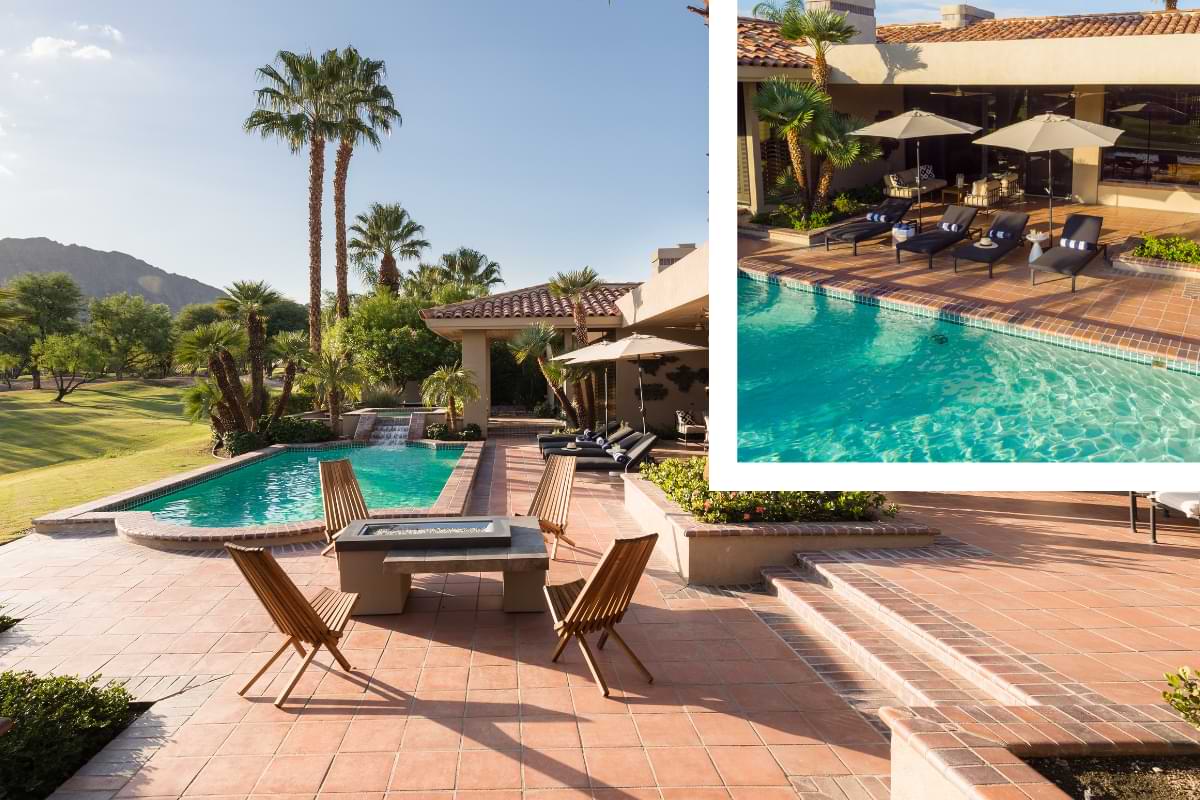 This majestic home has the best for both work and play. Let Moonshine's natural beauty put you in the right headspace for getting work done, then enjoy a nice cocktail after a great WFH day – we suggest working from the pool. Nestled in the natural desert setting of Southern California, you'll also enjoy being a stone's throw away from any of the many fests you may find yourself at while staying in Coachella Valley.
8. Barton – Austin, TX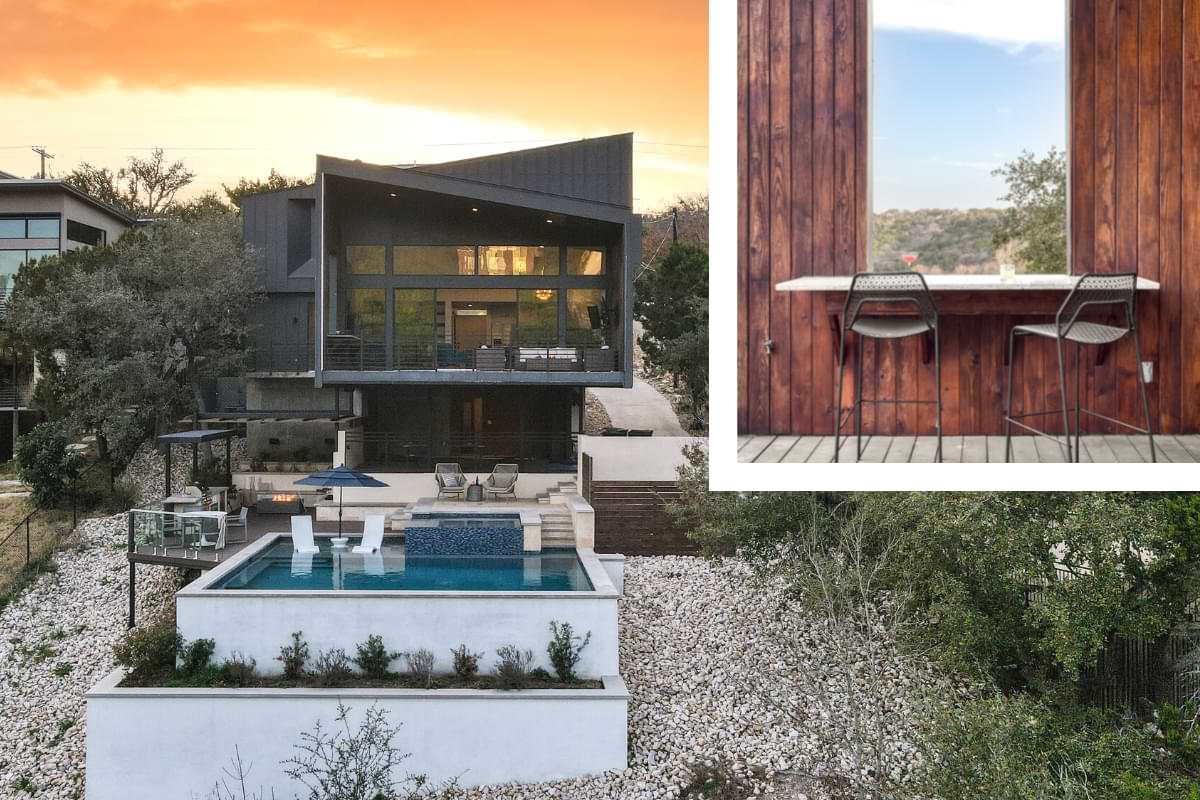 Tackle your mountain-high inbox at this hilltop home, situated in the Austin, TX hill country. With a shaded outdoor desk and poolside chairs, you'll find countless ways to work outside and soak in fresh air. Our personal favorite spot in Barton is on the upstairs deck, pictured above, where you're guaranteed the best natural lighting for all those Google Meets you have.
9. Matador – Malibu, CA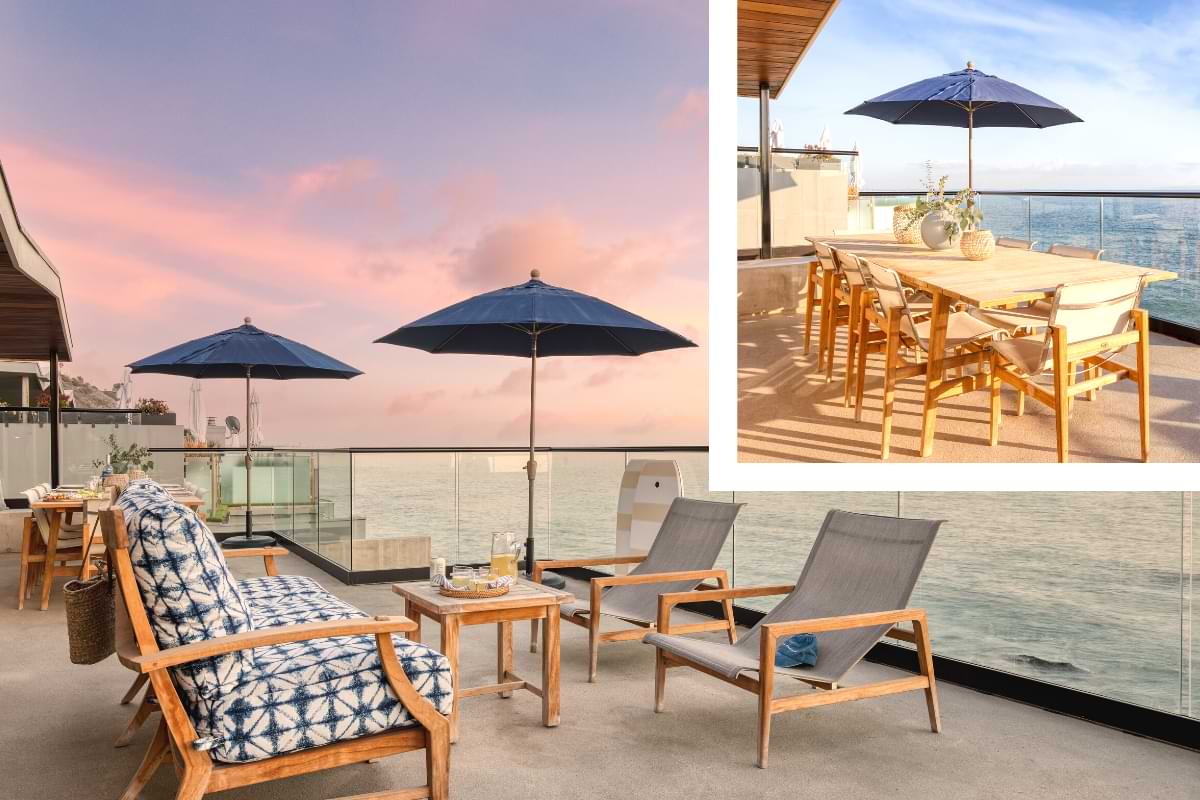 The ultimate sanctuary to escape the bustling energy of the city and focus on those long-term projects. Matador is a bright and energetic space with multiple areas to lounge in. Head outside and take in the smells of the ocean. This work from home space doesn't come with a desk per se, but you just can't beat working on an oceanfront patio.
Work hard, play hard. We understand the basic, human need for a mental refresh – and we get that that usually comes with a change of your surroundings (a little vacation never hurt anyone, right?). In true AvantStay fashion, we've created a special Work-Friendly Space tag for all homes that support fast WiFi and remote workspaces. Download our app here and look for the tag to find your ideal WF(V)H space.