When it comes to the story of alcohol in America, you couldn't write it without the help of Key West, which has been an enclave for good times, food, and drinks for around 200 years. The city has a rich history of rum running, and during prohibition, Key West residents took the law as more of a polite suggestion than something to be adhered to.
These days, Key West is many things to different people. Whether you're looking for a family-friendly destination, exciting nightlife, a local dive bar, or a relaxing day at a tiki bar, Key West is the perfect place to hangout. There are also plenty of yearly festivals to enjoy, from Hemingway Days to Key West Fantasy Fest, Lobster Fest, and many more, depending on when you're visiting the Florida keys.
You're sure to be thirsty when you arrive in Key West, so we've prepared an exhaustive list of the best bars in Key West on and off the beaten path for you to enjoy on your travels. Be sure to check out as many of these legendary spots, grab your margaritas, hit the dance floor and explore everything Key West has to offer.
El Maison de Pepe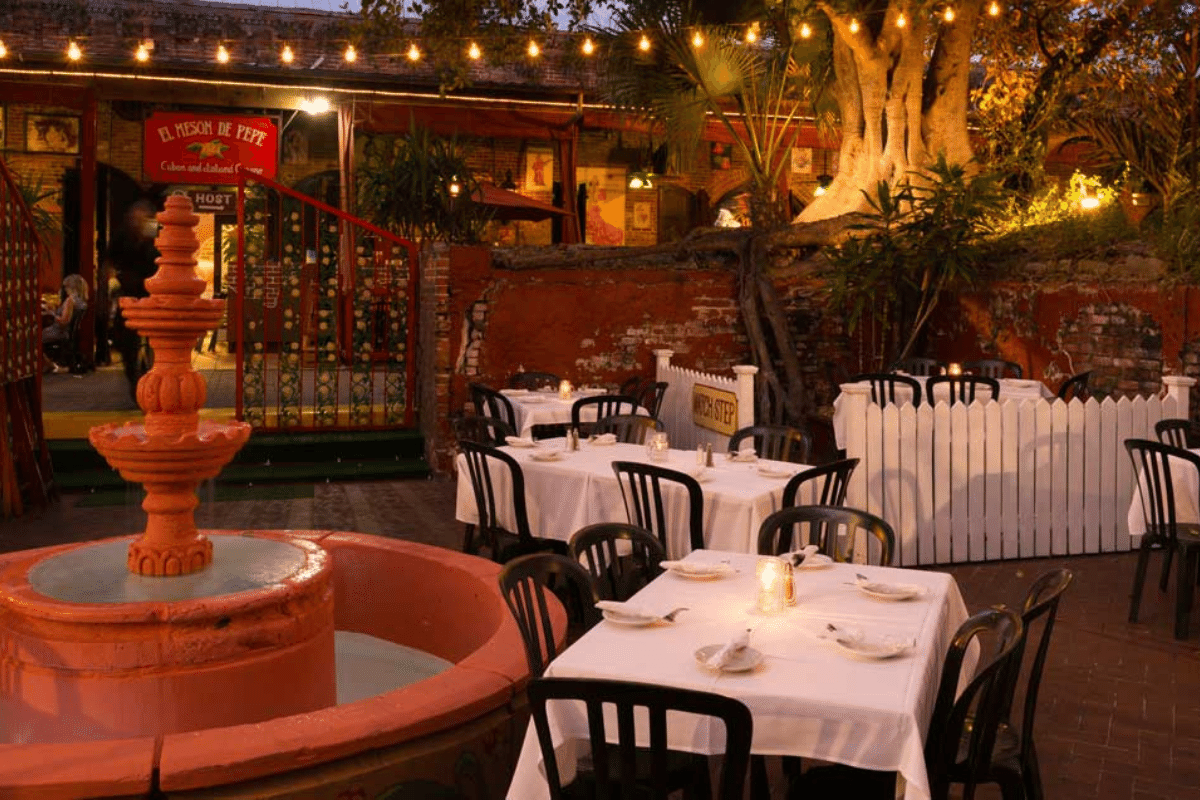 The jewel of Mallory Square and the perfect sunset spot in Key West, El Maison de Pepe is a must-see destination in Key West.
Since 1986, chef Pepe Diaz has served traditional Cuban Conch cuisine, mojitos, daiquiris, other delicious rum cocktails, and picturesque sunsets. Be sure to get here early if you plan on enjoying the sunset because they don't take reservations.
Tipsy Rooster
Right on the main strip in Old Town Key West is the world-famous Tipsy Rooster. This bar was a winner of the 2022 Trip Advisor Traveler's Choice Award, and it's one bar you must try on your trip.
The Tipsy Rooster features live music every afternoon and evening and an inventive list of signature cocktails made with house-infused liquors. This unique bar also houses one of Key West's best liquor stores so that you can grab a bottle for the road on your way out the door.
Little Room Jazz Club
From Wednesday through Sunday, stop into the Little Room Jazz Club on Duval Street for inventive cocktails, inspired small bites, and the best musicians you'll find in Key West. The Little Room is home to some of the nation's best jazz performers, and it's an ideal spot to relax and unwind after a day of fun in the sun.
Old Town Tavern
A stone's throw from the Little Room Jazz Club on Duval Street, you'll find the Old Town Tavern and Beer Garden, one of the best places in the city to gather with friends for a quick bite and a delicious drink.
Old Town Tavern offers one of the best happy hour programs on the island, with happy hour from 4-7 pm and 11 pm to close. Their full menu is available until closing, making this the perfect spot for some late-night eats.
The Smallest Bar in Key West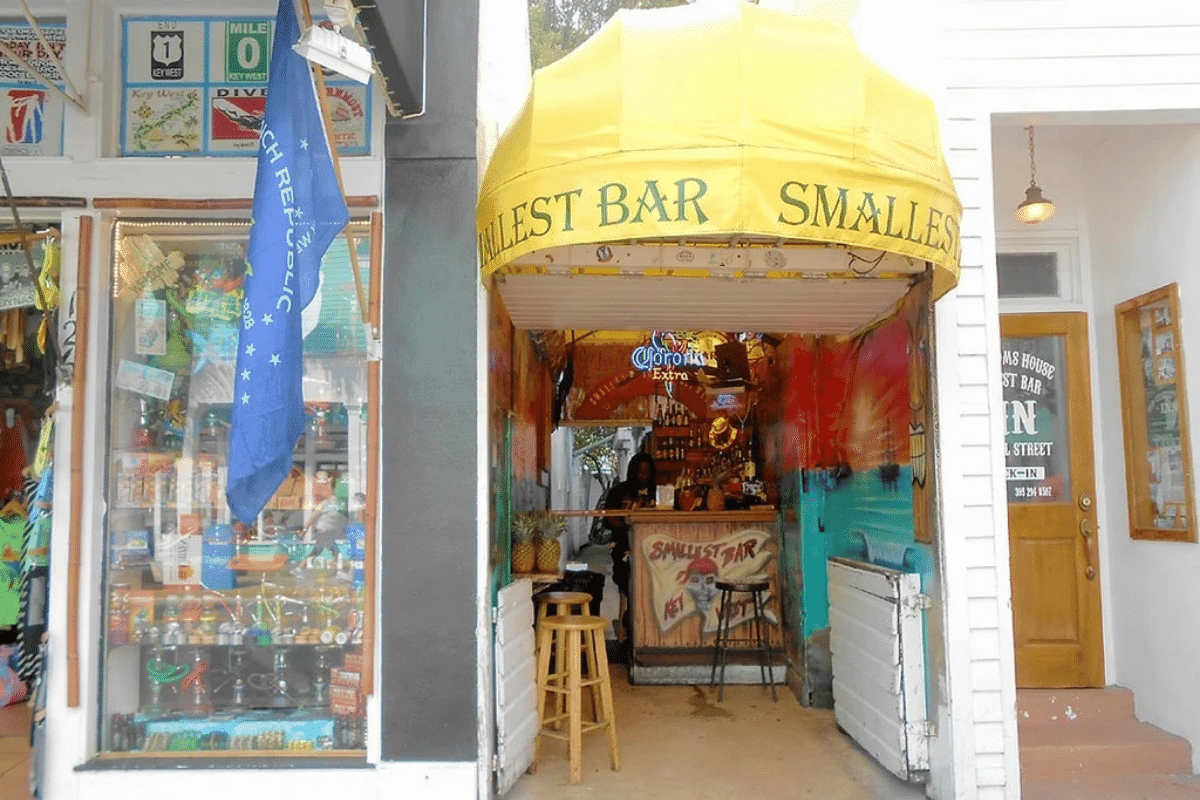 Towards the end of Duval Street, surrounded by some of Key West's most famous tiki bars, you'll find a tiny bar about the size of a jail cell known as The Smallest Bar in Key West.
What it lacks in size, it makes up for in charm. This tiny bar is the perfect spot to grab a drink and chat with the bartender about the best spots in town, which all happen to be around the block from this famous watering hole.
Lucy's Retired Surfers Bar
Lucy's has only been in Key West for around five years, but in that short time, this bar has cemented itself as a Key West classic. Pop into Lucy's for inventive vacation cocktails, a cold beer, or a bite to eat. For those of you with the courage to spare, try Lucy's famous scorpion shot. Sure, you may get stung by a scorpion, but at least you get a t-shirt to commemorate the experience!
Willie T's
In the heart of world-famous Duval Street, you'll find an inviting coastal dive known as Willie T's. At Willie's, can enjoy an inventive list of new and classic cocktails, unfussy pub grub, and live music every day from open until close.
Willie T's has some of the best drink specials in Key West, with rotating selections every day. It's also the best spot in Key West for some late-night fun since they're open until 4 am on the weekends.
Bull & Whistle
One of the most fun and iconic bars in Key West, Bull & Whistle is a bar within a bar on Key West's busiest strip for bars and restaurants.
On the ground floor, you'll find The Bull, an expansive room with a long bar, plenty of seating, and live music. The Bull is one of the last remaining open-air bars in Key West, and it's one of the best places to spend an afternoon on the island.
Head upstairs, and you'll find the Whistle Bar, which is a bustling game room with a large squared bar and pool tables. The Whistle Bar overlooks Duval Street and Caroline Street and gives you a bird's eye view of everything happening on the street.
The Whistle always has a great breeze, and it's one of the most comfortable spots to hang out outdoors in Key West.
Beyond these two bars, there's still more to see here at the Bull & Whistle, and we'll cover that below.
The Garden of Eden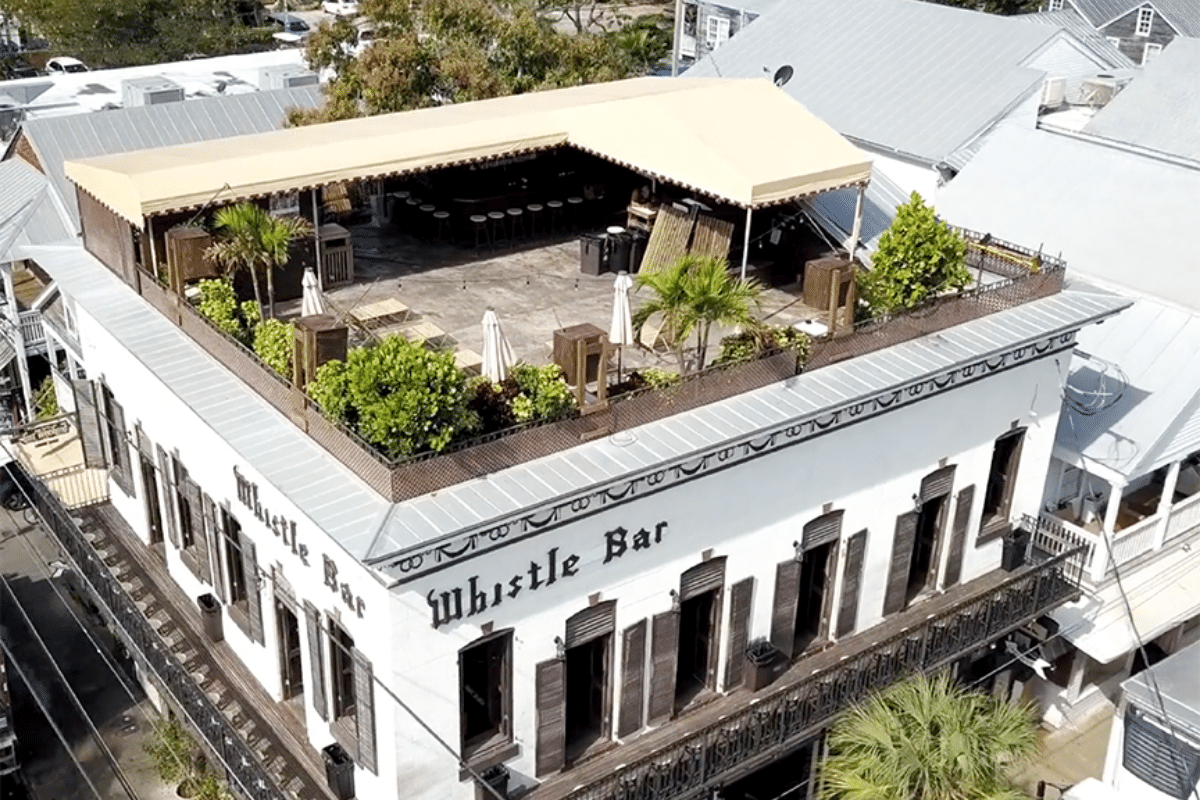 High atop the Bull & Whistle bar at the rooftop level, you'll find the inviting Garden of Eden bar. This clothing-optional bar's motto is "drinking is mandatory, clothing is optional." You won't find cameras or cell phones at the Garden of Eden, but you'll find just about everything else.
Whether you bring your birthday suit or not, The Garden of Eden offers arguably the most fun of all the bars here at Bull & Whistle, and the nightly DJ is sure to get your crew up and moving.
The Rum Bar
Whether staying the week or just stopping by for a quick drink, The Rum Bar at Speakeasy Inn is a must-try in Key West. The Inn is one of the finest places to stay in Key West, and it's at the southernmost point of Duval Street, one of the most coveted destinations in the Keys.
As for the Rum Bar, they're open from 11 am until midnight or later, serving up some of the best cocktails in the Keys. For those who love rum, you'll find more than 350 exclusive bottles from around the world on the shelves of this cozy and inviting bar.
Point 5 Lounge
Point 5 Lounge is a short walk from the Ernest Hemmingway house on Duval Street, and it's the ideal location for a romantic dinner or a few cocktails. Originally constructed in 1850, the Point 5 Lounge served as a beautiful Victorian-style residence for over 100 years before being repurposed as one of Key West's coziest and most romantic restaurants since 2002.
The bar is excellent and stocked with anything you could ever want to drink, and the kitchen is one of the best places to grab a meal.
Hog's Breath Saloon
Established in 1976, the Hog's Breath Saloon has become a must-see destination in Key West to relax and unwind. This unfussy haunt is pure Key West, and they offer a full kitchen to go along with their island-inspired cocktails. Try one of their famous key lime shooters before you head out the door.
Schooner Wharf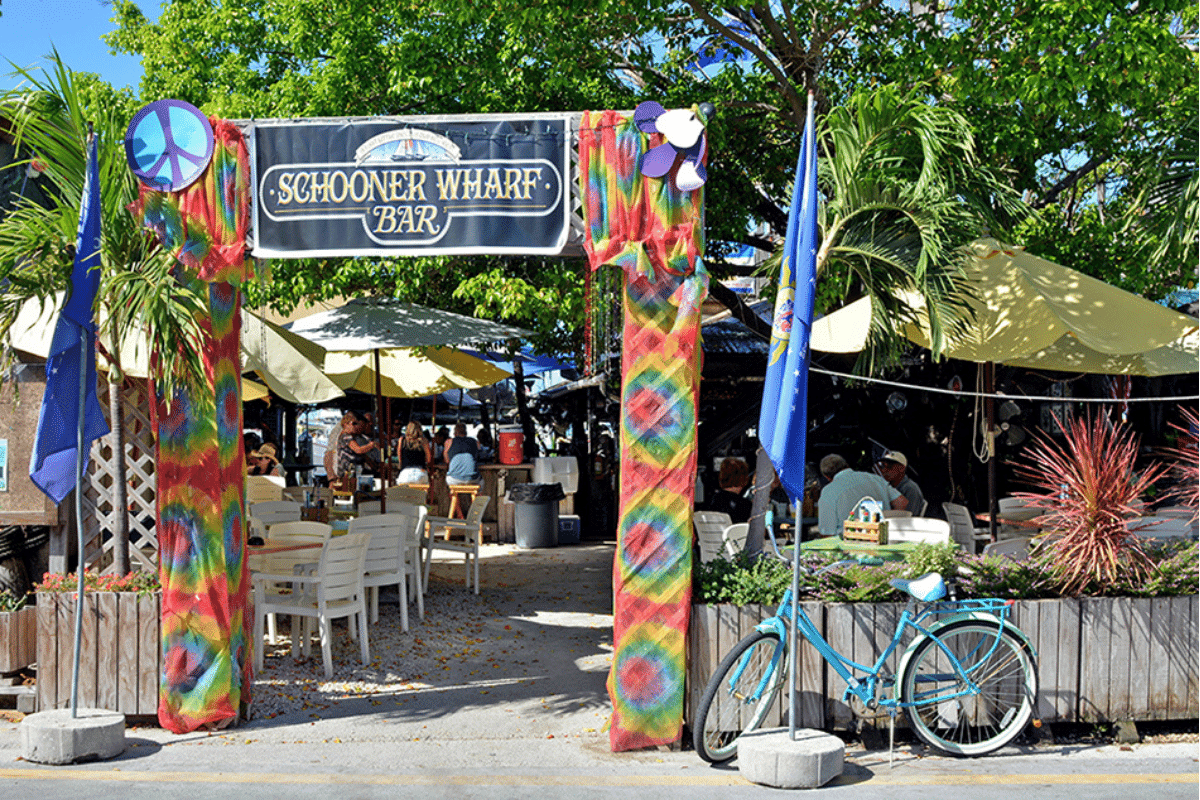 At the end of the Historic Harbor Walk, you'll arrive at the former location of the Singleton Shrimp factory. The shrimp factory has long been replaced by the Schooner Wharf Bar, but you'll still find plenty of fishy business here.
Schooner Wharf opens bright and early every day for their Breakfast on the Bight service, and they keep cruising every day until 4 am, with three separate happy hours throughout the day. For those arriving by sea, boat slips are available for you daily or monthly. When you stop by, be sure to try a signature Schooner lemonade.
Hemingway Rum Distillery
A block from the water at the corner of Greene and Simonton, you'll find a tribute to one of Key West's most famous residents, Ernest Hemmingway. When Hemmingway wasn't writing the most iconic literature in American history, he was fishing aboard his boat, Pilar, or enjoying a rum cocktail somewhere in Key West.
The distillery that bears his name is one of Key West's most popular tourist destinations and a great way to grab specialty drinks and some local history. The distillery features a small tasting room for you to enjoy some of their famous rum, and they also offer cocktail classes, ghost tours, and much more at this iconic rum factory.
Green Parrot
If you only have time to visit one of the haunts on our list, let it be Key West's most iconic bar, the Green Parrot. This Key West staple has been at the corner of Whitehead and Southard for over a century, and the spot has been a bar since the 50s. Although the name has changed, the spirit endured, and for decades the legend of the Green Parrot grew.
Today, the parrot is Key West's most iconic bar. They're open daily until 4 am with happy hour from 4-7 pm. There's also an on-site liquor store, in case you need to take something with you for your travels.
Margaritaville
These days, you can throw a dart at a map and end up somewhere near a Margaritaville location, but there's only one original Margaritaville, and it's here in Key West.
The original Margaritaville is a bit of a tourist trap, but for parrotheads and those hoping to pay homage to Key West's living legend Jimmy Buffet, a stop at Margaritaville is a must.
Rum Row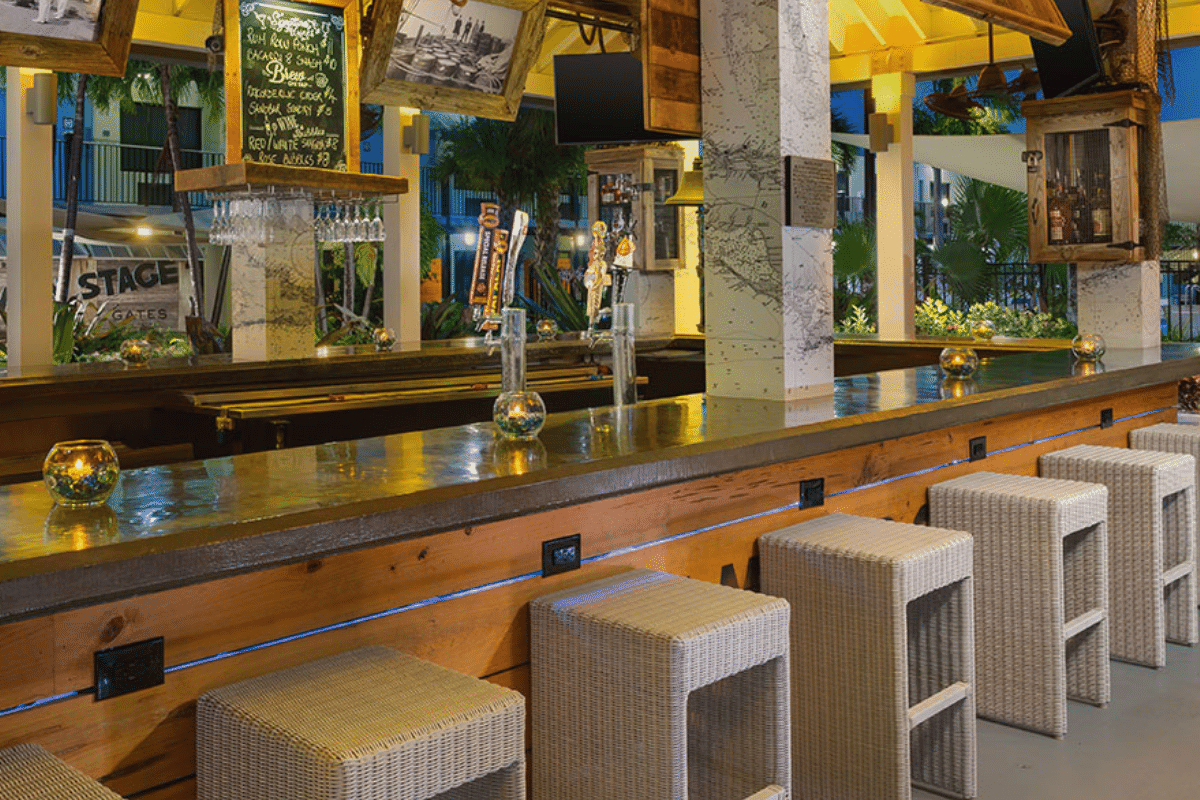 Tucked away inside The Gates Hotel, you'll find one of Key West's best bars, Rum Row. Rum Row is the perfect haunt for vacationers hoping for something a bit more high-end than the open-air watering holes of Duval Street.
Rum Row emphasizes local rum and cigars, and thanks to their partnership with Key West Legal Rum and Rodriguez Cigars, they have both in high supply. Grab a fresh local rum runner or mojito and enjoy it with a cigar as you watch the sunset.
Captain Tony's Saloon
Buffet fans are sure to know this local watering hole, immortalized in Jimmy Buffet's song "Last Mango in Paris." This historic bar has been a part of Key West lore for over 100 years, and it was a favorite spot of local legends like Ernest Hemingway, Tennessee Williams, and Truman Capote.
At Captain Tony's, there's live entertainment every afternoon and a band every night, and there always seems to be a seat at the bar waiting for you when you arrive.
Sloppy Joe's
Often confused with Captain Tony's Saloon, which was once known as Sloppy Joe's before Captain Tony Tarracino acquired it, Sloppy Joe's is another iconic bar where every Key West visitor should grab a drink.
Like Captain Tony's, Sloppy Joe's is one of the most historic watering holes in town, and it was a favorite haunt of Ernest Hemmingway. Plenty has changed in Key West over the years, but Sloppy Joe's isn't one of them.
Tiki House
No vacation is complete without a classic tiki cocktail served in a fun glass, and Tiki House is the best place in Key West to enjoy one. Once you step inside this Greene Street bar, you're immediately transported to 1950s California for some fun in the sun.
Tiki House offers an expansive menu of classic and modern tiki cocktails, and on Wednesdays and Saturdays, they offer a Tiki Cocktail Class from 1-3 pm. The bar offers daily happy hour from 4-6 pm and live music every night.
Conclusion
Key West has no shortage of bars waiting to offer you a night you'll never forget. Make sure you check out our Key West vacation homes for a stay above the rest!