Ready to create a five-star guest experience and increase the return on your vacation rental investment? A great starting point is by adding experiential elements and sought-after amenities to your home. Vacation rental amenities help create an exceptional guest experience, drive more positive reviews, and ultimately increase your rental income. This article is the latest addition in our series breaking down popular amenities and the advantages they create, by market type. Keep reading to discover our top amenity picks for mountain cabin rentals.
The importance of vacation rental amenities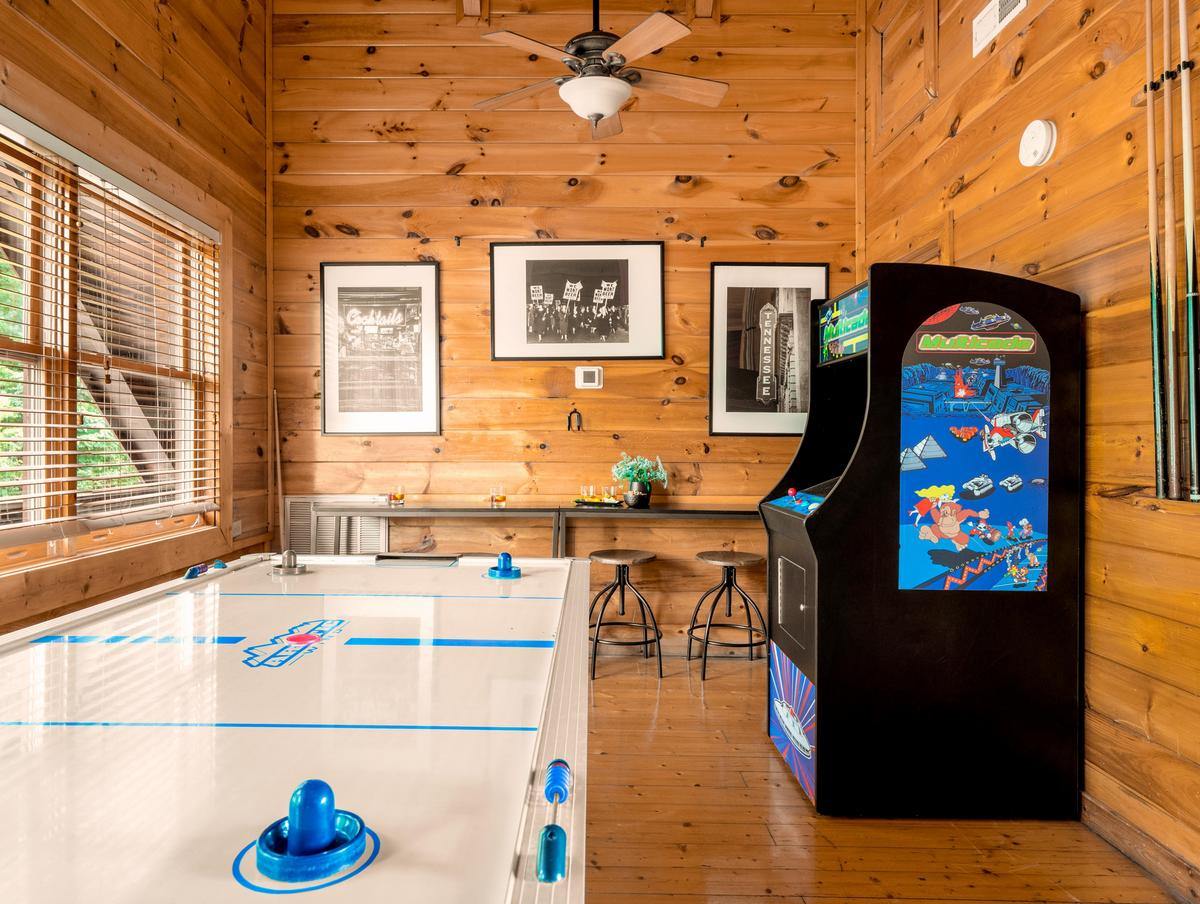 In competitive markets, like Pigeon Forge and Asheville, the vacation rentals that are going to get more bookings and drive strong returns are the one-of-a-kind and exciting homes that stand out from the rest. If you have unique amenities, like a home theater or indoor pool, showcase these in some of the first photos on your listing page to grab guests' attention. Before we reveal what the top mountain vacation rental amenities are, let's cover the benefits of investing in interior design and luxury amenities.
Attract more guests
58% of millennials make their booking decision based on the first five photos of the home. Professionally designed properties with new furnishings, stylish decor, and top-of-the-line amenities attract guests who appreciate and respect the elements that make your home unique.
Earn higher ratings
Homes with thoughtfully designed interiors and amenities are directly linked to higher ratings and referrals from guests. An appealing and comfortable home where guests can gather and entertain has a proven positive effect on the guest experience.
Increase your revenue
Helping homeowners choose and install the right amenities is just one part of how AvantStay maximizes your property's value and increases your profit by up to 20-30%. You'll notice a surge in bookings as guests prefer to stay at properties with professionally designed interiors and experiential amenities for the whole group to enjoy.
Best vacation rental amenities for mountain homes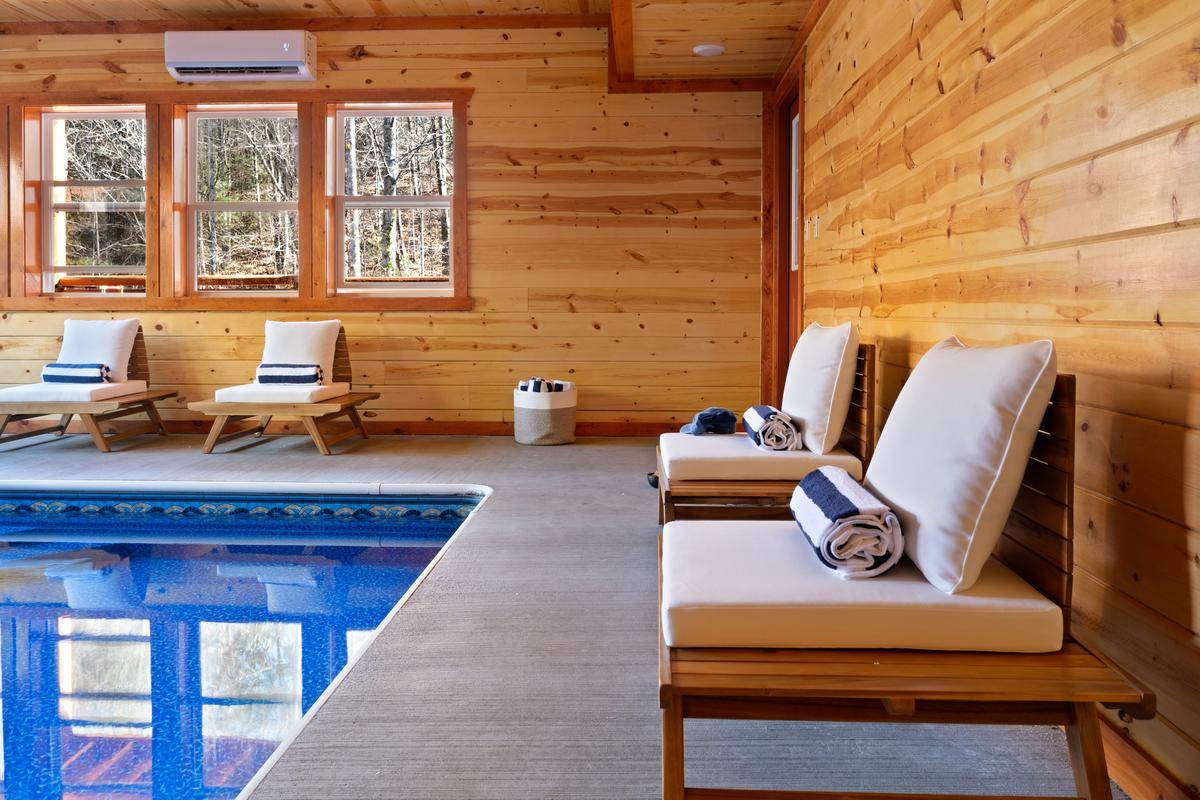 Vacation rental amenities can make the difference between a four and five-star review. But which amenities are guests looking for? We dove into our data to discover what amenities drive the greatest returns in our mountain markets. Below are our findings from one year of performance metrics from our Asheville, Black Mountain, and Smoky Mountains cabin rentals.
Indoor pools
Give guests an amenity they can enjoy on snowy days in, warm summer nights, and anytime in between. Adding an indoor pool to your vacation rental is the #1 amenity investment you can make. Vacation rental cabins with an indoor pool see these premiums compared to homes without this amenity:
198% higher ADRs
57% greater RevPAU (revenue per available unit)
26% more revenue per bedroom
Home theaters
Another solid vacation rental amenity in mountain markets is a home theater. Guests will be eager to grab the popcorn and relax after a day of exploring. Homes with a theater see 77% higher ADRs, 76% greater RevPAU, and 20% more revenue per bedroom than properties without a home theater.
Game rooms
Bring on some friendly competition with an indoor game room. Even though your guests will be embracing the great outdoors, a game room is a nice amenity to have for rainy or snowy days, or for when your guests want a chill night in. Arcade games, foosball, billiards, and ping pong tables are great options. Homes with a game room drive 42% higher ADRs, 49% greater RevPAU, and 25% more revenue per bedroom than properties without.
Level up your vacation rental with AvantStay
Only AvantStay homeowners have access to our award-winning Interior Design team that elevates homes in under nine days, instantly increasing your home's equity and maximizing your ROI. We believe the best accommodations are designed to enhance every aspect of a guest's travels, which is why we transform beautiful homes into incredible experiences that foster unforgettable memories.
We help procure high-quality, durable furniture and upscale amenities, and coordinate delivery and installation on your behalf so you don't have to lift a finger. Our thoughtfully designed spaces encourage gathering and allow guests to make the most of their time at your home—leaving them recharged and ready to write a five-star review!
Are you looking to upgrade your vacation rental design and amenities? Our interior designers can create a custom, locally inspired space that guests love. If you're interested in learning more about AvantStay's design, procurement, and vacation rental management services, our team of experts is ready to help. Get started today!