Austin's legendary live music, bountiful outdoor activities, breakfast tacos, and eclectic arts, culture & food scenes make it one of the best places to visit in Texas year-round.
It's often said there's "No Place Like Texas". There's also no place in Texas like Austin.
The Lone Star State's capitol is renowned for almost everything that the rest of Texas is not: street art, food trucks, clothing-optional swimming holes, sightseeing, murals, and a funky individualism that's earned the city the slogan "Keep Austin Weird".
Lying at the western axis of the state's big city triangle (the other two being Houston and Dallas-Fort Worth), Austin's never been fueled by the big oil, cattle ranch stereotypes most people think of when they envision "Texas". Being an Austinite means embracing contradictions: honky tonks next to skyscrapers, bats under bridges, old-timers drinking with tech CEOs, BBQ and French bistros, and tacos served all day.
At Austin's heart is its legendary live music and nightlife scene. There are more music venues per capita in Austin than anywhere else in the country, giving it the reputation as the "Live Music Capital of the World". Austin City Limits is one of the longest-running music TV shows in the U.S., and the annual festival of the same name along with South by Southwest (SXSW) are two of the preeminent multi-day music events in America.
Austin's also world-famous for its museums, state parks, and endless outdoor activities including the Bullock Texas State History Museum, the Texas Memorial Museum, Umlauf Sculpture Garden and Museum, Zilker Park, Lady Bird Lake, Mount Bonnell, the LBJ (Lyndon B. Johnson) Presidential Library and Museum, and the Blanton Art Museum at the University of Texas. Austin's funky vibe and buzzing downtown are also energized by the university's 51,000 year-round students.
So, whatever brings you to Longhorn country for a weekend or if you already live here full-time, here are 31 top fun things to do in Austin to rock out, eat big, drink deep, savor a little Texas culture and history, and most importantly—stay weird.
1. Texas State Capitol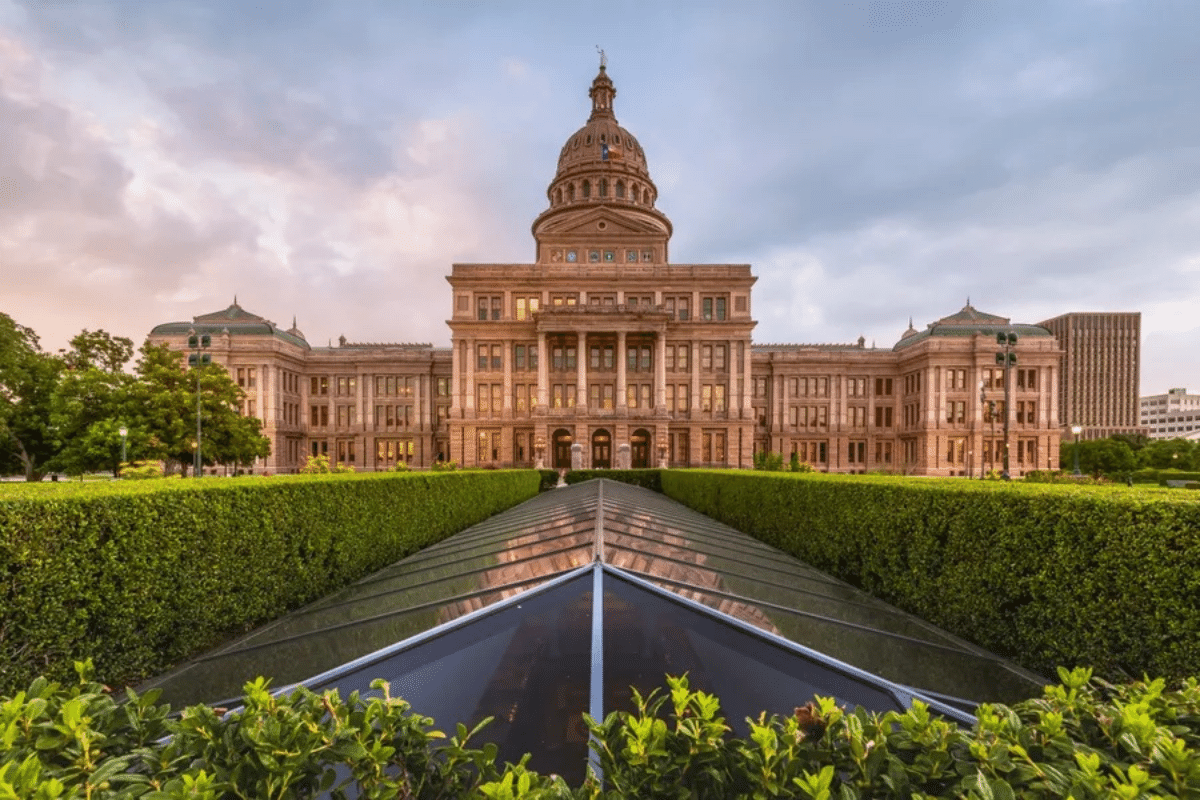 The Texas State Capitol building is the largest capitol building in the U.S. and visiting it is one of the top fun things to do when you visit Austin. Architecturally, it's a masterpiece of workmanship, reflecting the attention to detail in its Italian Renaissance dome, tiled rotunda, stone carvings, and red granite facade that was characteristic of the era when it was built back in 1888 before Austin's skyline bloomed with gleaming glass high rises. Visitors can take a free 30-minute guided tour seven days a week or explore on their own, dive into Texas history at the Visitors Center next door, or discover more than 22 acres of magnificently manicured grounds outside.
2. Cool Off At Barton Springs Pool
Austin's hot in summer (temperatures hover in the mid-90s). The good news is that there's no lack of natural and manmade swimming holes to cool off. Barton Springs Pool is one of Austin's most famous, located just east of downtown across the Colorado River in 358-acre Zilker Park. Barton's pool spans three acres and is fed by the fourth largest spring in Texas delivering a constant in-flow of 67-70 degree water. The pool is open from 5:00 am to 10:00 pm daily and entrance fees are $2 – $4 for children (resident and non-resident respectively) and $5 – $9 for adults. Note for families: women may swim topless at the pool so be forewarned.
3. Feast On BBQ
Few things scream Texas more than barbeque—and Austin is home to some of the best BBQ joints in America. One of the most famous is The Salt Lick, which has three locations in the city. Their brisket, ribs, sausage, and pulled pork are slow-cooked in pits in Austin's Hill Country and are award-winning. Austin's other iconic BBQ joint is Franklin Barbeque, which frequently has lines extending all the way down the street. In the ten years since it opened, Franklin's has been featured on Anthony Bourdain's show "No Reservations", served lunch to Barak Obama, and received a James Beard Foundation Award.

4. Tour A Local Distillery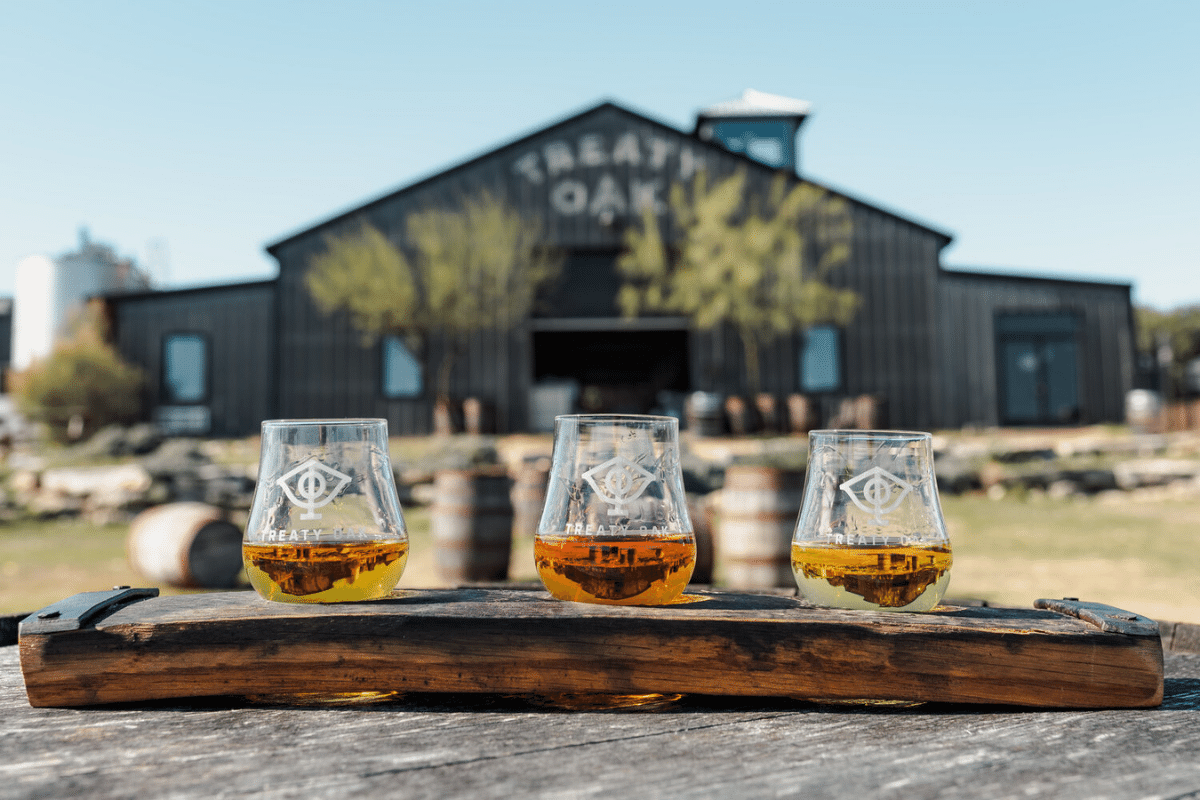 Texas isn't quite as famous for its whiskies, bourbons, vodkas, and gins as Kentucky. But over the past decade, Austin has put itself on the map for its up-and-coming, grain-to-glass spirits scene. Between downtown Austin and Hill Country just east of the city, there are more than two dozen distilleries that utilize local grains, botanicals, and other ingredients to stay true to their Texan roots, while also offering tours and tastings that are almost as enjoyable as the old-fashioned cocktails they serve up. Many also feature food trucks and live music. Still, Austin Whiskey Co., Dripping Springs Distillery, and Treaty Oak Distilling are local favorites.
5. Quench Your Thirst At A Craft Brewery
Austin's legendary music combined with its recent influx of newcomers, hipsters, and Millennials has inspired an upstart craft brewery scene that's quickly becoming one of America's most prolific, rivaling places like Boston, Portland, and Philadelphia. Most of Austin's local breweries are located in some of the city's coolest buildings and also boast top-notch kitchens since food and beer naturally go hand in hand. A few of Austin's best-known, can't-miss breweries include Austin Beer Garden Brewing, Austin Beerworks, Hold Out Brewing, Jester King Brewery, Live Oak Brewing, and Meanwhile Brewing.
6. Sneak Into A Speakeasy
Chic-shady is the phrase many locals use to describe Austin's infamous hidden bar scene centered downtown and around East Austin. Some speakeasies require memberships and door codes. Some only allow walk-ins when the red light is on over the door. And even if you can get a reservation at the others, most will kick you out after your allotted time (typically 2 hours). What you will find behind all of the speakeasies' non-descript doors, however, are the best bartenders and cocktails in Austin. Midnight Cowboy, Small Victory, Here Nor There, and the Milonga Room are a few of the local favorites.
7. Watch The Congress Bridge Bats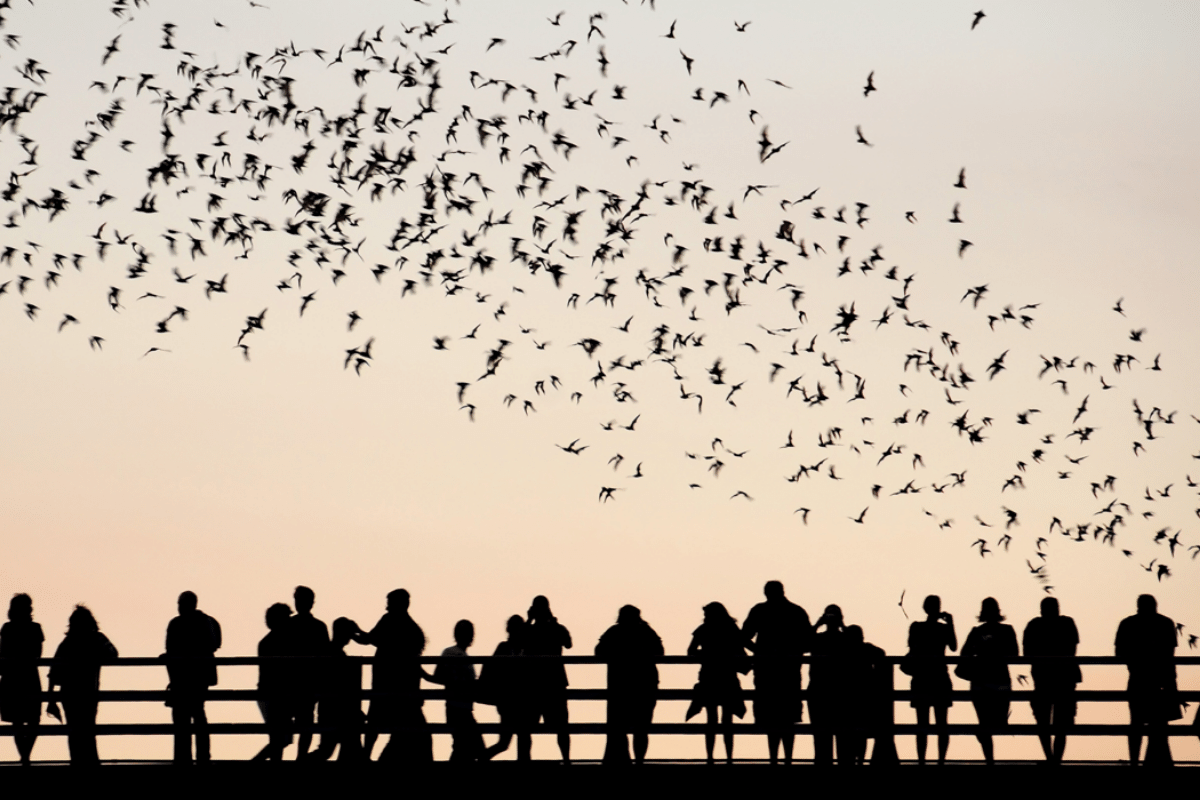 Bat-watching probably wouldn't rank on most people's "best things to do" lists when visiting Austin. But it's become one of the city's most popular pastimes. For reasons only a chiropterologist (a person who studies bats) would understand, the Congress Avenue Bridge over Lady Bird Lake is home to the largest urban bat colony (Mexican Free-Tailed bats specifically) in North America. And every night at dusk from spring through early fall up to 1.5 million of them take to the air in swirling swarms against the sky eating up to nine tons of mosquitos, flies, wasps, and moths in a few hours. You can watch the bats from the Butler Hike & Bike Trail, the bridge itself, or from a boat, kayak, or paddleboard on Lady Bird Lake below. Just make sure you arrive early.
8. Stay At The Driskill
Manhattan has The Plaza. North Carolina has The Biltmore. And when it comes to historic hotels in Austin there's no place more regal and architecturally significant than The Driskill at the corner of Sixth Street and Brazos Street. A Romanesque Revival masterpiece dating back to 1886, it's the oldest hotel in the city and is steeped in Texas history and lore (LBJ and Lady Bird went on their first date here back in 1934). Today, with its original marble floors, gilded columns, and stained glass, the Driskill is still one of Austin's best places to stay. The Driskill Bar is not to be missed either.
9. Play Chicken Shit Bingo
A little bit further down the cultural food chain but no less uniquely Austin (and definitively "weird") is Chicken Shit Bingo, hosted at The Little Longhorn Saloon in North Austin every Sunday afternoon over a cold beer and live music. While its origins are still debated, this iconic Austin pastime draws visitors and locals alike who, for a small donation for entry, can spend a few hours watching chickens' rear-ends as they do their business on a giant, caged-in bingo board. The cheering crowd can get raucous when the beer and cider start flowing and the chickens get going, so this is definitely one of Austin's most Instagram-worthy experiences.
10. Visit The Umlauf Sculpture Garden And Museum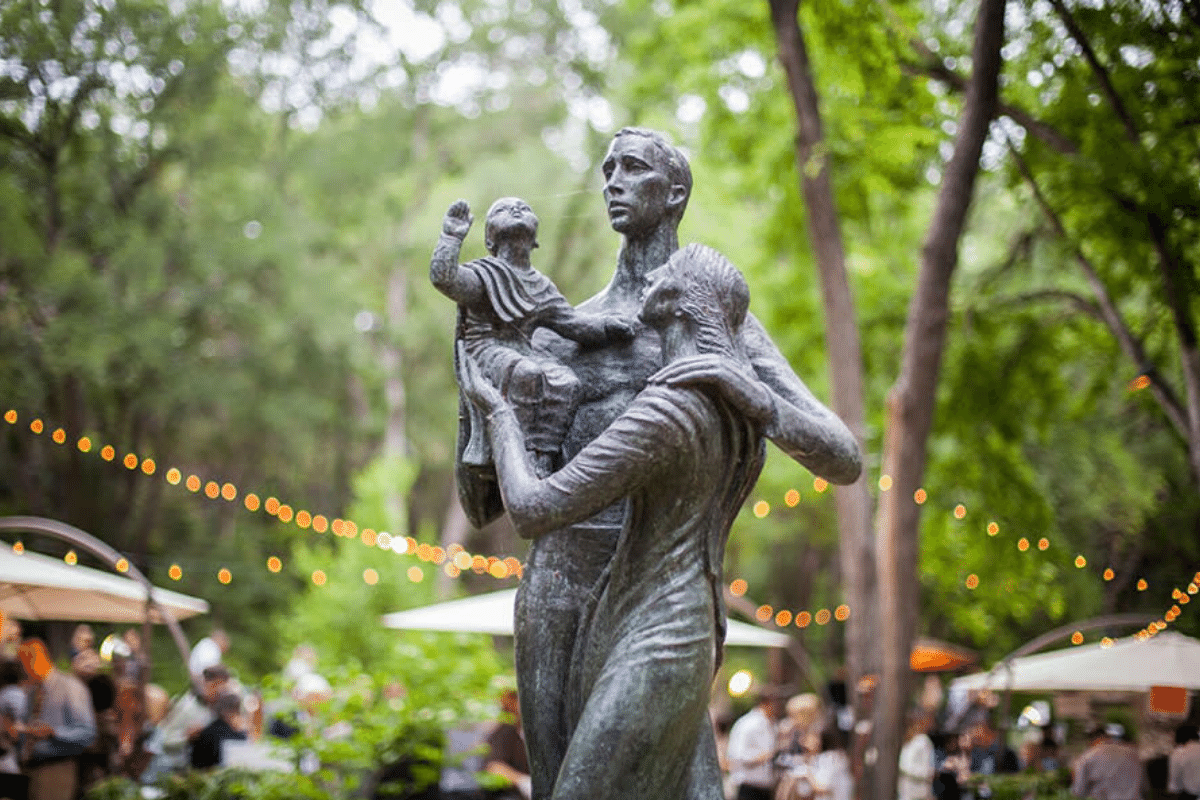 To say that Charles Umlauf's (1911-1994) home and sculpture studio is a paradise in the city would be an understatement for Austin. Just blocks from downtown, Umlauf's six-acre property on the south bank of Blanton Creek, which he gifted to the city along with more than 60 of his sculptures back in 1984, is today one of Austin's open space crown jewels. Now known as the Umlauf Sculpture Garden and Museum Umlauf's former home is set among landscaped ponds, native plants, fern gardens, and moss-covered live oaks where adults can explore Umlauf's works in wood, terracotta, bronze, and marble while kids go on guided "safari" tours.
11. Take In Some Street Art At HOPE Outdoor Gallery
Austin's HOPE Outdoor Gallery is a temple to Austin's street art ("I Love You So Much" made the city famous). Since 2010, every inch of this abandoned construction site has been spray-painted with everything from cartoon characters to cats in space. Today, visitors and locals gather here to see the new art or add some of their own, while also taking part in the classes, dinner parties, and different events the Gallery puts on. The original HOPE Outdoor Gallery downtown closed in 2019. A new, bigger, better 18-acre HOPE community art park and cultural events center is slated to open later this year which will include a rooftop bar, art supply store, event space, community walls, local vendors, and food trucks.
12. Get Thrifty On Guadalupe Street
The last neighborhood where I lived in Philadelphia was famous for its vintage thrifting and antique shopping for everything from furniture and tuxedos to Homer Simpson statues. I'd often meet people coming from as far away as Brooklyn. Austin's strip of stores around W. 29th Street and Guadalupe Street is equally legendary and quickly becoming a destination in itself. You can thrift here, bargain hunt, and shop for vintage clothes at the half-dozen shops that carry mostly used threads. When the weather's nice most of the stores also usually spill over onto the sidewalks so Guadalupe quickly becomes way more social than just the shopping until you drop.
13. Catch A Flick (and an Old-Fashioned) At Alamo Drafthouse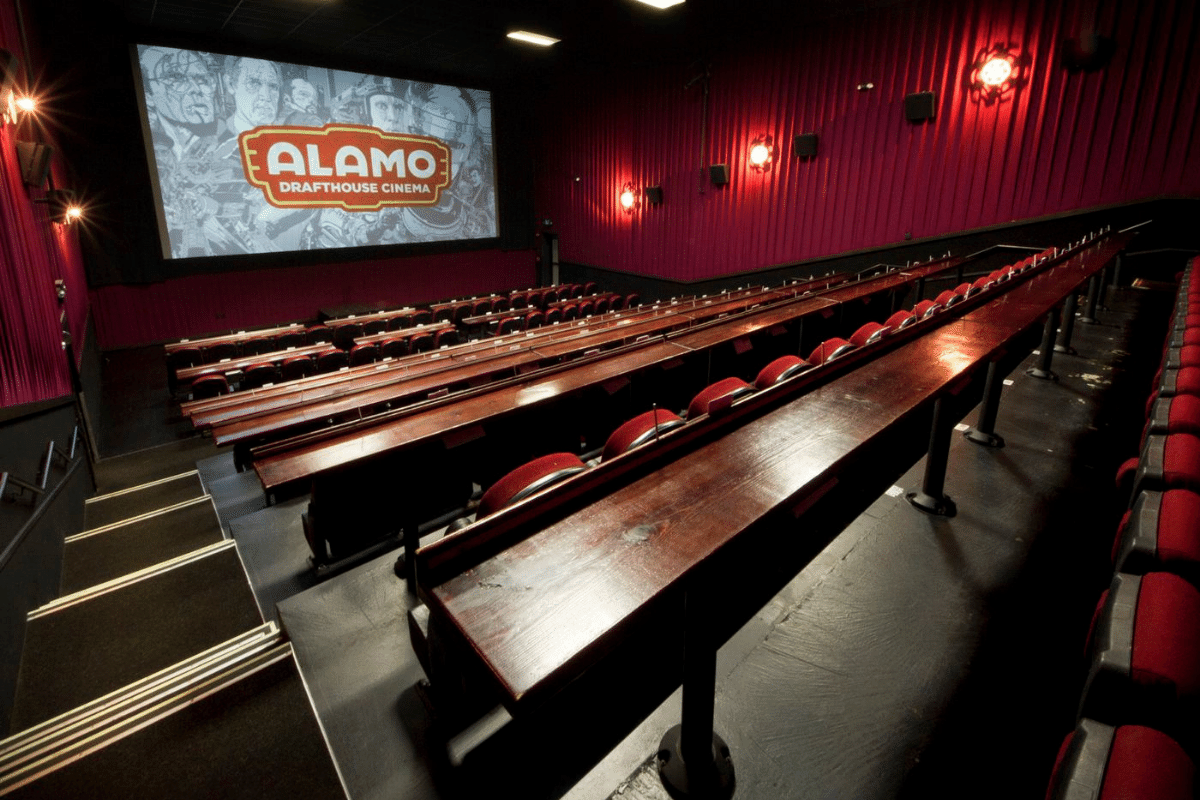 Every city has "institutions". And if there's one in Austin that almost everyone would agree on it's the Alamo Drafthouse. Started by two Rice University grads back in 1997 in the Warehouse District in an old parking garage, this place is part cinema house, part restaurant, and bar and was one of the first places in the country to popularize the watch-eat-drink hybrid model. Renowned for its inventive festivals, and the balance of blockbusters and indy films, while also hosting other events year-round, the Alamo Drafthouse has since expanded in and outside of Austin. But its roots will always be here.

14. Take A Dip At Hamilton Pool
If there's one thing Austin and its surrounding Hill Country is known for, it's swimming holes—and Hamilton Pool is one of the finest, most picturesque places in the great State of Texas to cool off and while away an afternoon. Located on a 234-acre nature preserve and the result of the collapse of an underground river a thousand years ago, Hamilton Pool has geography all its own with a waterfall, a massive overhanging roof, deep green jade water, and a beach. Just remember to plan ahead. If you're visiting between April and September you'll need to reserve a 4-hour time slot.
15. Stay Cool At Deep Eddy Pool
Deep Eddy Pool was built in 1915 by a man named A.J. Eilers, Sr. who bought the land surrounding the swimming hole and envisioned building a natural, spring-fed swimming pool just minutes from downtown. Eponymously named for a distinct eddy that forms by a large boulder in the pool, Deep Eddy is the oldest swimming pool in Texas and is one of the most popular swimming areas in the city where kids can wade, parents can swim laps, and there are also events like poolside movies in summer. The pool is open from 8:00 am to 8:00 pm daily and adult passes are $5 – $9/day for a resident and non-resident respectively (kids under 12 are $2 and $4).
16. Go On A Taco Crawl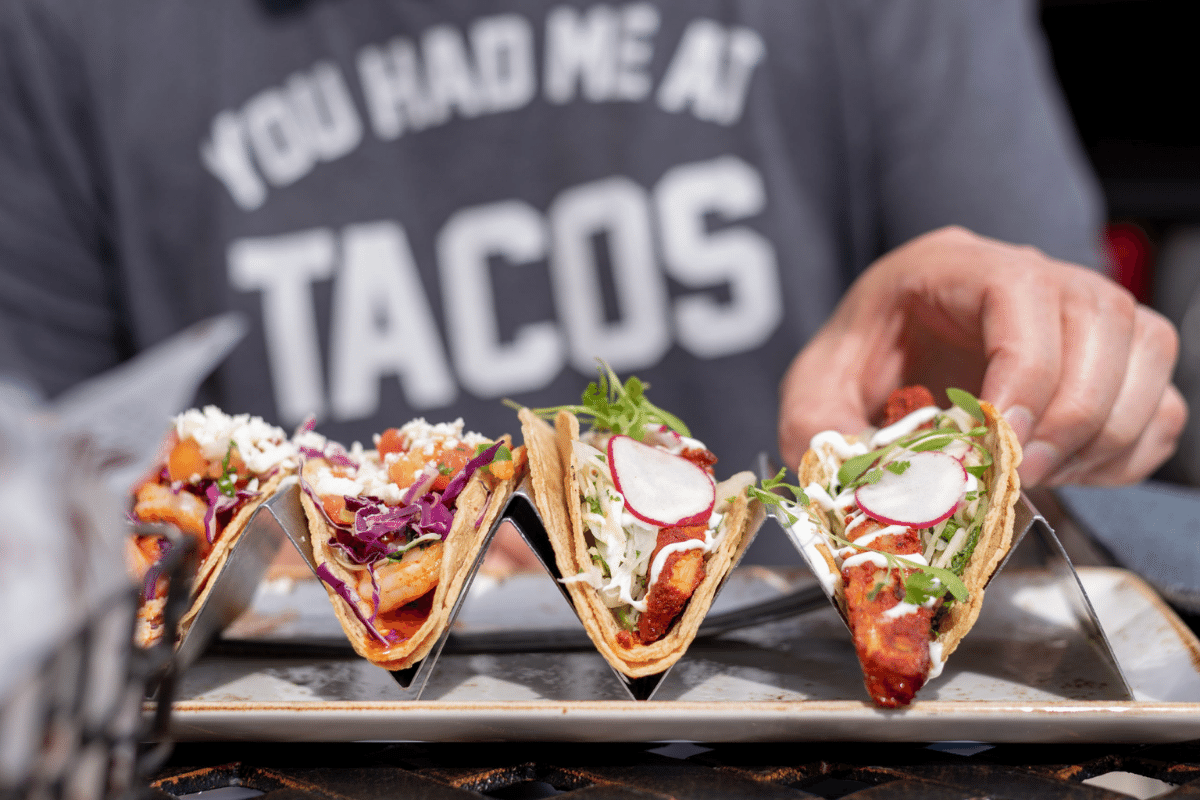 Few activities pay homage to Austin's illustrious Tex-Mex culinary history better than a city-wide taco tour, whether you're a long-time local or just in town for the weekend. Somehow, some time ago Austin also got famous for its breakfast tacos—since just feasting on them for lunch and dinner isn't enough. Veracruz All Natural which has several locations is a longtime Austinites' favorite, along with Tacodeli and Torchy's Tacos, which started as a food truck and now has over 50 locations. Bring your patience to your taco crawl as well as your appetite though—the lines at some of these joints are as famous as the tacos.
17. Rock Out At The White Horse
Every great southern city seems to have a legendary honky tonk or live music venue called the White Horse. And Austin doesn't disappoint on this front (take that Nashville . . .). The White Horse in East Austin is one of the city's coolest live music venues and hosts live music and bands every day of the week pretty much non-stop. It's also one of Austin's top taco spots including an excellent breakfast taco menu for some of the best late-night/early-morning eating in the city. There's also whiskey on tap and free dance lessons Tuesday through Saturday. Any questions?
18. Get Aquatic On Lady Bird Lake
One of the city's top destinations for outdoor and watersports activities, Lady Bird Lake is actually a dammed-up section of the Colorado River just east of downtown Austin adjacent to the Roy G. Guerrero Colorado River Metro Park. It's the ideal place especially in summer to beat the heat, chill with your friends and family, pack up a picnic, go canoeing, paddleboarding, or kayaking, or take a sunset river cruise since the views of Austin's skyline are second to none. The Ann and Roy Butler Hike-and-Bike Trail also runs over 10 miles around the lake so you've got picture-perfect urban terrain for a long walk, run, or ride.
19. Visit Hill Country
Unless you're a hunter, many visitors don't think of Texas for its nature and the outdoors. The Hill Country west of Austin will very quickly convince you otherwise. Hill Country's undulating landscape, big skies, stunning sunsets, and technicolor spring flower blooms will take your breath away. There are also many fun things to do on the more culinary and cultural side of things. Dripping Springs, Texas is a picture-perfect Texas frontier throw-back town and Fredericksburg is home to more than 45 wineries and vineyards as well as several state parks, historic sites, bed & breakfasts, and swimming holes.
20. Boat (And Catch A Sunset) On Lake Travis
Lake Travis is to Austin what Lake Mead is to Las Vegas—an original flood-control reservoir on the Colorado River that's now one of the best places for locals and visitors to boat, fish, waterski, wakeboard, and engage in dozens of other watersports and outdoor activities just 15 miles from downtown. There are several boat rental operations on both sides of the lake that can get you out on the water or take you out on a Texas-sized sunset cruise, and also don't miss the Oasis with its multi-patio deck overlooking the lake, unparalleled views, a massive restaurant, and multiple bars and breweries. (Note: Lake Austin is pretty great for boating also).
21. Hike Up Mount Bonnell
If Lake Travis hasn't satisfied your thirst for Austin's outdoors, put on your hiking shoes and hoof it up the roughly 600' to the top of Mount Bonnell in 5.1-acre Covert Park just northwest of downtown. This limestone escarpment over the Colorado River faces both east and west, offering spectacular sunrise and sunset views as well as one of the best panoramas of downtown Austin's skyline in the city. If you're driving park at the north end of Covert Park and a trail will lead you south along the top of the cliff. This is one of Austin's top spots for a romantic picnic or an outdoor date.
22. Circuit of The Americas
The Circuit of The Americas opened in 2012 to great fanfare and remains one of the top attractions in Austin. Home to the Formula One United States Grand Prix, the Motorcycle Grand Prix of the Americas, and the IndyCar Classic among several other racing events, this 5.5 kilometers, serpentine race track is a marvel of engineering and geometry, specifically built to offer spectators clear lines of sight from almost every viewing angle. It's also one of the only Formula One tracks that you can drive or see artists like Metallic or Kayne West at the Austin 360 Amphitheater when there's not a race going on.
23. Attend A Longhorn's Football Game
With its 51,000+ students and 1,438-acre campus, the University of Texas is a destination in itself when you're visiting Austin. And its Division I NCAA football team, the Longhorns—who have won four NCAA football championships over the years—is a powerhouse. So, if you're a sports fan it doesn't get any better than tailgating and watching a game during football season. U of T's Darrell K Royal-Texas Memorial Stadium can house more than 100,000+ crazed hometown fans and is one of the ten largest stadiums in the world in any sport. Just learn how to do the "Hook 'em Horns" hand signal beforehand before you go.
24. Take A Stroll Along South Congress Avenue
If you want to shop, stroll, or saunter while you're visiting Austin, South Congress Avenue—a.k.a. "SoCo"—is the place to do it. This six-lane boulevard consists of five, funky walkable blocks southwest of downtown that is home to some of Austin's best locally-grown boutiques, galleries, bars, restaurants, and live music. Allens Boots, one of Austin's iconic purveyors of Texas western wear and boots is here, where caiman belly boots can go for $2,000, along with famous costume stores like Lucy in Disguise with Diamonds. SoCo since 2010 has also been at the epicenter of Austin's famed food truck scene so it's one of the best places in the city for foodies.
25. Rainey Street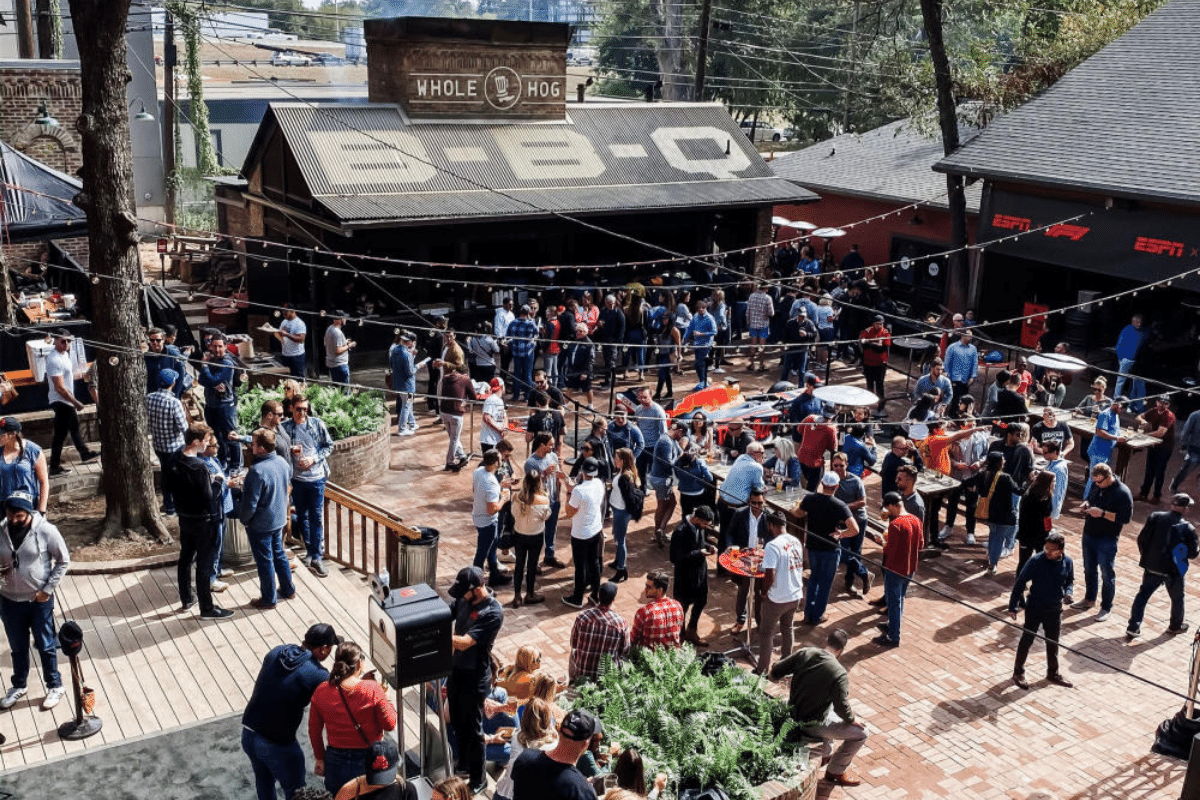 On the subject of funky, keep-it-weird neighborhoods, Rainey Street is another one of Austin's most unique and eccentric. Rooted in historic craftsman architecture from the 1930s and re-invigorated by a thriving bar, live music, and entertainment scene, Rainey Street is a pageantry of food trucks, patio lights, boutique-chic restaurants, speakeasies, and buzzing bars. It gets crowded here and on the weekends it's definitely more touristy than local. But if you want to get a slice of Austin's ultra-hip, up-and-coming nightlife scene this is the spot.
26. Jam Out At Austin City Limits
There's nothing quite as legendary in Austin when it comes to live music than PBS's Austin City Limits (ACL). The longest-running music television show dating back to 1974, ACL has hosted the likes of Bob Dylan, Janis Joplin, Jimi Hendrix, and Neil Young at the peak of their careers and introduced a new artist to America every week for the past fifty years. The 2,750-person, new venue, ACL Live At Moody Theater built in 2011 as part of a $300 million mixed-use downtown development, is also reputed to have some of the best acoustics of any stage between Austin and Nashville.
27. South By Southwest (SXSW)
Hands down South By Southwest a.k.a. SXSW is one of the grandest and most celebrated live music festivals in the world. It's also an art, cultural, and culinary celebration of Austin and its off-beat vibe which now attracts hundreds of thousands of people to the city every March. First started in 1987, the event frequently features more than 2,000 musical acts from over 40 countries at venues around the city but also includes panel discussions, talks by venture capitalists, workshops with tech leaders, and exhibits showcasing emerging start-ups and technologies—for which Austin is becoming well known.
28. Bullock Texas State History Museum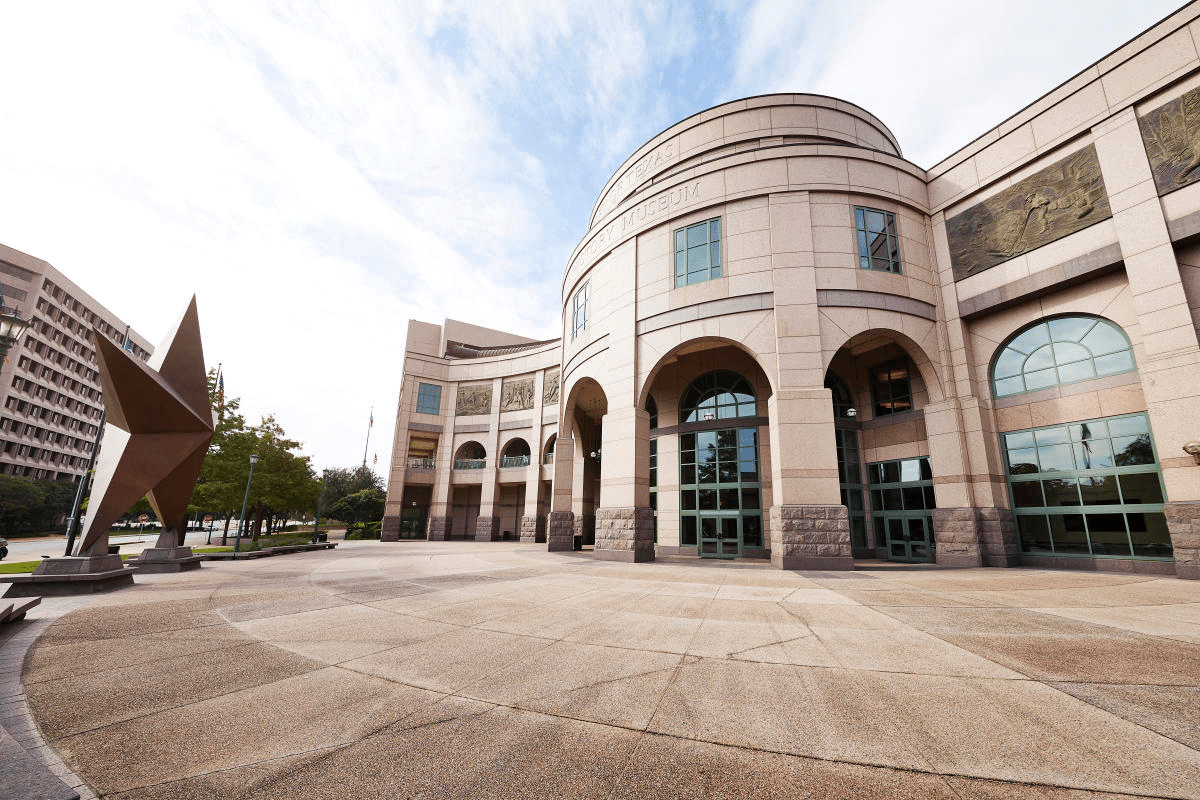 If you want to learn about Texas's history as well as the state's contributions to America and the world this is the place to start. Located behind a big Texas star a few blocks south of the Texas State Capitol Building, the Bullock Texas State History Museum is one of Austin's top destinations for families, locals, and visitors featuring exhibits on the area's pre-history 16,000 years ago all the way up to rodeos, ranching, oil and gas drilling, and space exploration today. Exhibits include a real-life NASA Mission Control console from the 1960s as well as the largest IMAX theatre in the state.
29. Blanton Museum of Art
The University of Texas's Blanton Museum of Art is the envy of almost every other American city. It's one of the city's most renowned cultural attractions, one of the largest university art museums in the U.S., and an architectural icon unto itself. The museum houses more than 18,000 works of European, contemporary American, and Latin American art along with rare pieces by Veronese, Rubens, Parmigianino, Simon Vouet, Yayoi Kusama, Natalie Frank, and Nina Katchadourian. It's also wrapped in limestone panels from Alicante, Spain, 33 stained glass windows mouth-blown in Germany, and Carrera tiles from around the world. If you're an art or architectural lover, this is an Austin can't-miss.
30. Zilker Park
Zilker Park is Austin's pre-eminent oasis in the city with more than 350 acres of open space, gardens, events (it hosts Austin City Limits), outdoor activities, and fun things to do year-round. Anchored by the confluence of Barton Creek and the Colorado River, the park was given to the city by politician and philanthropist Andrew Jackson Zilker in 1918 and now includes volleyball and disc golf areas, the Hillside Theater for summer plays, the Austin Science and Nature Center, the Zilker Botanical Garden, and the Lady Bird Lake Trail. The views of Austin's skyline from here are also jaw-dropping.
31. LBJ Presidential Library and Museum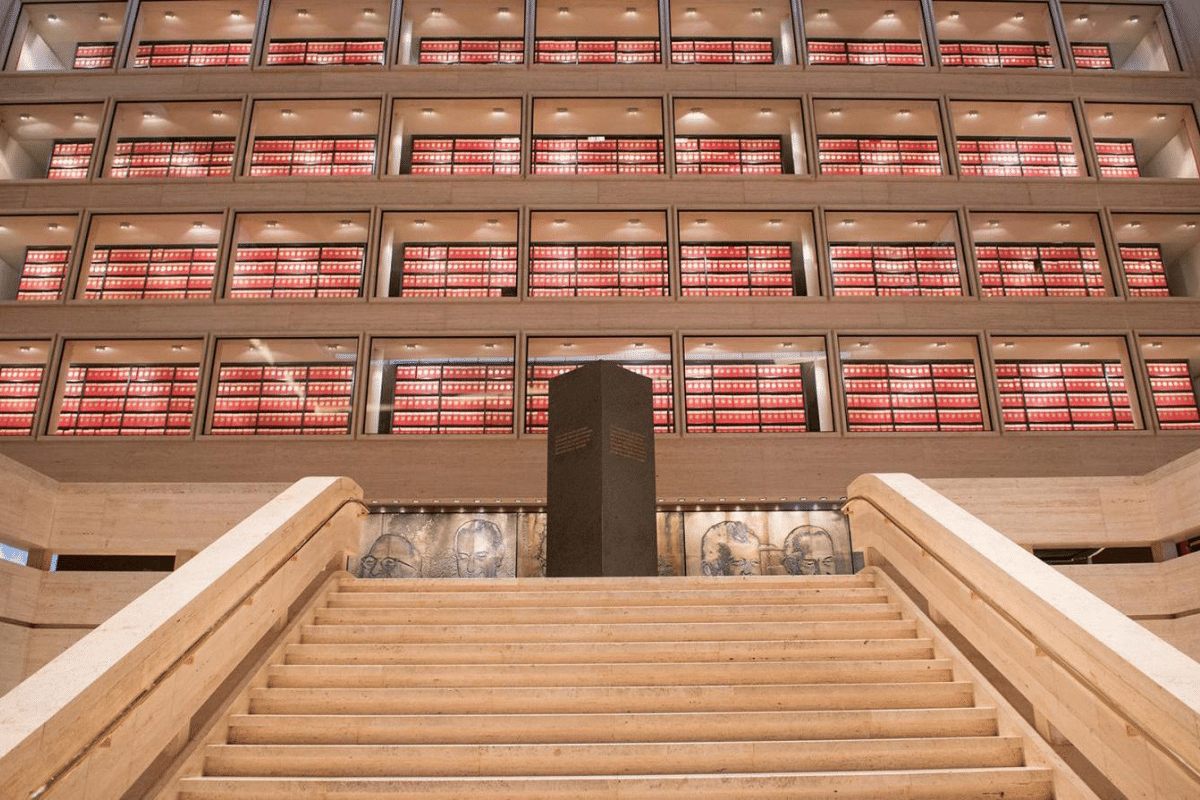 Before George H.W. and George W. Bush, it was Lyndon B. Johnson who made Texas famous for breeding American Presidents. So for American history aficionados or anyone interested in learning more about the pivotal years in the U.S. between 1963 – 1969 when landmark legislation like the Voting Rights and Civil Rights Acts were passed when Johnson was President, there is no more sacred shrine. The museum has exhibits about the JFK assassination and delves into complicated issues like social justice as well as international conflicts like the Vietnam War. The museum also includes the original presidential limousine and a replica of LBJ's Oval Office.