Tucked deep between the snow-covered peaks of the Cascade Mountains, humbled by scenic views and serene lakes, is Bend, a small city on the Deschutes River in Oregon with views like no other. The city has the best of both worlds – ice-wrapped mountain tops to its north, high desert plateaus to its south, and lots of greenery in between – making it one of the best tourist attractions in the USA.
There are hundreds of best things to do in Bend, Oregon. From observing the pristine beauty of meters of exciting Bend trails and picturesque views to living through history at the national parks and museums.
So, whether its solo adventurers looking to get a kick of their lives hiking, trekking and biking through the dangerous trails of Bend, or it's a big family looking for an active and healthy weekend getaway with children cozying around the fire pit, there is something for everyone at Bend Oregon. You could say that the city is a mecca for all fun things.
To make it easier for you to find and partake in what you love, we have narrowed down 30 of the best things to do in Bend, Oregon. Not only this, but we have categorized these activities into four groups so that you can make the most out of your trip. Let's dive in!
Outdoor Activities and Recreation: Where Adventure Awaits!
From hiking and biking to floating down the Deschutes River and waterskiing, Bend is a paradise for those on the lookout for seeking to indulge in some outdoor fun. Before we proceed, it is worth mentioning that booking a stay at the Big Pine will ensure that you remain close to most of these attractions for utmost convenience.
The following are some of the best recreational activities Bend, Oregon has to offer:
1. Stroll to Explore the Drake Park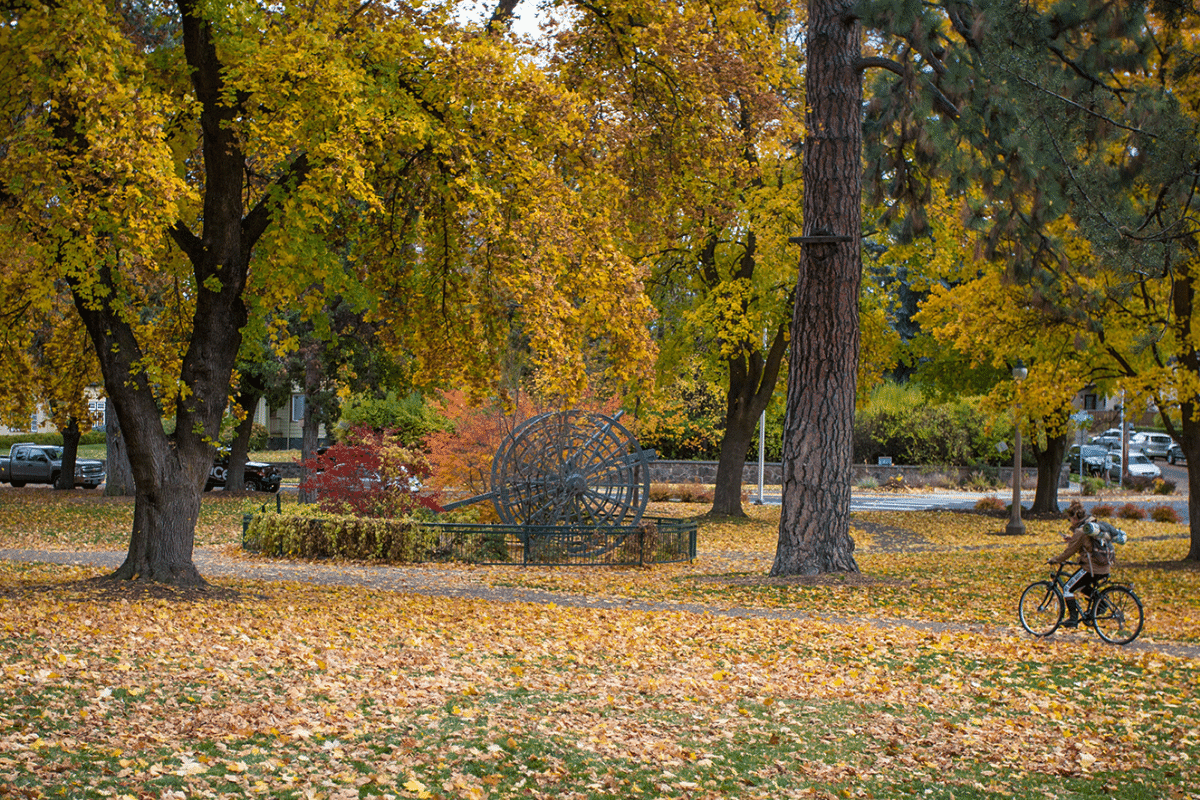 Set along the Deschutes National Forest, besides the Deschutes River is Drake Park, a lush green outdoor stage stretching 13 acres across the historic area of Bend. It is a delightful space full of walking and running tracks, benches, and picnic tables.
The best part? It has direct public river access known as the Mirror Pond so that you can never fall short of the rich views. You can find a restored old Bend neighborhood just behind the park, making it a great place to start exploring the city.
2. Trek to See the Famous Tumalo Falls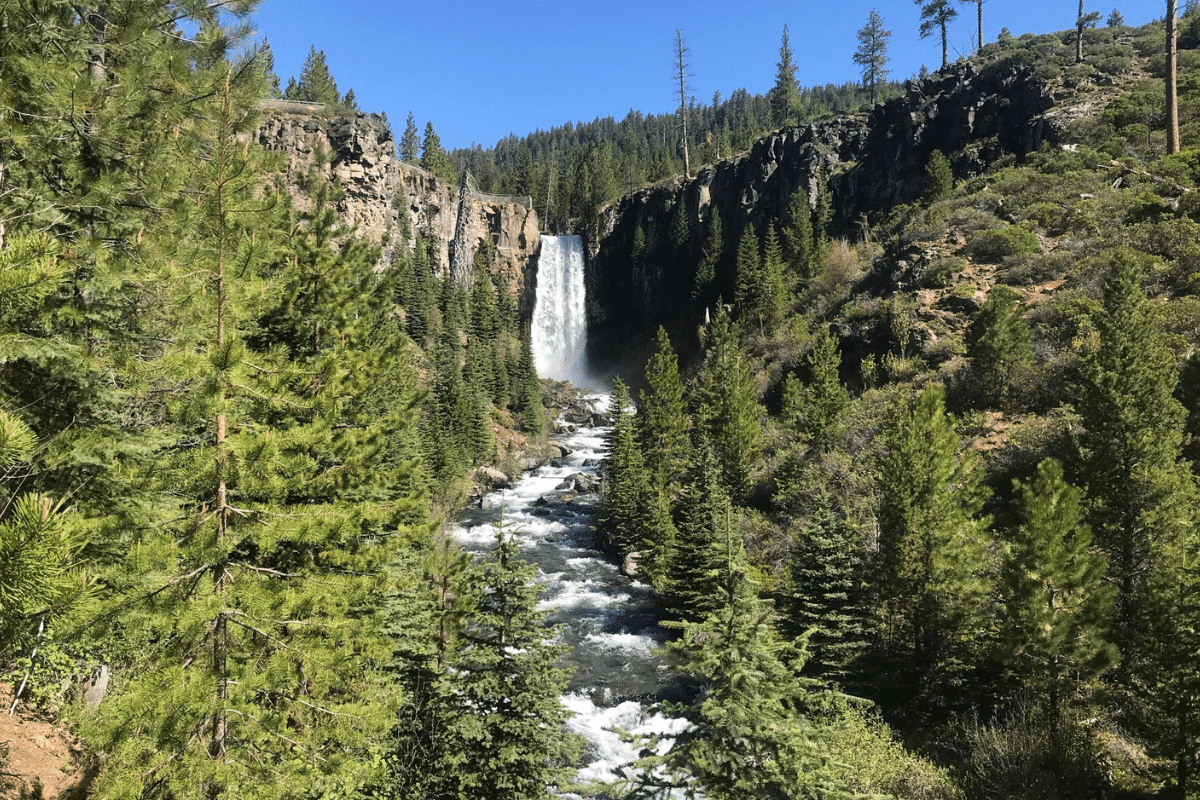 If you're from the state of Oregon, or quite frankly anywhere in the USA, you've probably already heard of the famous 97-foot Tumalo waterfall. The falls are a few miles west of Bend, where they plunge off the rocky wall and into the roaring river beneath.
A short trekking trail takes enthusiasts to the edge of the waterfall, where they can look down at the falls and snap pictures of the fenced area. Don't worry! It is perfectly safe. However, if trekking too close to the waterfall isn't your cup of tea, an observation area near the parking lot can easily house you while you get the best views of the falls.
3. Hit the Many Hiking Trails of Bend, Oregon
Known for having hundreds of beautiful hiking trails, offering exuberant views, and challenging bases, Bend never disappoints, especially for hikers. If you're a hiker on a time crunch and want to visit the best hiking trails, we recommend starting from either the bend ale trail or the Smith Rock State Park trailhead. It is the most accessible trail to master as the level of difficulty slowly builds and increases. Next, you will be trekking beside the Crooked River up the Misery Ridge.
Once you've got a kick for hiking, be a good hiker and go for the 11-mile challenging trail leading to South Sister. It starts at the Devil's Lake Campground and goes up the third tallest mountain in Oregon. The views of the Three Fingered Jack, Broken Top, and Mt. Bachelor make the difficult trailhead worth the experience.
4. Climb Some Rocks at the Smith Rock State Park
If you've got a knack for rock climbing, especially for sports climbing, multi-pitch climbing, and bouldering, the Smith Rock State Park is the place to be!
With 650 acres of sheer rock carved naturally yet perfectly for climbing, you're guaranteed to have a good time finding versatile climbing routes.
5. Grab Your Mountain Bike to Conquer Bend
There are fourteen major biking regions with over 300 miles of mountain biking trails in Bend, Oregon. Each of these biking regions have its own unique offerings; however, it is best to consider the level of difficulty and terrain when choosing between them.
Mt. Bachelor is north of bend and has one of the most famous mountain biking trails in the area. It is known for its sightseeing, especially when tourists find otters and porcupines. In fact, it even houses a gorgeous ski hill, snowboarding, and snowshoeing opportunities during the wintertime. The Cascade National Scenic Byway falls second in popularity for mountain biking trails, especially those at the Cascade Lakes.
6. Surfing Along the Deschutes River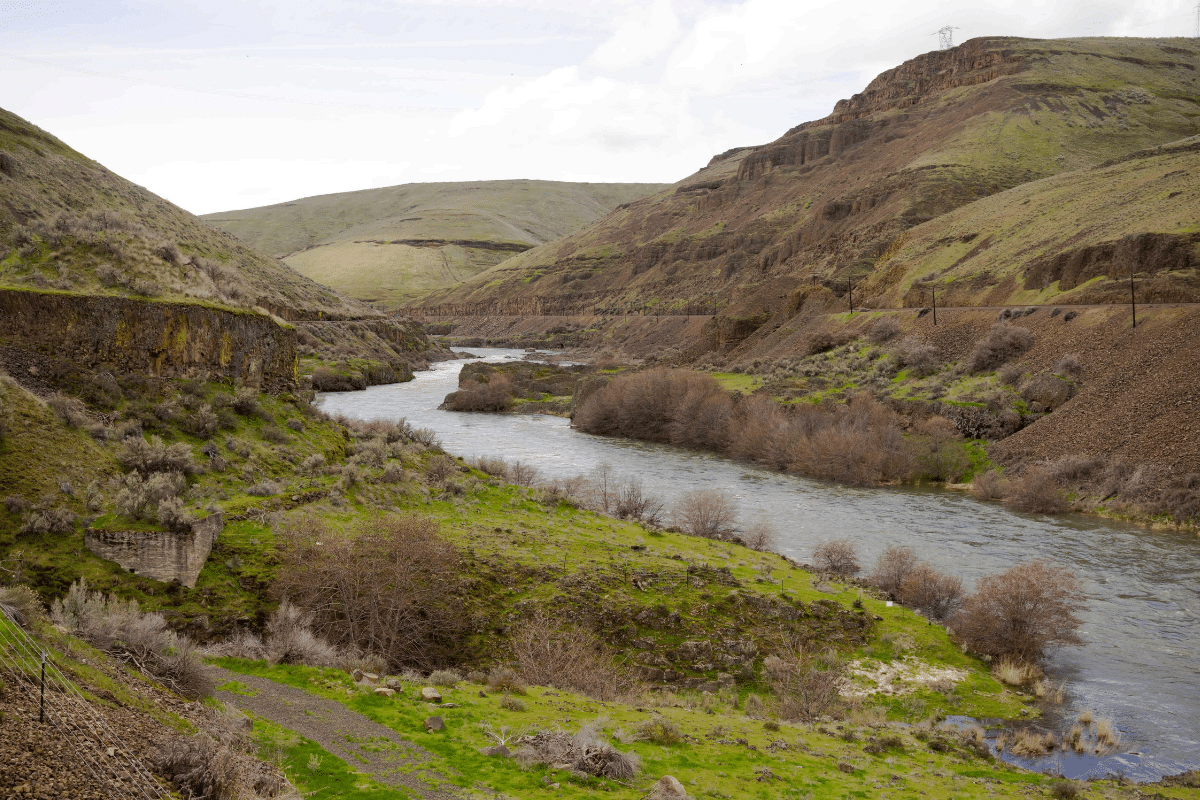 The Deschutes River located at the Deschutes National Forest isn't just for the views when you want to visit Bend, Oregon. Instead, people take full advantage of the many recreational activities the river has to offer.
Once at the riverside, you'll find many little stalls and tourism stores that offer tubing, float boats, paddleboarding, Deschutes River trail, surfing, and swimming. If you're a tourist, you might want to negotiate the pricing a bit before booking!
Many even make their way to the Deschutes brewery post-water activities to cool down even more. After all, the Deschutes brewery is known for keeping everyone cool and calm.
7. Find Your Zen at the Pilot Butte Scenic Viewpoint
Pilot Butte is a popular tourist attraction as it looks down upon the city while absorbing dynamic, lush views from all four sides.
If you're looking to cool down after your many adventures so far, join a yoga group class at the Pilot Butte Scenic Viewpoint.
8. Drive Around the Cascade Byway
To clear your best things to do in Bend, Oregon list, you must drive around the 60-mile Cascade Range Byway. Throughout your scenic drive up the mountain, from views of pine-covered hills to snow-covered peaks and curved roads around Mt. Bachelor, Sparks Lake, Cascade Lakes, and Todd Lake trail, you're guaranteed to experience beauty like no other.
In fact, there are plenty of activities to partake in at each of these pitstops, especially at the Todd Lake trail, where tourists mainly go biking, fishing, and kayaking.
9. Bring Your Snow Gear Out at the Mt. Bachelor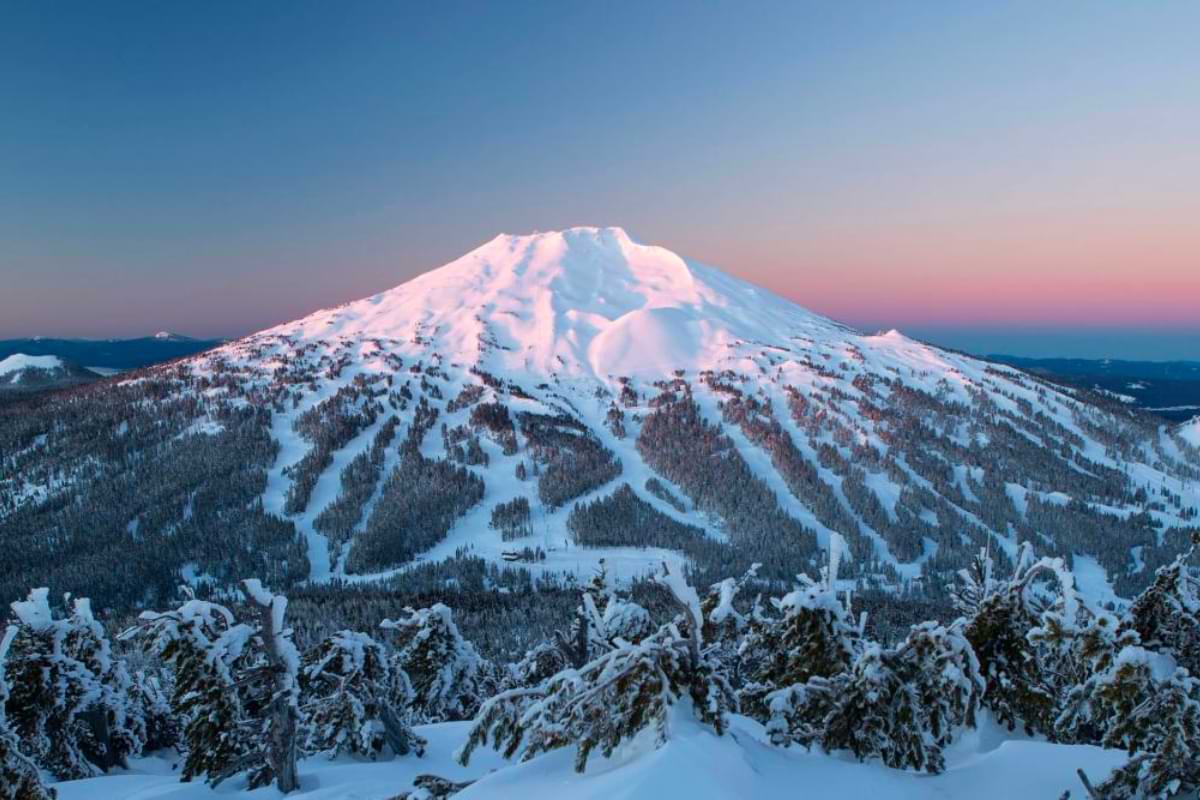 During wintertime, Mount Bachelor ski resort houses thousands of adventurers traveling from around the States. The 4,300 acres of skiable terrain built over an extinct volcano is open for skiing, snowshoeing, snowboarding, snow tubing, and dogsledding.
10. Try a Different Kind of Adventure at the Bend Scavenger Hunt
Some of the best things to do in Bend, Oregon, aren't just limited to adrenaline-pumping sports and outdoor activities; instead, they include super upbeat and unusual things too. The Bend Scavenger Hunt is just that.
The Hunt is an opportunity to make the team with friends and family to explore the city's historical intricacies, including facts and figures about some of the oldest log cabins, cornerstone buildings, and tribal frontiers.
11. Keep it Simple and Go Golfing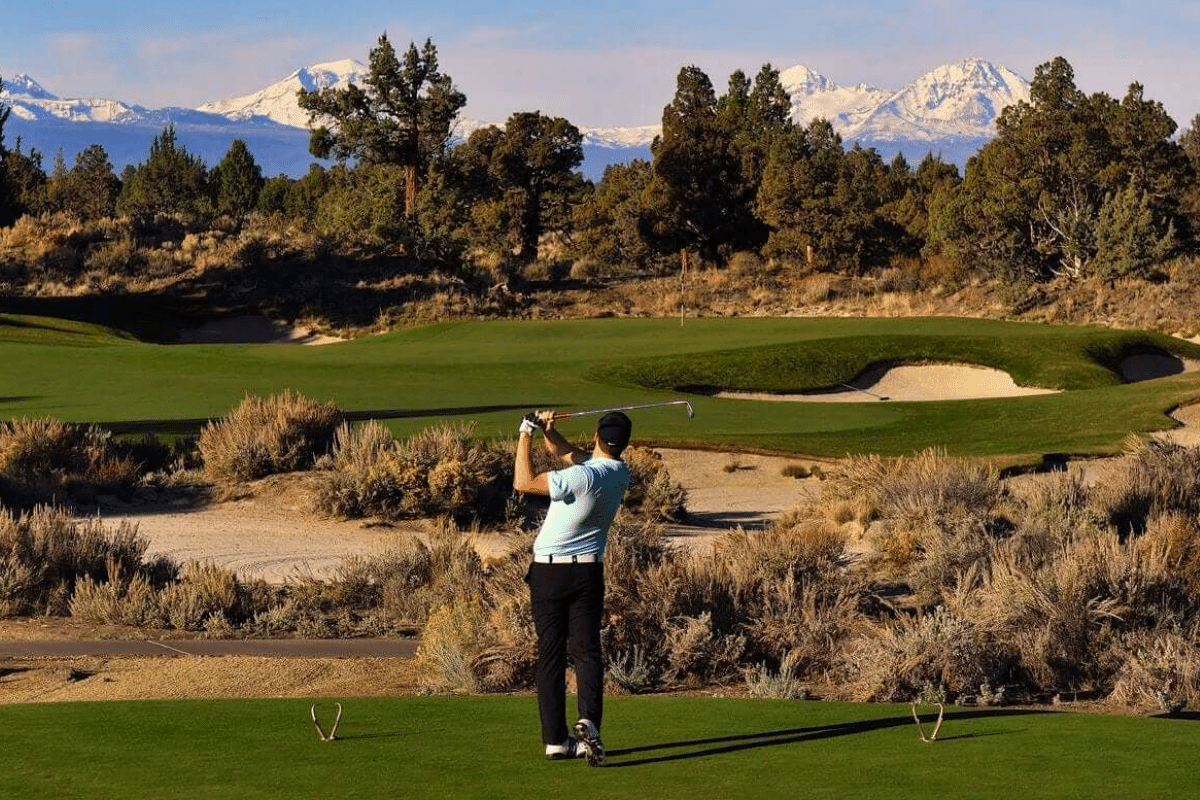 Contrary to popular belief, Bend, Oregon, is also known for its excellent golfing spaces. There are tens of gold clubs built in the heart of Bend to assist golfers from across the states. The city holds national golf tournaments every once in a while as well.
Picture this: You have a match against your best bud in the lush Tetherow golf course in Bend, surrounded by unmatchable views of the Cascade ranges. Does that sound like something you would enjoy? Don't forget to pre-book the golf course and reserve a teatime early on as well!
12. Unwind at the Soaking Pool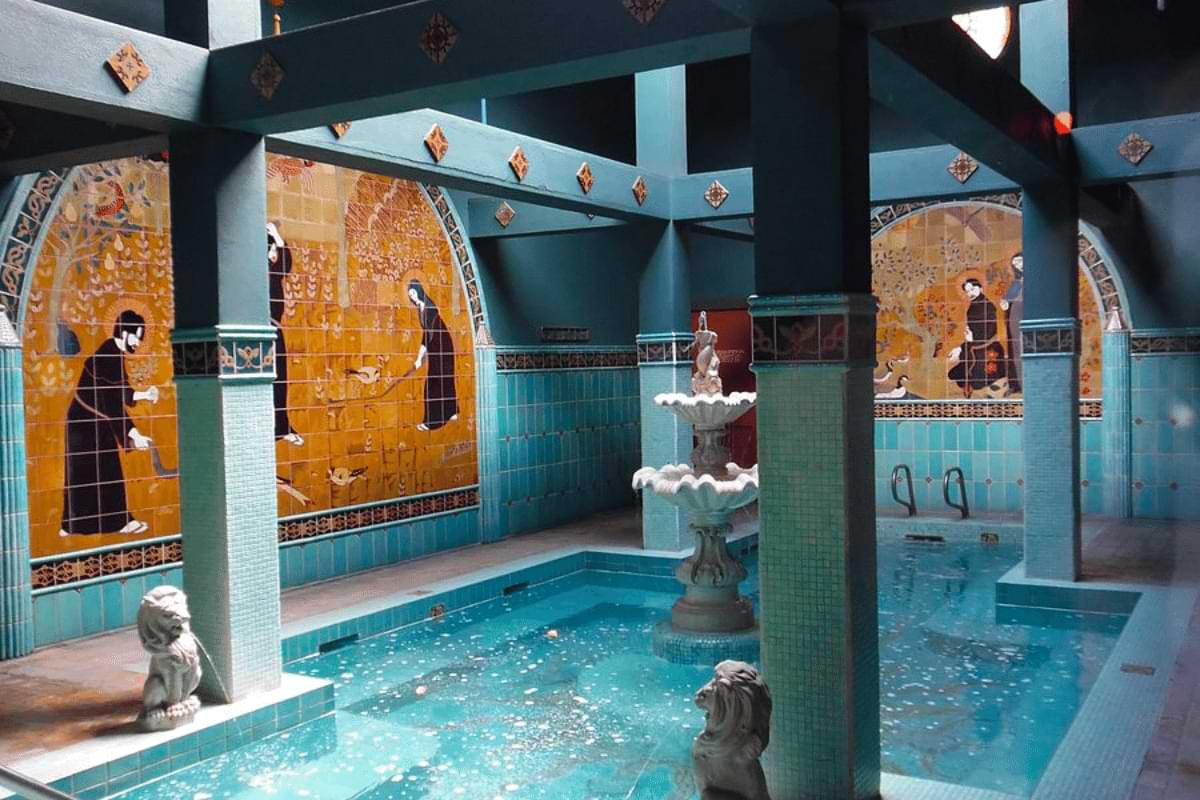 Throughout your hiking, trekking, and biking fun, don't forget to rest your body! We recommend taking a day off to spend soaking in the heated pool or hot tub in Tetherow, Bend. It is undeniably one of the best places to unwind at.
If you're not near Tetherow, you can always opt for McMenamins Old St. Francis School. The school offers both indoor and outdoor heated pools and hot tubs and even has a Greek bathhouse for 5 USD per person.
13. Ever Heard of Spelunking? Go for it!
Spelunking defines the hobby of exploring caves. If you feel like you resonate with such an adventure, Bend has some extinct volcanoes you can climb, trek, and even explore from the inside out.
There are some popular lava tubes in the vicinity of Bend, such as Boyd Cave and Skeleton Cave. If you haven't gone spelunking before, you can go exploring with a guided tour as well. However, you will need specialized equipment, including headlamps, traction-supported ankle-high shoes, and a warm jacket.
14. Spend the Day Indulging in the Lava Rush Off-Road Adventure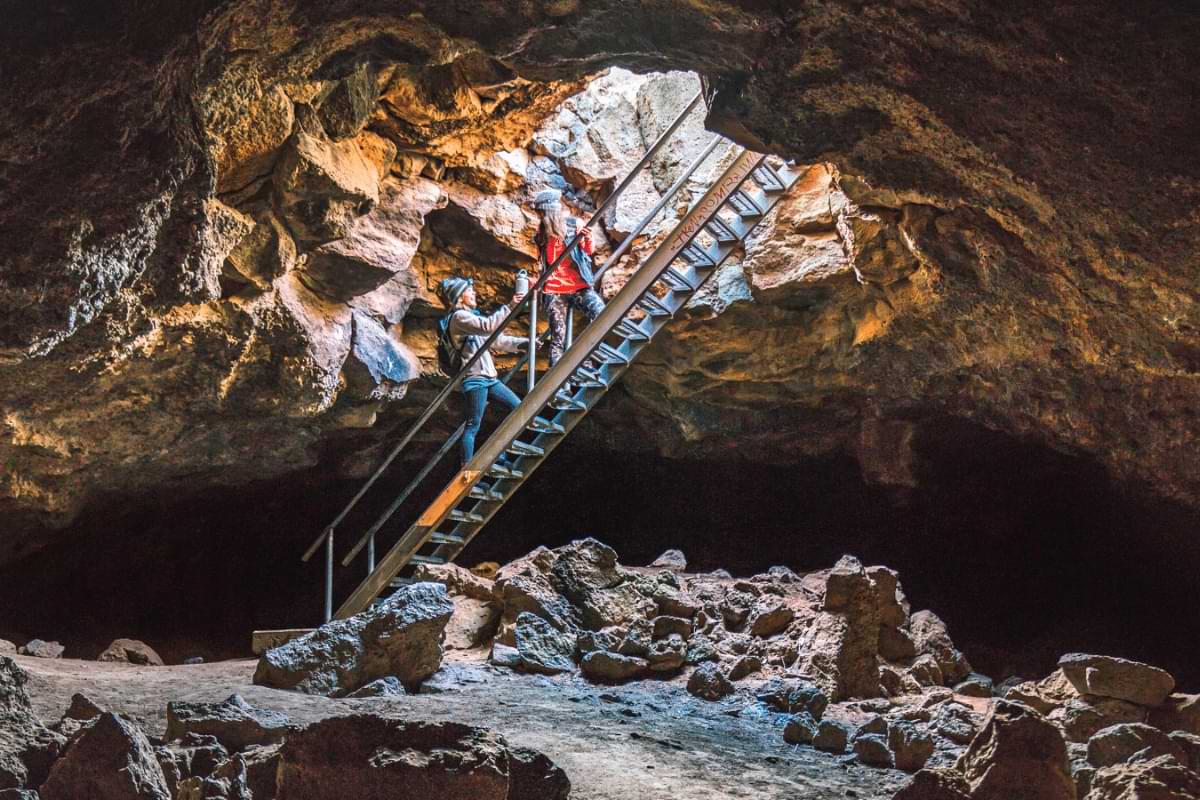 If you can't get enough of the lava tubes and the lava flows, go down to the Newberry National Volcanic Monument to visit the Lava River Cave as well. These 1000-year-old lava tubes can be explored with the Lava Rush Off-Road Adventure sponsored by Wanderlust Tours.
Throughout the tour, you're going to drive a four-wheel Polaris XP1000 across the lava fields. We recommend this short adventure for families and friends alike.
15. Drive to the Lava Butte
We understand that some adventures can stay limited to exploration from within the haven of your car – a safe comfort many enjoy! For such subtle escapades full of excitement, drive to the top of Lava Butte.
While there is limited parking available at the Lava Butte parking lot, each visiting car gets a 30-minute pass where you can soak up the scenic views of the 500-foot-high lava cinder cone and the lava flows.
There is a visiting center too, so be sure to grab a souvenir or two to remember your spree!
Historical Museums and Monuments: Make Unforgettable Memories
While Bend may be known more for its outdoor pursuits and stunning beauty, your trip is not complete without a visit to some of its best-known museums and national monuments, especially if you are a history lover. They are as follows:
16. Visiting the High Desert Museum
One of the best things to do in Bend, Oregon, is to visit Bend's High Desert Museum. Unlike many other museums across the USA, High Desert spans 135 acres of forest land. It is full of nature trails and outdoor exhibits, which are informative and engaging to partake in.
There are frequent new limited-time exhibits, animal shows, and workshops offered at the Museum, ensuring that the land is full of innovative things to do.
17. Exploring Newberry National Volcanic Monument
Another historic Bend, Oregon treat is the Newberry National Volcanic Monument. The monument has two main access points, each of which transports you into a new world full of fun things to indulge in.
On top of the monument is the Lava Butte and Lava River Cave, with Lava Lands Visitor Center just off the ascend. The Visitor Center is the hub of information, especially for those interested in getting the geological details of the area.
18. Observing the Paulina Peak Monument
A few miles beyond the Lava Lands Visitor Center are Paulina Lake and East Lake. To access them, you get right off Highway 97 and onto Paulina Lake Road. This alpine area is incredibly lush, offering a sudden change of atmosphere. In fact, once on an incline, you're going to see breathtaking views of Paulina Peak!
Mouthwatering Food and Endless Shopping!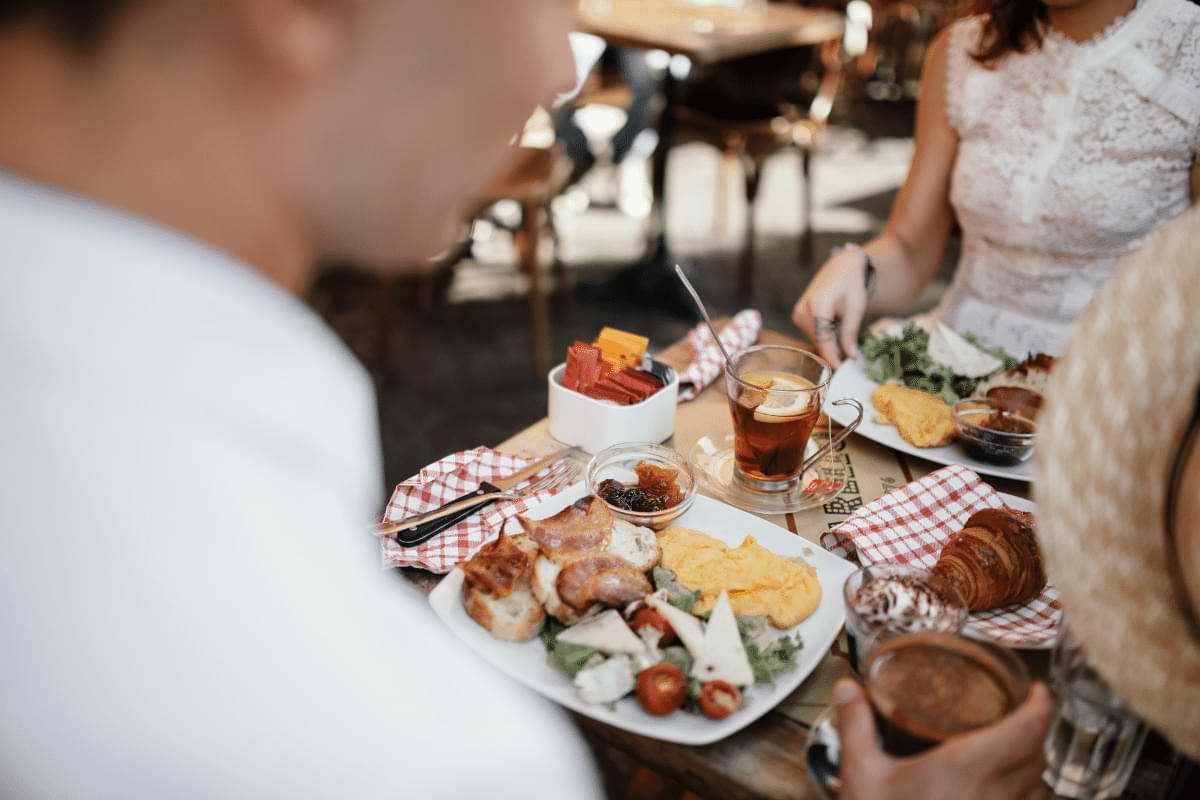 Bend is home to delectable dining experiences and offers unique shopping experiences. Here are some of our best picks that are a must-visit on your trip:
19. A Visit to the Old Mill Food District
The Old Mill District is built upon the remnants of the Brooks-Scanlon lumber mill. However, do not be mistaken; the rejuvenated area houses some of the best restaurants in the area!
There are tens of restaurants offering a luxe indoor experience and outdoor dining if you're one to enjoy the view of the Deschutes River. Some of the most popular restaurants include:
Flatbread Neapolitan Pizzeria: a lively pizza restaurant with specialized bread and a wine bar.
Va Piano Vineyards: a premier winery with wine-tasting rooms and snacks.
Rapa Nui Tiki Lounge: a traditional tropical island-themed tiki bar with fresh cocktails and Asian fusion food.
20. Grab Some BBQ for a Memorable Picnic
Amongst some of the best things to do in Bend, Oregon, is to grab some great BBQ from the Old Mill District and drive up to a beautiful picnic spot to make some unforgettable memories.
Not quite sure how to get all this done? We've got your back!
Grab sesame-crusted tuna bowls, house-smoked lox, and BBQ roast from Boxwood Kitchen, Old Mill District, and drive up to the Newberry Caldera, which has excellent campgrounds and pleasant lakeside areas to have a memorable picnic.
21. Drink the Best Craft Beer!
There are twenty-two breweries in Bend, all of which are immensely popular and for all the right reasons. Some of the best ones include Crux Fermentation Project, Deschutes Brewery Bend Public House, and Boneyard Beer Pub. You can find the rest in the bend ale trail guide.
Each offers hundreds of specialized beers with upbeat tasting rooms, super-friendly staff, and brilliant events to ensure their guests have a blast. Plus, they all give a free little souvenir to tourists! Something to surely remember Bend in good words, right?
22. Shop at Downtown Bend
Bend, Oregon, has a super cute downtown with a shopping experience like none other on all of Oregon coast and north of bend. The streets are full of unique little boutiques, handmade crafts, and local jewelry stores. Head to some local stores, such as Savory Spice and Avalon Salon & Spa, to support Bend, Oregon's local community!
Not only this, but the city has some trendy nationwide stores with no taxes, including American Eagle, making them much cheaper than anywhere else in the country.
23. Indulge in the No-Tax Shopping Lifestyle
Have you been saving up for that new MacBook? Perhaps the latest iPhone was slightly out of reach due to the unbearably high taxes? At Central Oregon, you can splurge without any hidden charges and taxes added to your bill.
Yes, you read that right! Everyone in Bend, Oregon, is living the no-tax shopping lifestyle, and you should too. Be sure to take some extra cash with you so that you can update all your electronics and even your wardrobe for much less than anywhere else.
For your comfort, we recommend booking a vacation rental in Central Oregon so that all the tourist hotspots are easy to reach and to experience its vibrancy and multiculturalism to the fullest.
Deschutes in Bend is located about 10 minutes from downtown Oregon, offering exciting amenities like bikes, board games, and a foosball table.
Exploring Town & Local Events: The Very Best of Bend, Oregon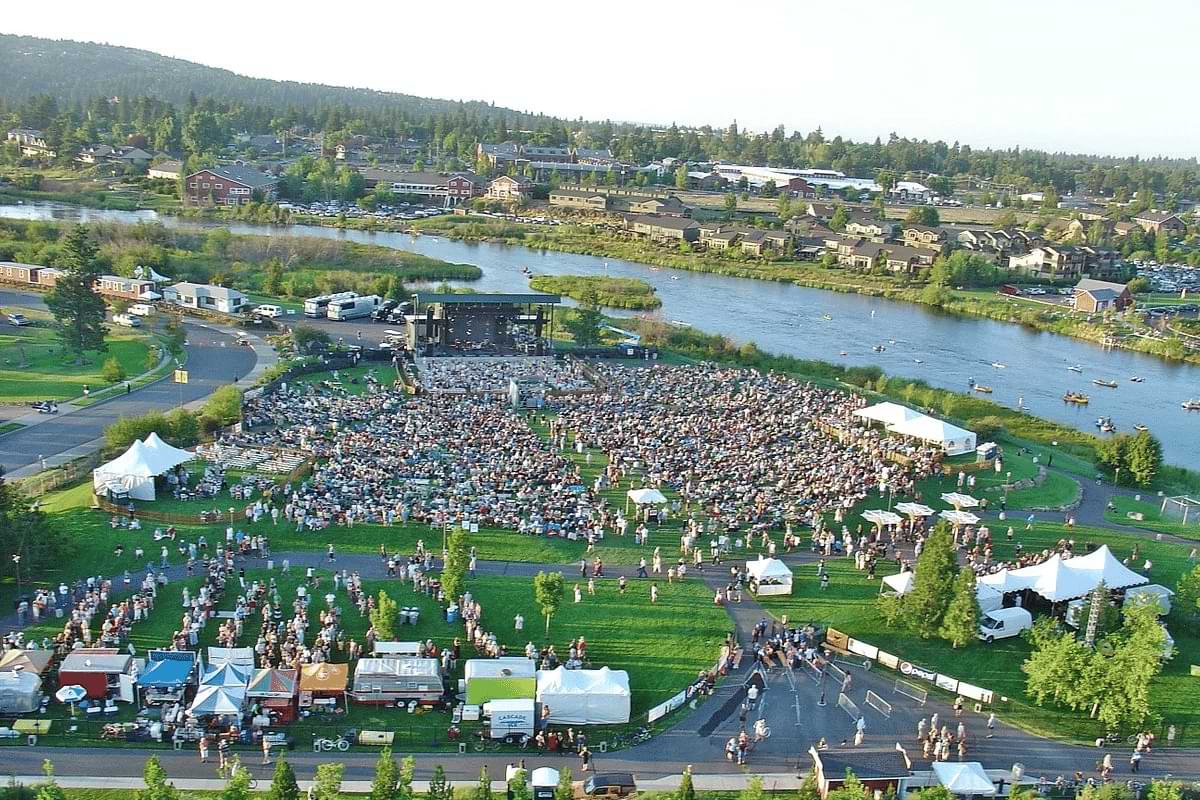 Bend has plenty of exciting activities going on all year long. Spice up your vacation to Bend by attending some of the local events happening around you. Head to a local spa at the end of the day to relax your mind, body, and spirit.
24. Attending Special Events Around the Town
Some of the best things to do in Bend, Oregon include attending their special local events across town. Given that the city is so lively, there is something fun happening at all times. Popular events in Bend, Oregon, around the year include Downtown Bend First Friday Art Walk, Pole Pedal Paddle, and Bend Brewfest.
If you're interested in looking at the events happening, check out their event calendar on the tourism board's website.
25. Watch a Show at the Les Schwab Amphitheater
The Les Schwab Amphitheater in Bend, Oregon, is a great outdoor amphitheater perched at the Deschutes River Bank. Owing to the city's love for nature, the amphitheater is nothing big and fancy; instead, the seating is relatively low-profile. You can either opt for seating on the grass or bring your own small and foldable chairs and blankets.
The amphitheater houses ticketed and free events, concerts, and theatrics, all of which are extremely fun to participate in and visit.
26. Catch a Show at the Tower Theatre
Much like the Les Schwab Amphitheater, the Tower Theatre is a historical landmark for the locals at Bend, Oregon. It was opened in the 1940s when the theatre was the city's biggest attraction.
At the current, the Tower Theatre is sponsored by the city's council to cater to modern audiences as well. Since the theatre features different shows each month, it is best to check their website and pre-book.
27. Enjoy the Bend Summer Festival
Local events in Central Oregon, especially Bend, Oregon, are full of fun and adventure, paired with delicious food and an exuberant display of culture. One such event that blows everyone away is the Bend Summer Festival. This family-friendly event is three days long and full of entertainment like none other.
From art walks, craft makers, and fine-art displays to beer fests, wine-tasting, marathons, and outdoor concerts, there is something for everyone and certainly nothing you would want to miss out on!
If you're planning to visit this festival, you may have to alter your trip dates around the summer months and pre-book your hotels, as Bend can get pretty stuffy during July.
28. Staying at the Riverhouse Resort
The Riverhouse on the Deschutes is Bend's largest and most popular resort. It is designed with sophistication to ensure that the visitors have an unparalleled experience, inside and outside the hotel.
Outside, the hotel is nestled between the lush views of the snow-covered peaks, surrounded by green fields and the Deschutes Riverbed. And on the inside, there is heavy use of contemporary design to make the resort extravagant.
Not only are the location and amenities relaxing, but there are also many fun activities offered by the resort for its guests, including indoor and outdoor heated pools, specialized spas, and the Deschutes River Trail.
29. Staying at the Oxford Hotel and Resort
Another great resort to spend your days in Bend, Oregon, is the Oxford Hotel and Resort. The resort reflects all the natural elements of the region blended with a luxurious ambiance that warrants an unforgettable stay.
It is located in the Old Bend, which is in the vicinity of downtown, and is the best place to stay if you're looking to enjoy spending time in the Old Mill District.
30. Relaxing and Unwinding at the Local Spas
Whether you're a local or a tourist looking for some of the best things to do in Bend, Oregon, everyone benefits the same from a short visit to the spa. Unlike other places, the spas at Bend, Oregon, not only offer the perfect solution to your beauty needs but come with a gorgeous, jaw-dropping view.
If you want to end your trip to Bend at the spa, we recommend visiting Drift Spa, which has sustainable treatments and an exceptional service superior to all else. Plus, it has breathtaking views of the Deschutes River. If you're looking for a more budget-friendly option, you can book with Radiant Day Spa, a luxurious yet affordable self-care experience in the heart of Old Mills District.
Final Words
If you have not decided on your next vacation destination yet, Bend, Oregon is the place to be. Whether you are an adventure seeker, a nature lover, a history buff, or perhaps the average tourist simply seeking to escape the hustle and bustle of hectic daily life, there are plenty of fun things to do in Bend, Oregon throughout the year. Book your stay at one of our Bend vacation rentals today!