When it comes to visiting the American South it doesn't get any better or more authentic than Charleston, South Carolina. Flanked by barrier islands, beaches, palmetto palms, and ancient live oaks, Charleston is one of the most historic cities in America while also serving up thriving modern art, culture, foodie, music, and festival scene.
For visitors and residents alike there's a constant and endlessly evolving list of fun things to do year-round. Architecture connoisseurs will marvel at the impeccably-preserved historic homes along King Street and "Rainbow Row". History buffs can travel back in time at The Charleston Museum and house museums like Boone Hall Plantation to learn about America's Antebellum era or visit historic sites like Fort Sumter National Monument where America's Civil War began. Culinary aficionados will relish in the city's famous Southern cuisine dished out by some of the most acclaimed chefs in the USA feasting on grouper, grits, fried green tomatoes, and hush puppies.
Outside of downtown, the Charleston area is also an oasis of adventure and natural history. Nearby Folly Beach and Sullivan's Island are two of the best places on America's East Coast to surf and swim in the Atlantic Ocean, fly a kite, or work on your tan. Watersports enthusiasts can deep-sea fish, jet ski, paddleboard, charter a sailboat, or birdwatch from a kayak. And if golf or tennis are your things, South Carolina's "Holy City" never runs short on options with 17 championship golf courses within a short drive of downtown, several of which are right on the ocean rivaling Pebble Beach.
There's no ideal time to visit Charleston SC. It's a little hot and humid in the summer; a little cool in the winter. But the city's consistently temperate climate makes it the perfect place to visit year-round. So, whenever you're planning on passing through here are 32 of the best things to do while you're in town to make sure that you savor everything that one of America's most historic and vibrant cities has to offer.
1. The Battery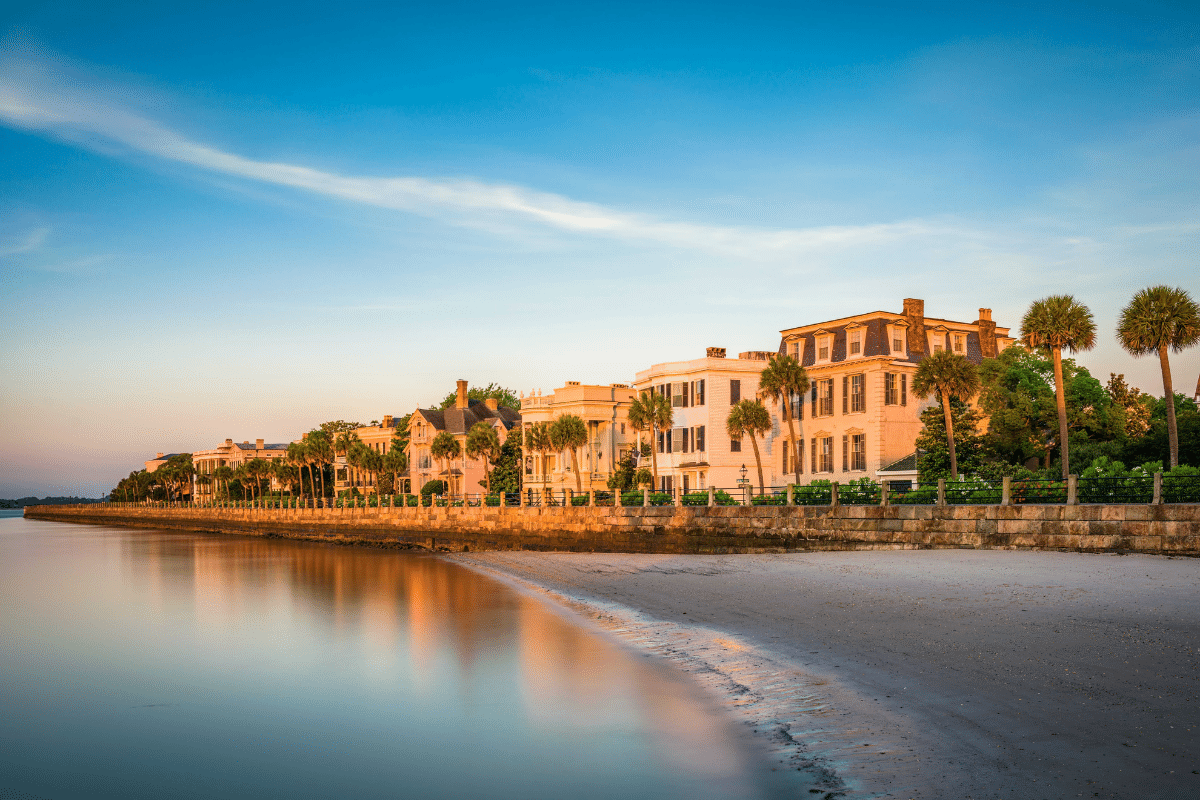 The Battery is historic Charleston's southernmost point and one of the city's most iconic and photographed spots adjacent to White Point Garden near the end of King Street that runs through the center of the city. Originally built as a defensive seawall, it's now a pedestrian promenade with the ocean on one side and some of the city's most stunning and historic homes on the other.
Whenever you're in Charleston, it's the perfect location to watch the sunrise or sunset, read a book, take an after dinner walking tour, or just feel the Charleston Harbor breezes on your face.
2. French Quarter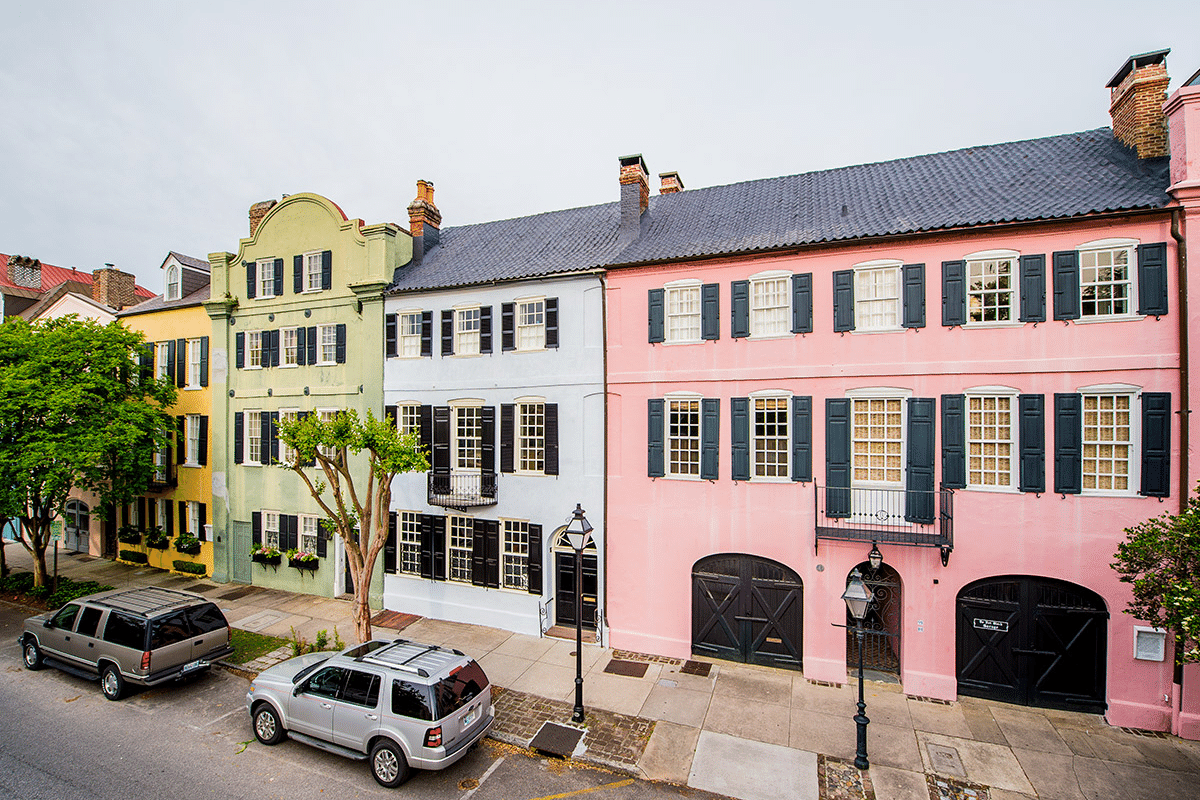 Originally settled by French Huguenots in the 1680s, the French Quarter is Charleston's most historic and romantic neighborhood, wedged into the southeast corner of the city. The dozens of churches dating back to the Huguenots' arrival are interspersed with many of Charleston's top galleries and restaurants, making it the center of the city's arts and foodie scene.
With local attractions and landmarks like Waterfront Park, The Doc Street Theater, the Charleston City Market, the South Carolina Historical Society, and the Old Slave Mart Museum, you could easily spend an entire day here and not run out of things to see or do.
3. Joe Riley Waterfront Park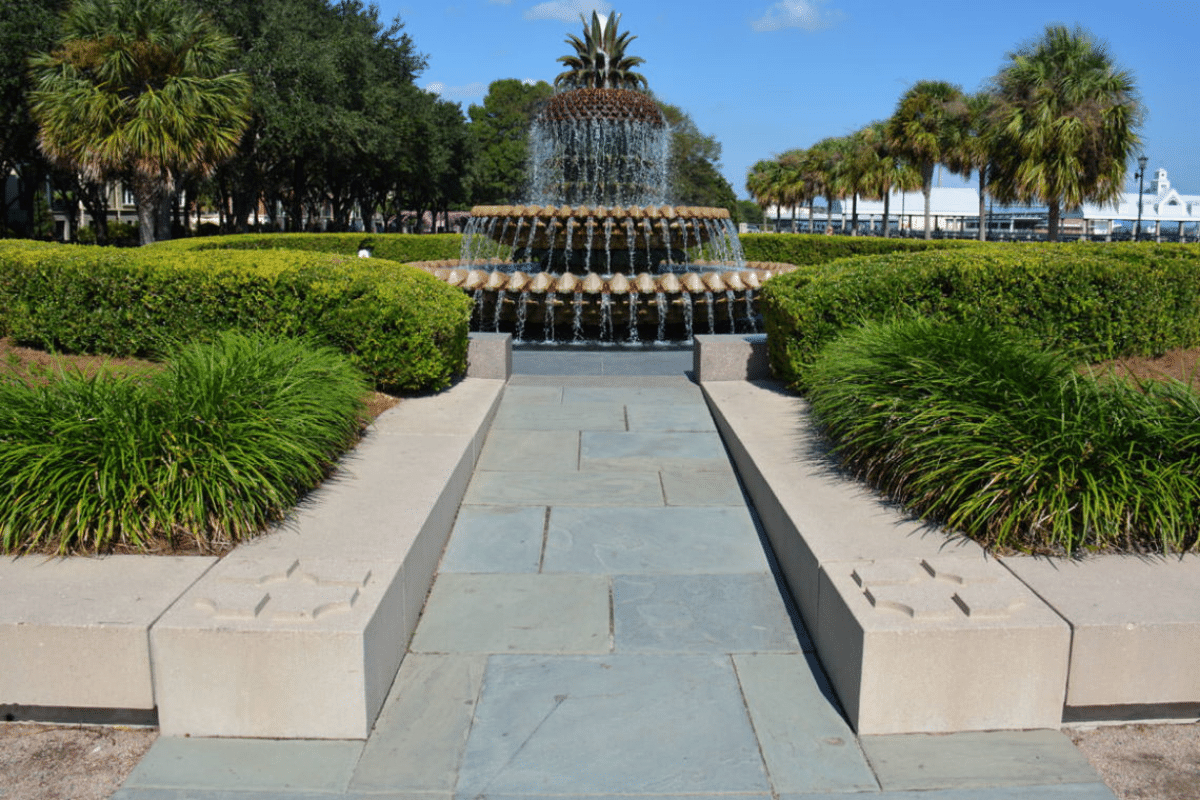 12-acre Waterfront Park is Charleston's largest open space and one of the most visited parks in South Carolina. It's also its most photographed—with breathtaking views of the Lowcountry sunrises and sunsets over the Cooper River, a waterfront esplanade, and the iconic Pineapple Fountain, an elaborate, multi-tiered water feature in the shape of its namesake fruit.
Waterfront Park also has walking trails, public gardens, and two public piers perfect for fishing or relaxing that offer stunning views of the Ravenel Bridge, Fort Sumter National Monument, and Charleston Harbor. For families traveling with kids, Waterfront Park's two fountains are the perfect spot to cool off on hot summer days. If you're into urban green space don't miss Marion Square and White Point Garden parks while you're in town either.
4. Old Exchange and Provost Dungeon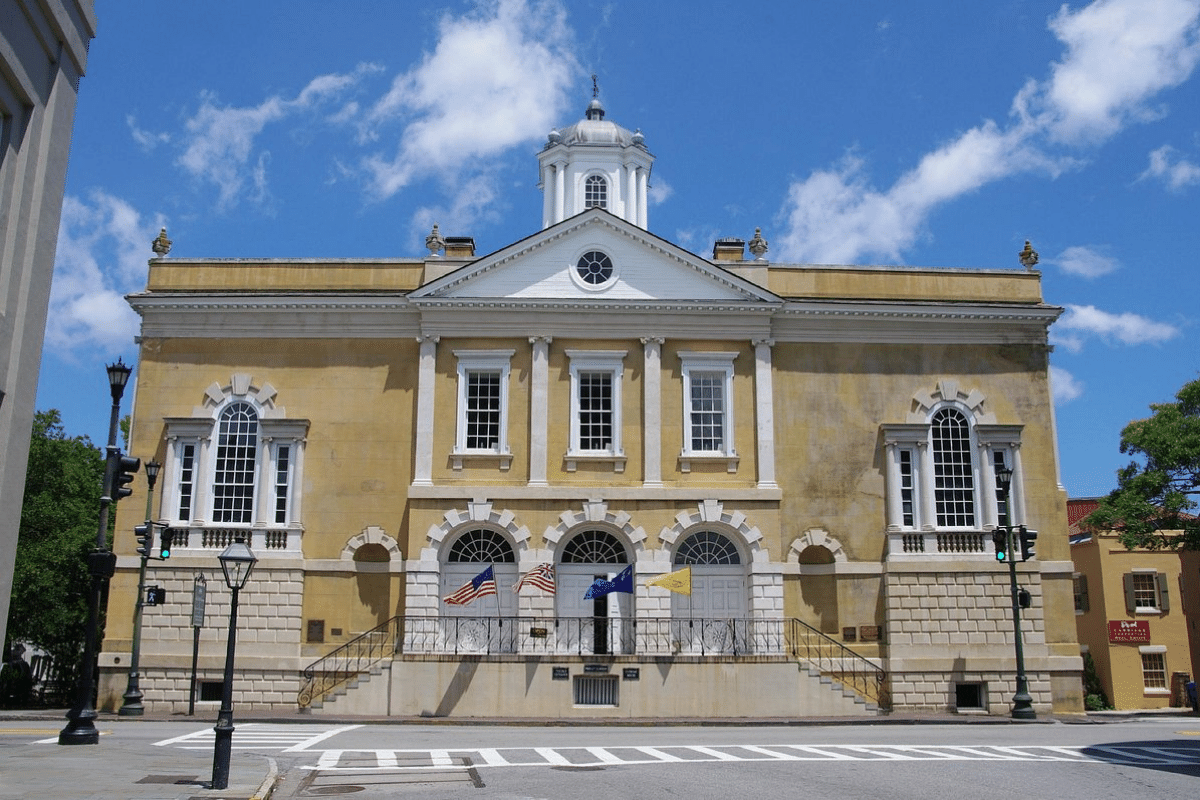 Charleston's Old Exchange and Provost Dungeon has had more lives than most cats, having served originally as a prison during the American Revolution and eventually also as a customs house, public market, and meeting house over the past 250 years.
Architecturally and historically it's an iconic Charleston landmark steeped in South Carolina's past and is an essential part of almost every walking tour and carriage tour of the city. The top two floors feature exhibits where you can take a self-guided tour, and make sure not to miss the guided tour of the dungeon in the cellar.
5. Old Slave Mart Museum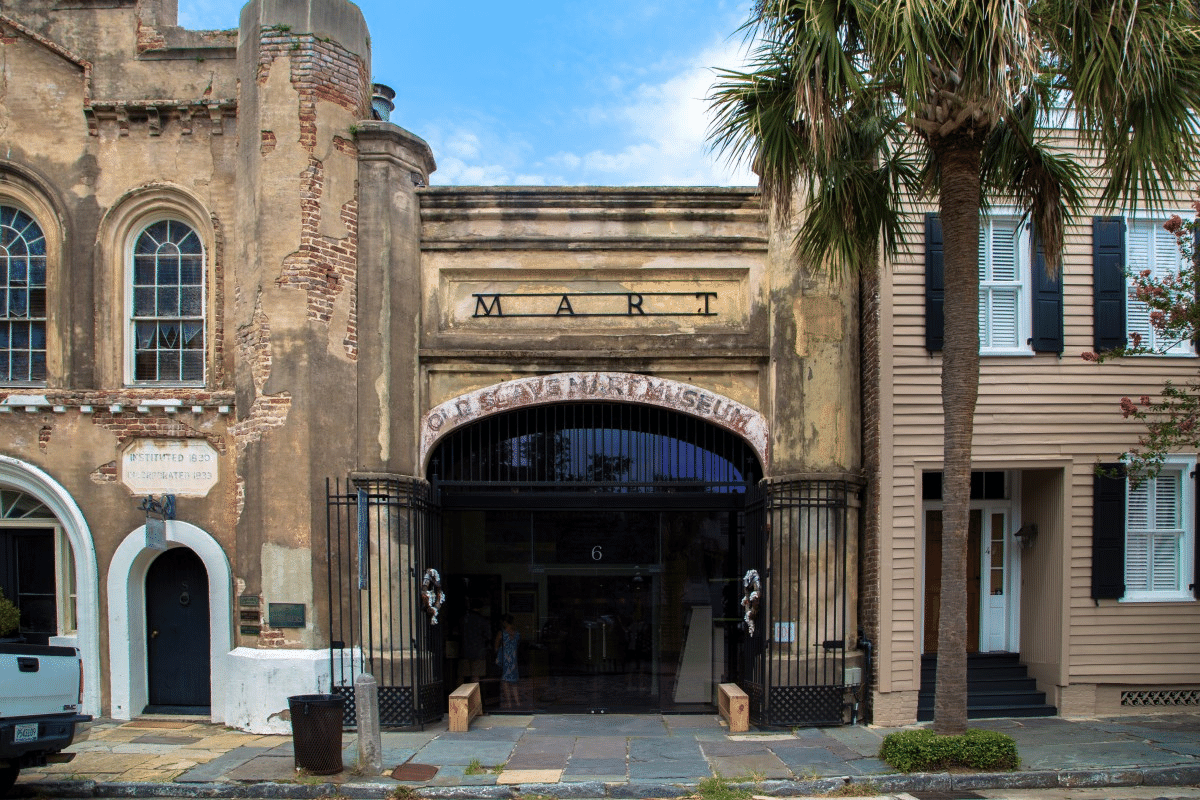 Charleston is at once both a powerful and painful symbol of America's history. The city played a key role in the country's settlement, the American Revolution, and the writing of the Constitution. But it was also one of the epicenters of America's slave trade.
The Old Slave Mart Museum in Charleston's French Quarter is an emotional and thought-provoking reminder of that history both good and bad, featuring exhibits, informative displays, and staff who can trace their own histories back to Charleston's original slave population.
6. Explore Gullah-Geechee Culture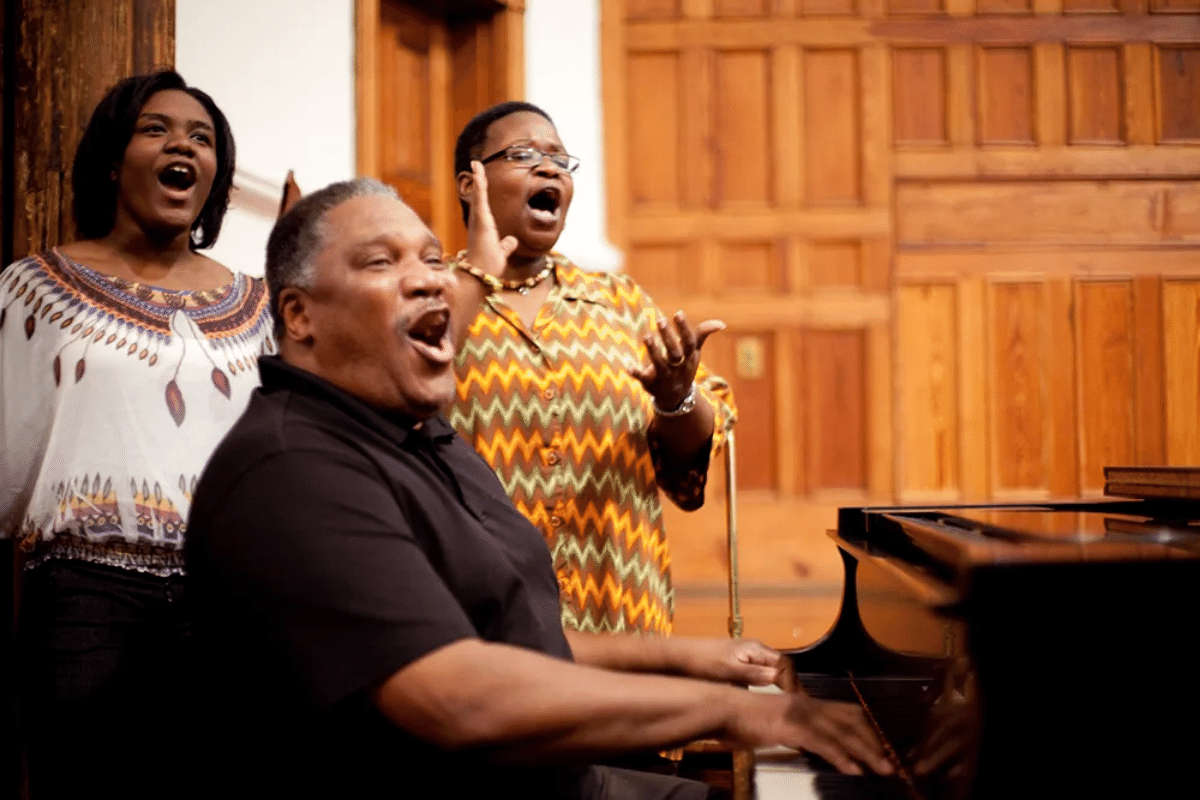 During South Carolina's Colonial era, many enslaved Africans were isolated on islands and coastal plantations and as a result developed their own customs and culture, many of which still exist today.
One of the most celebrated of these is the Gullah-Geechee, who over time developed their own art, traditions, recipes, and even their own language. Learning about Gullah-Geechee culture is essential to understanding Charleston's place in American history so don't miss out on one of the many Gullah tours in Charleston that will take you back in time to explore their roots through some of Charleston's most historic landmarks like the Old Jail, the Philip Simmons House, and the Slave & Free Blacks Cemetery at Bethel United Church.
7. Charleston City Market
The cultural heart of Charleston and one of the oldest public markets in America, the Charleston City Market is home to more than 300 pop-up vendors serving up arts and crafts, jewelry, local food, and fresh farm-to-table fruits, vegetables, and meat after first opening its doors in the 1790s.
The market spans four downtown Charleston city blocks in the French Quarter and is nestled inside several architecturally significant brick buildings that are a sight to behold in their own right. There's zero chance you'll leave here with your stomach empty or something memorable to bring back home, and definitely don't miss checking out the sweetgrass baskets which Charleston's Gullah-Geechee artisans have been weaving for more than 300 years.
8. Hit The Beach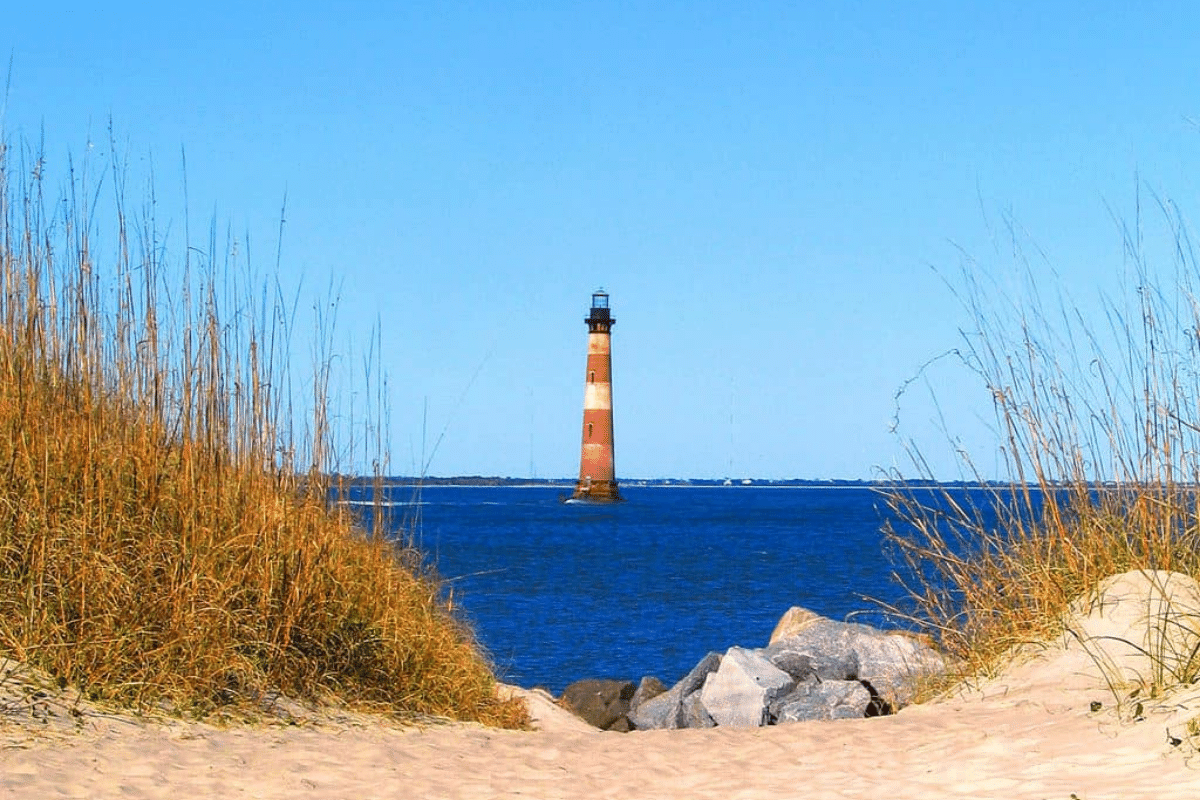 One of the best parts about historic Charleston is that you can get in your car and drive in any direction south or east of the city and have your toes in the sand of some of the best Atlantic Coast beaches in the Southeast in less than an hour.
Folly Beach and Sullivan's Island are two of the most scenic and popular with both locals and visitors. But don't miss out on Bull Island, Kiawah Island, and the Isle of Palms either which are a little further away but worth every minute of the drive since you'll have more of the sun and sand to yourself and endless fun things to do.
9. Angel Oak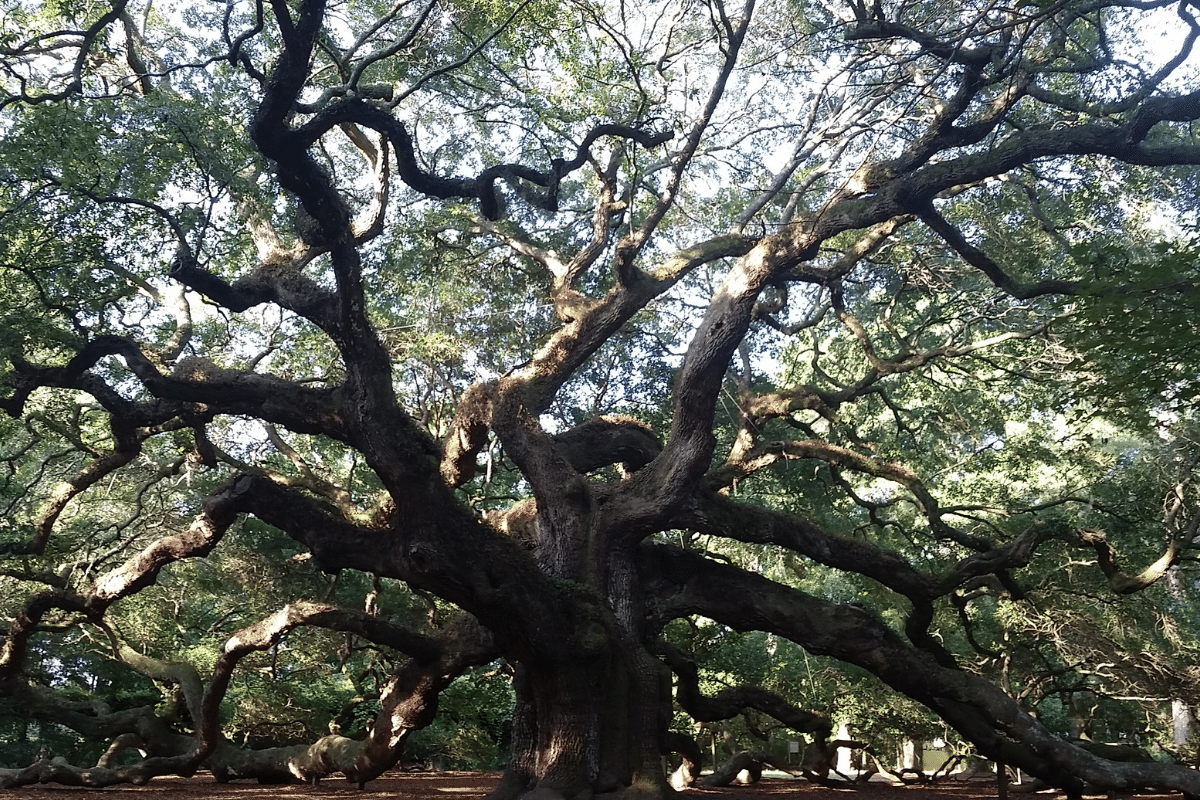 Live oaks are to South Carolina what redwoods are to California—ancient, iconic, and awe-inspiring. And Angel Oak on John's Island is the granddaddy of them all, estimated to be more than 400 years old, and one of the largest live oaks in the South at 67' high and 28' wide at the base.
Angel Oak Tree Park where this magnificent tree is located is a scenic 25-minute drive from downtown Charleston across the Ashley River and also offers a picnic area and a gift shop and there's no admission charge. If you're a photographer of any level Angel Oak is a must-shoot.
10. Nathaniel Russell House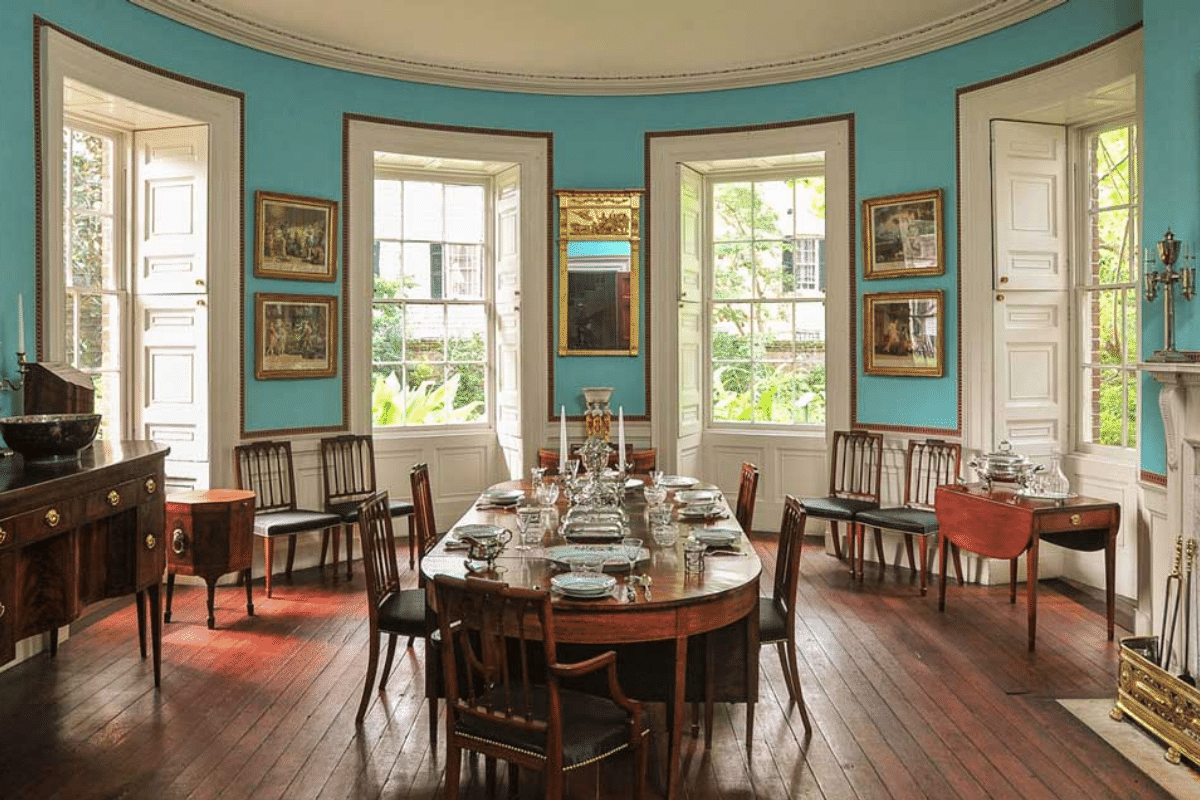 Charleston's colorful and ornate Antebellum (pre-Civil War) architecture has always been one of the city's main draws for visitors and residents alike. So, if you're into history, architecture, design, or photography, it doesn't get more iconic than the Nathaniel Russell House.
Russell was a successful slave trader and merchant who came to Charleston in the late 1700s and with his fortune built one of the city's most magnificent homes at the time along Meeting Street in 1808. Today, his house is considered to be one of the finest examples of Neoclassical architecture in the South. Along with a tour here don't miss the Aiken-Rhett House Museum nearby.
11. Rainbow Row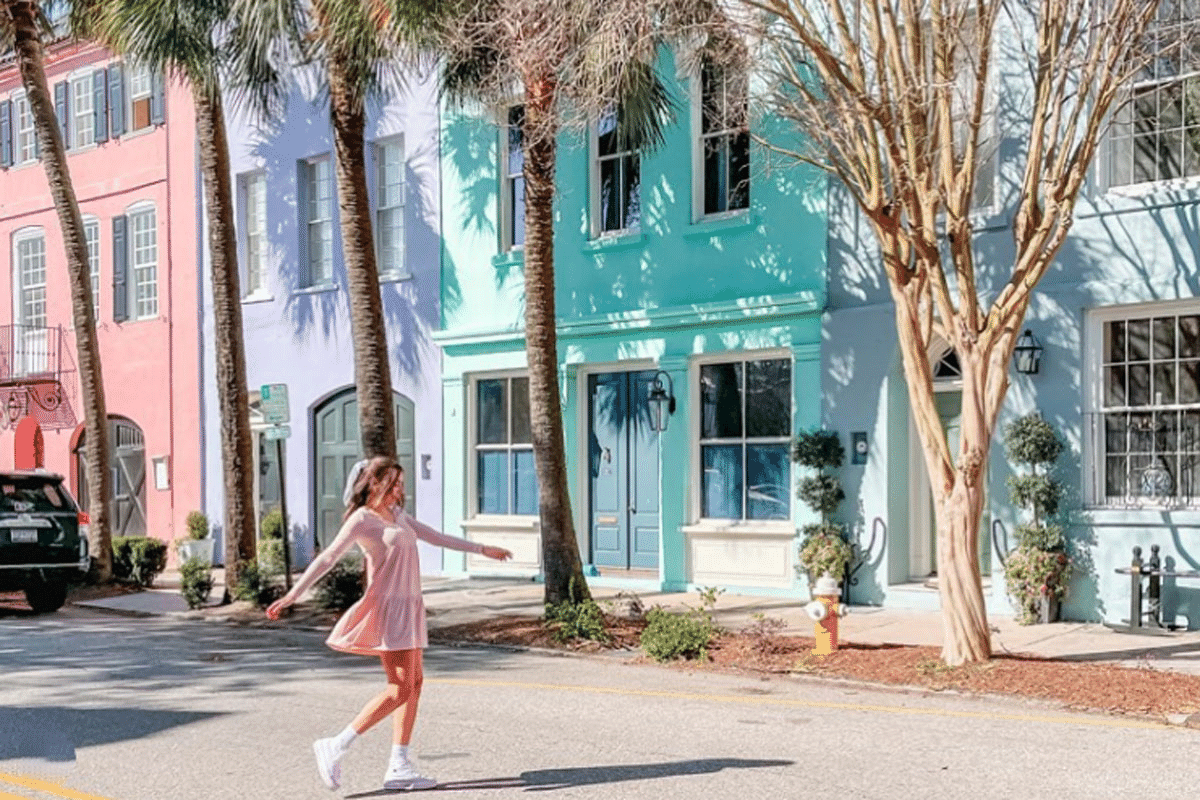 Every city has one street that every visitor wants to photograph. In Charleston that street is Rainbow Row, just a few blocks from Waterfront Park. Originally built in 1740 by merchants who ran stores on the ground floor and lived above them, this cluster of 13 pastel pink, yellow, purple, and blue houses along East Bay Street is today a Mecca for historic architecture lovers.
The origin of Rainbow Row is still debated. Some believe that the homes were painted brightly for drunk sailors to find their way home at night. Another theory is that each color served as a calling card for what each store was selling. Either way, you can't come to Charleston without stopping at Rainbow Row for some photographs or a selfie.
12. The Charleston Museum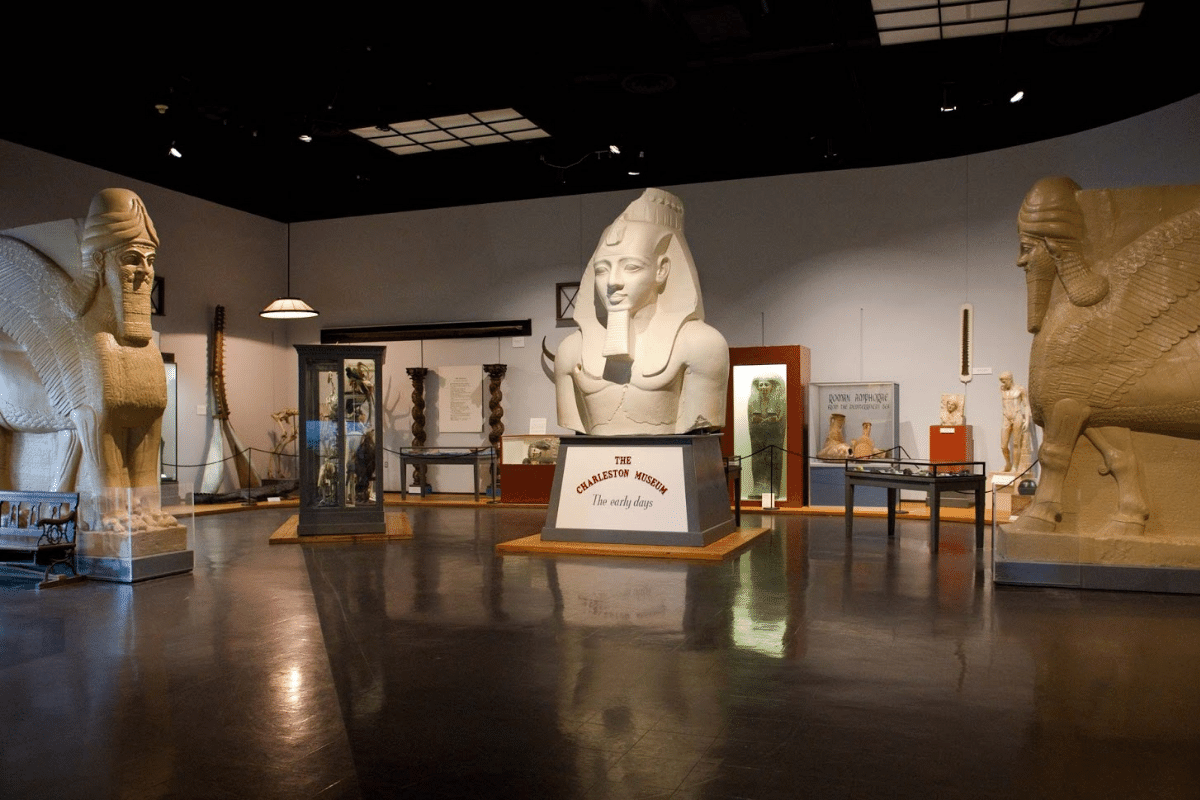 South Carolina's Lowcountry around Charleston has been at the center of American history since the nation's earliest roots and epitomizes the melting pot of cultures, customs, religions, and backgrounds that makes the United States the diverse democracy it is.
The Charleston Museum, the oldest museum in the U.S. founded in 1773, pays tribute to South Carolina's eclectic and influential past through rotating and permanent exhibits, collections, educational programs, and events housed in several historic buildings including Lowcountry History Hall, The Armory, and the Bunting Natural History Gallery.
13. Gibbes Museum of Art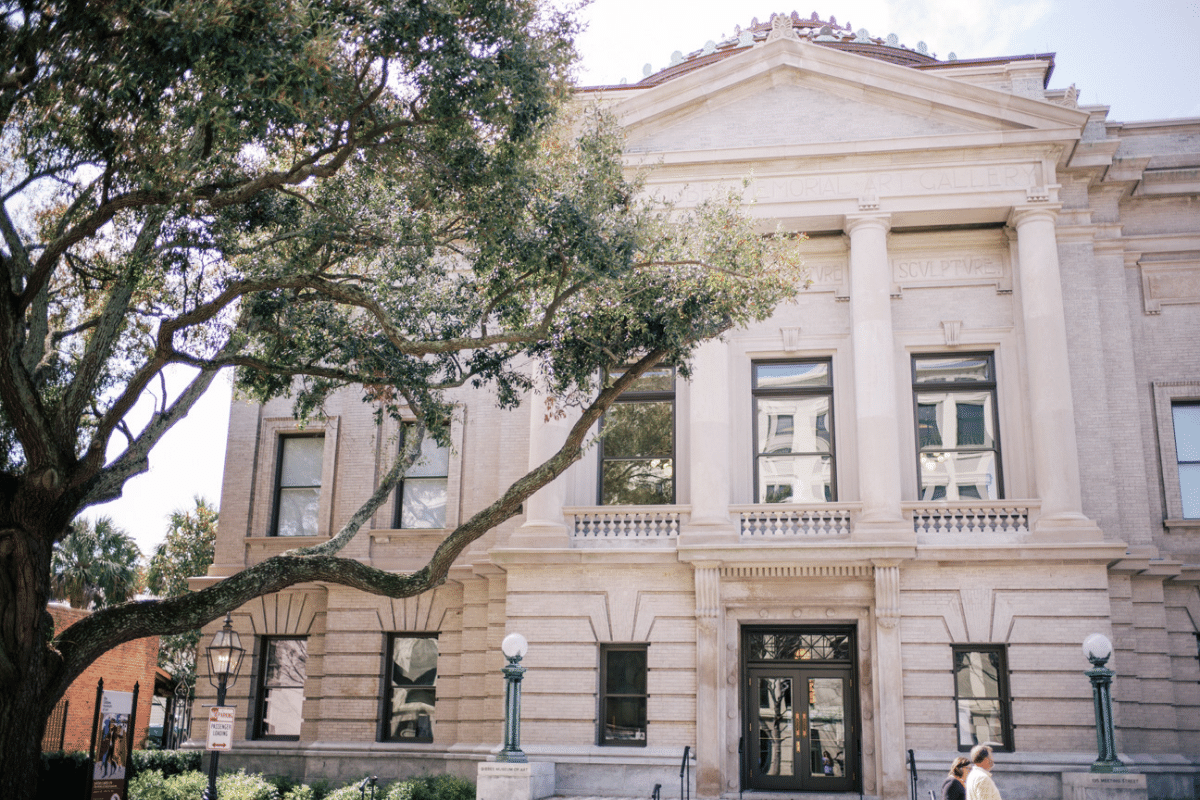 If you talk to any Charleston local, one of the first things they'll tell you about their city is that it's had one of America's best under-the-radar, up-and-coming arts scenes for decades—despite being better known for its historic sites, beaches, and sightseeing.
In addition to the dozens of downtown boutique galleries, the Gibbes Museum of Art is where Charleston's art scene begins and ends. The Museum houses several permanent collections that feature 18th and 19th-century American paintings as well as the Charleston Renaissance along with regularly rotating exhibits showcasing the city's vibrant contemporary art.
14. Take A Carriage Tour Of Downtown Charleston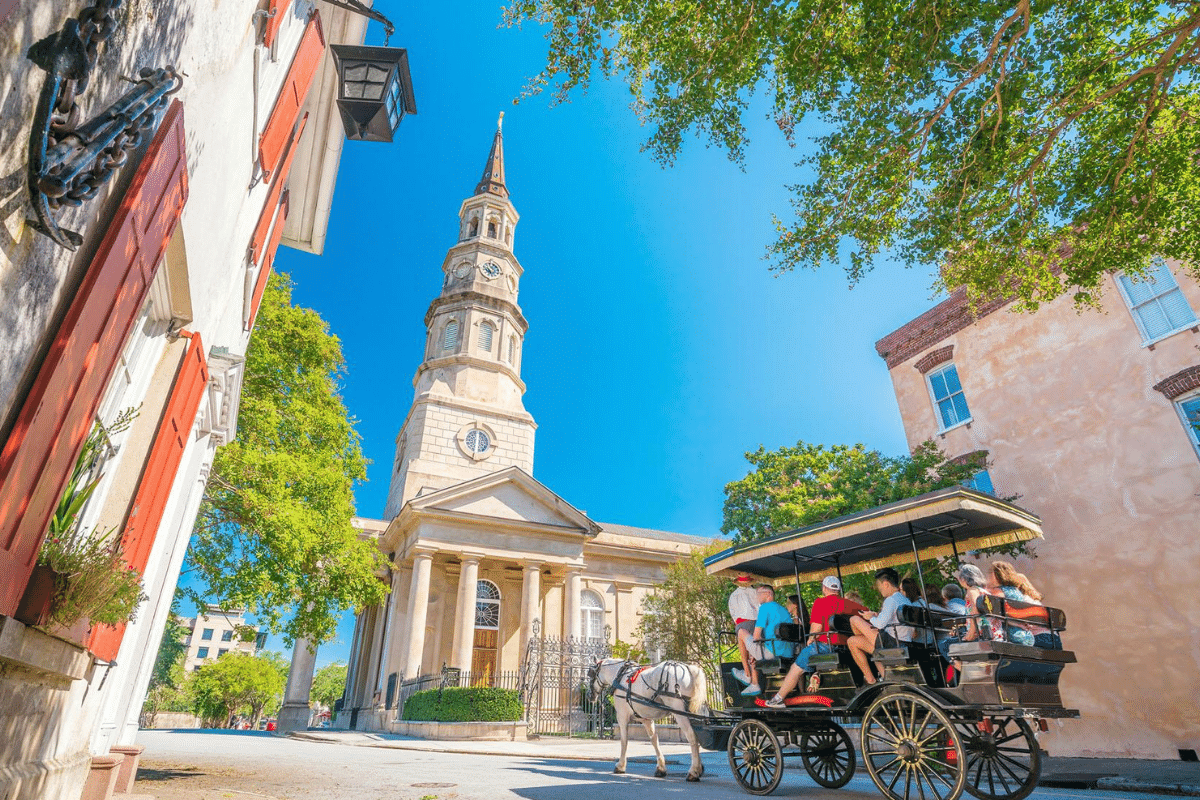 Like touring New York City's Central Park in a horse and buggy, stepping back in time and taking an old-fashioned horse-drawn carriage ride around historic Charleston's 30-block downtown is one of the most relaxing ways to experience everything the city has to offer.
Carriage tours are offered all day as well as at night with knowledgeable guides who can tell you all about the history of Charleston's most important historic and colorful landmarks, historic homes, parks, gardens, streets, and museums. For couples or honeymooners, it's also hard to beat a moonlight carriage ride when it comes to romance. Charleston's central intersection of King Street and Market Street is a great place to start.
15. Downtown Charleston On Foot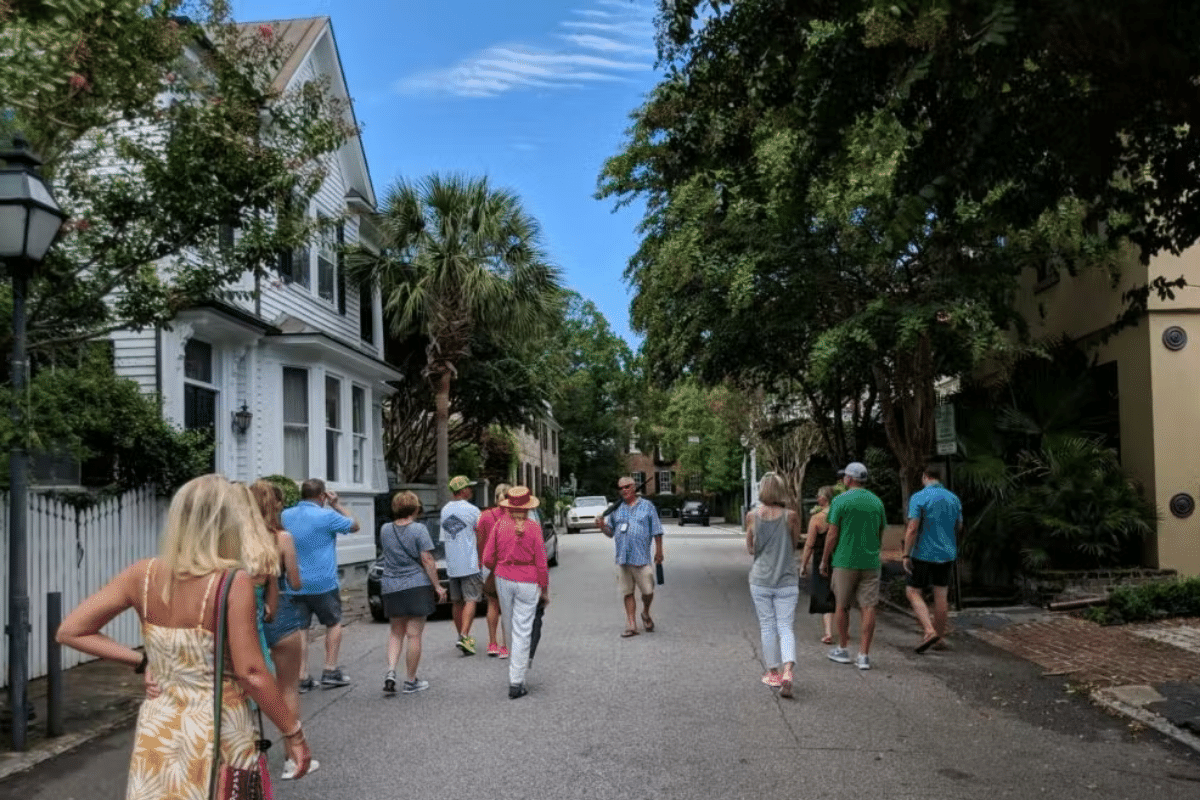 If you prefer hoofing it on your own for exercise and taking things at your own pace instead of a horse-drawn carriage tour, one of Charleston's most beloved pastimes is simply walking around. At any time of year, you'll always see people meandering around downtown Charleston's historic streets or just standing on the corner taking in the historic homes and the views up and down King Street, Market Street, and Meeting Street.
There are several self-guided walking tours that are available online if you search for "Charleston self-guided walking tours" as well as various organized, guided walking tours that will take you to all of downtown Charleston's top historic sites and points of interest.
16. Restaurant Walk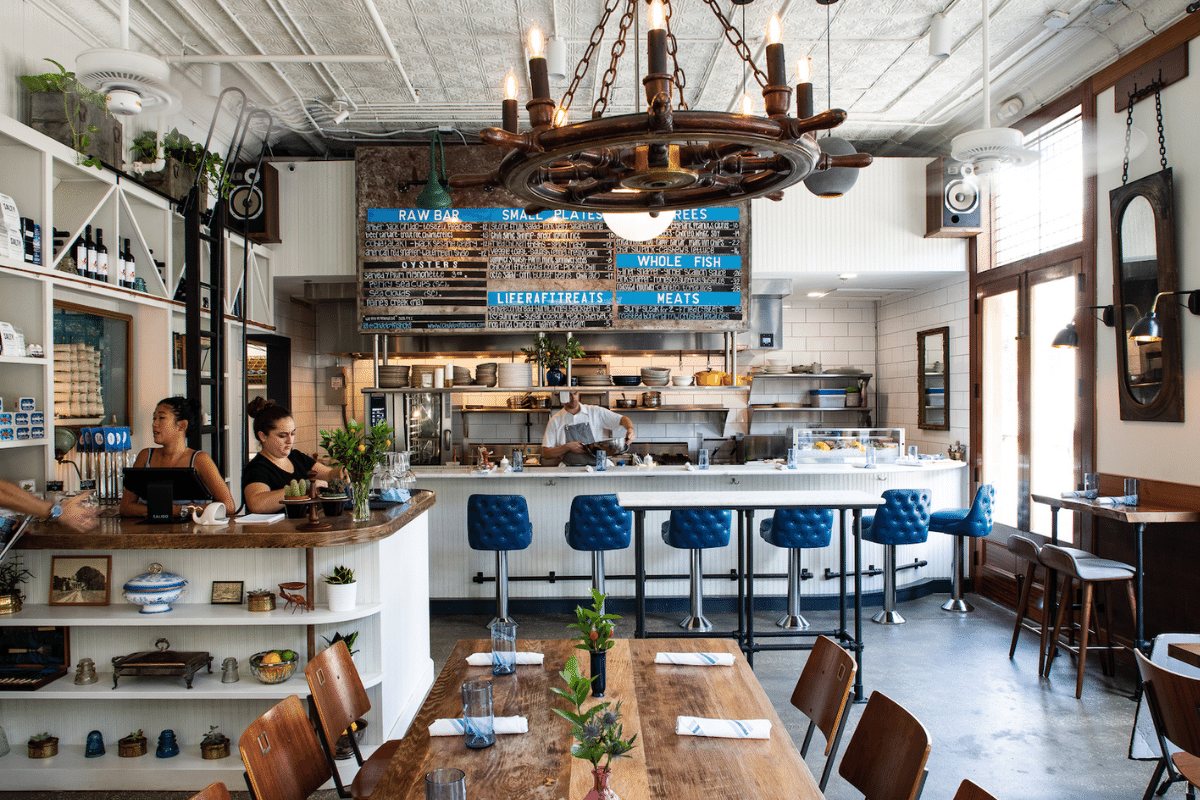 You can't visit Charleston without an appetite. The city's long been one of the South's epicenters for BBQ and Lowcountry cuisine and has also recently put itself on the map as one of America's up-and-coming foodie hotspots with dozens of acclaimed chefs from New York and Chicago making the dash for warmer weather and Southern hospitality.
So, after a long day on the water or for no other reason than tantalizing your tastebuds, take the time to savor Charleston's wide array of restaurants on foot which range from food trucks to fancy French bistros serving everything from fresh fish and Southern fried chicken to shrimp and grits and fried oysters. Your taste buds will thank you.
17. Ravenel Bridge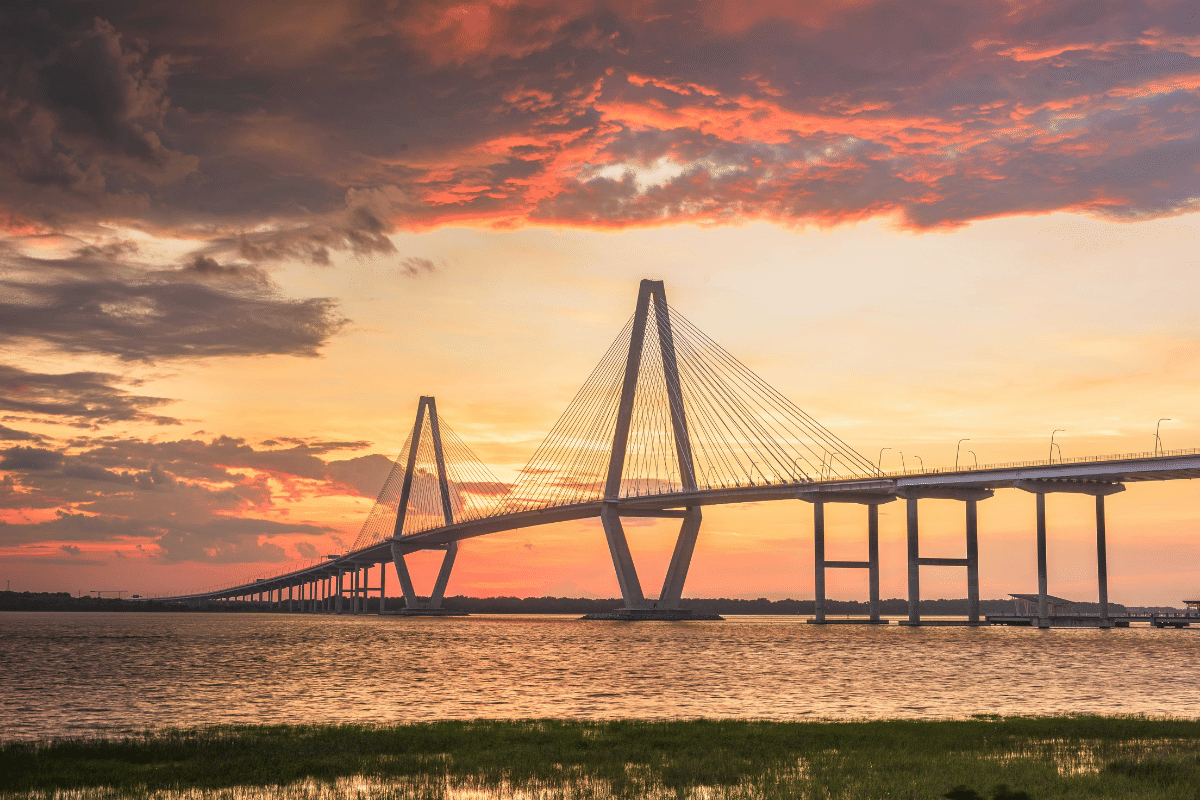 Once you've sampled Charleston's tantalizing culinary range if you're tempted to work off any of those extra calories the Ravenel Bridge over the Cooper River from downtown Charleston to Mount Pleasant is one of the best places in the city to take a long walk, run, or bike ride.
With a dedicated 6-mile roundtrip pedestrian and bike section offering unparalleled views of downtown Charleston and the surrounding Lowcountry and barrier islands, Ravenel Bridge is also an architectural and engineering marvel to behold and the third longest cable-stayed bridge in the Western Hemisphere.
18. Haunted Charleston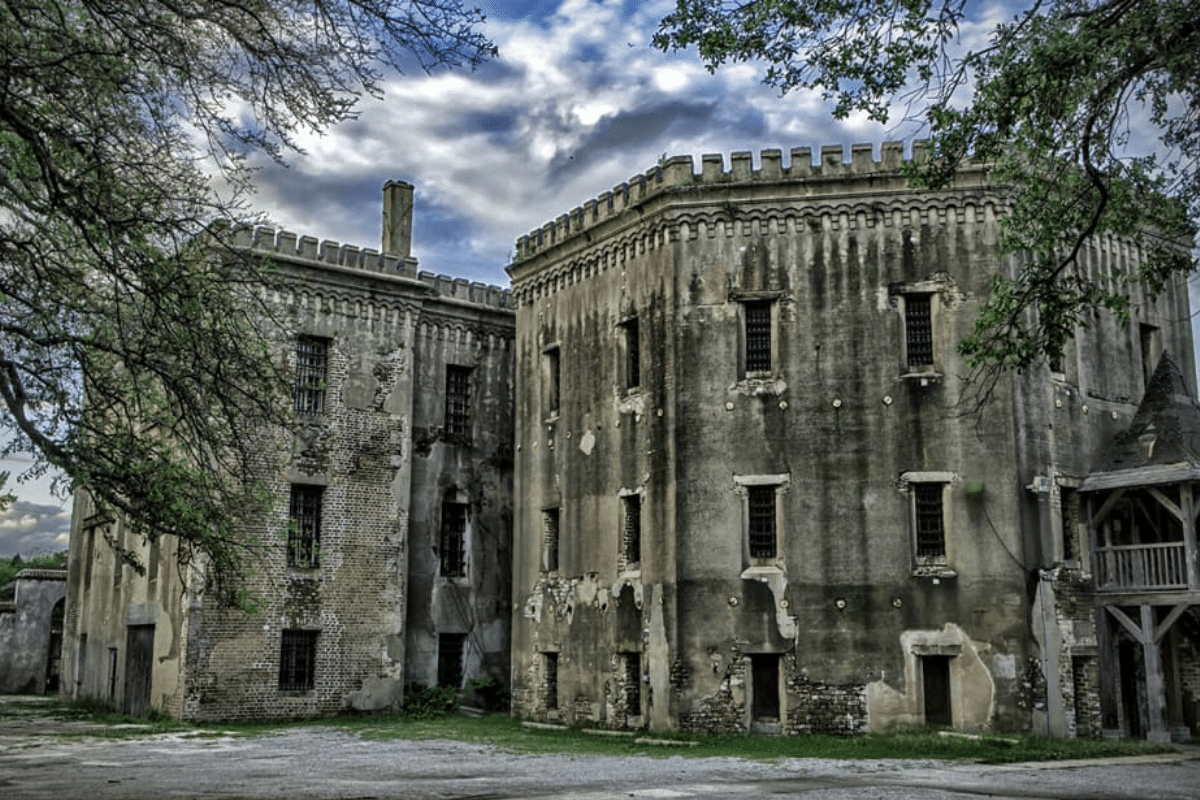 Second to being one of America's most romantic and charming cities, Charleston is also renowned for being one of the country's most haunted and mysterious—given its tumultuous 300-year history through the American Revolution, the Civil War, and as an epicenter of America's slave trade.
So, if you fancy the paranormal don't miss out on one of Charleston's famous hair-raising ghost tours where you can learn about the Charleston area's darker side including ghost pirates, poltergeists, and spooky, supernatural landmarks. To get your hair really standing up on your neck, take one of these tours at night under a full moon.
19. Get Out On The Water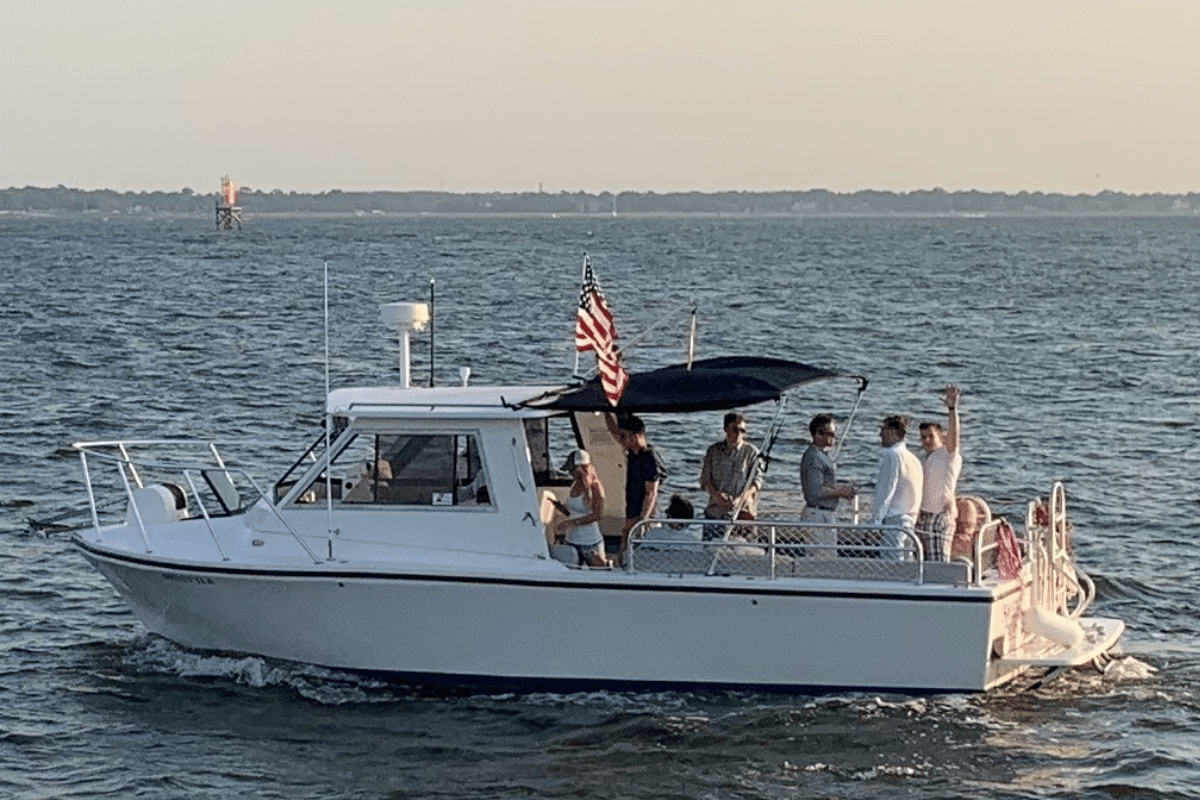 No visit to Charleston and Lowcountry South Carolina would be complete without getting out on the water if watersports are your passion. There's literally nothing you can't do here when it comes to the ocean, rivers, and aquatic adventure and it's impossible to run out of fun things to do.
Charter a deep-sea fishing boat and head out into the open ocean to try your luck catching a trophy marlin or mahi mahi. Or stay closer to shore to jig for triggerfish and red snapper. For those who prefer self-locomotion to power boats, you'll also find endless opportunities to paddleboard, kayak, sail, or kite surf in the hundreds of miles of rivers, creeks, and wetlands in every direction outside of downtown Charleston.
20. Charleston Harbor Sightseeing Tour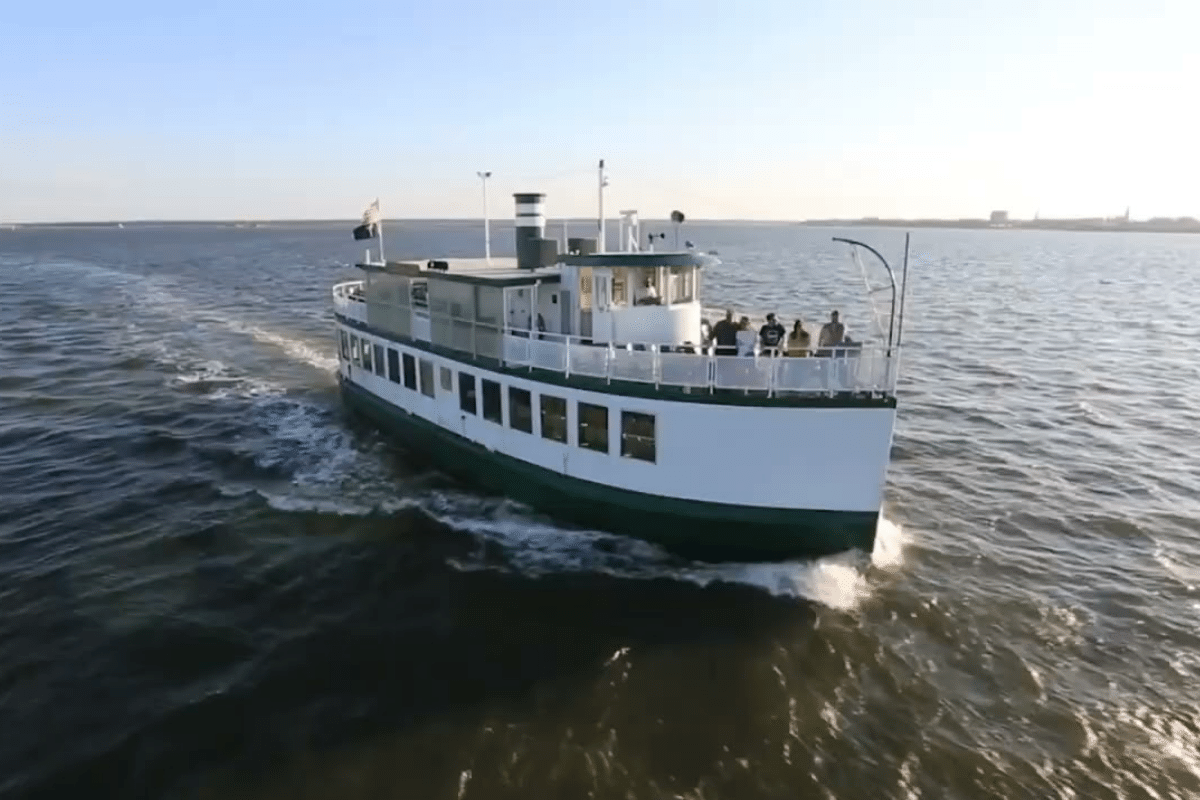 It's hard for most visitors to decide what's more impressive about Charleston's Harbor: its scale and size, its historical significance, or its sheer beauty hemmed in by beaches and barrier islands leading out to the Atlantic Ocean.
A harbor sightseeing tour on a boat like the Carolina Belle Ferry is the best way for you to decide for yourself, while also taking in some of the best views of downtown Charleston from the water. Usually lasting 1 ½ hours, you'll also get up-front-and-personal views of some of Charleston's other iconic landmarks like Fort Sumter National Monument, the USS Yorktown, and the Ravenel Bridge.
21. H.L. Hunley Submarine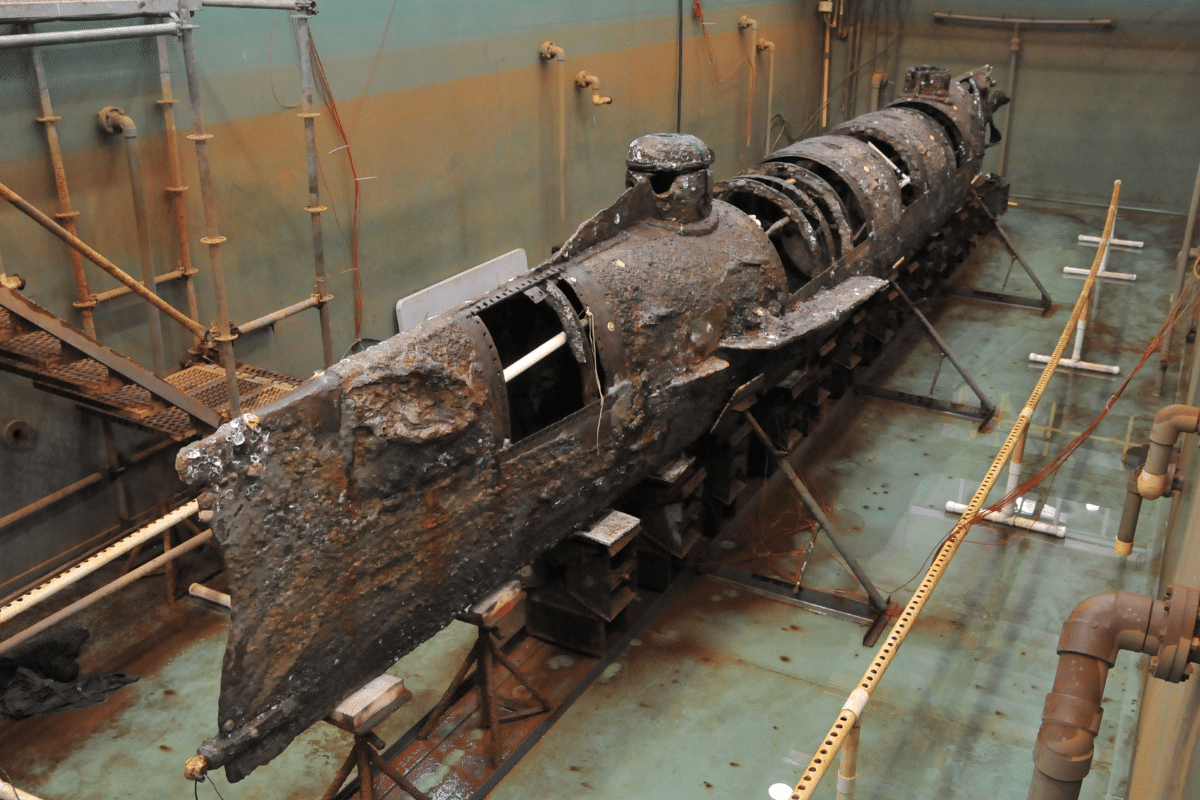 Charleston's place in America's Civil War is as embedded in the city's history as its arts, culture, and food. So, for U.S. and history aficionados, a visit to see the H.L Hunley Submarine should be on every Charleston bucket list.
A former confederate submarine turned exhibit and educational experience, the Hunley has the distinction of being the first submarine to ever successfully sink an enemy (Union) ship during wartime. Today, it's one of the best places in the South for families and kids to learn about South Carolina's role in the Civil War as well as explore nautical history. Located in North Charleston, it's a short trip from the peninsula.
22. Caw Caw Interpretive Center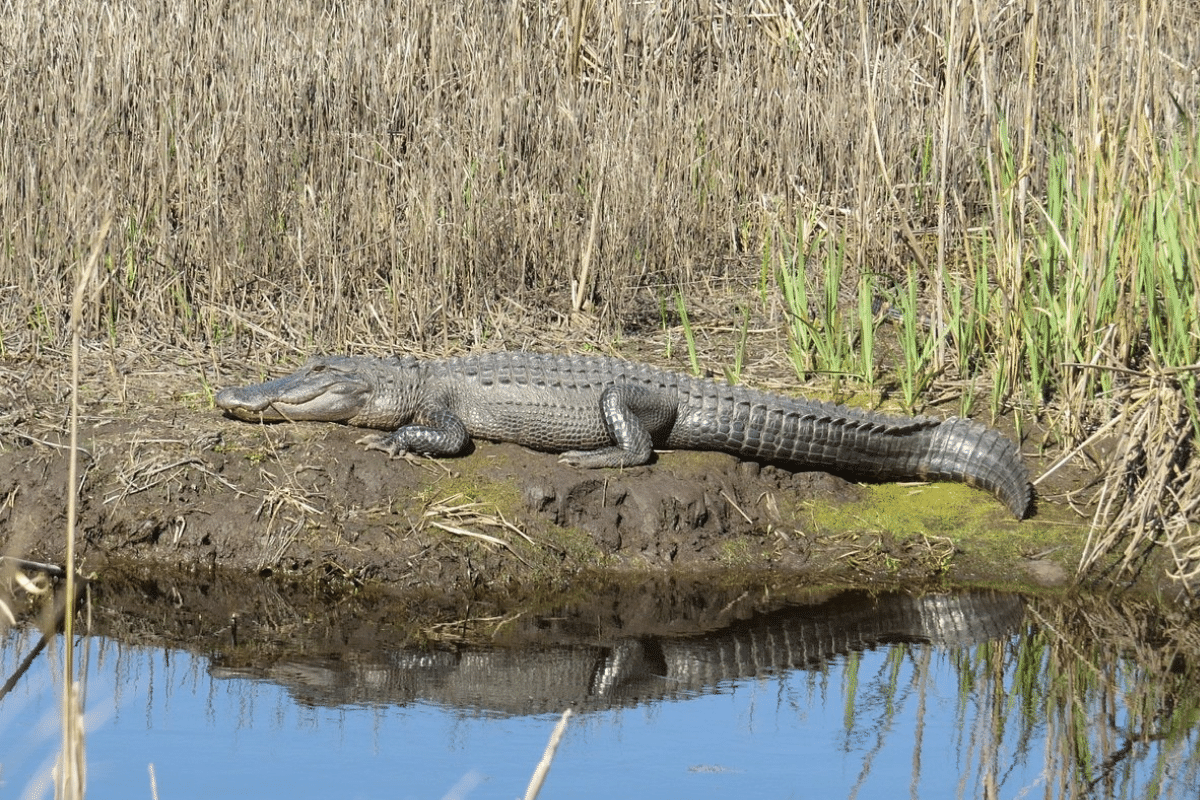 It's impossible to visit Charleston and South Carolina's Lowcountry without being captivated by its birds and wildlife. So, if you're looking to get some time outdoors and immerse yourself in nature, the Caw Caw Interpretive Center in Ravenel 10 minutes from downtown Charleston is a must-visit.
Managed as a low-impact wildlife preserve, Caw Caw was once home to rice plantations carved from cypress swamps and is now an interpretive park featuring six miles of nature trails with exhibits, elevated boardwalks through wetlands, birding lookout spots, and environmental and cultural programs for kids.
23. Magnolia Plantation And Gardens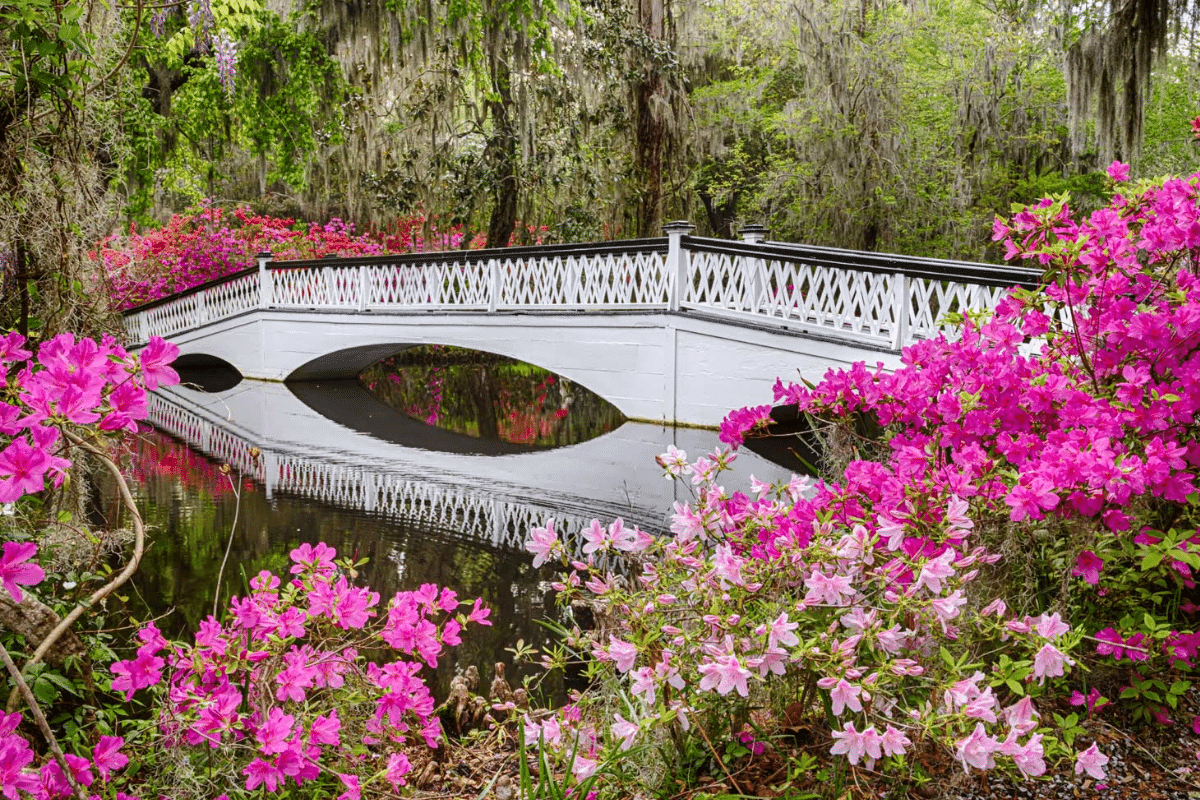 Magnolia Plantation and Gardens is Charleston's most historic and visited plantation in addition to Drayton Hall and Boone Hall Plantation—nearly 400 years old and the oldest public garden in the USA, having opened its doors to visitors back in 1870.
Though Southern plantations are rightly known for their connection with slavery, they also played an outsized role in America's economic development and helped shape the U.S. into the global power it is today. Magnolia Plantation's 464 acres and buildings give visitors a rare opportunity to experience what plantation life was like, the impact plantations had on American politics and the economy, and also includes a maze, a small zoo, a conservatory, a cafe, and a theatre where visitors can watch a 30-minute film about the plantation's history.
24. The Charleston Tea Garden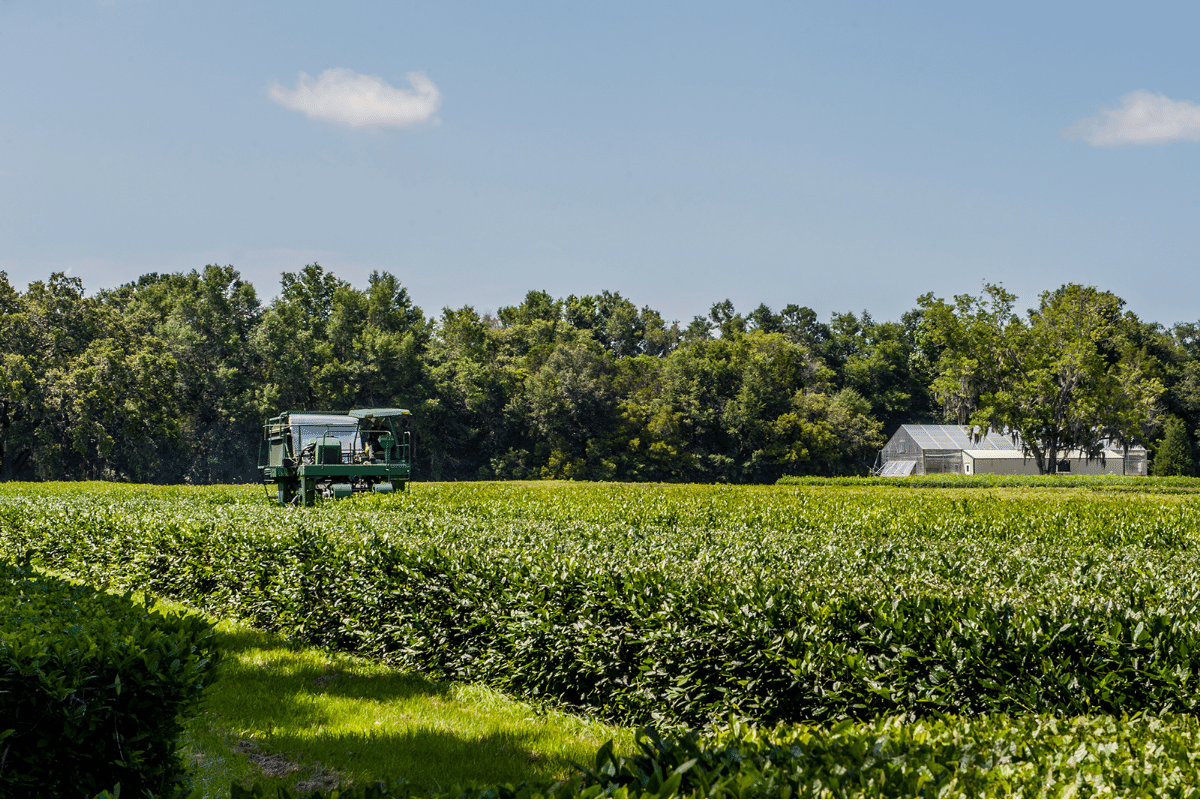 There are hundreds of tea gardens in the world—mostly in Asia, Africa, and South America. But there's only one in America like the Charleston Tea Garden. So, if you're a tea lover or simply want to spend some time outside while visiting the Charleston area and immersing yourself in the Lowcountry, spend a few hours wandering through Charleston Tea Garden's hundreds of thousands of tea plants surrounded by ancient live oaks and cypress swamps.
Located on Wadmalaw Islands 20 minutes from downtown Charleston, the Charleston Tea Garden also offers educational programs to learn about the tea-making process, a gift shop, a trolley tour—and, of course, tea.
25. Charleston Fossil Adventures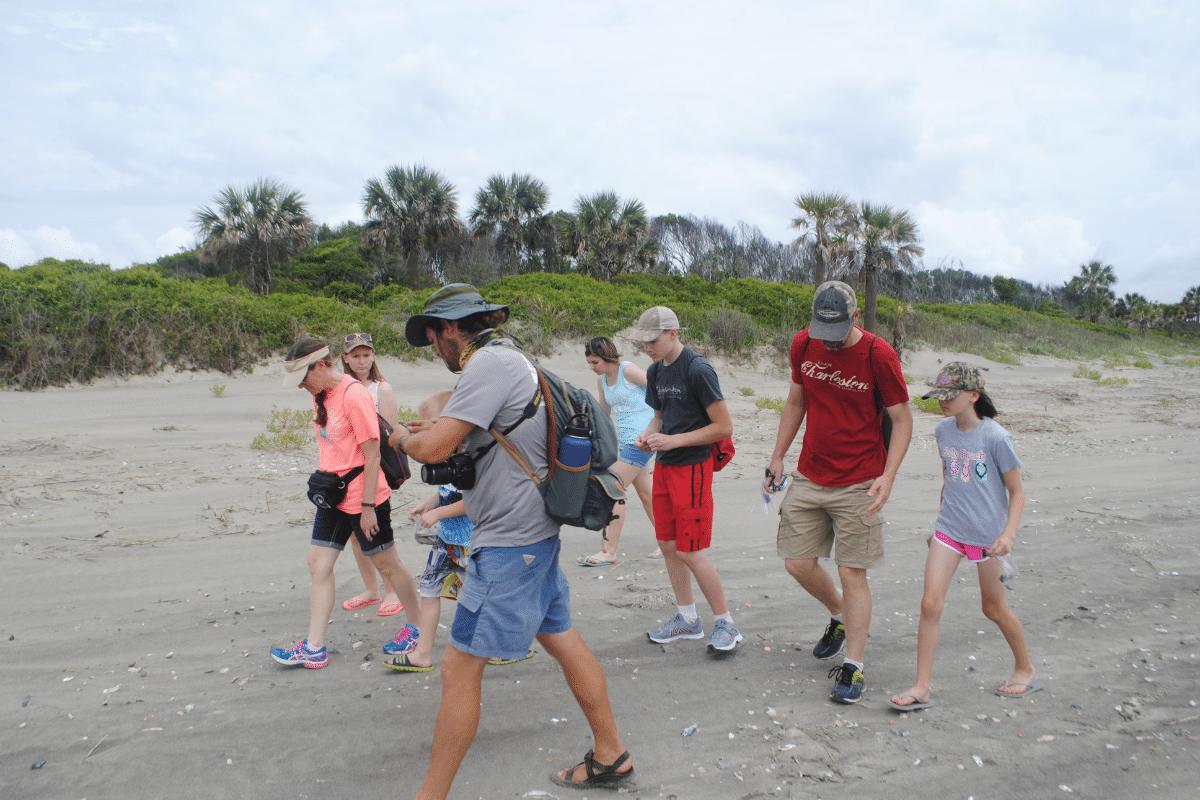 If you're still looking for more things to do outside—especially if you're coming to visit the Charleston area with kids and need something fun and unique to keep them occupied—check out Charleston Fossil Adventures.
Regularly voted the top outdoor activity in Charleston, kids are immersed in Lowcountry paleontology through a variety of fossil hunts and interactive programs and have the chance to discover ancient shark teeth, bones, and hunt for other hidden natural treasures that they can take home with them all while learning about South Carolina's pre-historic past.
26. Charleston Fun Park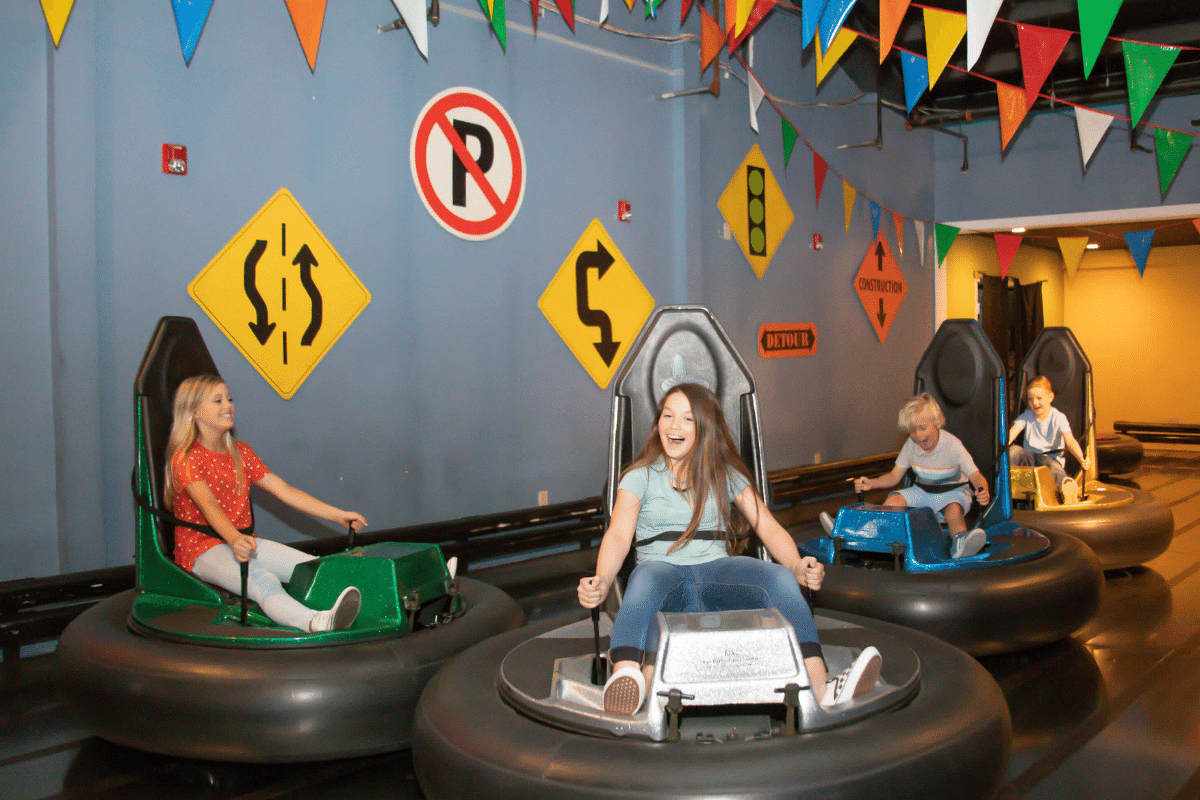 Speaking of kids, if they need more exhilaration during the day while you gear up for your Charleston Harbor sunset tour and a night out restaurant hopping, don't pass up the chance to tire them out at Charleston Fun Park.
Featuring a high-speed go-kart track, 36 holes of mini-golf, an outdoor axe throwing arena, bumper cars, a full arcade, and a virtual reality roller coaster—plus classic boardwalk, theme park food like hot dogs, soft pretzels, and ice cream (and adult beverages for parents)—Charleston Fun Park definitely lives up to its reputation as one of the city's most exciting tourist attractions and its motto that "The Party Starts Here".
27. Sullivan's Island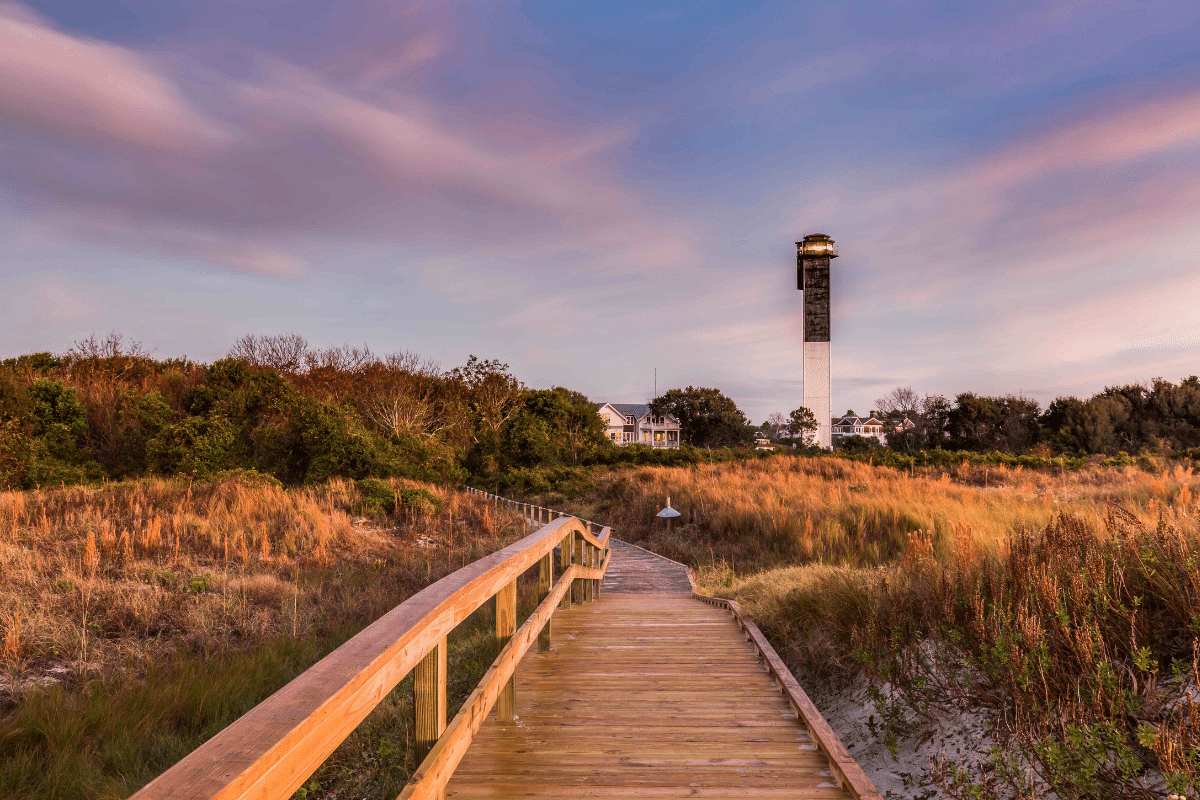 Historic Charleston is revered as one of the USA's most romantic cities surrounded by islands. And arguably the most beautiful and pristine of them all is Sullivan's Island located 20 minutes east of downtown Charleston since the locals in this small oceanfront town have vowed to keep it that way.
Sullivan's Island doesn't have any major hotel chains or resorts and is governed by a strict preservation plan so development is limited, the beaches are pristine, and the vibe is distinctly local. For all its effort to remain low key, however, Sullivan's Island boasts a thriving restaurant scene with everything from pubs to fine dining as well as all the watersports offerings like kayaking and jet skiing that you can handle.
28. Cypress Gardens
Ancient cypress swamps are synonymous with South Carolina's Lowcountry outside of downtown Charleston. And there's no better place to immerse yourself in what these magnificent wetlands look and feel like than Cypress Gardens.
Visitors can spend the day exploring the historic gardens, kayaking, visiting the Butterfly House, or taking a swamp boat ride through miles of tall bald cypress and tupelo trees mirrored in the dark, black water looking for birds and turtles—and avoiding the alligators!
29. Fort Sumter National Monument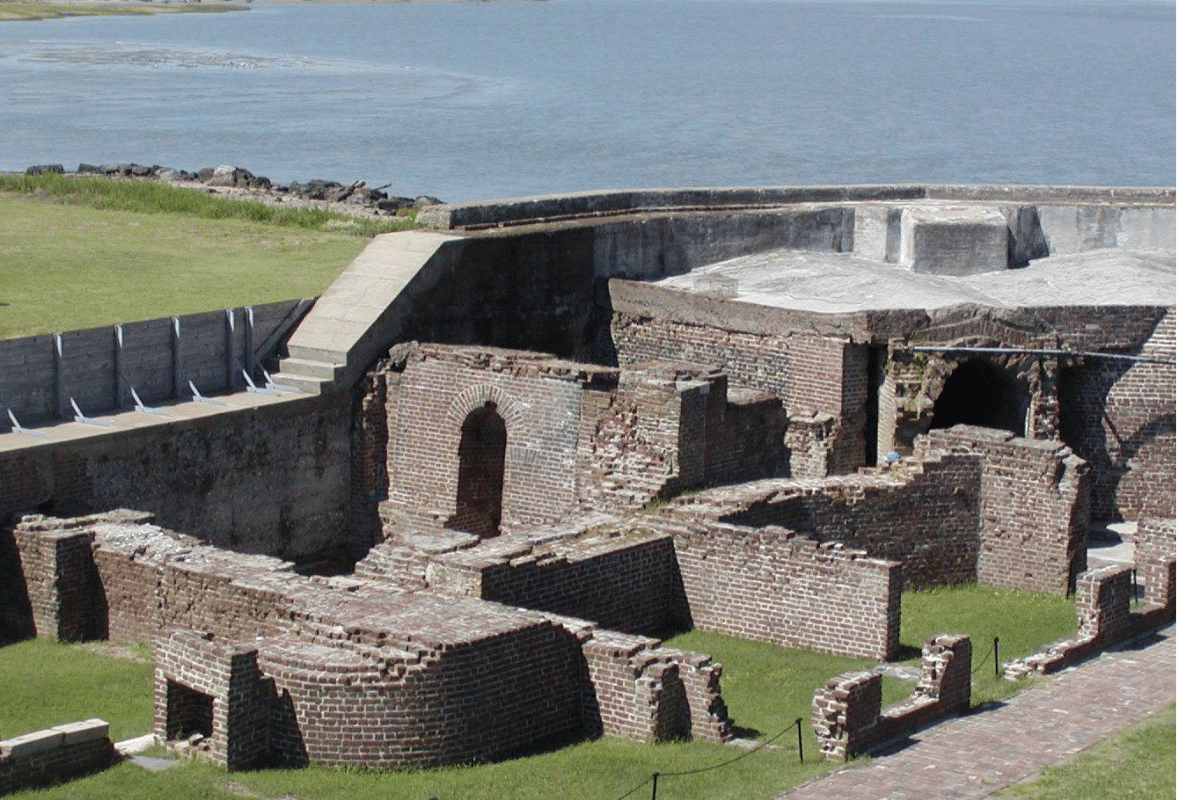 Few places hold a more important place in American history than Fort Sumter National Monument, an island fort in Charleston Harbor. On April 12, 1861, Confederate forces attacked Fort Sumter which was controlled by the U.S. (Union) Army, and two days later, the fort surrendered marking the beginning of America's 5-year Civil War.
Today, Fort Sumter National Monument is run by the National Park Service and open to the public who can visit by ferry from Liberty Square or Patriot's Point and learn all about the Fort's place in American history, see the original cannons on site, and tour the nearly 200-year old fort all while taking in breathtaking views of downtown Charleston, Sullivans Island, and the main harbor channel out to the Atlantic Ocean.
30. Charles Towne Landing State Historic Site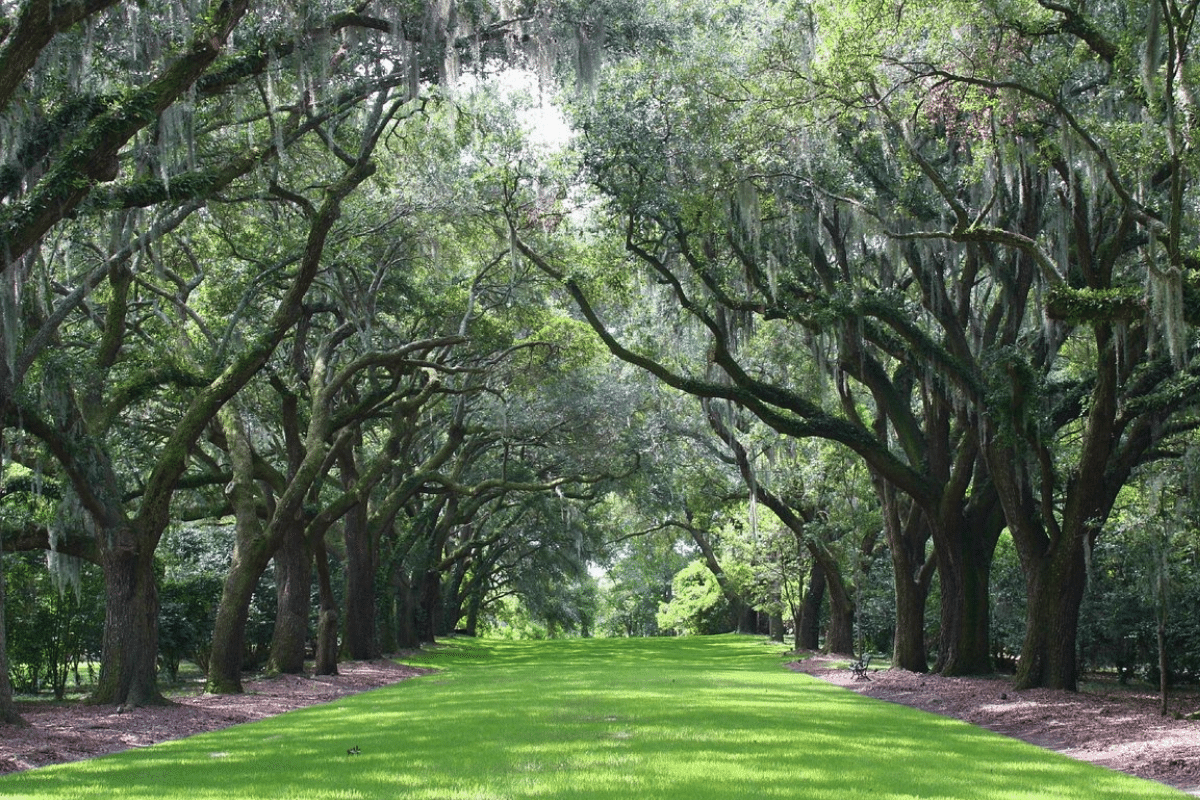 There's no place that better symbolizes South Carolina and the Charleston area's place in the history of the USA than Charles Towne Landing State Historic Site, where British settlers first landed on American soil back in 1670.
Now a protected site with over 80 acres of manicured gardens, Charleston's only zoo, an Instagram-worthy alley of towering live oaks, and more than 6 miles of walking trails, Charles Towne is the perfect place to step back into America's Colonial past while immersing yourself in Lowcountry nature in an impeccably-preserved centuries-old village.
31. South Carolina Aquarium
South Carolina's Atlantic coastline is synonymous with sea life so no visit to downtown Charleston would be complete without a trip to the South Carolina Aquarium.
Home to more than 5,000 different aquatic animals ranging from sharks and stingrays to sea turtles and horseshoe crabs, it's the perfect place for families and kids to learn about South Carolina's diverse underwater ecosystem and its inhabitants through interactive touch tanks and educational programs. If you're visiting the Charleston area in the summer it's also the ideal location to beat the heat during the day when it gets a little hot and humid and you've already got a sunburn from the beach.
32. Patriot's Point Naval And Maritime Museum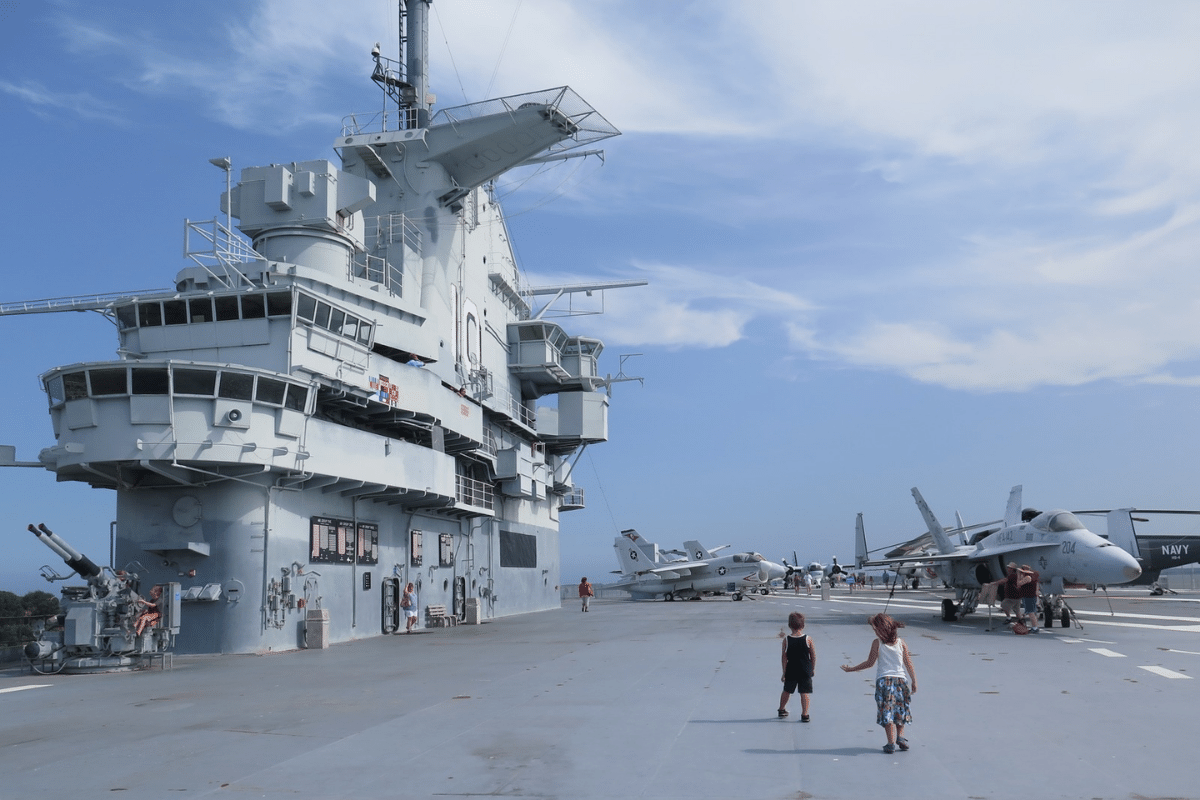 Patriot's Point Naval And Maritime Museum is one of the only places in America where visitors can board and experience an actual U.S. Navy aircraft carrier and get a hands-on history lesson about the Navy's history, traditions, and core values.
Centered around the USS Yorktown which was one of America's first aircraft carriers built during World War II, Patriot's Point Museum in Mount Pleasant is also home to a fleet of National Historic Landmark ships, a Cold War Memorial, and the only Vietnam Experience Exhibit in the U.S., along with hosting one of the largest education and overnight camping programs in the country for kids.
Looking for your next place to stay? Check out our Charleston vacation rentals.