Revered as country music's capital, famous for its Broadway bar scene, and notorious for bachelorette bus parties, Nashville has also been growing up fast over the past decade, rapidly redefining itself with a new, more sophisticated identity all while retaining its Broadway honky tonk, Johnny Cash roots.
Nashville is now home to one of the hottest up-and-coming culinary scenes in America, along with recently attracting companies like Amazon and TikTok to a shiny new skyline along the Cumberland River that never seems to stop reaching new heights with another high-rise apartment building coming out of the ground.
Meanwhile, Music City's arts, culture, and sports scenes are also thriving, breathing new life into old neighborhoods and sparking an exploding real estate market downtown and across the river in places like East Nashville as a constant inflow of new residents and young families move in creating an abundance of fun things to do.
Nashville and central Tennessee are also a land of lakes, rolling hills, protected open space, and parks steeped in American history and ante-Bellum architecture, which offer visitors and residents as many opportunities to get outside and stay active as there are to deep dive into the city's culture, musical history, music museums, and live music scene.
So, whether you're coming to Nashville for business or vacation, a new resident or an old local, or just passing through, here are 33 of the top things to do while you're in town including some venerable "can't miss" Nashville attractions and events as well as some off the radar secrets that you won't find on other lists.
1. Grand Ole Opry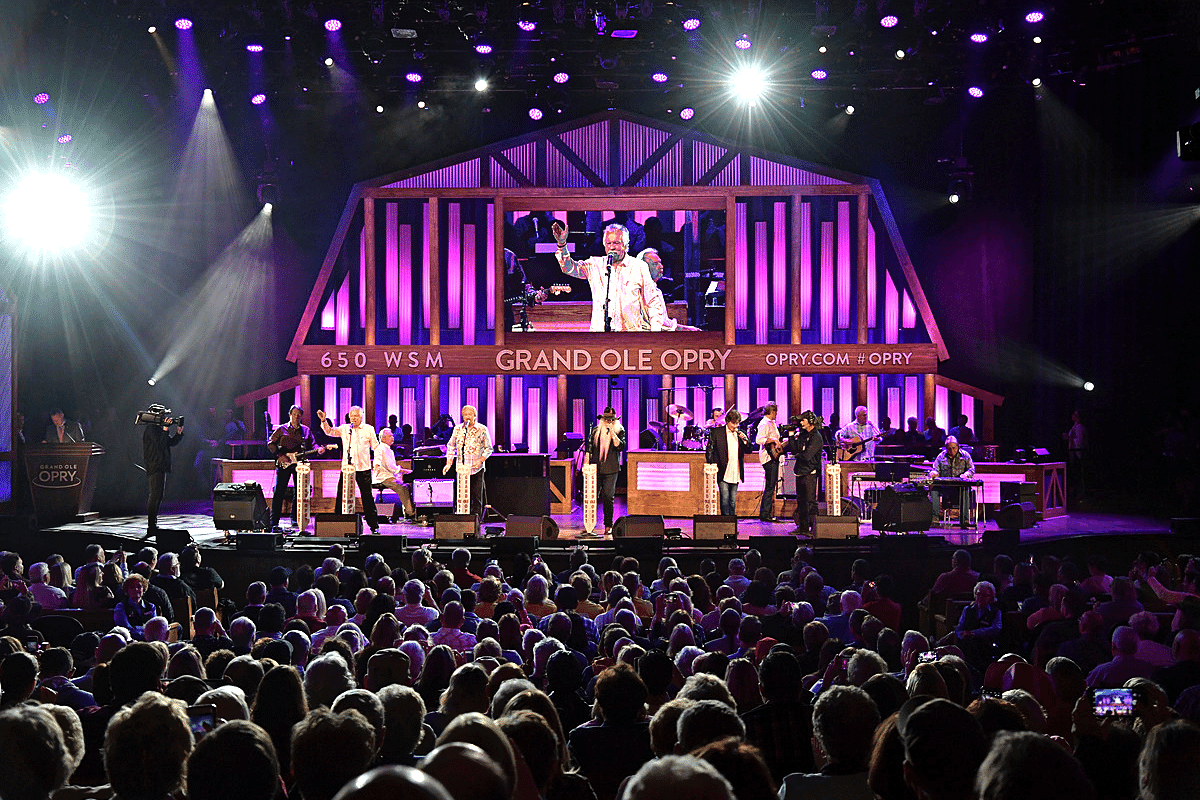 If Nashville had a Radio City Music Hall, the Grand Ole Opry would be it. Founded as the home to an old-school music radio broadcast back in 1925—"the show that made country music famous"—seeing a country, folk, bluegrass, or gospel show at the Opry today has the feel of a music industry rite of passage.
Over the years, the Opry stage has carried the voices of virtually every famous country star old and new including Charlie Daniels, George Jones, Lorette Lynn, Dolly Parton, Dierks Bentley, Brad Paisley, Carrie Underwood, and Keith Urban. Opry visitors can also get a tour of the dressing rooms and the famous stage itself.
2. Ryman Auditorium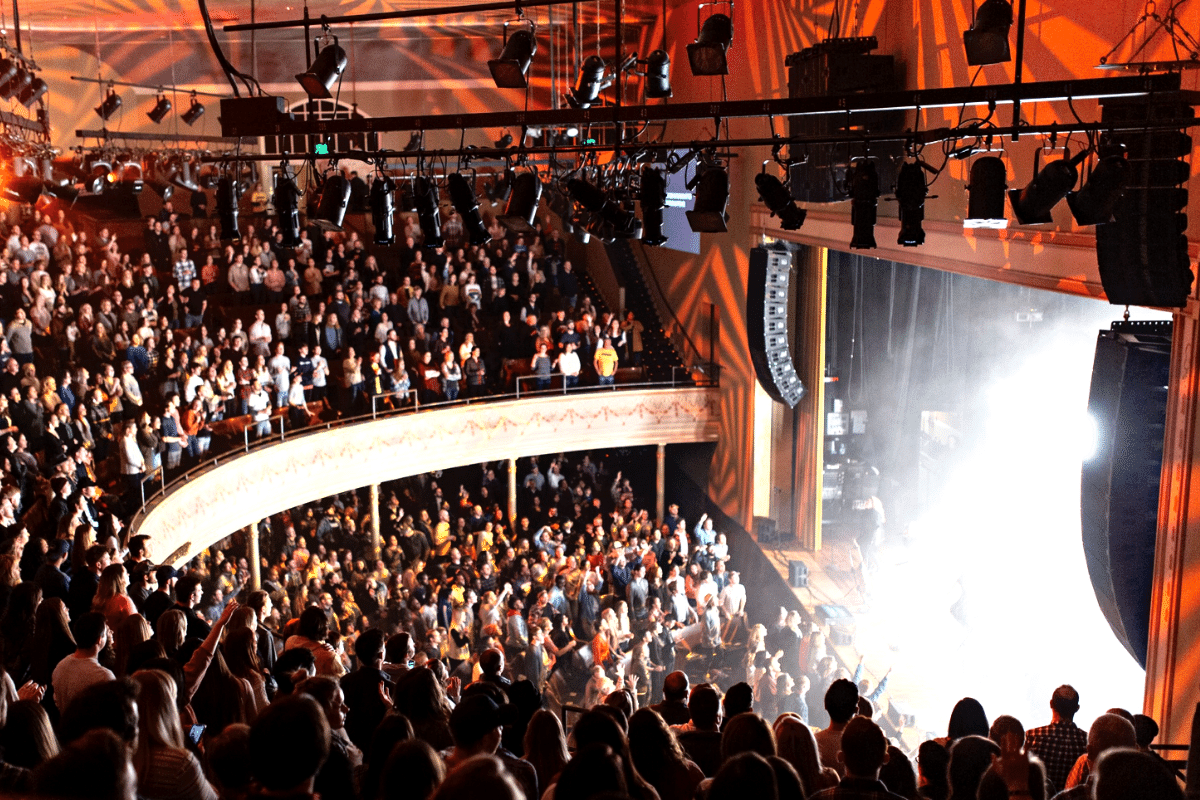 A National Historic Landmark built in 1892, the Ryman Auditorium is the hallowed "Soul of Nashville" and is considered to be one of the finest and most celebrated live music venues in America.
In addition to playing a key role in popularizing bluegrass and country music, "The Ryman" as it's known locally is also where Johnny Cash and June Carter met and where some of the most iconic scenes in "Coal Miner's Daughter" starring Loretta Lynn were filmed. Catching a show here at night feels like you're living country music history.
3. Broadway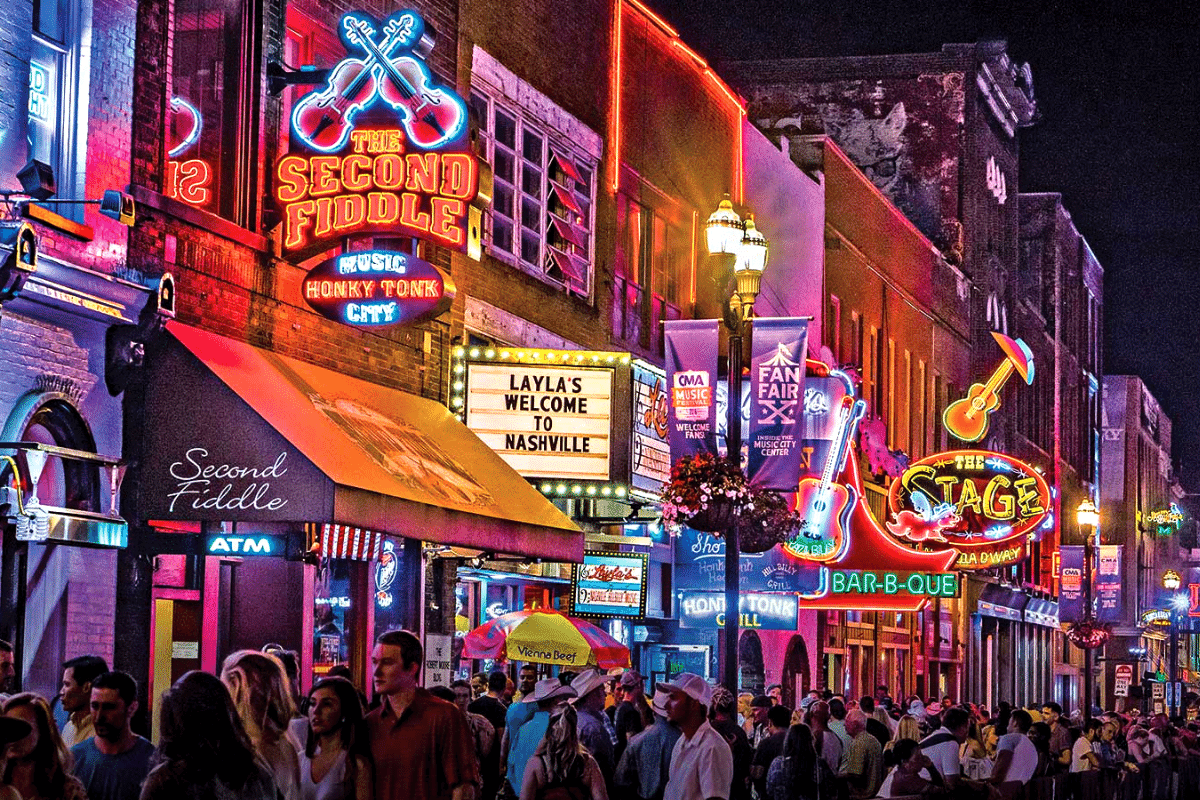 A.k.a. "Honky Tonk Highway", the five-block, late-night, neon stretch of Lower Broadway in downtown Nashville is Music City's equivalent to Bourbon Street in New Orleans—home to the clubs, bars, and saloons that have made Nashville synonymous with live music, and the honky tonks world-famous for getting a glimpse of country music's next great artist.
During the day, Broadway is also one of Nashville's marquee destinations where visitors can shop, grab BBQ or hot chicken, or hop on an old-fashioned trolley tour. So don't just limit your time here to after-hours mechanical bull riding and singing karaoke in a rhinestone jumpsuit.
4. Music Row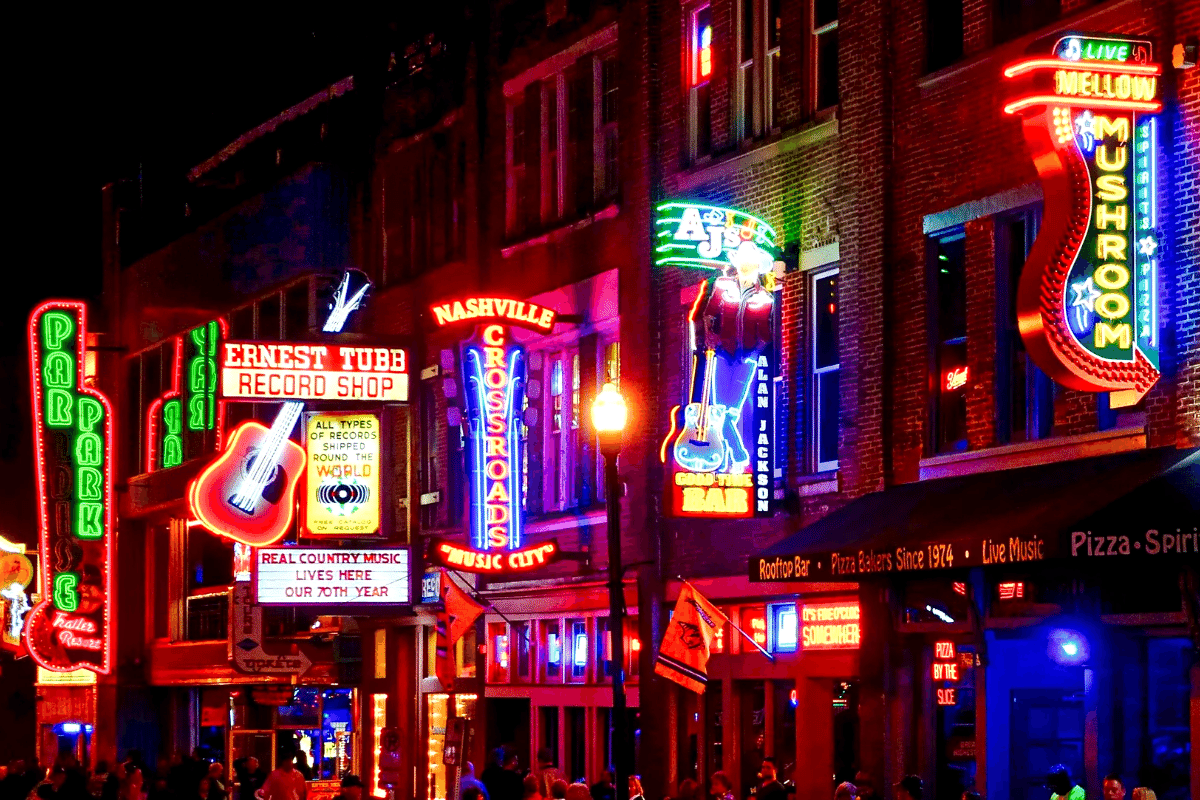 Music Row is the most iconic street in Nashville and to the music industry what Hollywood is to movies. Located in a historic district southwest of downtown, it's home to the headquarters, offices, and recording studios of virtually every big player in country, gospel, and Christian music including record labels like RCA and Sony, publishing and video production houses, and music licensing firms.
More recently, the historic district in and around Music Row has been actively preserved to protect its sacred place in Nashville's history as well as the music industry. No trip to Music City is complete without a tour here. You can also eat, drink, and shop at dozens of venues nearby while exposing yourself to the unique Nashville sounds and music.
5. Country Music Hall of Fame and Museum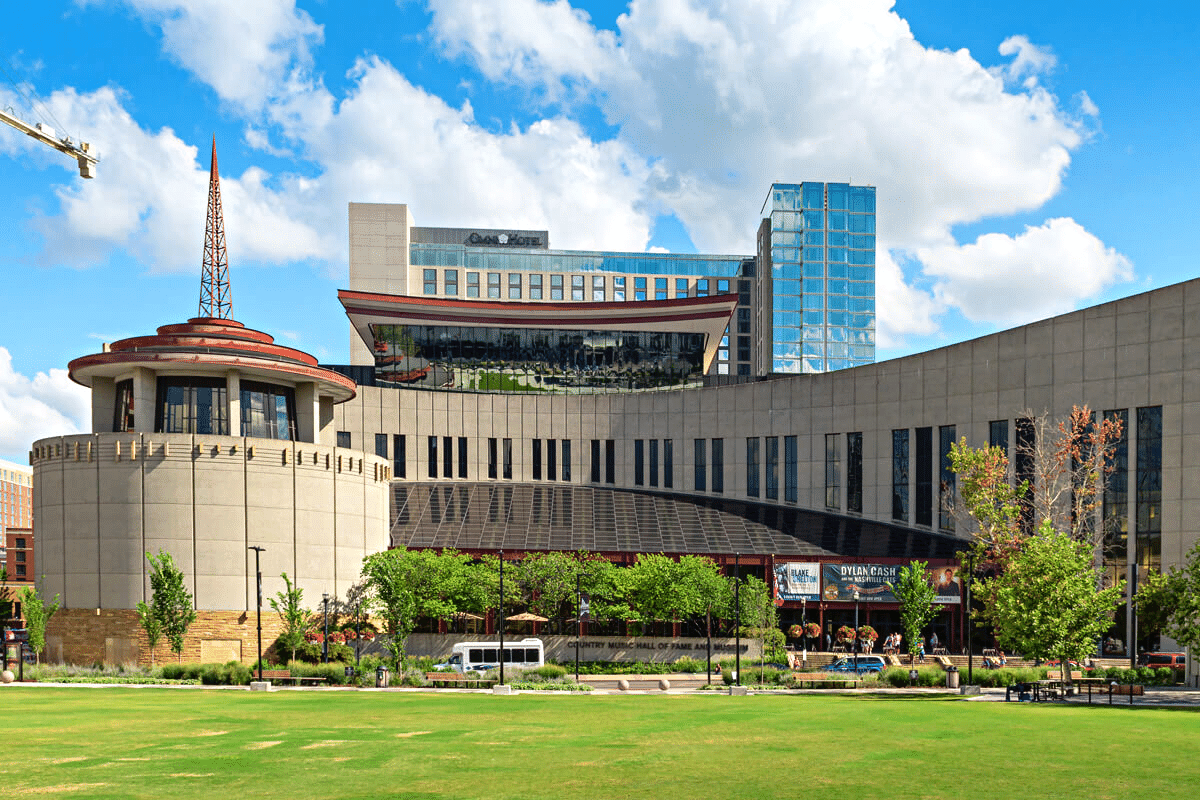 The Country Music Hall of Fame and Museum features one of the largest collections of musical memorabilia in the world and is the ultimate Mecca for fans who want to learn about the past, present, and future of country music.
Showcasing more than 2.5 million artifacts, photographs, instruments, stage costumes, original recordings, and more it would be easy to spend an entire day here immersed in the interactive displays, watching films, and exploring the exhibits. The Museum also features events and live performances by some of country music's top artists.
6. Johnny Cash Museum and Café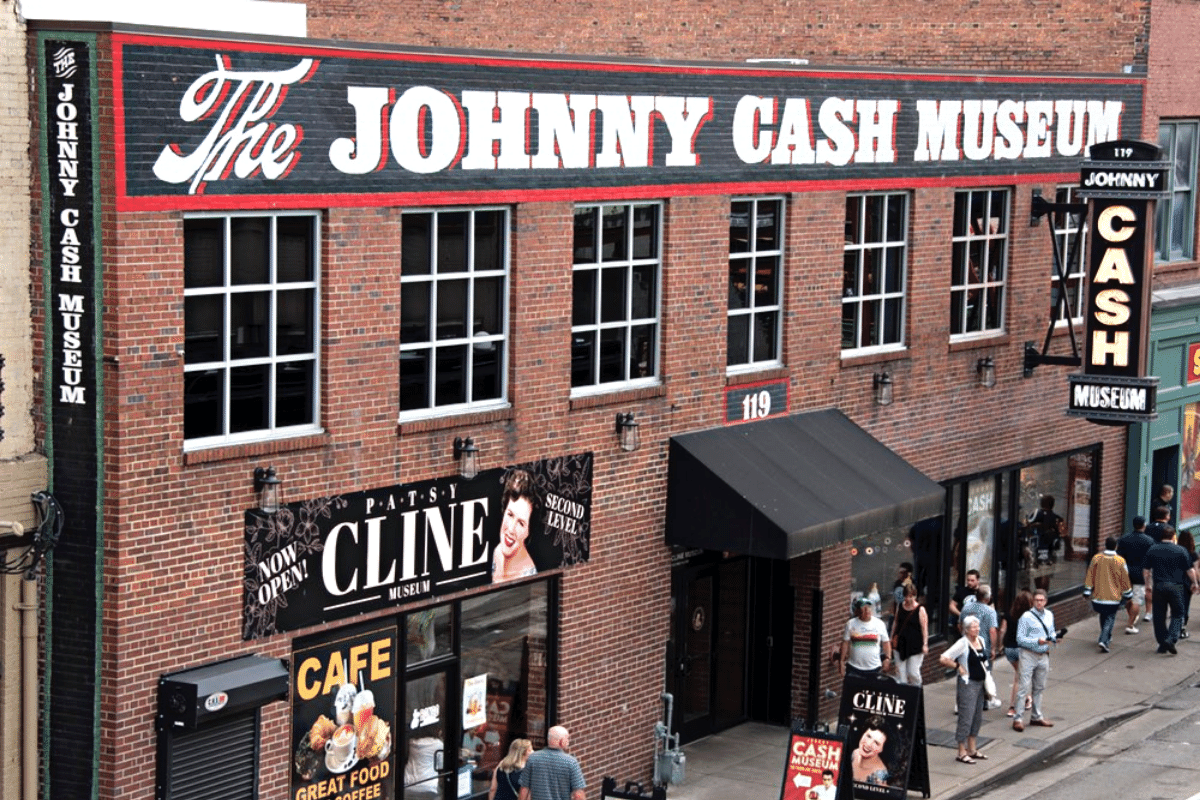 Country music wouldn't exist today were it not for the "Man In Black"—Johnny Cash—and no visit to Music City would be worth it without a trip to The Johnny Cash Museum.
Featuring the world's largest collection of Cash's original costumes, instruments, artwork, handwritten notes and letters, and other memorabilia chronicling his life and legacy, there's no better way to learn about his impact on music and the evolution of country. Listening stations and a live Johnny Cash cover band ensure this experience covers all five senses as well.
7. Imagine Recordings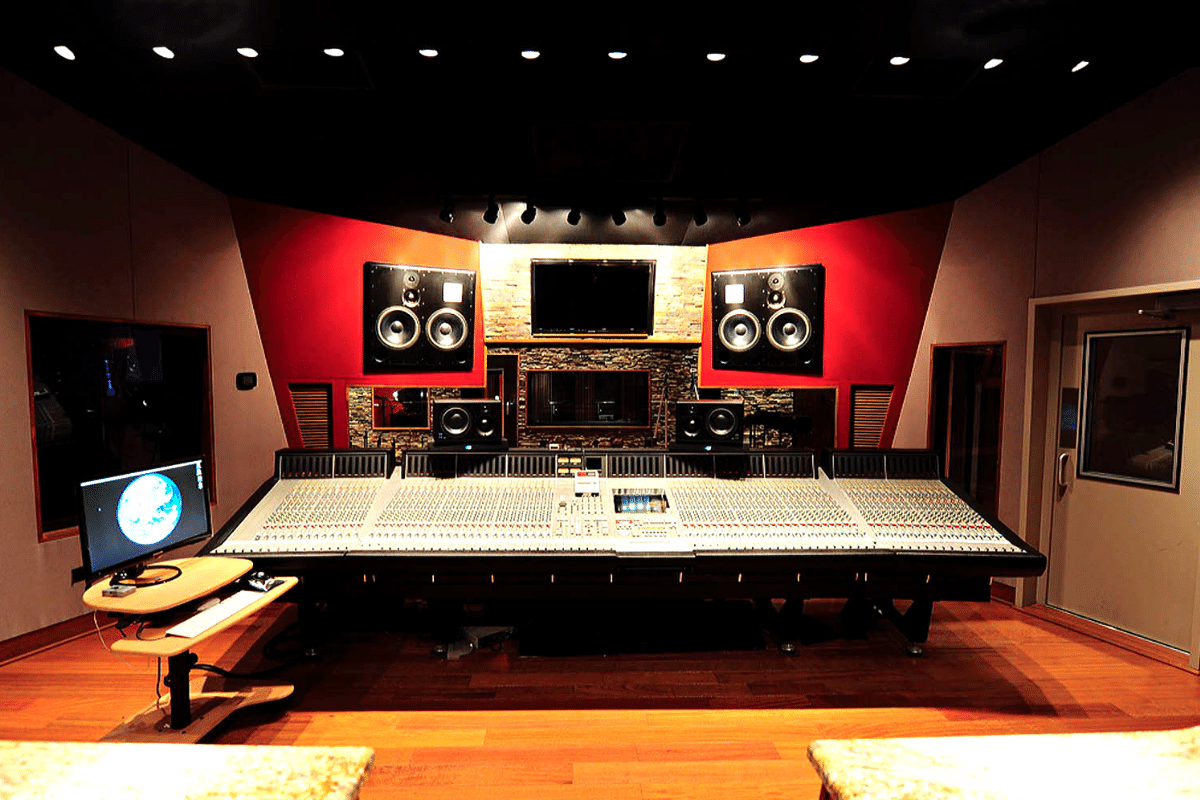 Imagine—as the name suggests—sitting right next to a real-life country music star, their session musicians, producers, and sound engineers to see in real-time how #1 hits get made behind the scenes and before anyone else hears them on the radio.
Imagine Recordings offers private groups of up to 100 the rare opportunity to experience a live, carefully curated 90-minute recording session at the historic Soundstage Studios on Music Row where over 600 #1 hits have been recorded by some of country's most famous stars and emerging artists. If you want to be the first to hear the next big hit, Imagine is your chance.
8. Wildhorse Saloon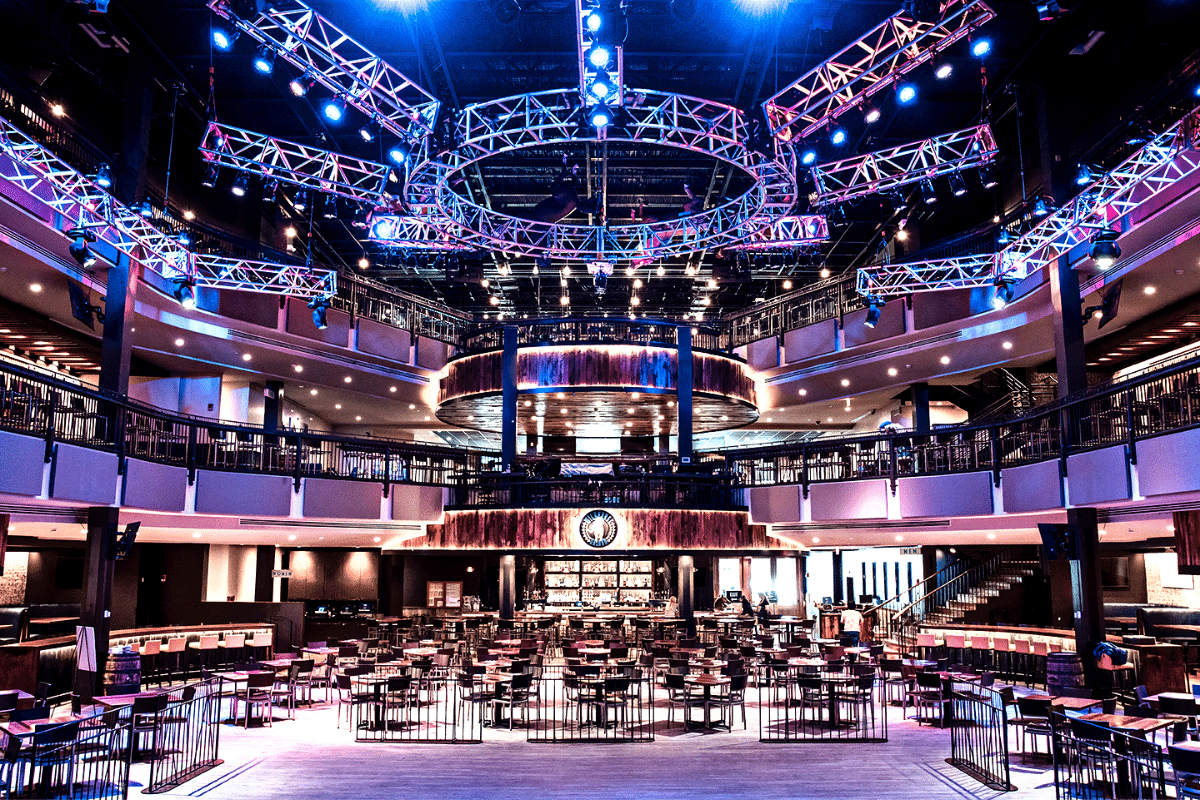 The Wildhorse Saloon literally has it all under one roof right in the heart of downtown Nashville on 2nd Street along the Cumberland River—including 66,000 square feet of dance floor, live music stages, bars, and an award-winning Southern smokehouse restaurant spread out over three floors.
It's Music City's premier venue for parties and special events, as well as one of the best places in town to learn how to line dance on the largest dance floor in Tennessee or take in a live music show from the likes of Ringo Starr and Darius Rucker.
9. Cumberland Park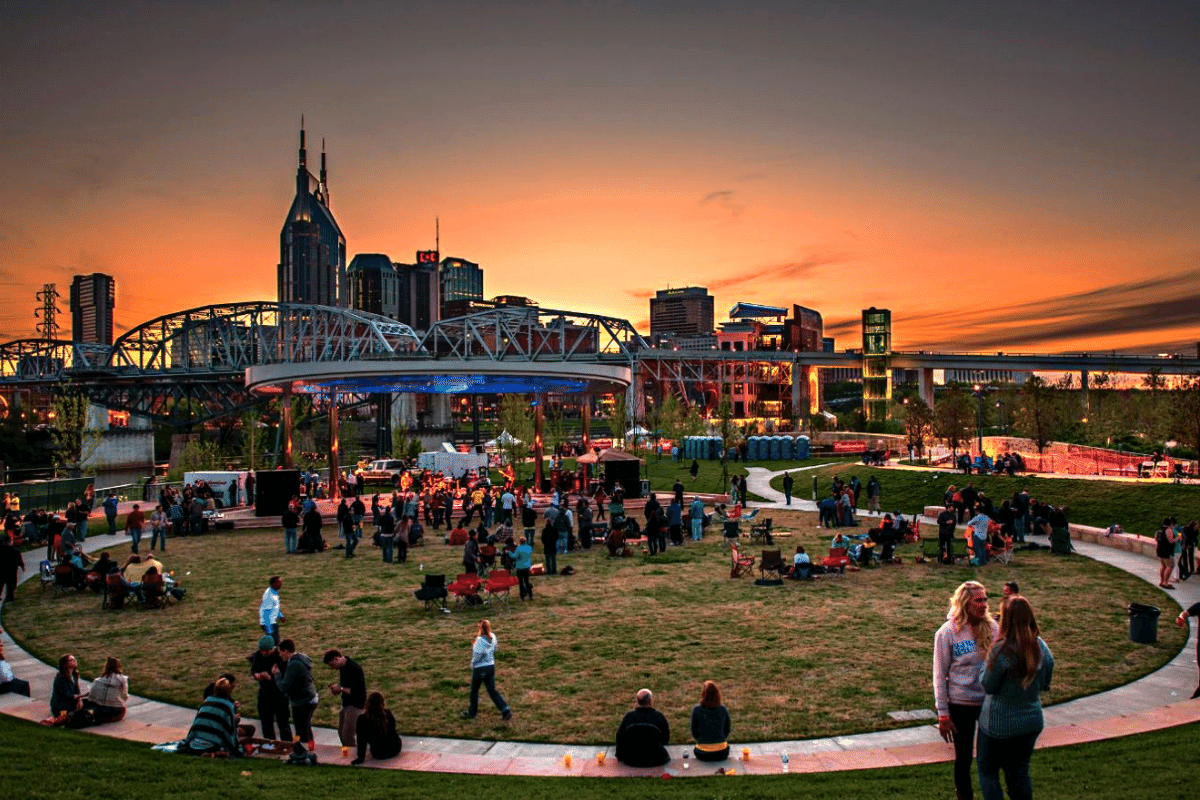 A few blocks away from the Wildhorse Saloon across the John Seigenthaler Pedestrian Bridge to the other side of the Cumberland River is the 6.5-acre Cumberland Park, one of Nashville's best open spaces for families and a waterfront stomping ground for kids of all ages.
There are bike paths, a climbing wall, trails through butterfly gardens, playgrounds, water and misting features to cool off in summer, and an outdoor amphitheater for concerts and events. If you're traveling to Nashville with kids, this park is a must-visit. It also offers stunning views of Music City's skyline throughout the day but especially at sunset.
10. General Jackson Showboat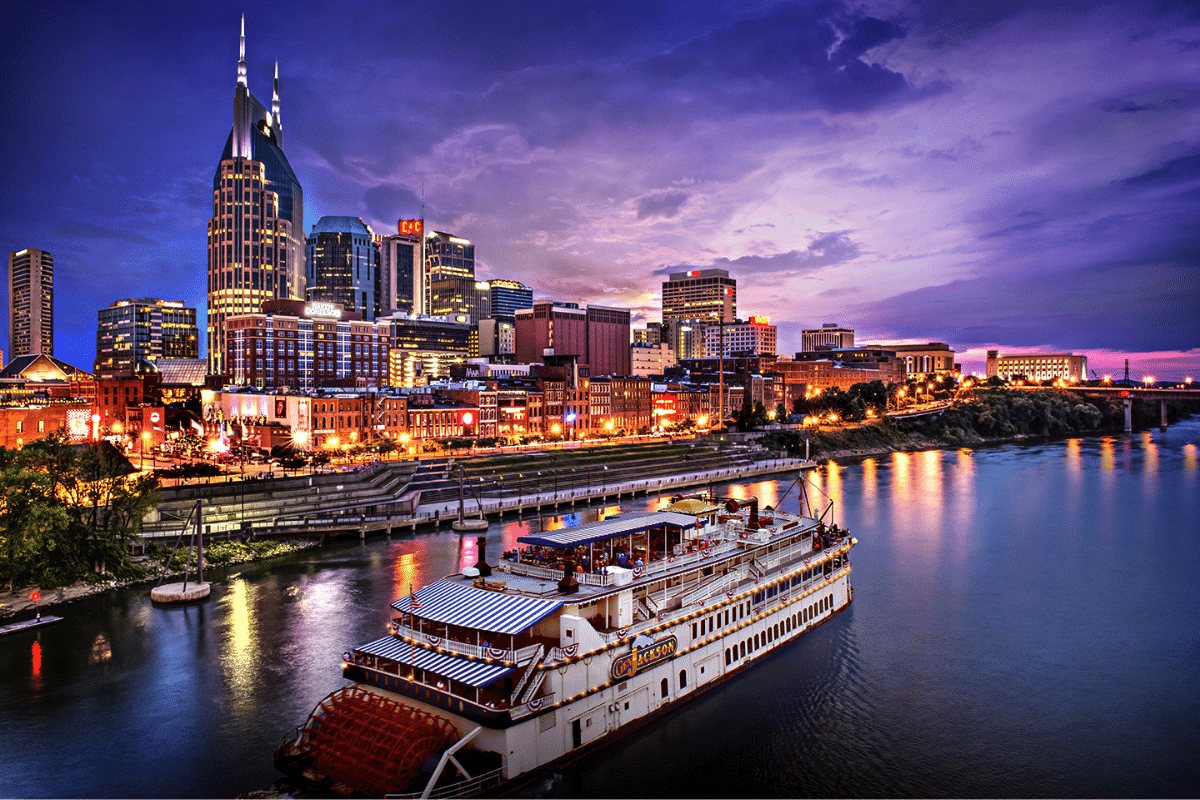 No trip to Nashville is complete without getting out onto the water and the General Jackson Showboat is the best way to experience the Cumberland River.
One of the largest showboats with a traditional paddlewheel ever built, General Jackson offers classic Southern cuisine, live music in multiple venues, and the chance to take in dinner and a show all on the same night with some of the best views of downtown Nashville imaginable. Whether you're coming to Music City for romance, business, live music, or family fun this is one trip you shouldn't miss.
11. Cheekwood Estate and Gardens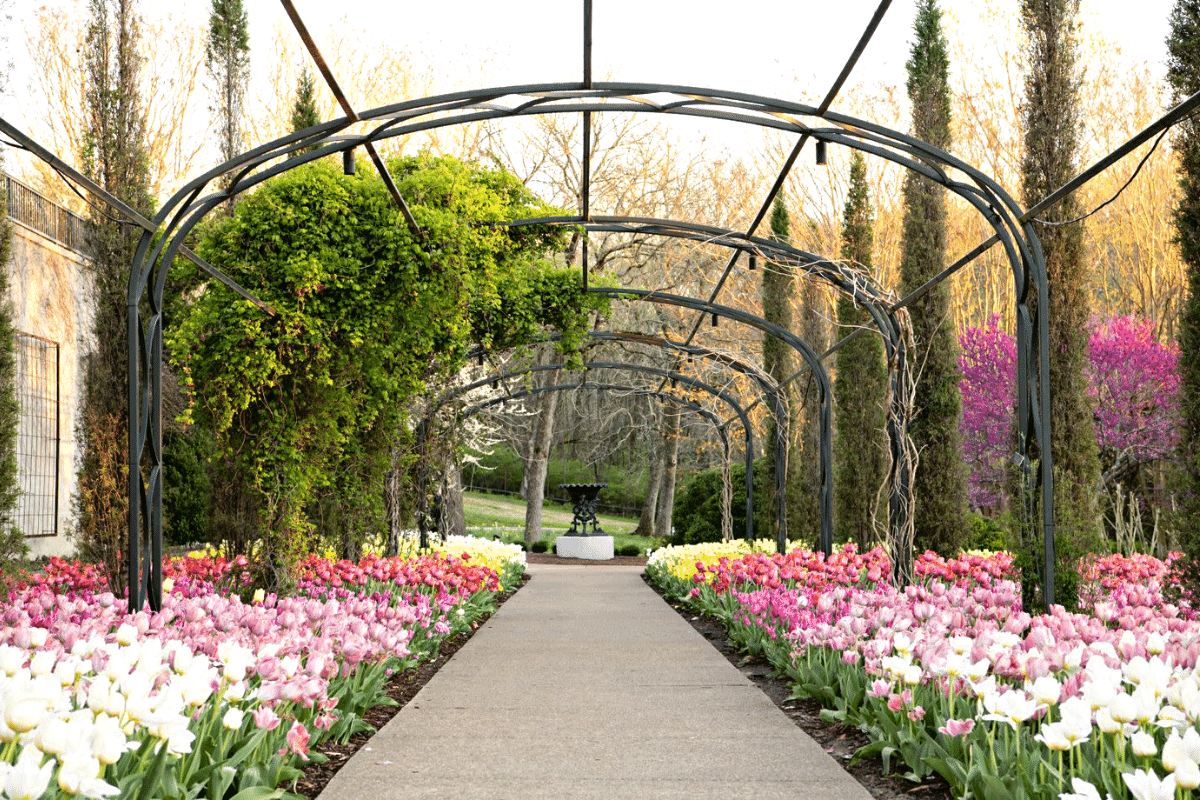 Formerly the family home of Mabel and Leslie Cheek, Cheekwood Estate and Gardens is considered one of the top botanical gardens and one of the finest American Country estates in the country.
Built in the 1930s, visitors can tour the massive Georgian mansion with its collection of over 7,000 historical objects and artwork and 55 acres of perfectly-manicured gardens with stunning views of the surrounding area. There's also a 1.5-mile-long trail that winds through modern and contemporary outdoor sculpture installations that are perfect for kids and art lovers alike.  
12. Lane Motor Museum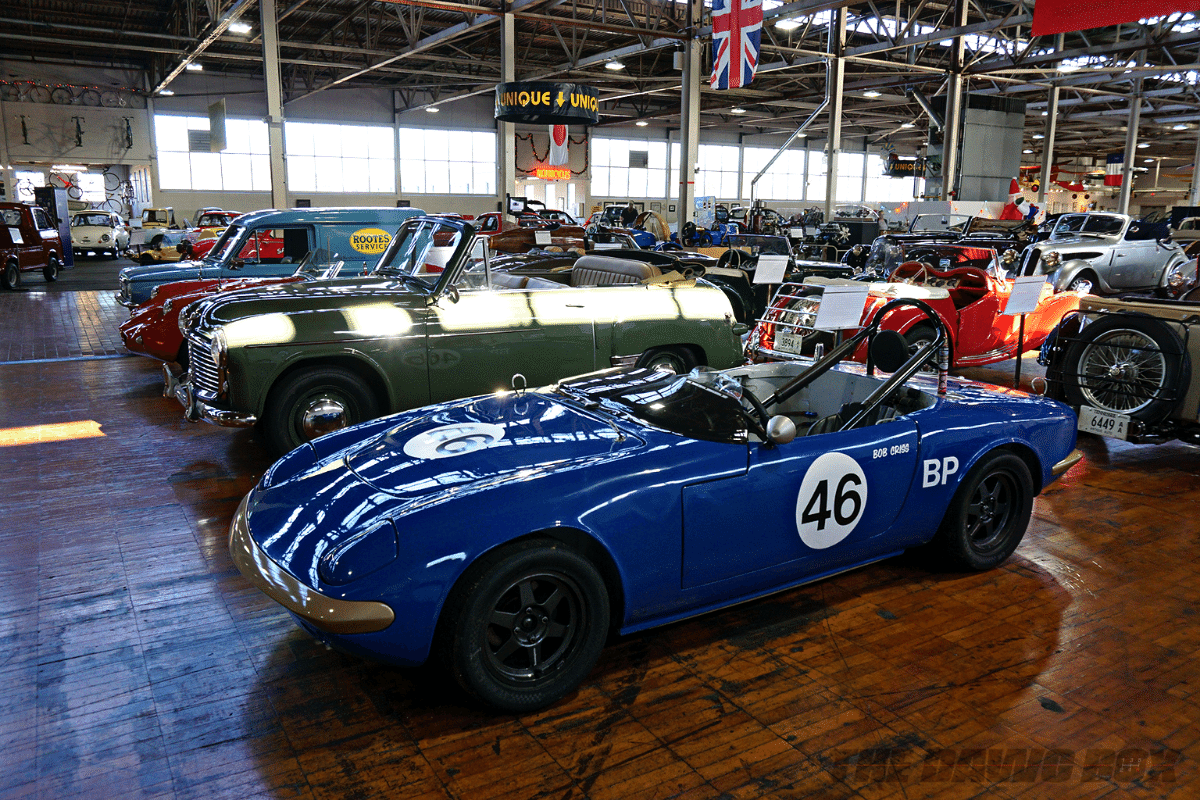 A must-visit for car enthusiasts and NASCAR fans, Nashville's Lane Motor Museum features the largest collection of European automobiles in the U.S., including more than 150 cars and motorcycles dating from the early 1900s all the way up to some of the finest sports cars made today.
All of the one-of-a-kind automobiles, microcars, amphibious and military vehicles, alternative fuel vehicles, and prototypes are maintained in pristine running order and visitors can also learn about the engineering, politics, geography, and economics that shaped the history of driving while they're marveling at the cars.
13. Frist Art Museum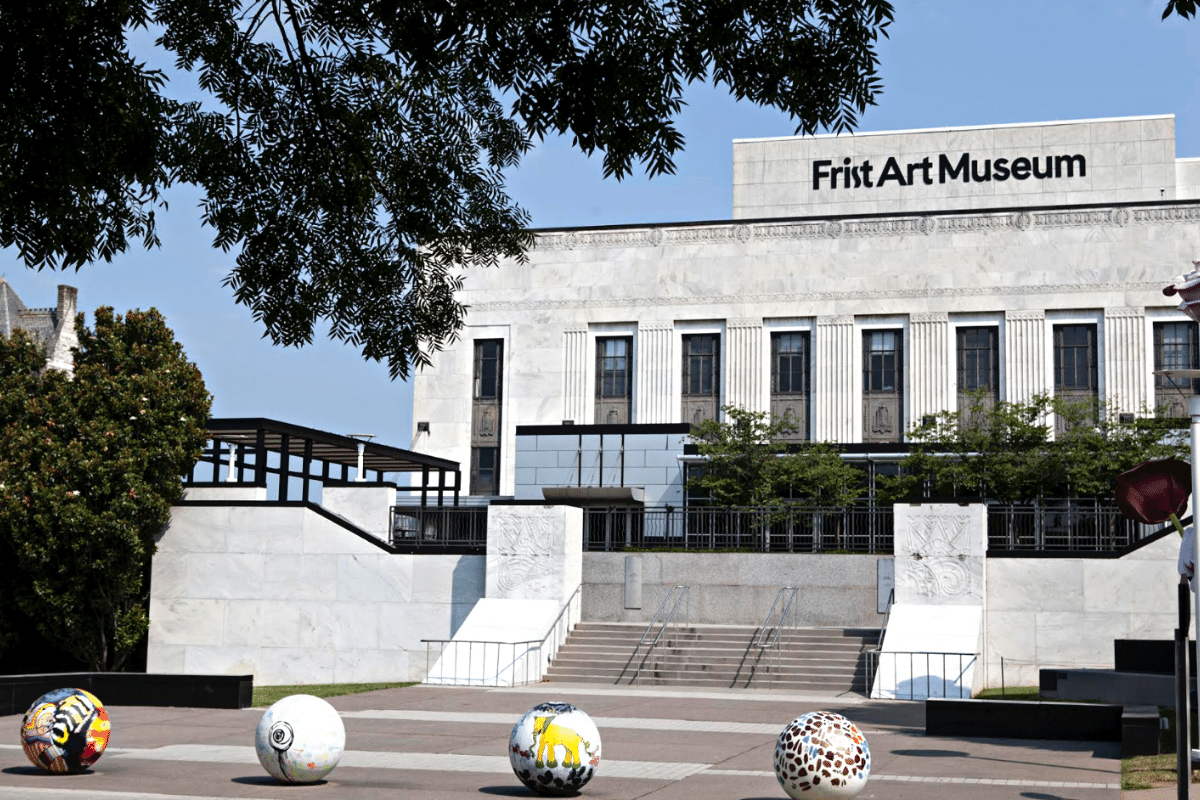 A short walk up the street from Lower Broadway's honky tonks and bars, a gorgeous white marble building that initially served as Nashville's first post office now houses the Frist Art Museum.
Opened in 2001, the Frist Museum is widely regarded as one of the finest art museums in America featuring 12-15 rotating exhibits every year from some of the most prestigious collections in the world. For families and visitors looking to enjoy great art and sculpture while they're taking a break from eating BBQ and listening to live music, this is a Nashville arts and culture must-do.
14. Adventure Science Center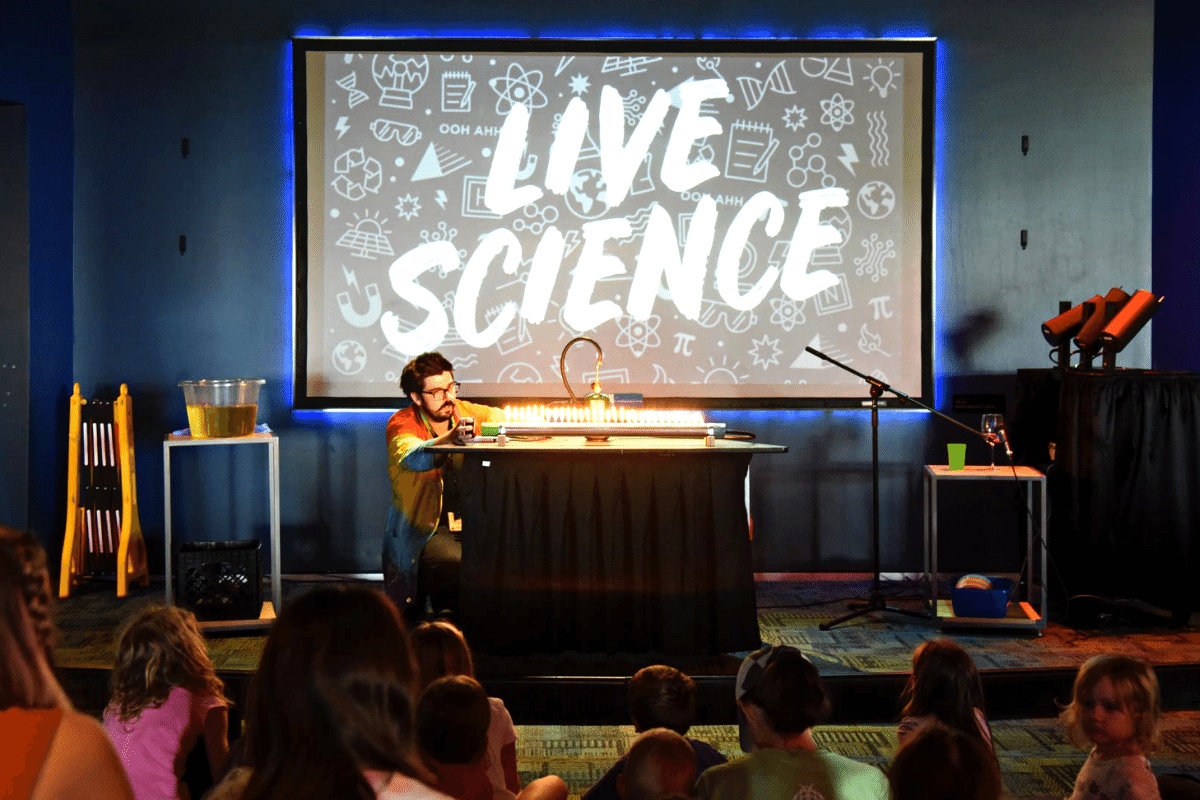 If science and adventure are more your things than sculpture and contemporary art, Nashville's Adventure Science Center offers the perfect family-friendly day to keep your kids busy, curious, and entertained.
Focused on a hands-on approach, kids are encouraged to learn about science and the natural world through interactive activities like building stations, painting classes, virtual reality experiences, live science demonstrations, and a 63-foot state-of-the-art dome theater and planetarium. There are also programs and events designed for adults like "Way Late Play Date" where visitors can learn about space through a Star Trek-themed program (all with a drink in hand).
15. Cooters (Dukes of Hazzard museum)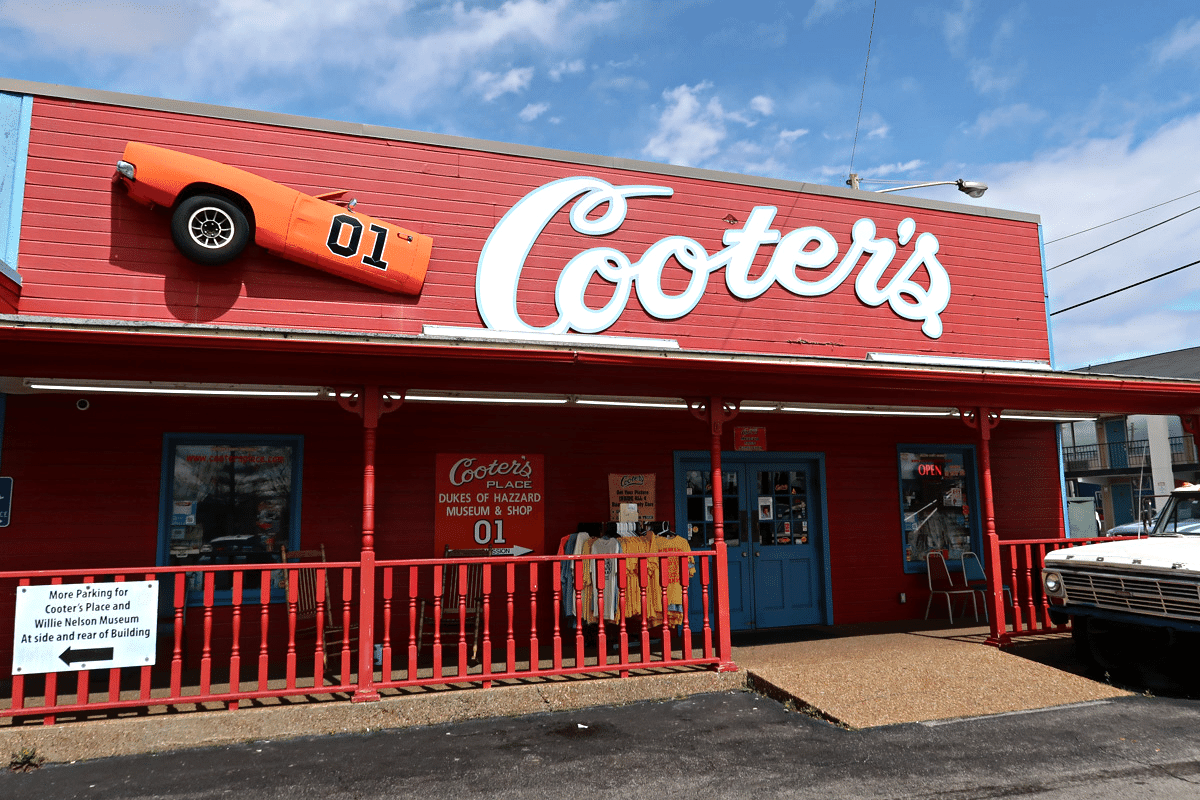 Founded by actor-turned-politician Ben Jones who played Cooter Davenport in the long-running TV series "Dukes Of Hazzard", Cooters pays homage to the cars, stunts, props, and costumes that made the show one of America's most beloved.
In addition to all of the original memorabilia, Cooters also features Cooter's Tow Truck, Daisy's Jeep, Rosco's Patrol Car, and the General Lee, the 1969 Dodge Charger that eventually became the symbol of the show for millions. For fans of the show, there are few better places for a photo op or Instagram post in Nashville than here.
16. Tootsie's Orchid Lounge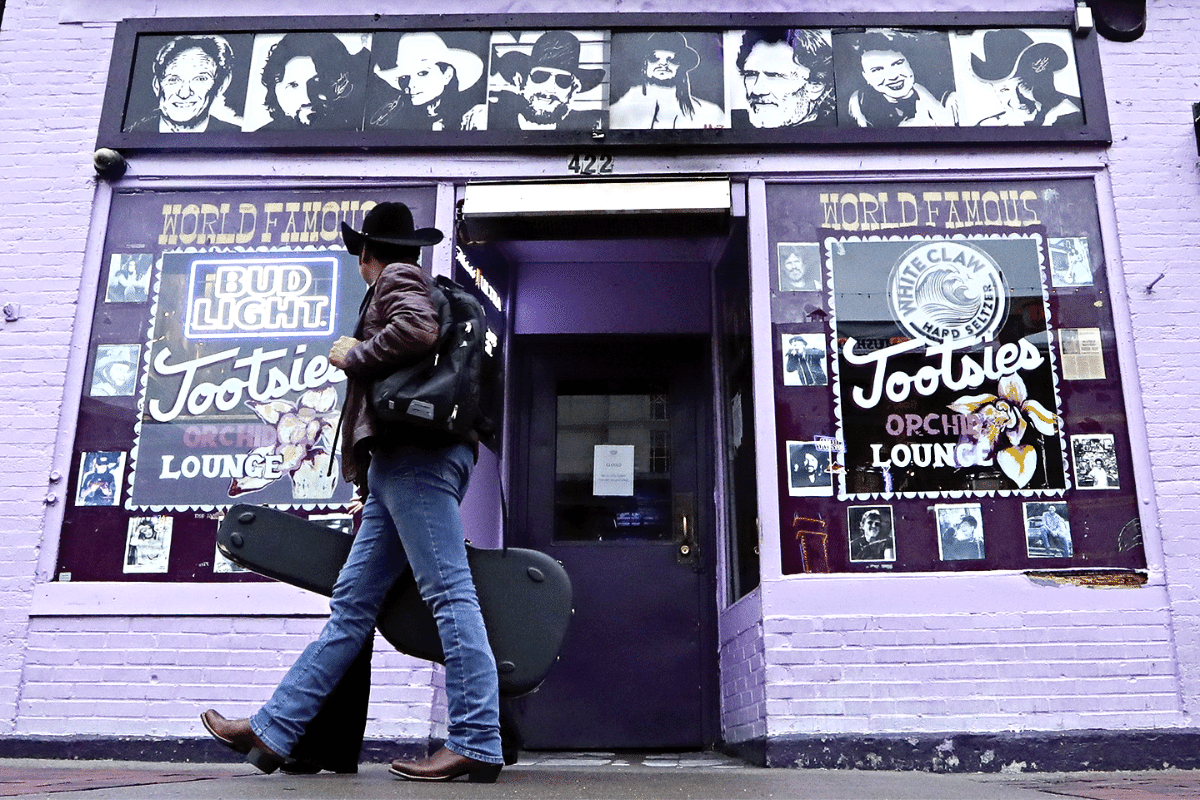 In the annals of Music City honky tonk, it doesn't get any more historic than Tootsie's Orchid Lounge on Broadway. During the day it's one of the most photographed spots in downtown Nashville with its bright purple exterior. At night, there's usually a line stretching around the corner with visitors looking to get in to sip a drink where Willie Nelson started his career, and musicians like Kris Kristofferson, Waylon Jennings, and Patsy Cline were once regular customers.
Despite its rich history, Tootsie's is still also one of Nashville's best honky tonks to hear live music so try to get in for a show if you can. You'll feel like you're a part of country music history.
17. Printer's Alley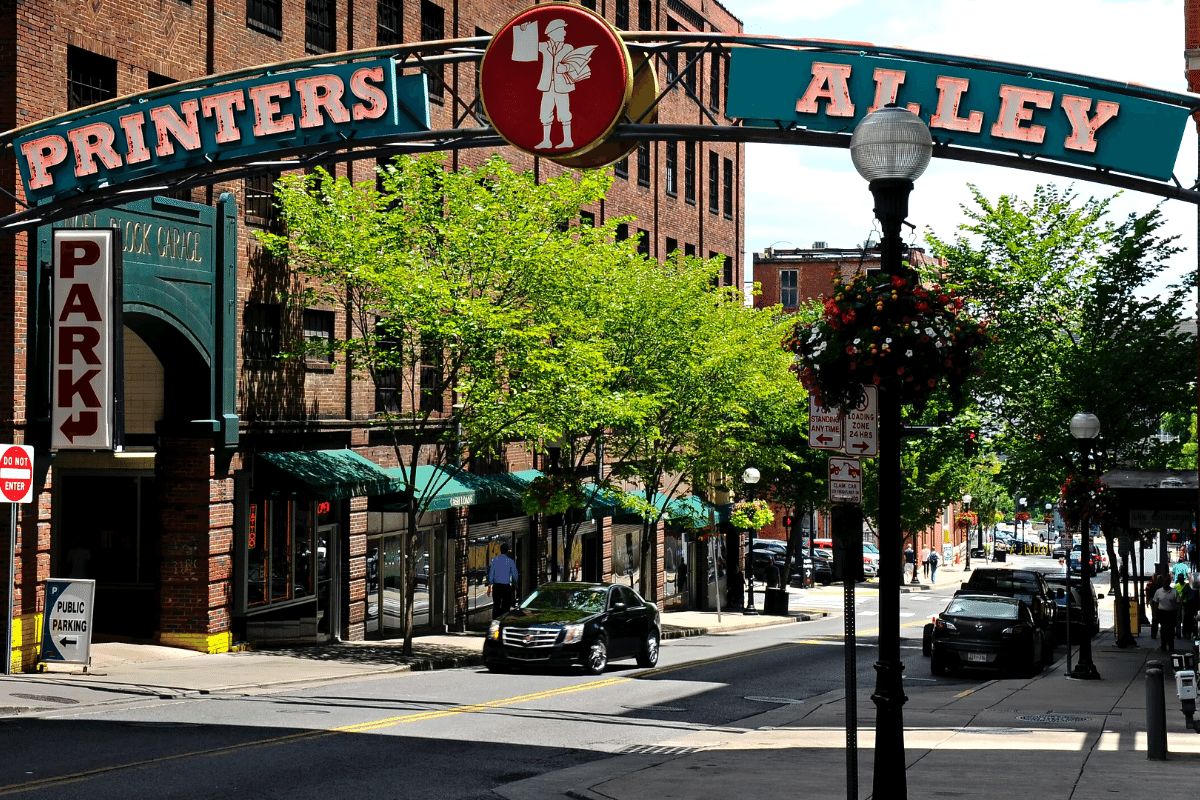 Originally the epicenter of Nashville's printing industry stretching back to the late 1800s and home to Music City's speakeasies during Prohibition, Printer's Alley is now ground zero for Nashville's thriving nightclub scene which has been evolving since the 1940s when the first one opened here.
The place has a kind of Broadway-meets-European feel to it since no cars are allowed and there's always a vibrant foot traffic scene with nightlife gathering outside of the clubs, bars, and burlesque joints. With its bright lights and neon signs, it's also another one of Nashville's best spots for selfies and Instagram posts.
18. Hatch Show Print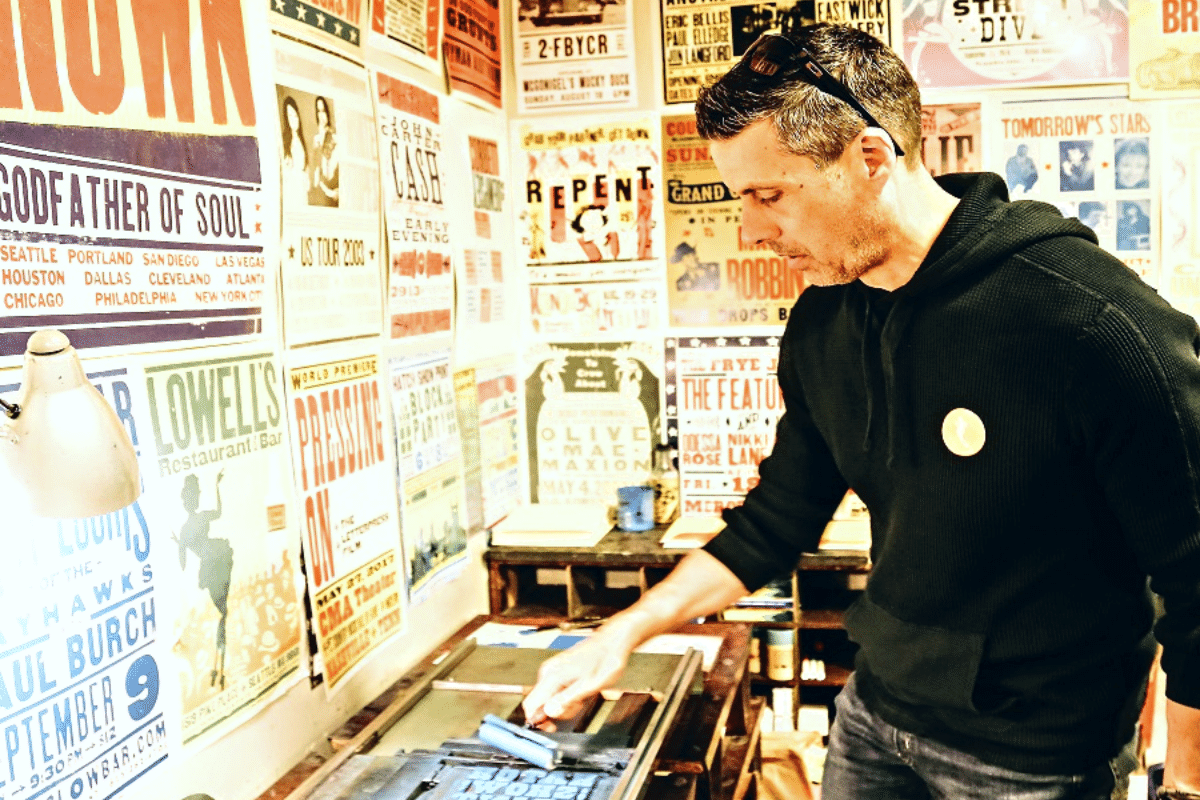 Hatch Show Print is as historically embedded into Nashville's country music scene as the Grand Ole Opry and Ryman Theater. It's one of America's oldest working letterpress poster shops that's been in business since 1879, churning out original art and show posters for three generations of Music City stars and entertainers from Elvis Presley in the old days to today's hottest country music artists.
Visitors can tour the shop, watch the old-school style printing presses in action, and even have an original poster of their own made on-site to commemorate their trip. If music is any part of why you're coming to town, this is a can't-miss destination.
19. See A Nashville Predators NHL Game
The Nashville Predators, or the "Preds" as they're called locally, have been one of the top professional ice hockey teams for the past decade, reaching the NHL Finals in 2017. And once the puck drops in "Smashville" from November to June you'd better hold on to your hats since the Preds are renowned around the league for the fast-paced, hard-hitting game.
The best part about seeing the Preds play live, however, is what happens before and after the game. Unlike most NHL arenas which are located miles from downtown, the Preds home ice at Bridgestone Arena is within walking distance of Lower Broadway. So, the only thing louder than the fans themselves is typically the bands at the honkytonks you can walk to afterward.
20. Gaylord Opryland Resort and Convention Center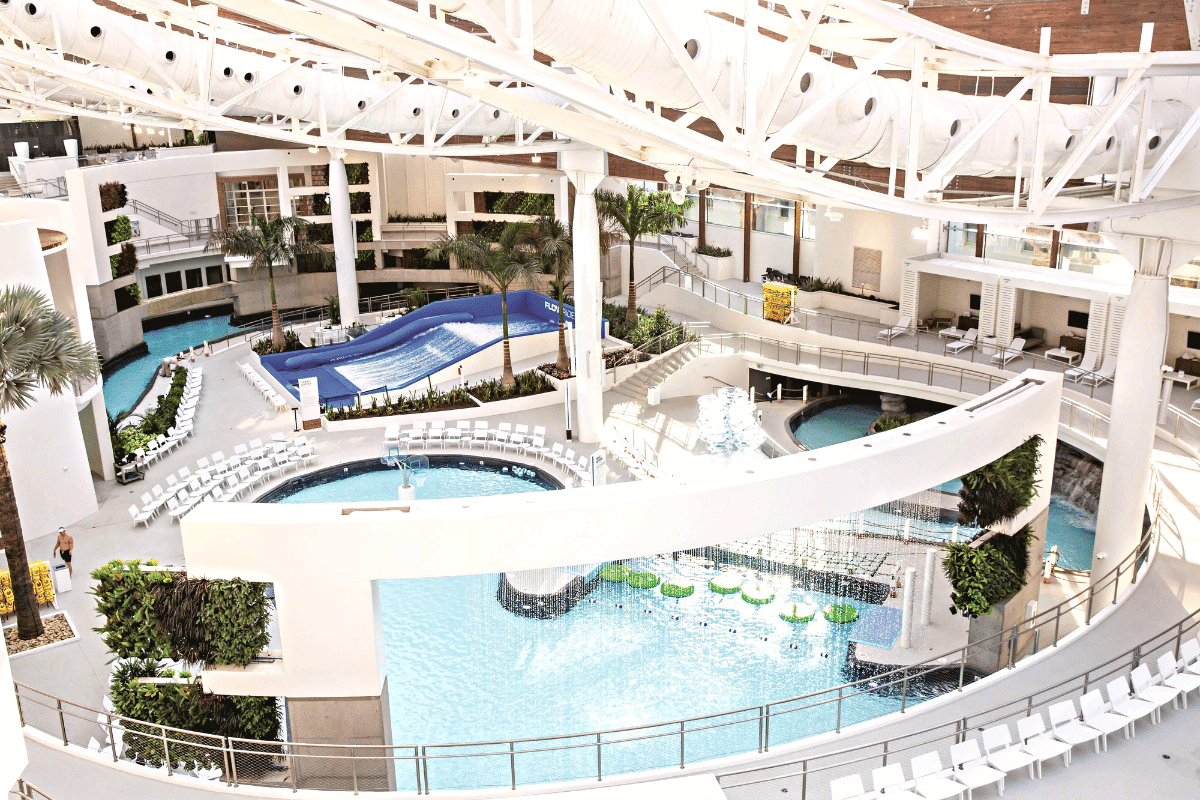 Gaylord Opryland Resort and Convention Center is more an adventure than it is a typical resort or hotel. So, if you're looking for a place to stay in Nashville that you'd never want to leave this is it.
The 9-acre atrium looks like a glassed-in city featuring waterfalls, fountains, and reflecting pools open year-round along with more than a dozen restaurants, a world-class spa, 2,712 luxury rooms, and 176 suites. There's also a golf course and SoundWaves, Nashville's premier water park. You could easily spend a week on a family vacation here and never run out of things to do.
21. Nashville Shores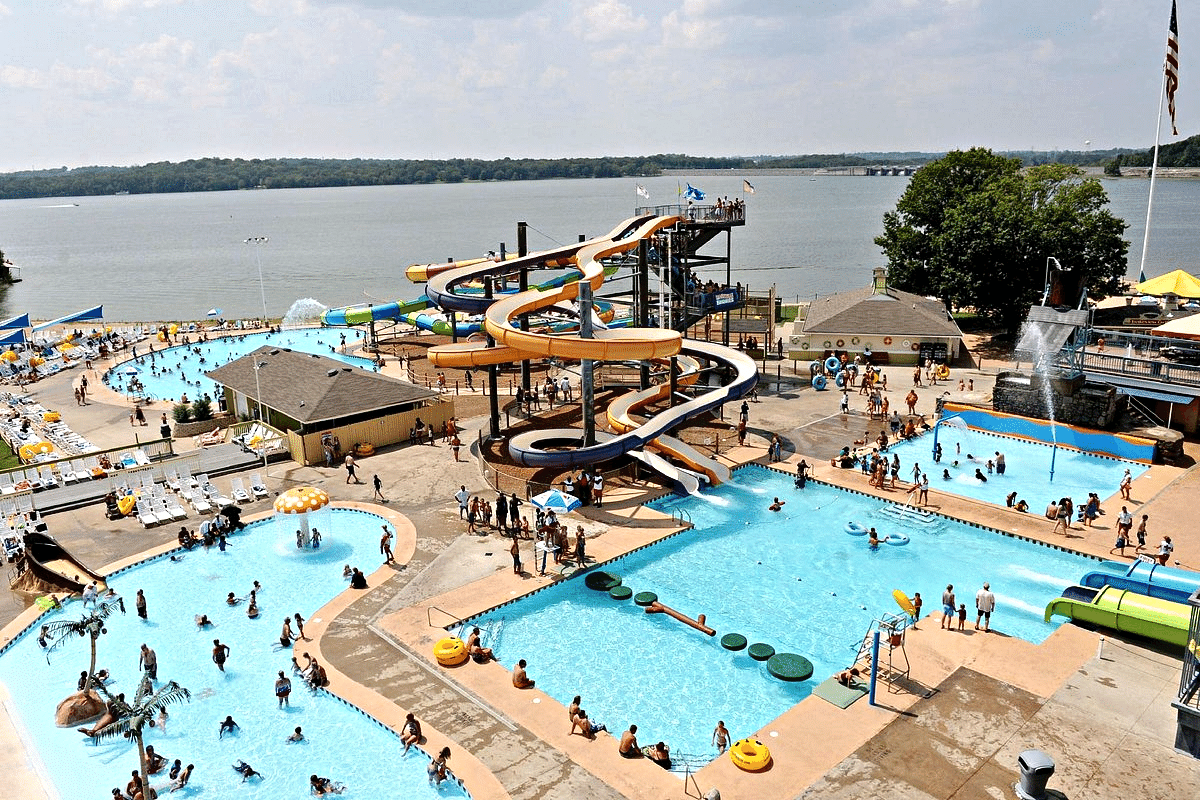 Speaking of waterparks, if aquatic adventure is what gets your family's play-all-day pulse up no visit to Nashville or Tennessee is complete without an afternoon at Nashville Shores.
Powered by more than a million gallons of water, the wave pools, splash pads, water slides, pools, and rivers comprise one of the largest outdoor waterparks in the country. Nashville Shores also features a treetop adventure course with zip lines, cargo nets, and rope courses spanning the canopies so you're done underwater you can soar in the sky.
22. Nashville Zoo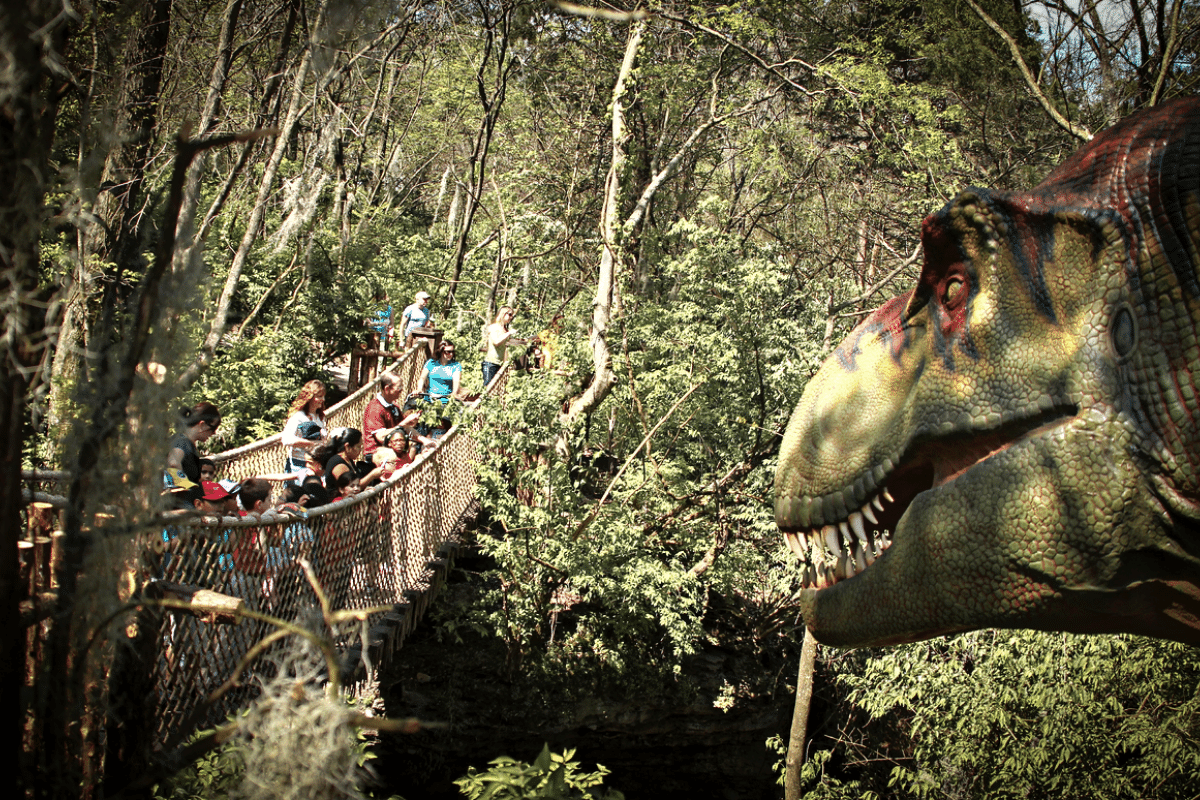 America's 9th largest zoo located six miles south of downtown, the Nashville Zoo is the ideal family-friendly activity for visitors during the day between learning to line dance and honky tonk crawling at night.
The Nashville Zoo houses more than 3,000 animals from 350 different species spread out over 188 acres that were once a historic 1800s homestead (the original home is still there). The zoo also offers camps and classes for kids as well as one-on-one animal interactions for feeding and taking pictures.
23. The Hermitage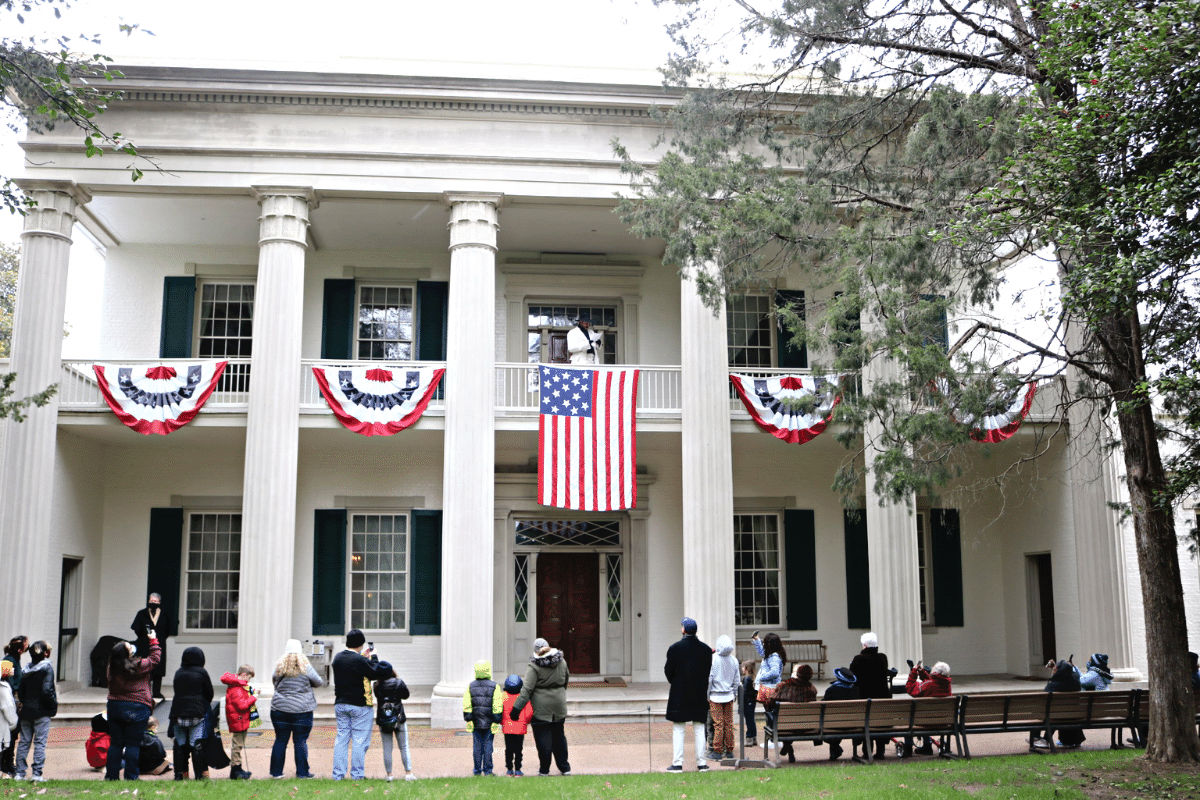 Andrew Jackson's Hermitage is the former home of President Andrew Jackson (1829-1837) and one of the largest and most-visited presidential estates and museums in the country.
Featuring more than 30 historic, plantation-style buildings and 1,120 acres of gardens, walking trails, and three event venues, it's one of the best places in middle Tennessee for families and kids to get outside while also learning about America's amazing and complicated past. Hermitage is located minutes from Nashville as well as the Gaylord Opryland Resort so it's a short jaunt from downtown for an extraordinary historical and architectural experience.
24. Belle Meade Historic Site And Winery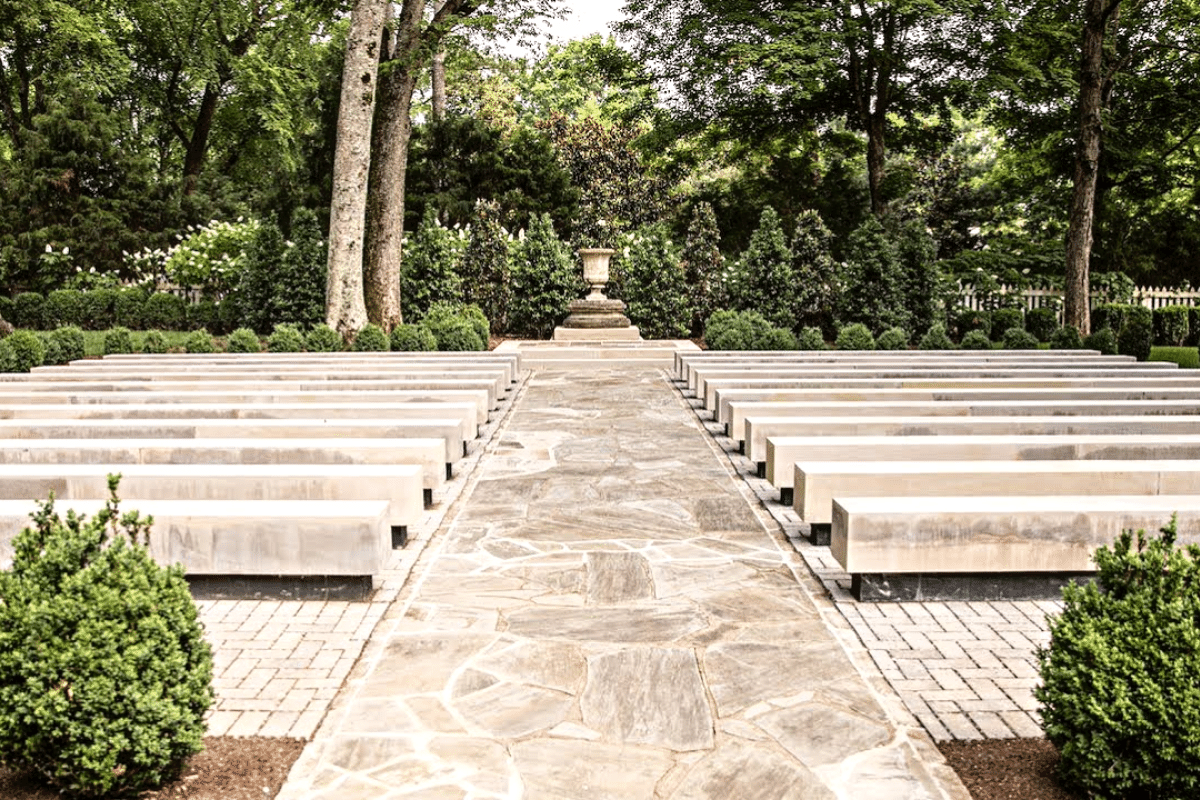 In addition to Hermitage, Belle Meade Historic Site And Winery is the best place in the Nashville area to learn about Tennessee's history and get outside while also getting a taste of true Southern Hospitality in a historic and architectural sanctuary.
Once one of the largest private estates in Nashville covering over 5400 acres, visitors today can take two historic tours, explore the estate's remaining 30 acres on trails, visit the winery and restaurant which serves up authentic Southern cuisine and enjoy special events like Food and Wine Pairings, Bourbon Experiences, and Segway Tours.
25. Tennessee Performing Arts Center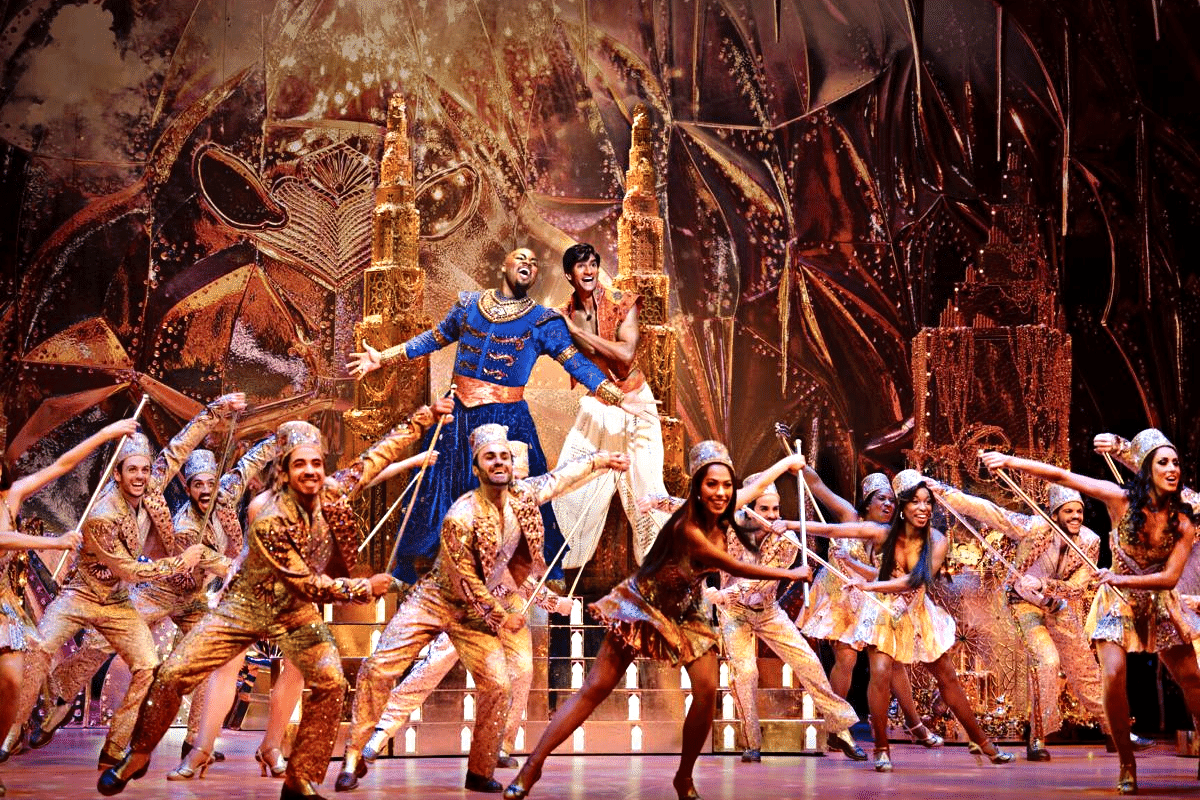 The Tennessee Performing Arts Center, or TPAC, is the hub of Nashville's cultural scene taking up an entire block downtown across the street from the Tennessee State Capitol building, and a can't-miss venue for arts and performance lovers coming into town.
TPAC regularly hosts some of the most popular Broadway musicals and operas in the country, like Hamilton, Rent, and La Boheme, while also showcasing comedy nights, drama, and onstage cabaret performances. For a classy night out on the town in Music City, it all starts here.
26. Tennessee Sports Hall of Fame and Museum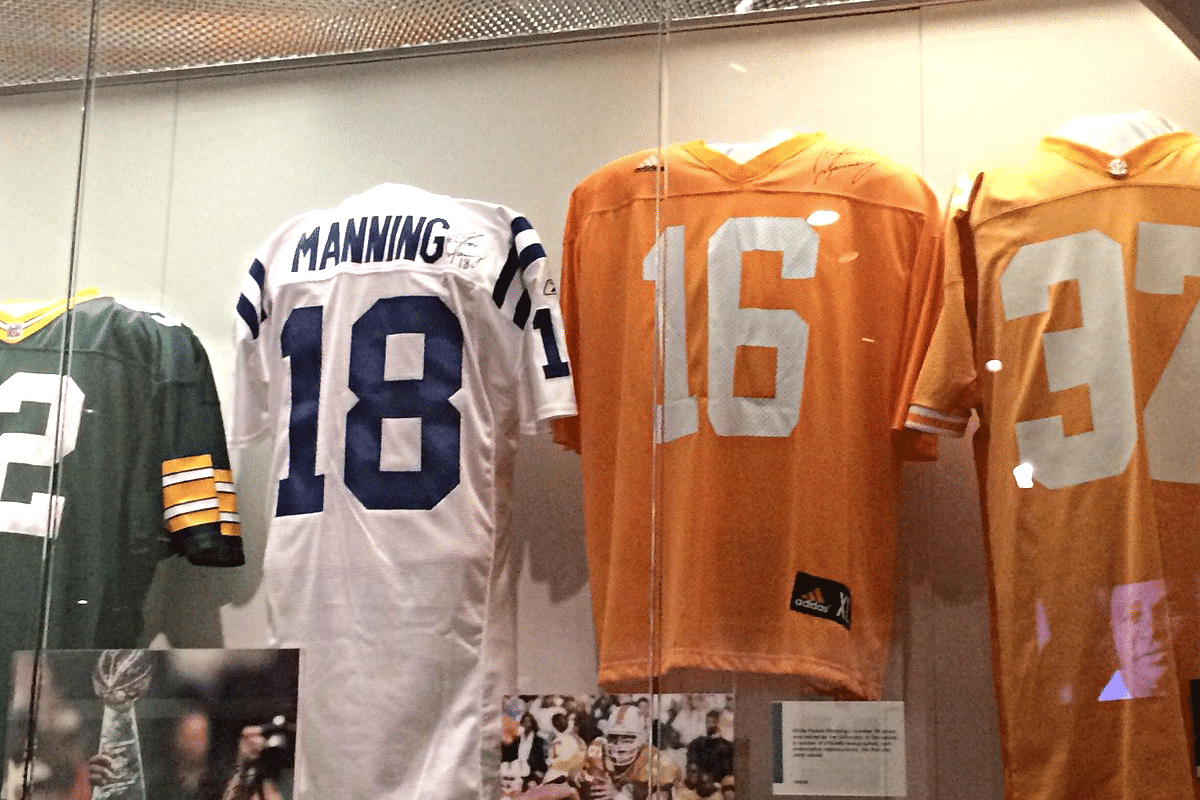 For anyone who loves sports, the best place to visit in downtown Nashville is the Tennessee Sports Hall of Fame and Museum, which celebrates the hundreds of professional, collegiate, Olympic, and other trophy-winning athletes who have come out of Tennessee—like NFL quarterbacks Peyton and Eli Manning.
Located in the Bridgestone Arena complex where the Nashville Predators play, visitors can learn about the Volunteer State's most famous athletes, dress up in jerseys and pads for some photo ops, and then head over to Broadway for a little honky tonk.
27. Nashville Symphony Schermerhorn Center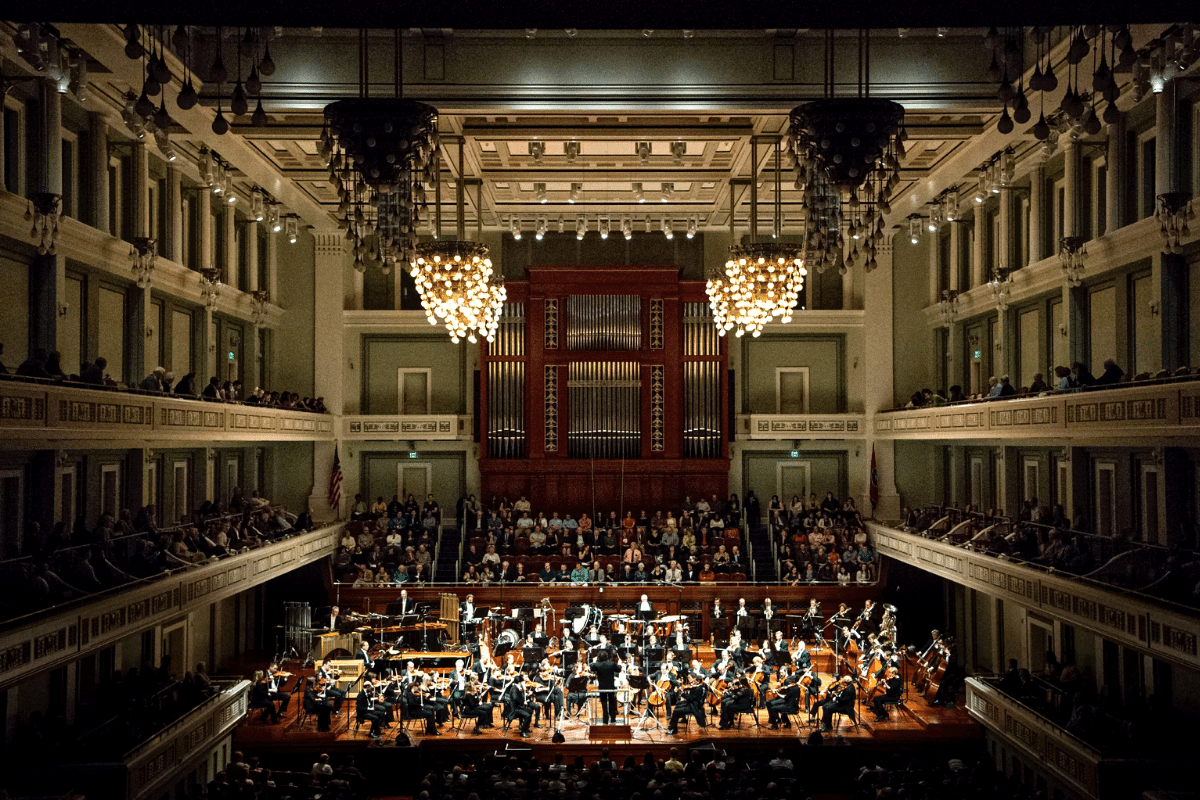 The Nashville Symphony has been a fixture of Music City since 1946 and is one of the most prolific recording orchestras in America, though it doesn't get the same famous billing worldwide as Broadway's honky tonks.
Built in 2006, the Schermerhorn Symphony Center which is the orchestra's home is considered one of the world's finest acoustical venues, and in addition to its classic performances presents a wide variety of pop, jazz, country, and family shows for tastes of all types and crowds of all ages. So, if you're ever feeling like you've had too much honky tonk while you're in Nashville, this is the place to open your musical senses back up.
28. Pinewood Social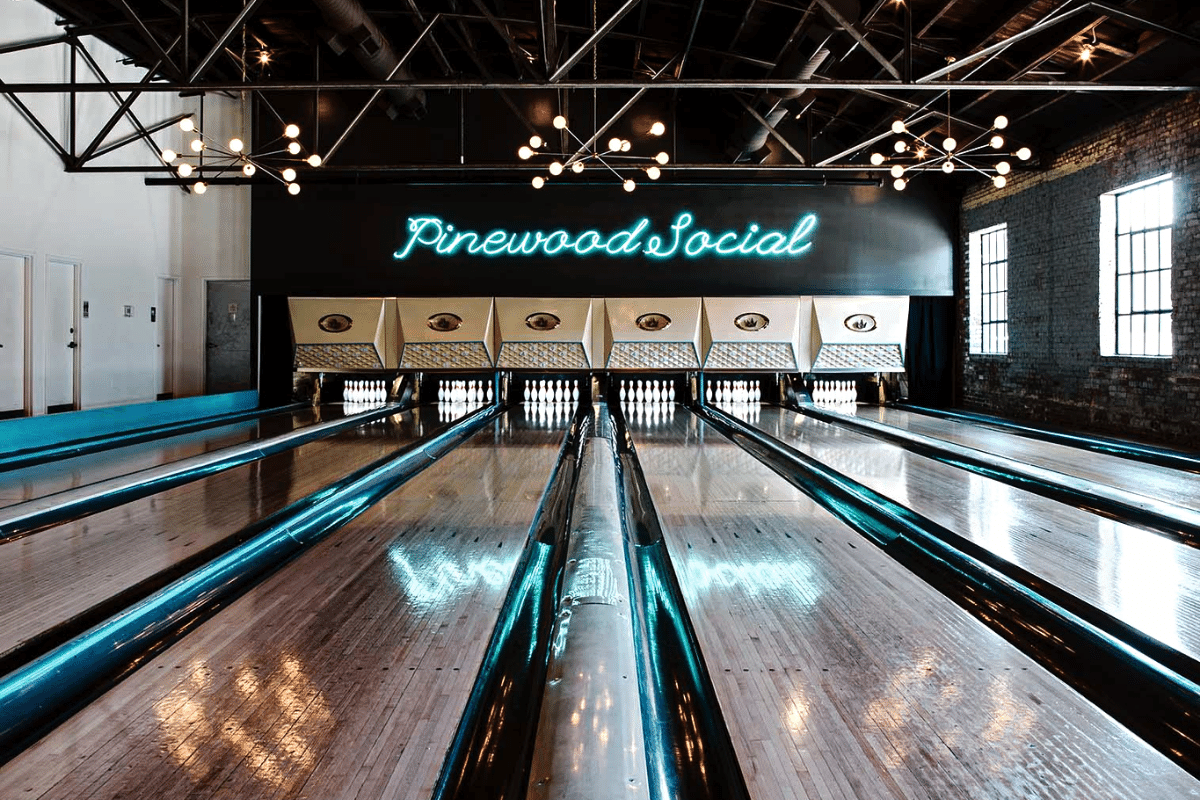 Nashville's recently become known for its world-class and relentlessly creative culinary scene and no venue represents that fusion with Music City's reputation for fun than Pinewood Social.
The industrial-chic venue is a part coffee shop and work-from-home space during the day and part trendy restaurant and craft cocktail bar at night Pinewood Social, and since it opened has become one of Nashville's premier places to see and to be seen. It's also got six bowling lanes reclaimed from an old Bowl O' Rama and two 4-deep wading pools next to an Airstream bar so you'll like to come here and stay all day (and night).
29. The Escape Game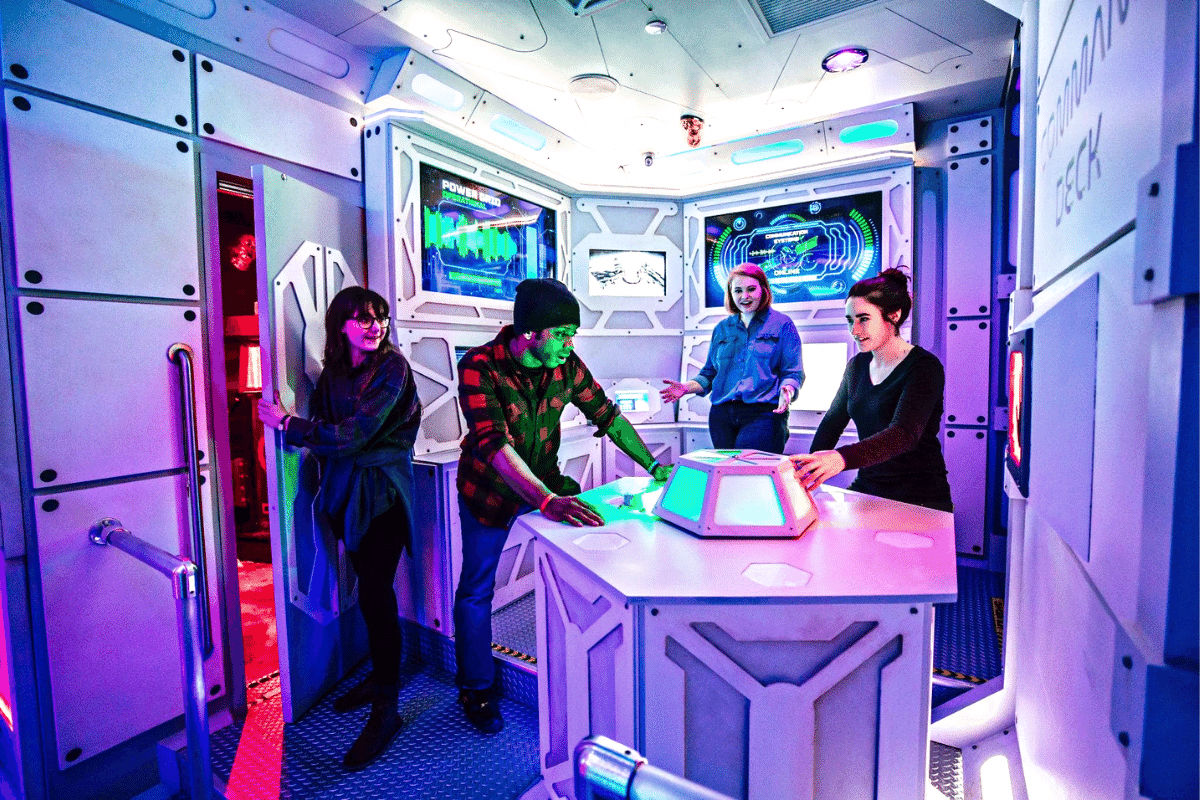 The Escape Game in downtown Nashville has become one of the city's hottest new things for friends, families, and coworkers to do and it's just as much of an adventure for visitors coming into town to add a little adrenaline to their trip.
Featuring 11 different escape room themes like Prison Break, Forbidden Treasure, or The Heist, visitors participate in an immersive, 60-minute, real-life adventure game that will force you to solve puzzles, uncover clues, and crack codes to escape the room. If you're looking for the place where Music City meets the metaverse this is definitely it.
30. Centennial Park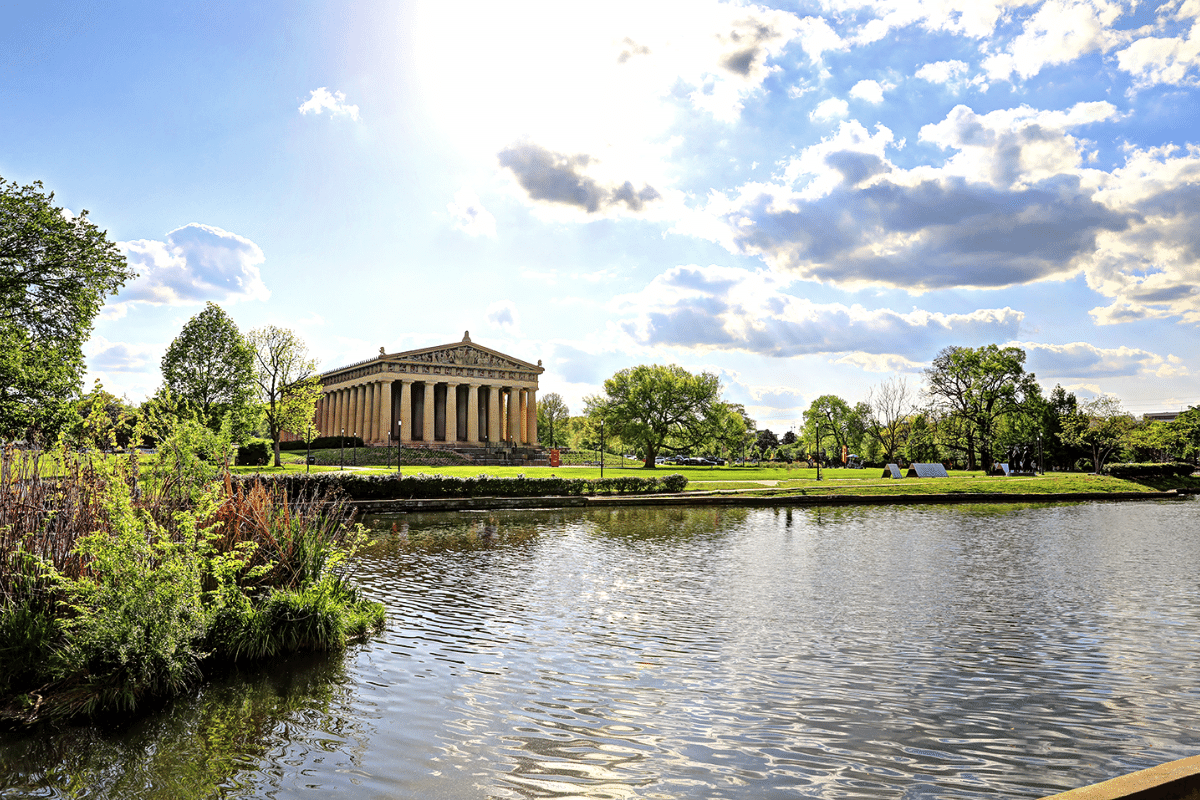 Centennial Park is Nashville's largest park located next to up-and-coming Midtown and Vanderbilt University. At 132 acres, it's home to the iconic Parthenon (see below), walking trails, Lake Watauga, historic monuments, an arts and activity center, a band pavilion, a dog park, and sand volleyball courts, while also hosting regular events, exhibits, and festivals.
If you're looking to get outside, clear your head, and breathe some fresh Southern air during your visit to Nashville just a short Uber ride from downtown, this oasis of calm and green within the sea of live music and honky tonk venues will restore your soul.
31. The Parthenon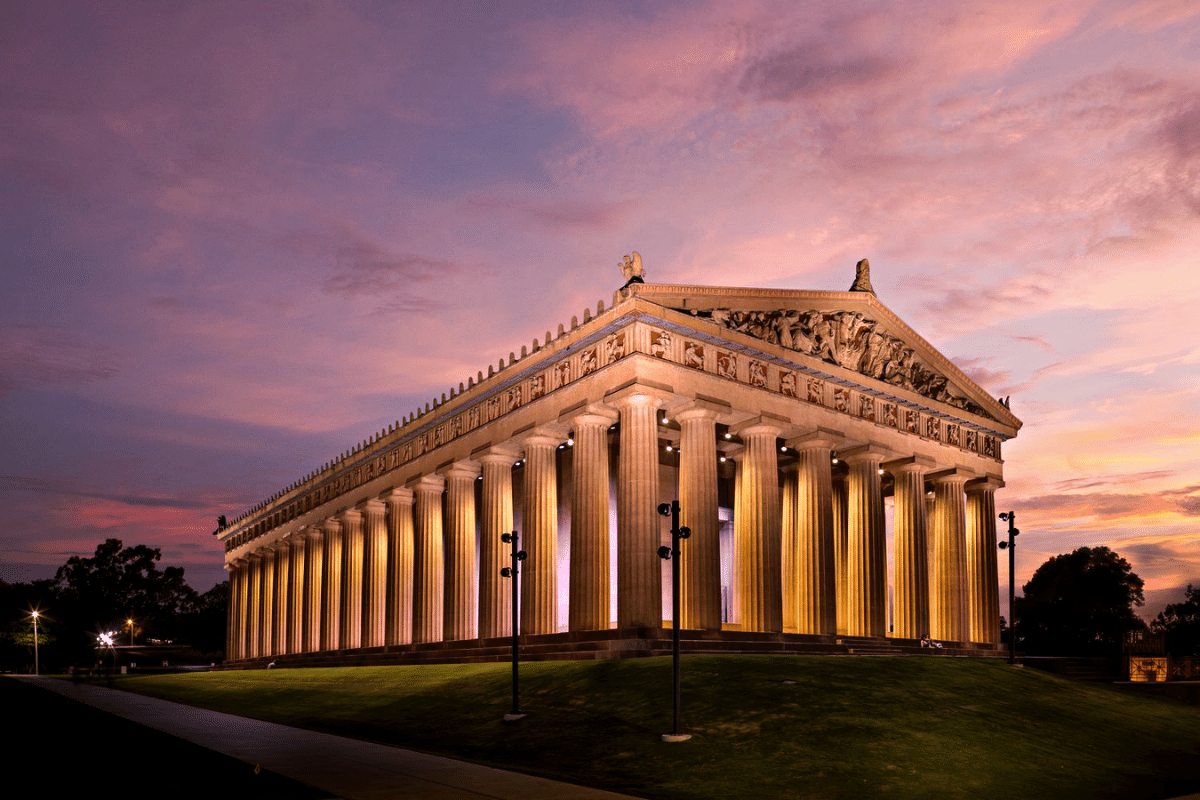 Located within Centennial Park, Nashville's Parthenon is the world's only full-scale reproduction of the famous Greek temple in Athens and one of the architectural wonders of Music City.
Legend has it that its original builders liked the idea of Nashville being called the "Athens of the South" because of its many institutions of higher learning so they figured they'd pay homage to the place where Western intellectual traditions began. Today, the Parthenon houses Nashville's city art museum along with the Athena Parthenos, the tallest indoor sculpture in the Western world at 42'. Make sure your phone battery is charged before you head here: you'll be taking a lot of photos.
32. Tennessee State Prison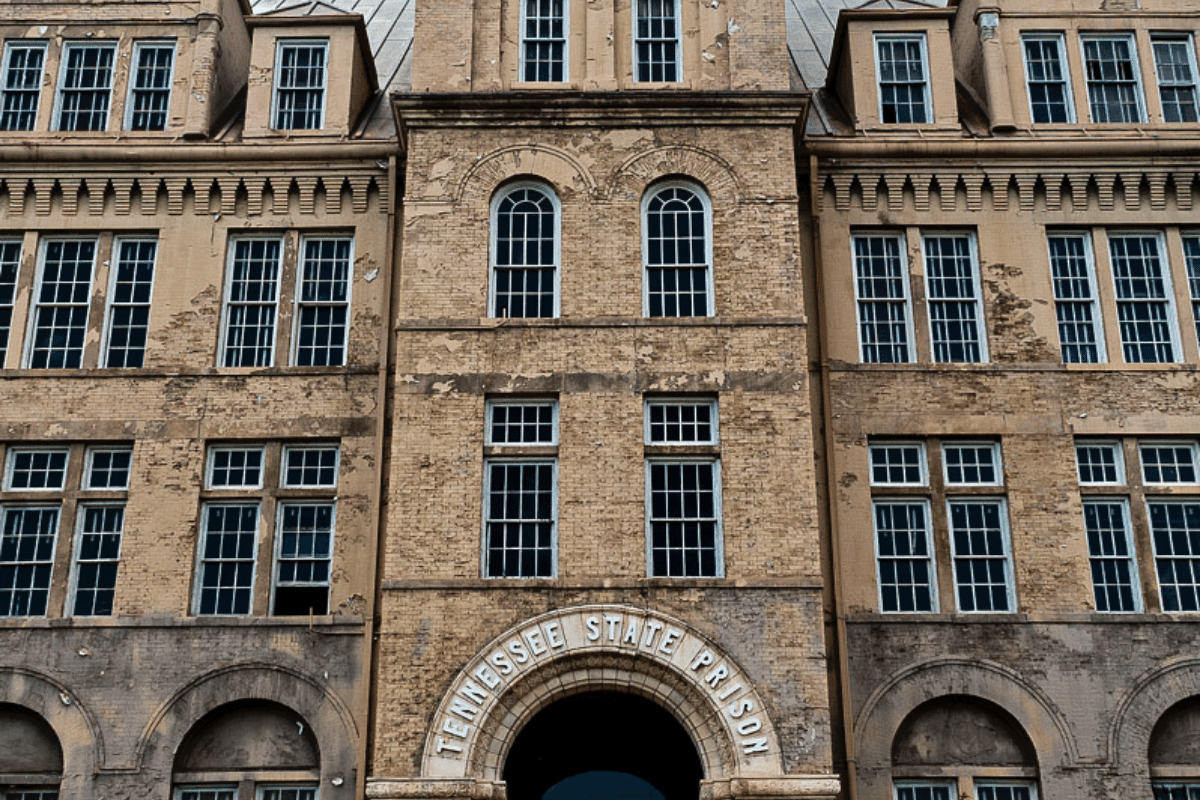 If Tennessee State Prison looks like something out of a movie with its Medieval-style architecture and spiked towers, it's because it is. The Green Mile starring Tom Hanks was filmed here along with several other famous films.
Today, the prison is empty and visitors can't go inside. But it's definitely worth a drive-by to take in its imposing presence, think about the stripe-suited prisoners who toiled away for years here doing manual labor and snap a few photos for your travelogue. There's a good chance you'll never see another prison like this again—especially one with such a distinguished Hollywood pedigree.
33. Vanderbilt Dyer Observatory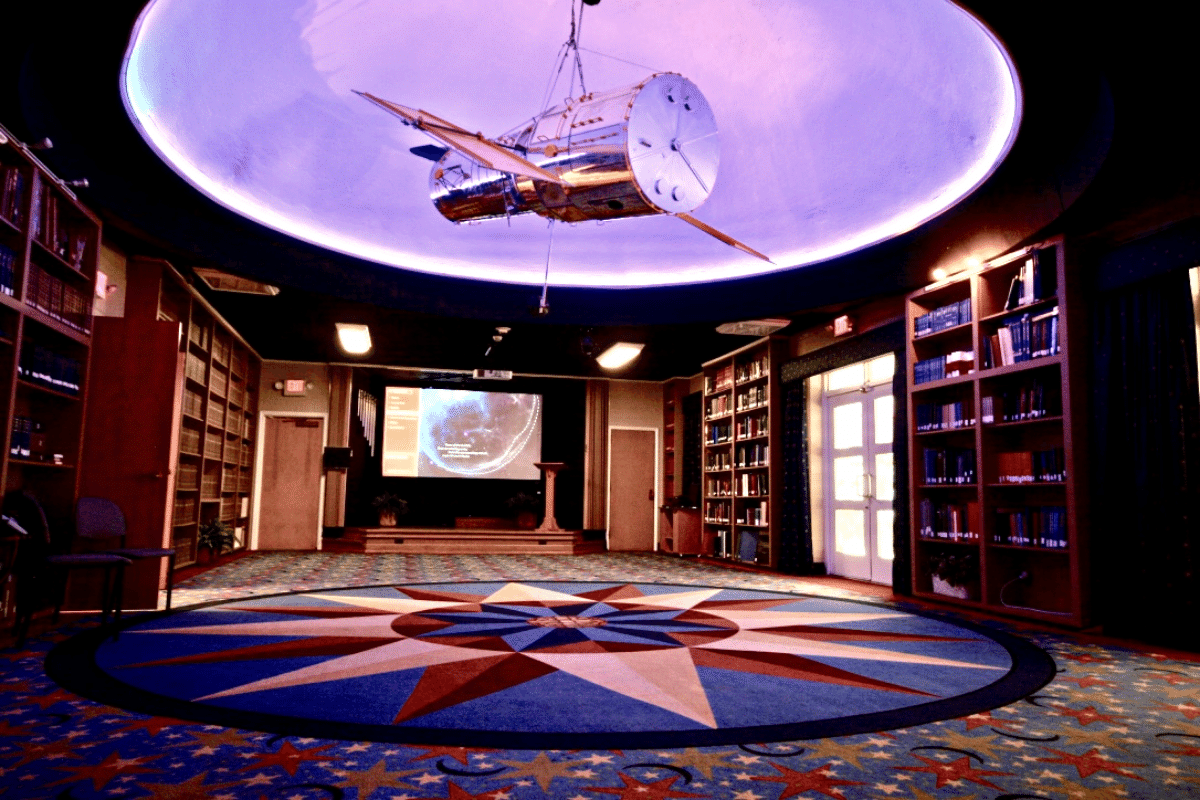 Crowning one of Nashville's tallest peaks 20 minutes south of downtown, Vanderbilt Dyer Observatory offers park-like grounds, distinctive architecture, and amazing views of the landscape surrounding Radnor Lake State Park, making it one of the best places for nature lovers the chance to experience Middle Tennessee's outdoors without much of a drive.
Visitors can participate in dozens of different educational, social, and celestial events like Telescope Nights, Meet The Astronomer Evenings, and the Bluebird On The Mountain concert series.
Still looking for a place to stay? Check out our Nashville vacation rentals.