What is Sedona Known For?
Sedona is an Arizona desert town near Flagstaff known for its famous red rock formations, native American history, sacred and spiritual points, and energetic vortex sites. There are many reasons to make Sedona your next getaway destination. Uptown Sedona offers plenty of unique southwestern shops, art galleries, spas, and restaurants, while West Sedona provides plenty of opportunities for exploring natural landmarks, top hiking trails, and scenic parks for bird-watching and picnics. As for outdoor adventure, there is no wonder why Sedona is also known as "red rock country" with stunning scenery that can be explored by hiking trails, horseback riding, jeep tours, biking, and more!
Traveling to Sedona
The best time to visit Sedona is March through May when temperatures are warm but not too hot. We recommend spending at least 3 to 4 days in Sedona. Visitors sometimes come to Sedona on a quick trip from Phoenix, but if you have a few days, a longer stay in this quaint desert town is worth it. There's no shortage of fantastic areas to explore with Sedona as the perfect home base, you can easily work in a day trip to visit Flagstaff or the world-renowned Grand Canyon.
Top Attractions in Sedona
Explore our list of the must-see things to do in Sedona to plan the perfect itinerary for your next adventure out west.
Explore Sedona's Natural Landmarks
The natural landmarks in Sedona are one of the top attractions to see. Most of these can be easily seen while driving, while others can only be accessed from a hiking trail.
Bell Rock
Many visitors come to hike this popular landmark. Bell Rock is one of the most famous red rock formations with a moderate 3.6-mile hiking trail perfect for families with kids to see breathtaking views of the Courthouse Butte Loop and Bell Rock.
Cathedral Rock
You can see Cathedral Rock by driving into Sedona from the Red Rock Scenic Byway along Highway 179 or by a short hike. This impressive natural site is one of the most photographed red rock formations found on the south side of Sedona. If you take the 0.7-mile hike and climb to the plateau you'll be rewarded with spectacular panoramic views of Verde Valley.
Devil's Bridge
Devil's Bridge is a landmark with beautiful views to be seen by jeep or 4×4, or with a moderate hike. It can be busy during peak season, but certainly worth the visit to get a photo on the bridge.
Chapel of the Holy Cross
The Chapel of the Holy Cross is a top destination for hikers and spiritual visitors. This landmark was built as a Roman Catholic church from 1954-1956 into the red rocks of Sedona within the Coconino National Forest. This is a free attraction where you can go inside the chapel to visit amazing works of art. The Chapel is not only a top attraction for hikers, and art but is also a well-known Sedona vortex site.
Mesa Airport
Visitors are drawn to Airport Mesa for the amazing views while hiking the 3.2-mile loop trail. This trail is perfect for hiking, mountain biking, and trail running. This landmark is also an energetic vortex site with an excellent view to watch the light change at sunrise and sunset.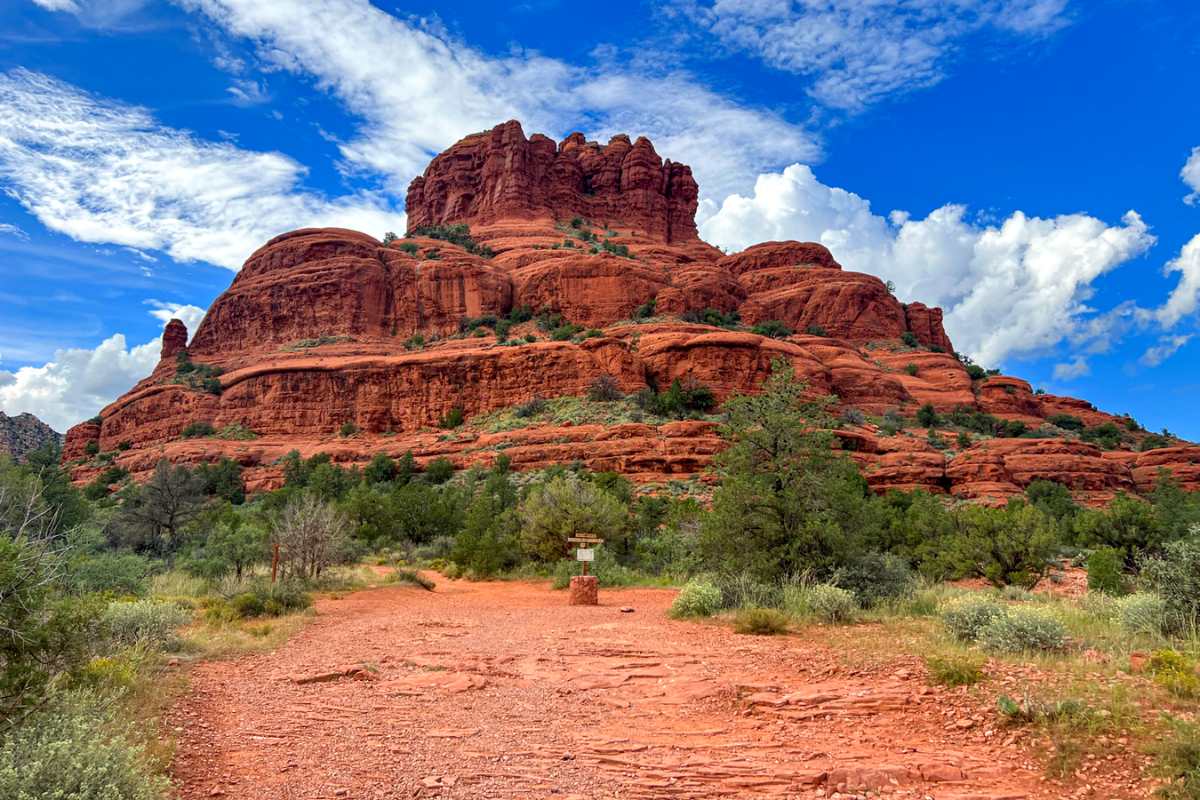 Enjoy a Scenic Drive
Discover the best scenic drives in Sedona along the Red Rock Scenic Byway and the Oak Creek Canyon Scenic Road. Sedona is one of the most beautiful areas in Arizona with incredible red sandstone formations to be seen from hiking trails, Jeep tours, and while driving. Make the most of your drive and pull off to one of the nearby vistas or trailheads for incredible sightseeing and photo opportunities.
Red Rock Scenic Byway
The Red Rock Scenic Byway is often referred to as the "museum without walls" because you can easily view some of the most famous landmarks in Arizona on this drive along with stunning scenery. This 7.5-mile scenic byway starts after exit 298 off interstate 17. You can see Bell Rock and Cathedral Rock. If you choose to make a stop to visit Coconino National Forest you'll be rewarded with many scenic overlooks. Be careful on this scenic drive because the scenery can be very distracting!
Oak Creek Canyon Scenic Road
Oak Creek Canyon Scenic Road is notably the most beautiful scenic drive in Sedona. It is a breathtaking 14-mile drive along route 89A between Flagstaff and Sedona that reaches 4,500 feet from Sedona to Mogollon Rim. Passengers should take advantage of the many photo opportunities on the way. Get the most out of your adventure and pull over to explore the trails and vistas along the way.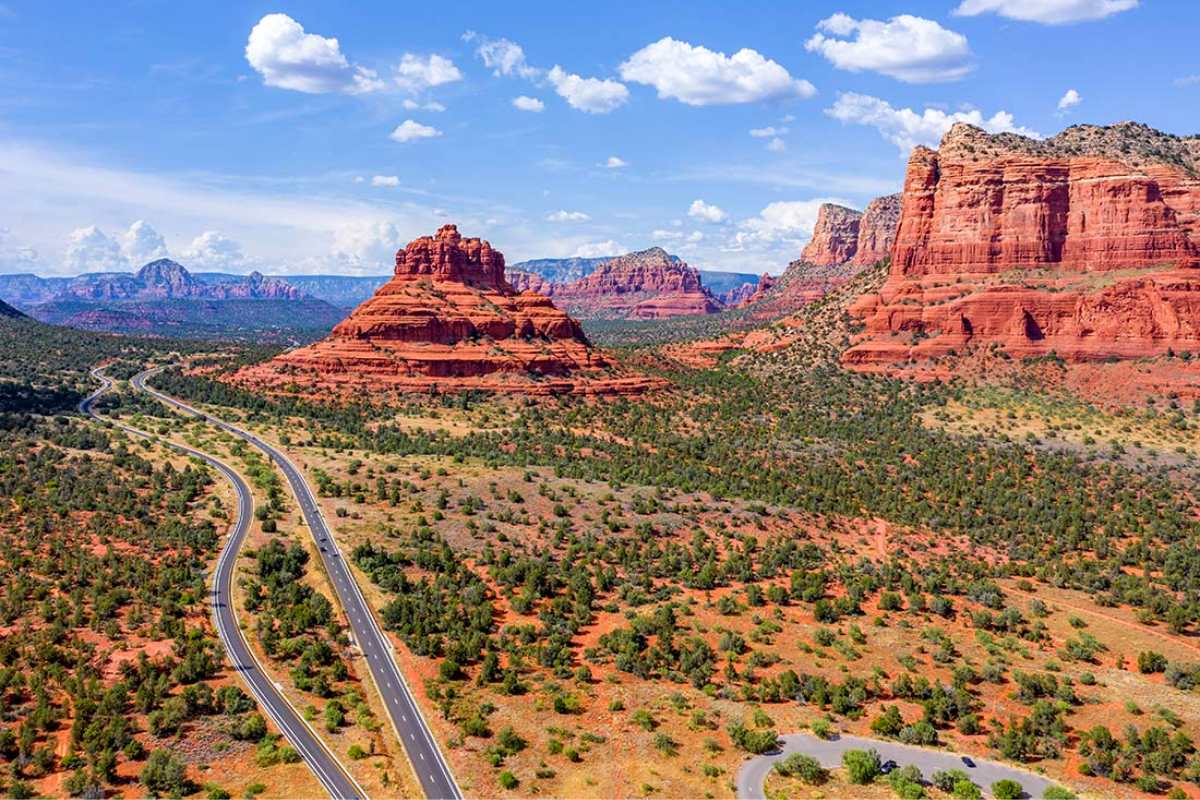 Explore one of Sedona's Scenic Hiking Trails
Without a doubt, hiking is one of the best things to do in Sedona. For most visitors, hiking is at the focus of a vacation to Sedona. Sedona hiking trails can vary from easy to challenging. They each offer a rewarding experience with spectacular views.
Hikers enjoy Sedona because it offers a variety of canyons, vortex sites, natural arches, hidden caves, and some of the highest mountain peaks.
Sedona's list of hiking tails is extensive, so much so that in fact you could spend weeks here and never run out of new trails to explore.
Our Favorite Hiking Spots in Sedona
Devil's Bridge Trail
Bell Rock
Courthouse Butte Loop
Cathedral Rock
Boynton Canyon Trail
Soldier Pass
Slide Rock State Park
Red Rock State Park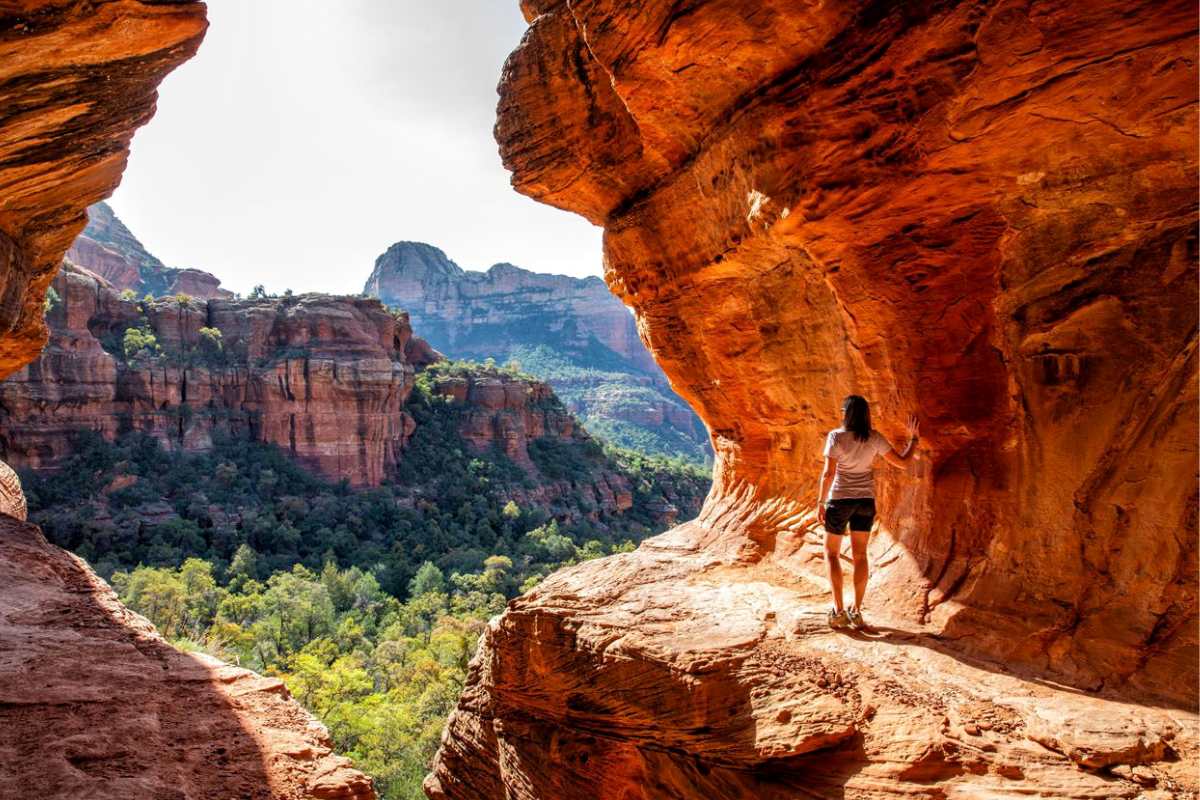 Take a Jeep Tour
Pink Jeep tours are one of the most iconic ways to experience the canyon views, vortexes, and red rocks of Sedona. You don't need to take a Pink Jeep to experience the sights, but they're experts and take all of the guesswork out of planning your off-roading experience to ensure you hit all of the best viewpoints. You can choose between a variety of expeditions including a journey through Antelope Canyon or a more historically focused tour of cliff dwellings in the area. If you are a more advanced outdoor explorer and prefer a more independent experience, then renting your own Jeep for a self-guided tour of the red rock formations may be the best move.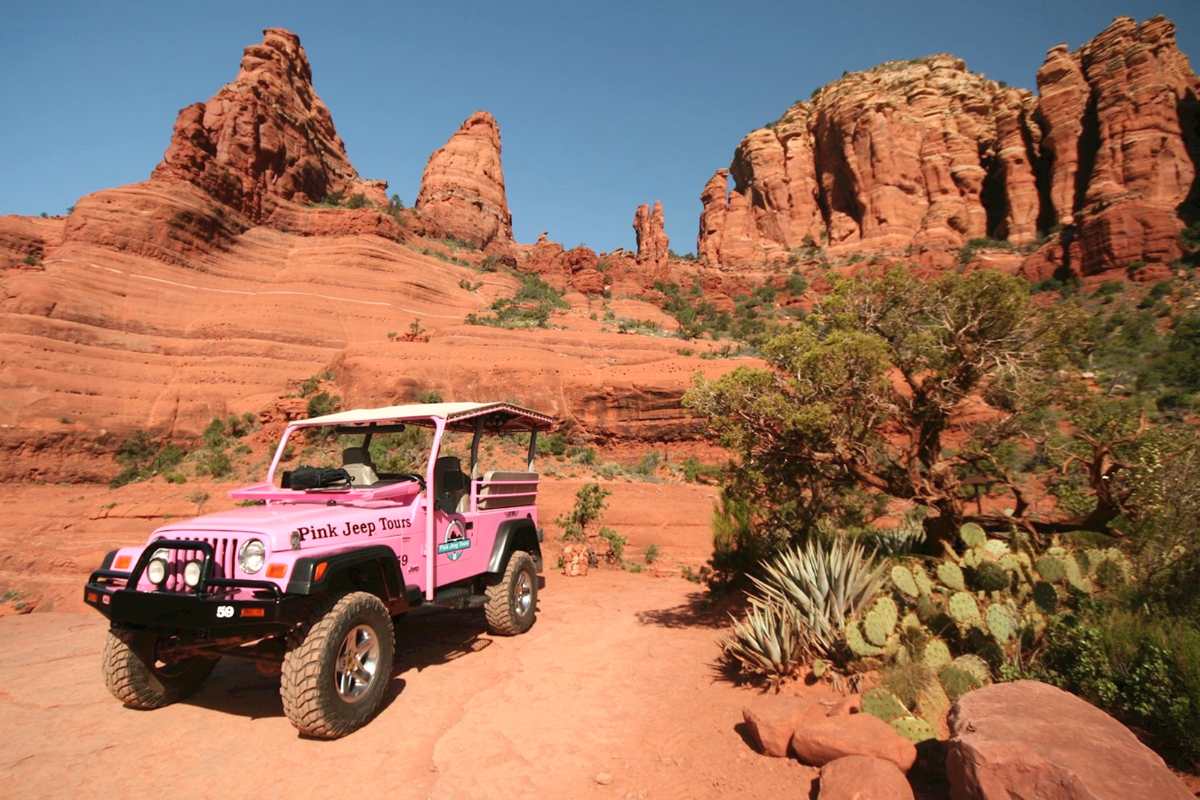 Visit Energetic Vortex Sites
Feel uplifted by these supernatural energy spots in Sedona. Thousands of travelers come to Sedona every year to experience these famous vortex sites that are said to provide a meditative, mind and body wellness experience to enhance creativity. For many, it is common to feel a tingling sensation in your fingers or have an emotional experience from the magnetic fields of the vortex site.
Vortex Sites in Sedona
You'll find the most popular four vortex sites located at Bell Rock, Cathedral Rock at Red Rock Crossing, Airport Mesa, and Boynton Canyon. You can get to these vortex energy centers by booking a vortex tour, taking a 4×4 or Jeep, or hiking.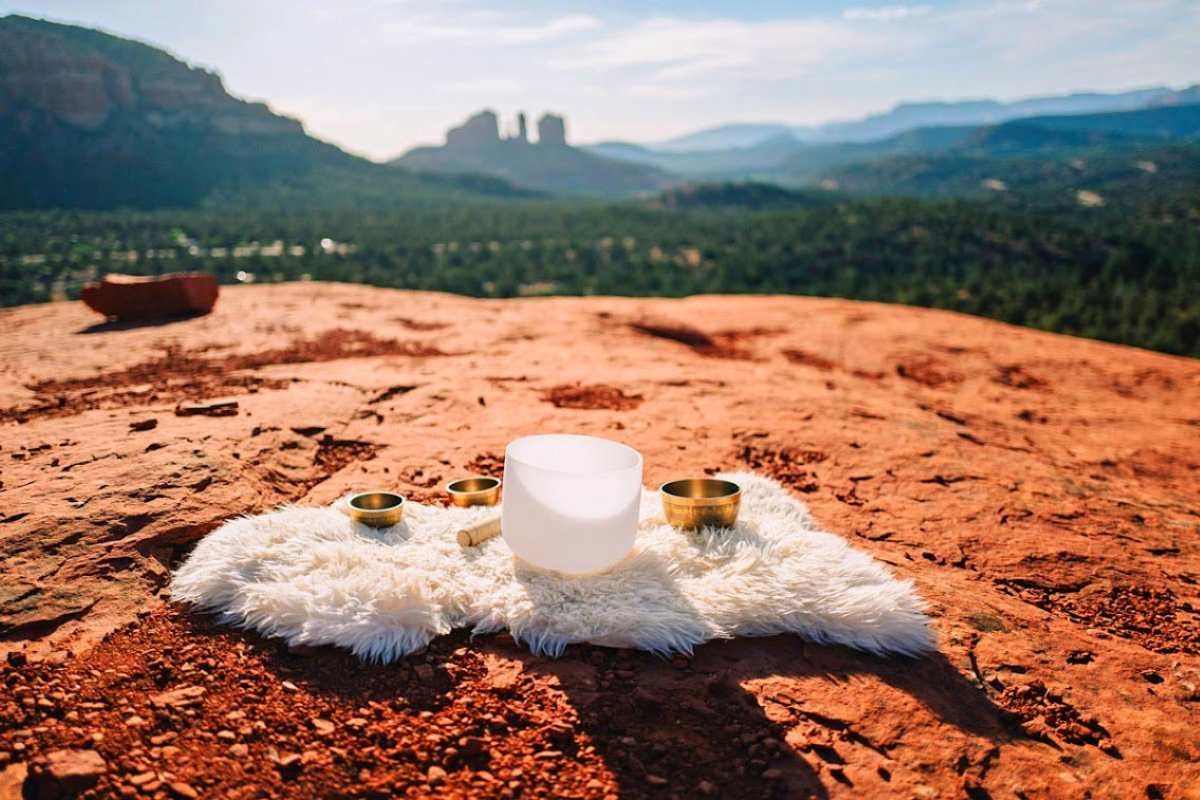 Stay in a Luxury Vacation Home
Book a luxurious vacation home in Sedona. Surround yourself with the stunning colors of Sedona's incredible landscapes with gorgeous sunsets and sunrise views from Roca Roja. The night sky in Sedona is equally stunning being in a designated dark sky community. Book your stay at the Pyramid where you can stargaze and locate all of your favorite constellations and the crescent moon from the jacuzzi without the typical light pollution of other destinations.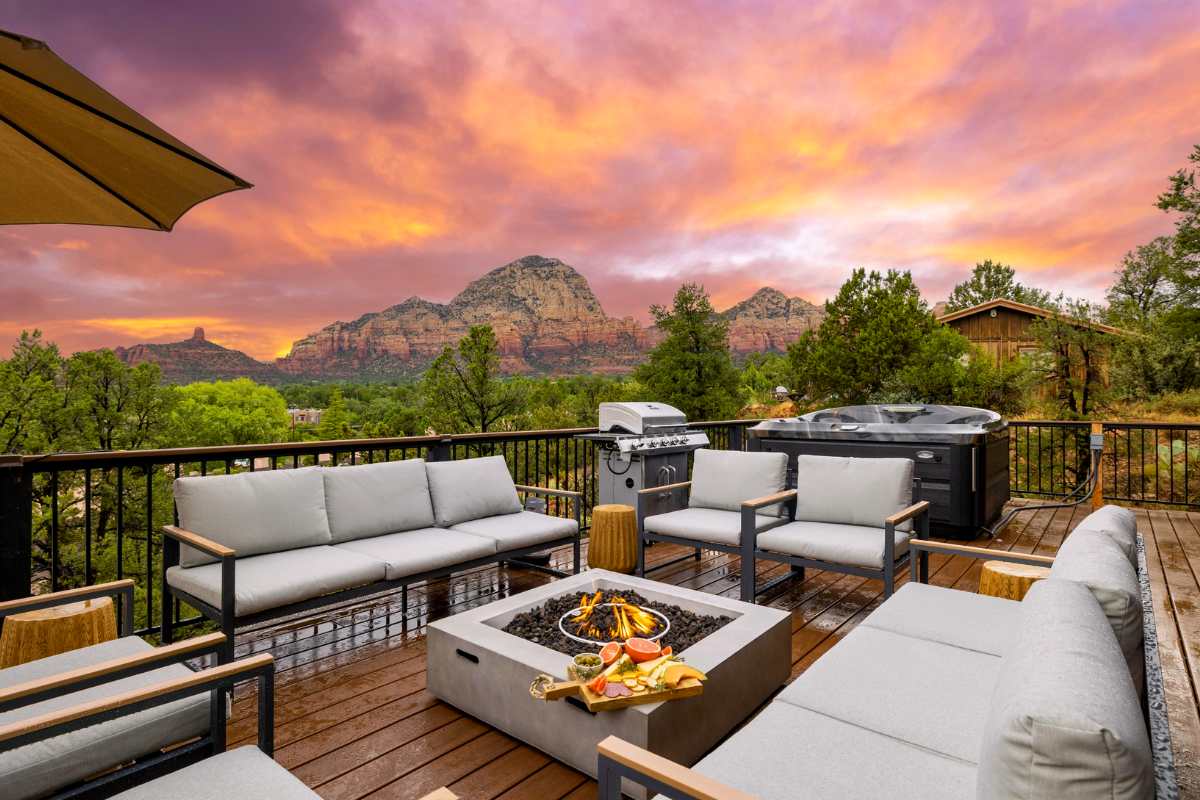 Make Sedona your Next Getaway
Are you ready to immerse yourself in the heart of the Arizona desert? With dozens of trailheads, national parks, and colorful views to experience year-round, we recommend booking your stay to experience all of the natural beauty of Sedona and the southwest!