Whether you've lived in Fort Myers all of your life or you're just visiting and looking for a new piece of paradise in the sun, Fort Myers is home to some of the Sunshine State's best and most iconic beaches.
Bright white sand, seashell heaven, and all the vitamin D that you can ask for are guaranteed here. But, before you plan your trip, remember that not all of Fort Myers' beaches are the same. So we've rounded up for you what each one of them offers depending on your timing and interests. Then you can book your stay confidently with your swimsuit, sunblock, and flip-flops ready to go!
Beaches for days
Fort Myers a.k.a. the "City of Palms" sits at the mouth of the Caloosahatchee River roughly halfway between Naples and Sarasota. It's also the gateway to one of the most beautiful stretches of barrier islands on Florida's Gulf Coast, including Estero Island, Sanibel Island, Pine Island, and Captiva.
Fort Myers is world-renowned as a vacation destination beyond its beaches. Summers are long and sunny, winters are short and comfortable, and the sunsets over the Gulf of Mexico are perpetually breathtaking. The City of Palms also offers endless opportunities for fishing, boutique shopping, swimming with manatees, or visiting one of the city's historic estates and museums.
So, whether you're visiting Fort Myers for the sunshine, getting away with a group of your best friends, or just taking a much-needed break from work with that special someone who makes your heart skip a beat here are the best, can't-miss beaches to make your vacation the trip of a lifetime.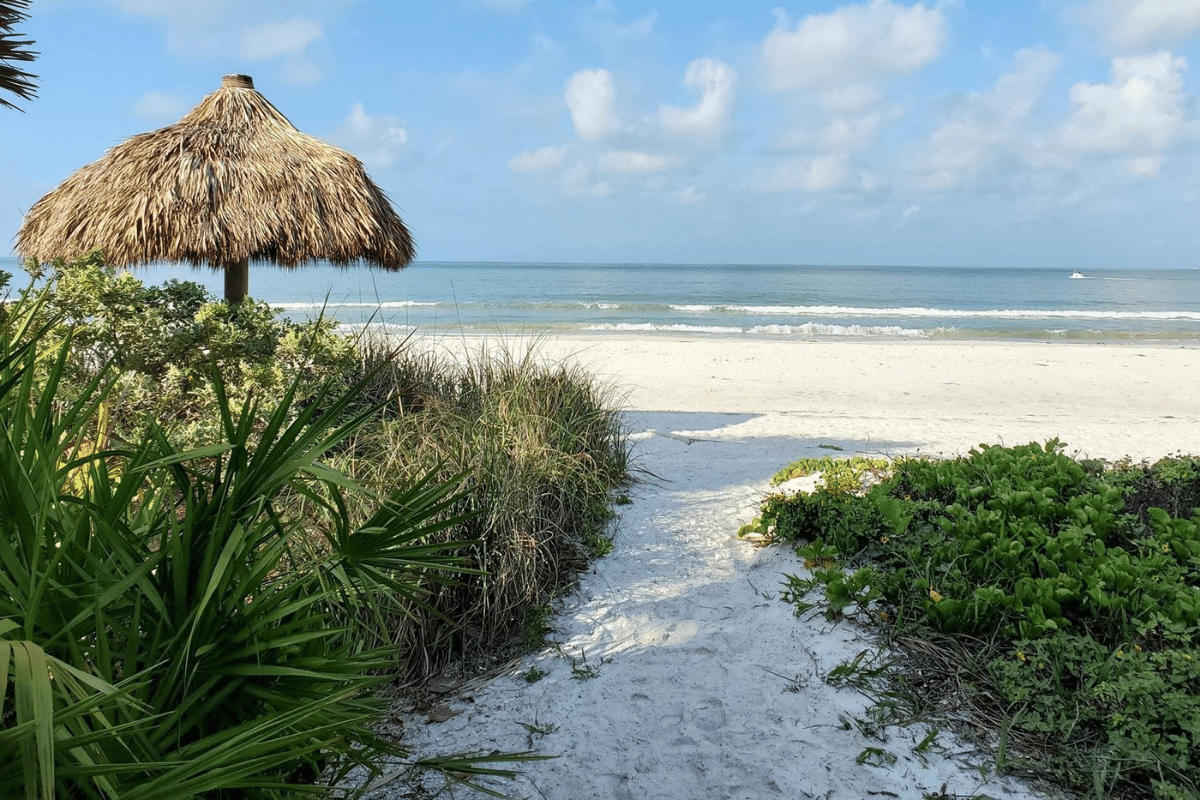 1. Fort Myers Beach
Situated on Estero Island, Fort Myers Beach is the first stop on any Sunshine State Gulf Coast vacation. With plenty of "shelling" and seemingly endless pristine white sand, there's something for everyone here, including swimming, kayaking, parasailing, sunbathing, and every other water sport that you can imagine.
Plenty of rental shops along the boardwalk offer quality equipment at an affordable price. And you also aren't far from Times Square—Fort Myers' downtown area home to boutique shops and outstanding local restaurant options. You can also visit the famous Lynn Hall Memorial Park and stroll along the pier.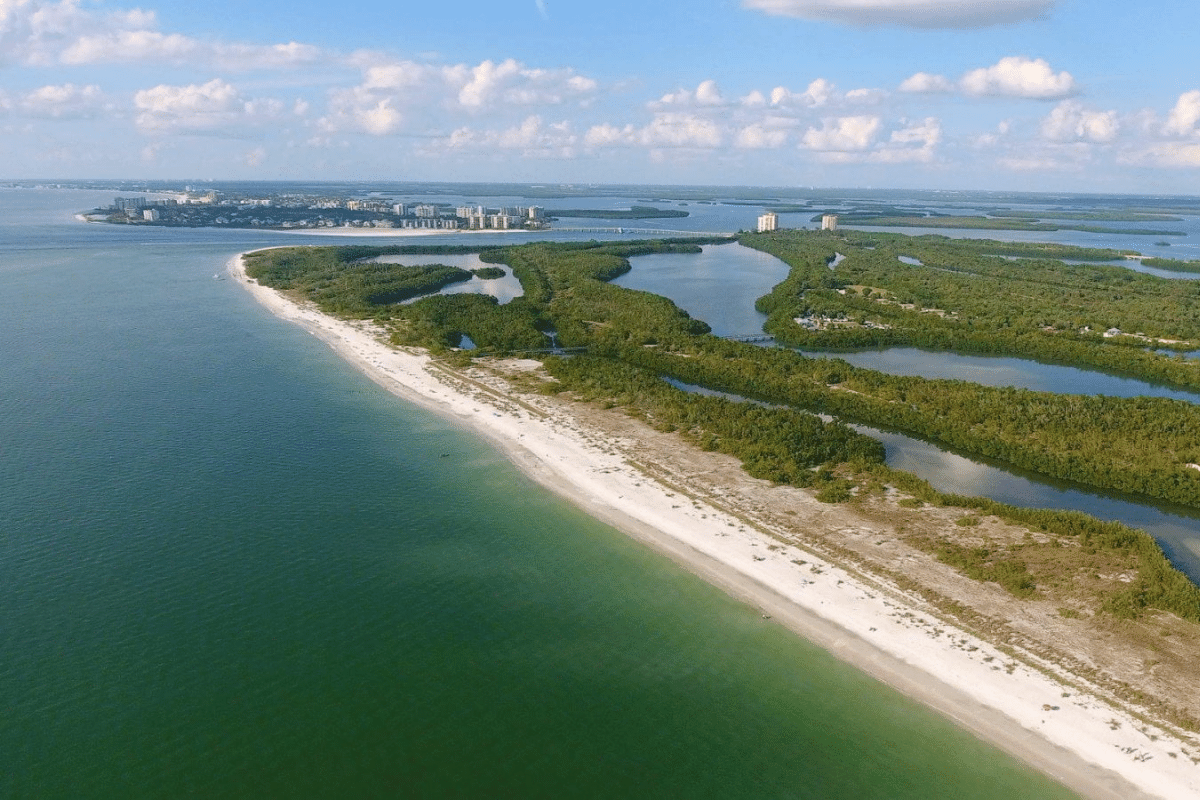 2. Lovers Key State Park
Lovers Key State Park is the perfect romantic destination for anyone visiting Fort Myers and the Gulf of Mexico. And if you're looking to experience a manatee encounter, this beach park is your go-to spot.
Lovers Key is home to postcard-perfect, sugar-sand beaches while also offering protection from the wind and waves thanks to Southwest Florida's barrier islands. You can explore the beach on foot or take a kayak or paddleboarding trip to get up close and personal with the Gulf Coast's natural inhabitants, including exotic birds, manatees, and alligators.
With over two miles of beach at Lovers Key, you also don't have to worry about ruining someone else's romantic getaway—or your own—since you can almost always find a corner of the beach all to yourself.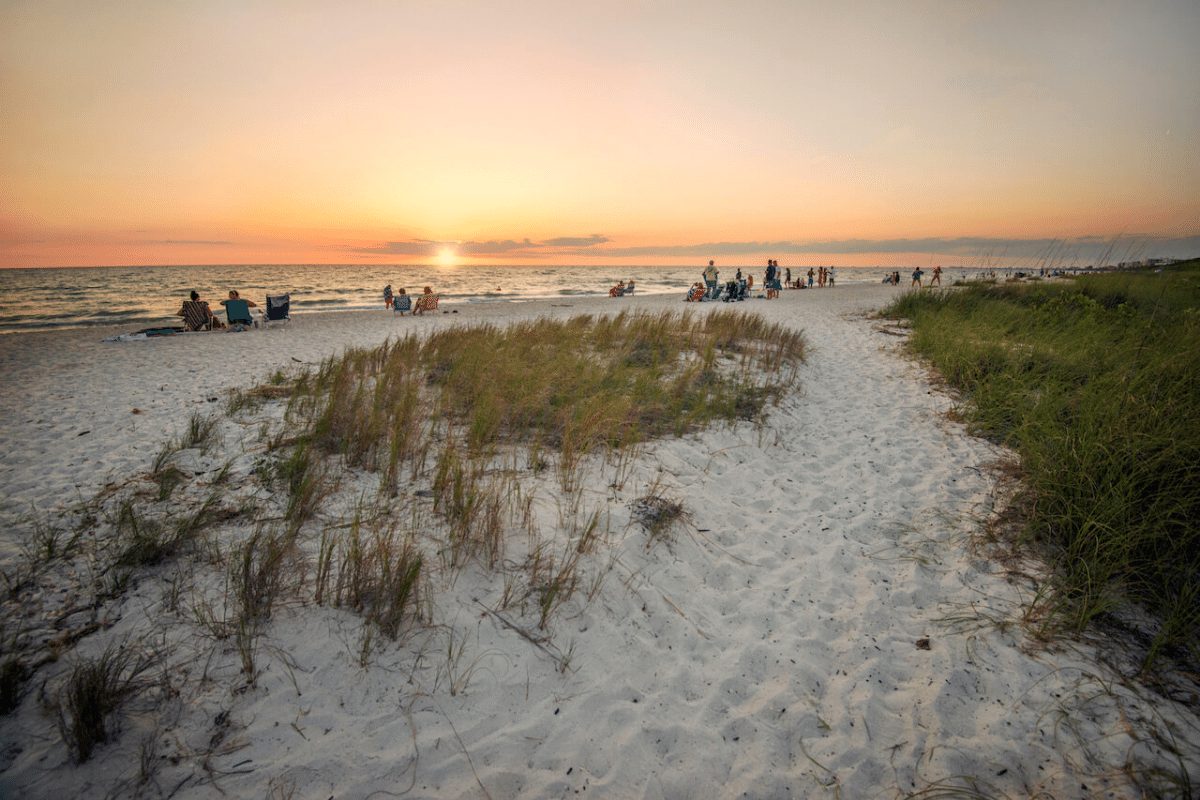 3. Bonita Beach
Situated between Fort Myers and Bonita Springs, Bonita Beach is the perfect place to spend an afternoon, an evening, or your entire vacation for that matter. There's plenty to do if you want to up your watersports game as well as endless room to dig your toes in the sand if all you want is just a piece of the beach with no one else around.
Bonita Beach is also the perfect place to swim, kayak, try your hand (and feet) at paddle boarding, or just relax and bask in Florida's Gulf Coast sunshine. You'll find wind-swept dunes, tidal pools, and rare plants if you're up for exploring. Or you can bring your fishing rods to get some bites in. You might even spot an exotic bird or two if you keep your eyes peeled.
The parking lot for Bonita Beach charges $2 per hour. But between the beachfront park and the boardwalk, you won't regret paying the small fee for a day filled with fun in the sun.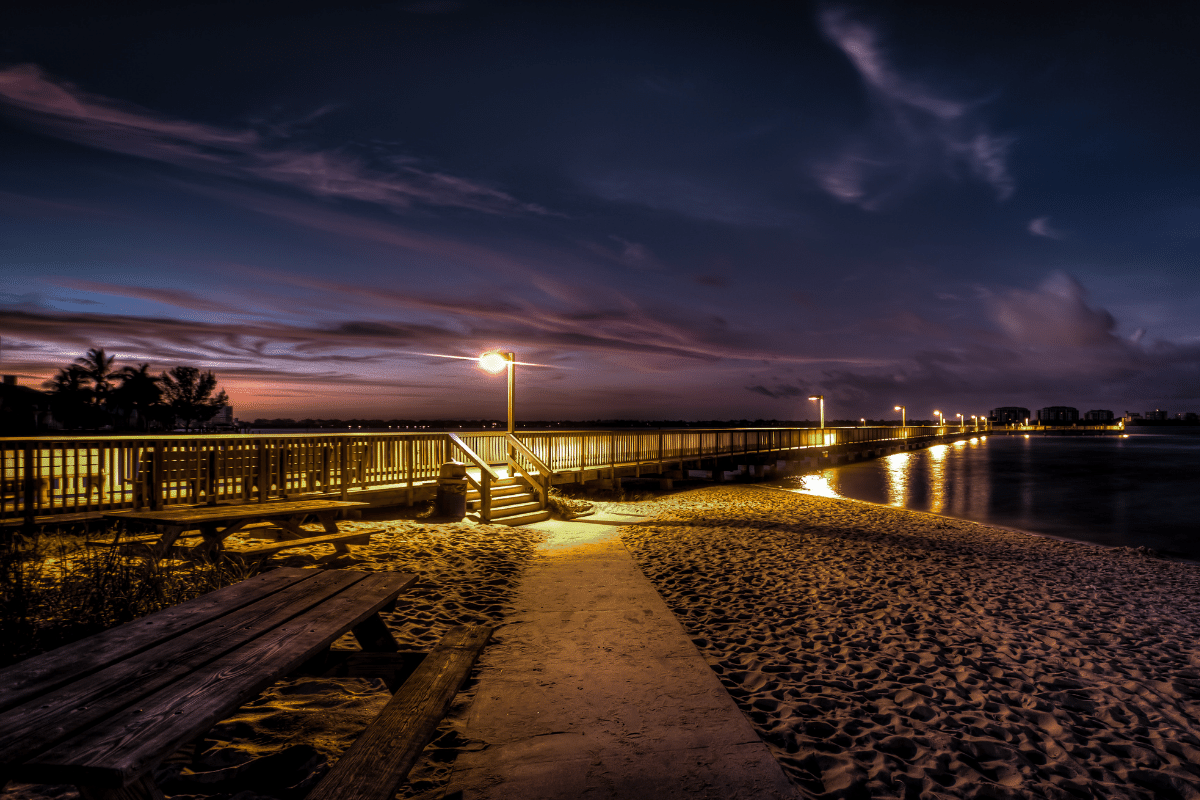 4. Yacht Club Public Beach
This small public beach with full facilities, a fishing pier, and a playground is technically located in Cape Coral on the other side of the Caloosahatchee River from Fort Myers, but it's only a stone's throw away.
If you're visiting Fort Myers with your family, the Yacht Club Public Beach is a can't-miss bucket list destination since it sits close to a strip of classic Gulf Coast restaurants, including a tiki bar or two where you and your kids can both enjoy yourselves on "island time."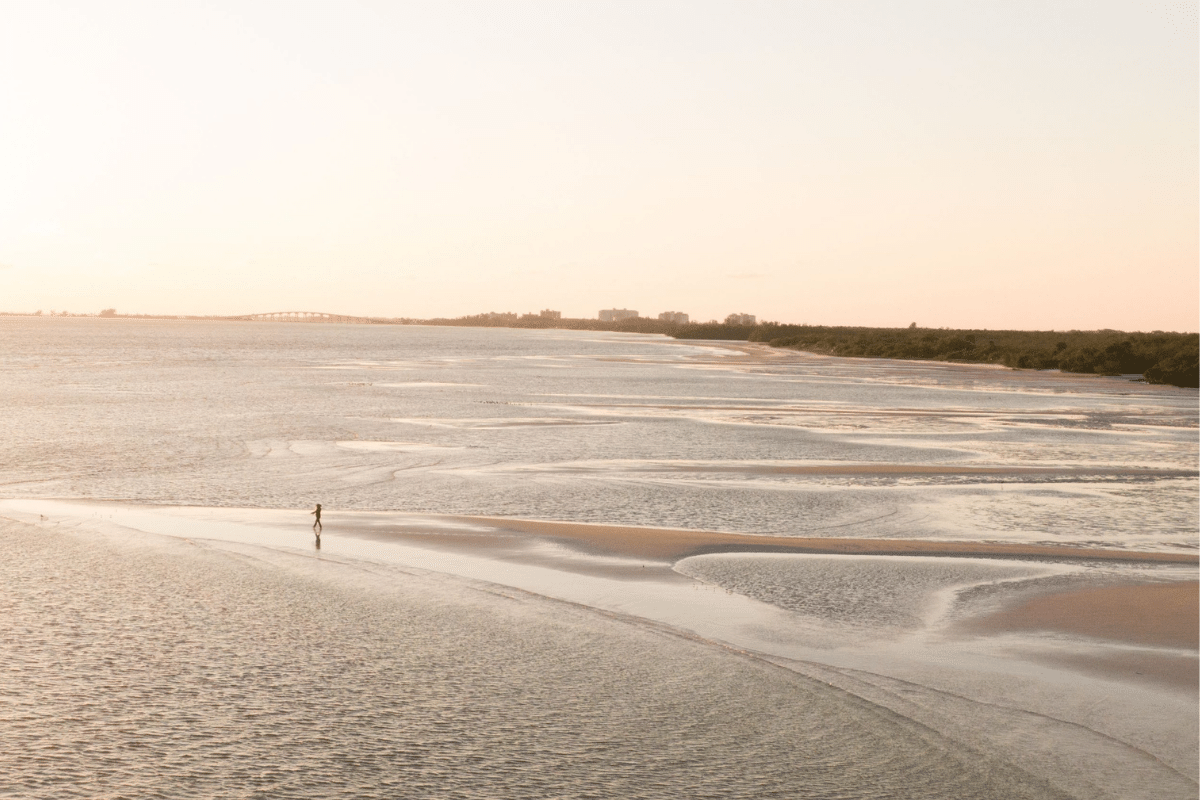 5. Bunche Beach
Check out Bunche Beach on San Carlos Bay if you're looking for a quieter and more relaxed experience than the typical spring break beaches. This tranquil destination will get your mind off whatever worries you want to leave behind.
The shallow surf makes Bunche Beach a perfect place for wading, relaxing, and dipping your toes in the water, especially for families traveling with kids. It's also a great place to find seashells, particularly at low tide along the mud flats. You'll pay $2 per hour for parking near the beach, with a maximum of four hours per vehicle. You can also walk or bike to Bunche Beach for free.
6. Bowditch Point Park
If you're looking for a beach that has it all, Bowditch Point Park is one of Fort Myers' best places to relax—including picnic tables, a fishing pier, a beach, and restrooms.
From Fort Myers' famous Times Square, you can access Bowditch Point Park via a quick walk so it's the perfect place to stretch your legs before you lounge on the beach for a few hours. There's plenty of space for swimming if you're looking to feel the ocean on your skin, and Bowditch Point Park is also open from sunrise to sunset with a dock if you bring or rent a boat.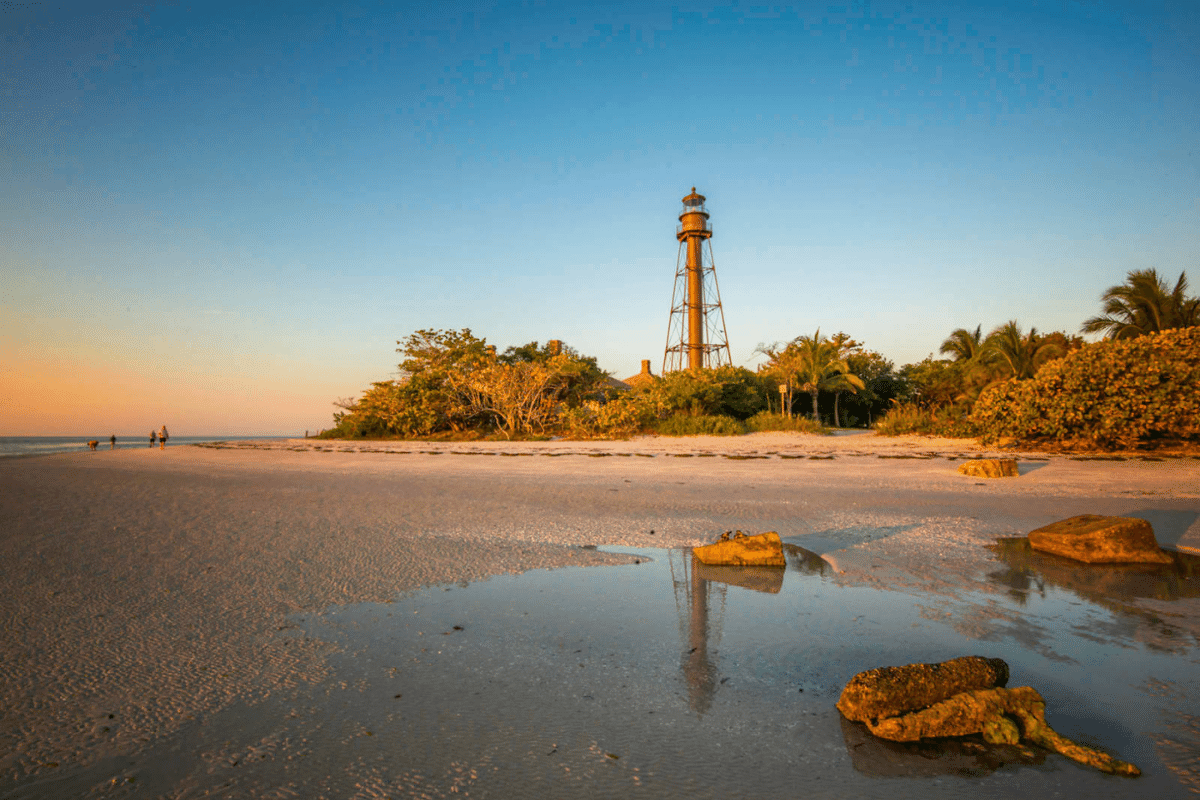 7. Sanibel Lighthouse Beach Park
Sanibel Island is a short drive or a slightly longer boat ride from Fort Myers, but it's one the most beautiful getaways within a getaway when you're visiting Florida's Gulf Coast.
Sanibel Island is world-renowned for its picture-perfect beaches, breathtaking sunsets, and historic lighthouses. It's also home to the Sanibel Lighthouse Beach Park, a public beach with water sports rentals nearby where you can paddleboard or kayak in the Gulf of Mexico.
You can also find picnic areas stocked with grills and scenic views, making it the perfect place for a family cookout or a get-together with your vacation buddies.
If you're more of a nature lover, visitors can explore the beach park as well to discover the island's mangrove forests and Florida's rare flora and fauna.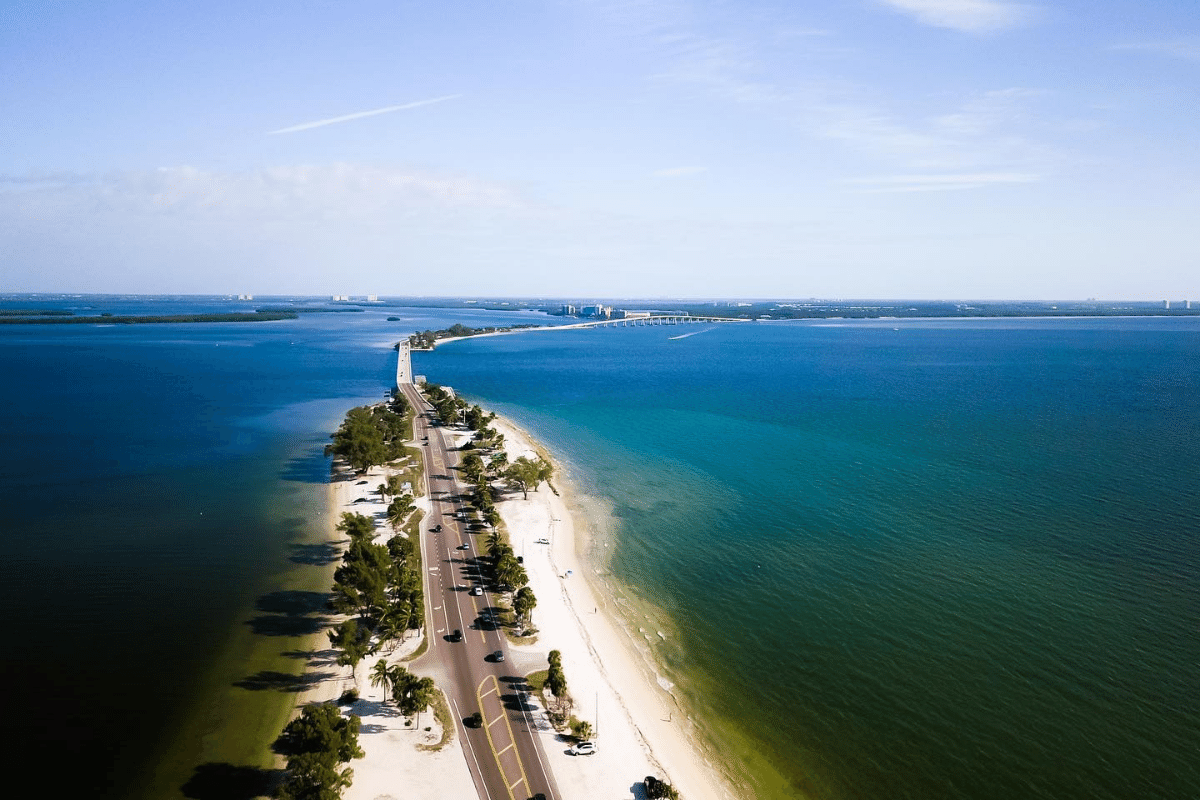 8. Causeway Islands Park
Causeway Island Park is a beach park along the Sanibel Causeway bridge, making for easy access if you're on the causeway as well as allowing you to pull right up to the water with your boat, paddleboard, or kayak.
There's excellent swimming here, and you also can get a good workout if you swim for cardio or just lazily want to do the backstroke for fun. Either way, the clear, temperate waters of the beach at Causeway Islands Park is one of Fort Myers' best places to get a day in the sun.
The big bonus? You don't have to pay for parking here. And you're free to bring your fishing gear along with you if you're coming to Florida to cast some lines or enjoy the incredible sunset views at no additional cost.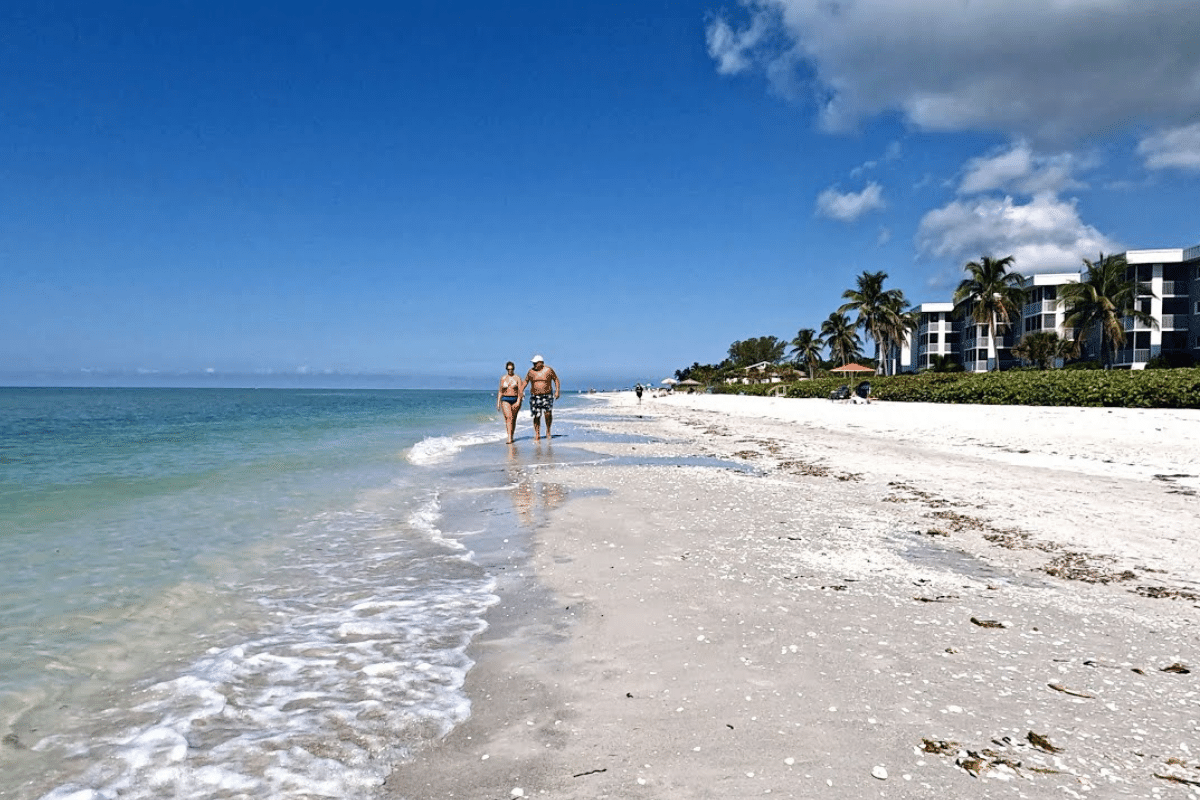 9. Algiers Beach
Also known as Gulfside City Park Beach, this pristine white sand beach on Sanibel Island is the perfect place to enjoy a relaxing afternoon or watch the sunset over the Gulf of Mexico. Algiers Beach is quiet and tucked away, and far less busy than some of the surrounding beaches on Sanibel so it's also one of the best places to meet the locals.
There's a small parking fee. But it's worth the money for the tranquil experience of relaxing on a beautiful beach with the ocean gently crashing at your feet and the Florida sun beating down (or the sun setting).
You won't find a comparable experience on Sanibel, and that's saying something. Algiers Beach is a true mecca of peace, far less crowded than nearby Lighthouse Beach, and just as beautiful and relaxing.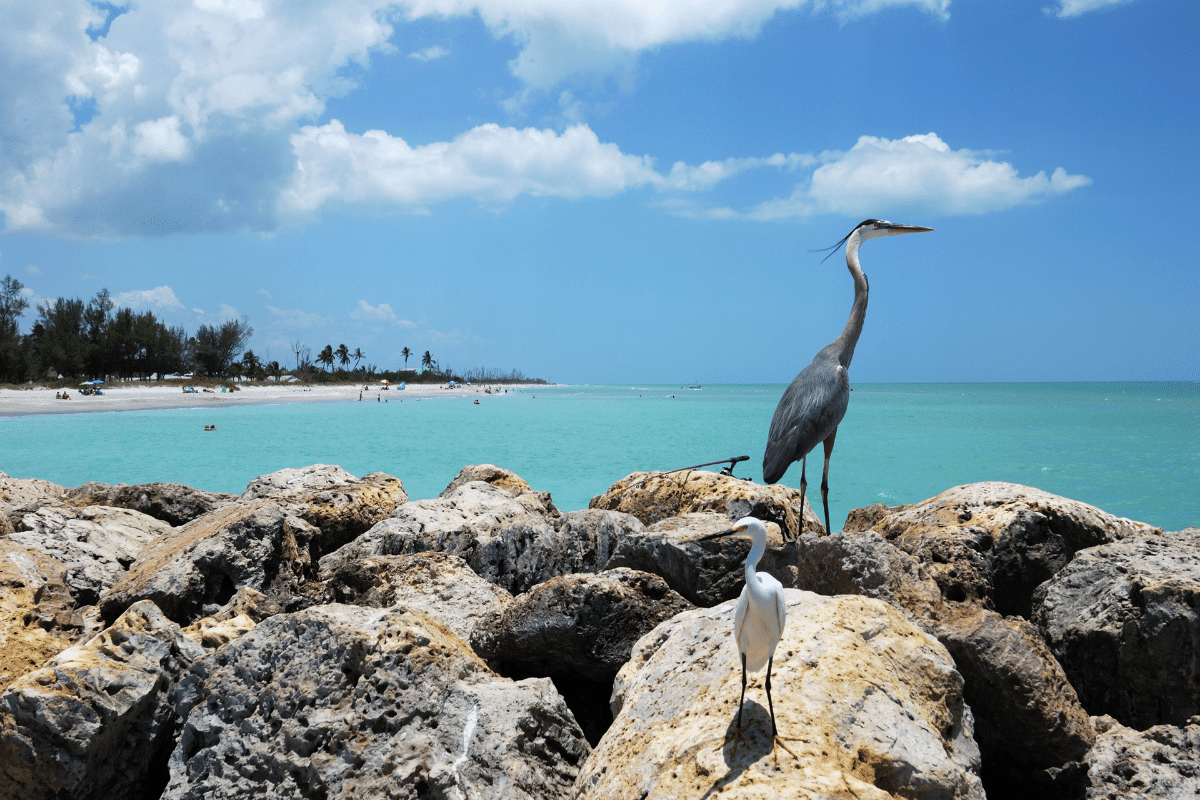 10. Captiva Beach
Slightly further north from Sanibel Island, you'll find Captiva Island, which features a slew of pristine beaches that are pristine, clean, calm, and legendary for shelling while offering some of the most amazing views of the Gulf of Mexico in Florida.
Free and open to the public, Captiva Beach is one of the best places in Fort Myers to relax in the sun, enjoy a dip in the Gulf, or simply people-watch in the sand. Whatever you decide to do, make sure you bring plenty of sunscreen and come prepared for a good time!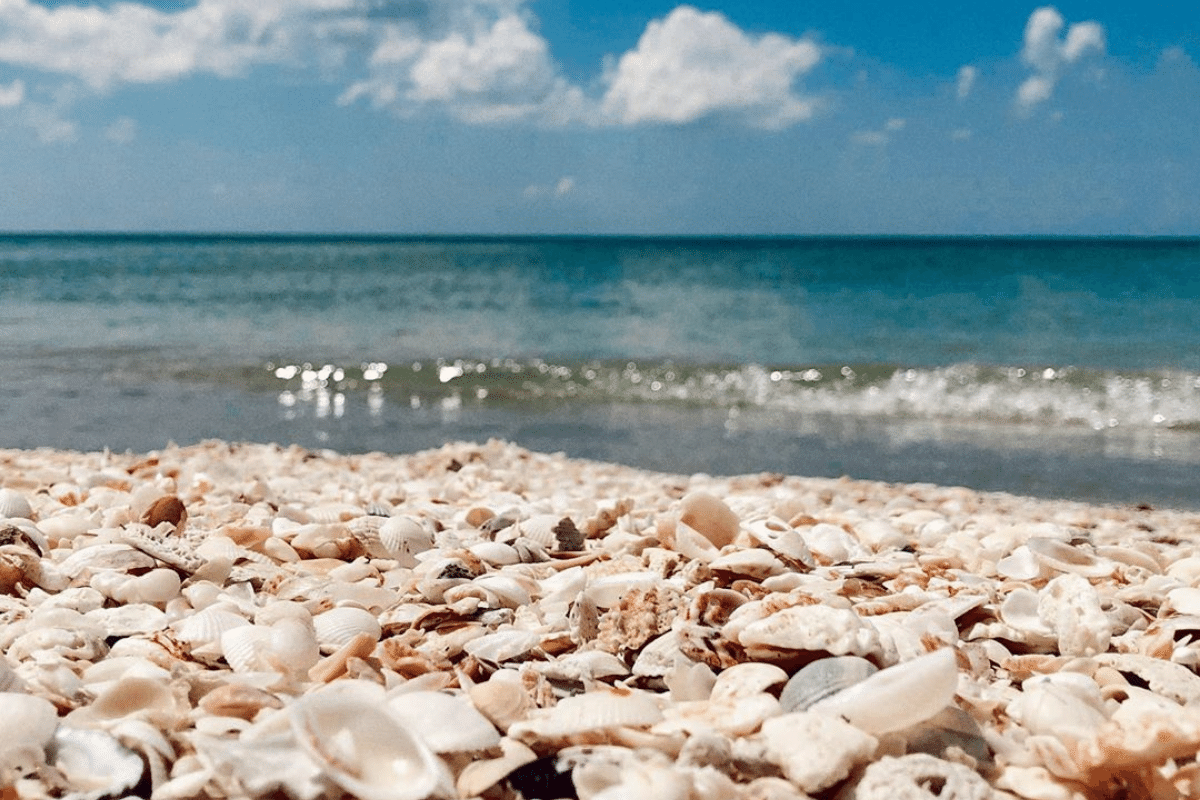 11. Turner Beach
If you're looking for one of the best fishing holes on Captiva Island, Turner Beach should be first on your bucket list. You'll also find yourself surrounded by some of the most beautiful and unique "shelling" locations on Florida's Gulf Coast.
Since tourists tend to flock to other beaches, you'll essentially have this place to yourself. Situated just beyond the bridge that connects Sanibel to Captiva, Turner Beach is only a short jaunt upstream from wherever you are on your dreamy Fort Myers vacation.
The best news for dog lovers is that if you've brought your furry friend along, they can join you at Turner Beach!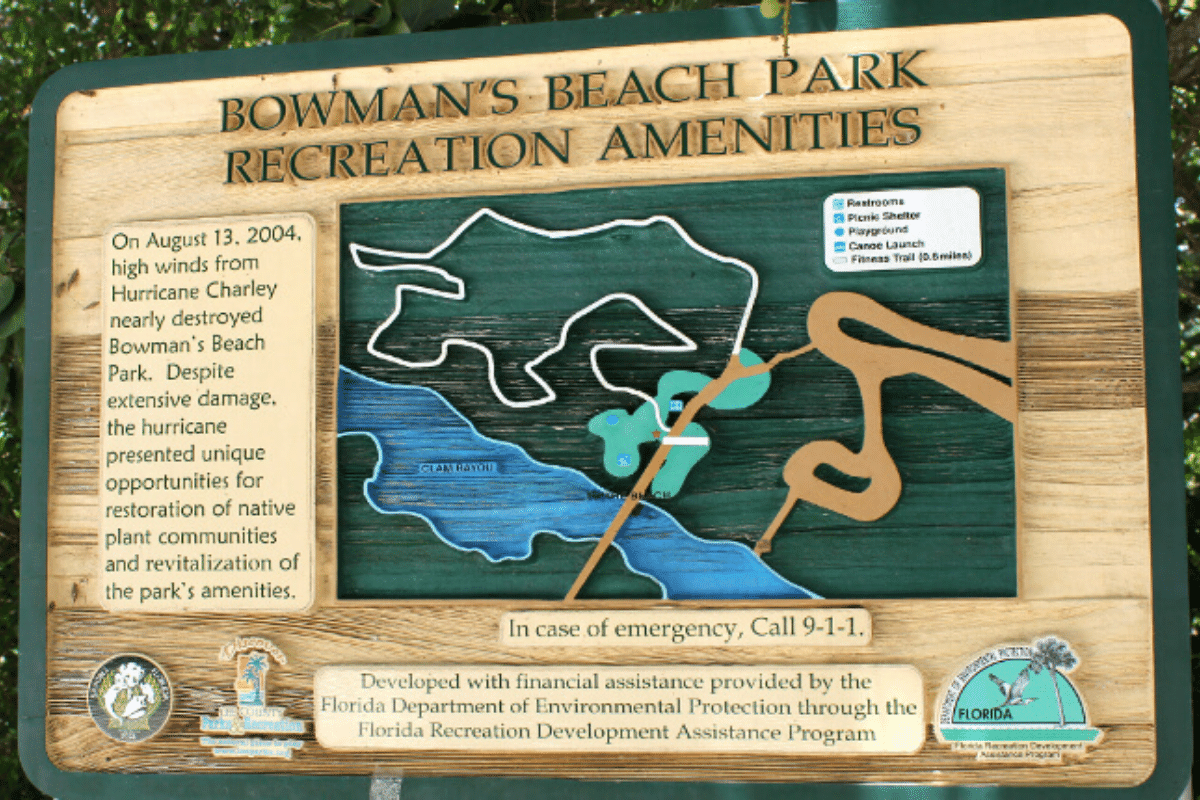 12. Bowman's Beach
Whether you want to scour the sand for seashells or spend an afternoon basking in the hot Florida sun, you can accomplish both goals at Bowman's Beach.
Bowman's beach is one of the most picturesque locations in the Fort Myers area that attracts a lot of tourists coming over to Sanibel Island. The beach has playgrounds, picnic tables, and a ton of trails so it's also an ideal destination for families vacationing with kids.
If you want to bring your fishing rod along, you'll have to get a saltwater fishing license from the Lee County authorities. There's a small parking fee at Bowman's Beach. But it's worth the small price to experience one of Sanibel's best beaches.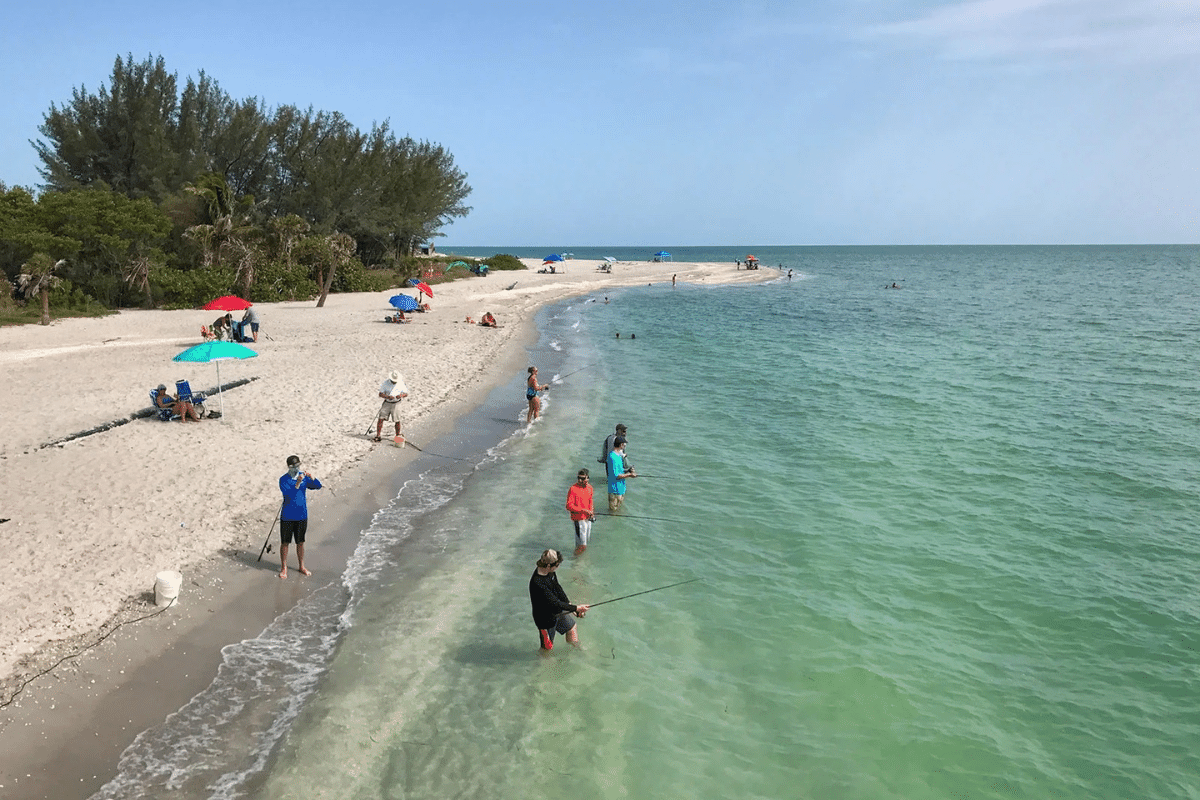 13. Tarpon Bay Beach
There's a public parking lot located only a short walk from Tarpon Bay Beach which is one of Sanibel's most beautiful beaches, offering endless expanses of bright, white sand along with glorious views of the Gulf of Mexico's horizon all day long.
If you're looking for that perfect romantic spot to take your special someone for a Florida sunset, Tarpon Bay Beach is a must-visit. You won't find a crisper, cleaner view of the reds, oranges, and pinks dancing across the evening sky.
And if you're up for a dip in the ocean, Tarpon Bay Beach is situated far enough from the swift currents to make it an excellent spot for a relaxing swim. No matter how you spend your time, you won't be disappointed with your visit to Tarpon Bay.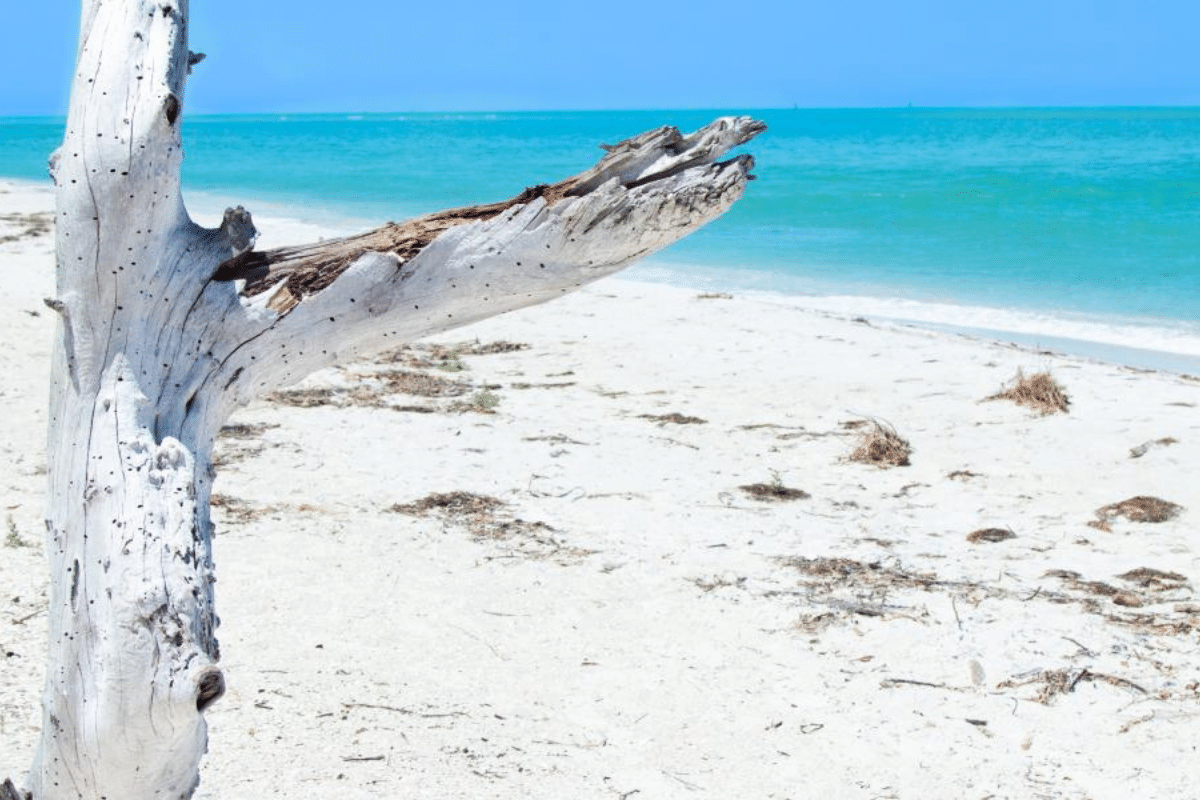 14. Cayo Costa State Park
One of the most exciting barrier island state parks to visit during your Fort Myers vacation is Cayo Costa State Park. It's a natural island with nine miles of pristine, quiet, and secluded beachfront and one of the best-preserved natural habitats on Florida's Gulf Coast.
The best part is that you can only get to the park by boat. So, whether you've launched your own or have booked a rental or a charter, make sure that Cayo Costa is on your Fort Myers bucket list.
The island features cabins, nature trails, beautiful beaches, as well as outdoor grills for the perfect sunset BBQ. If you're a camper, Cayo Costa will also quickly become one of your favorite destinations if you're up for a night in the Florida wilderness.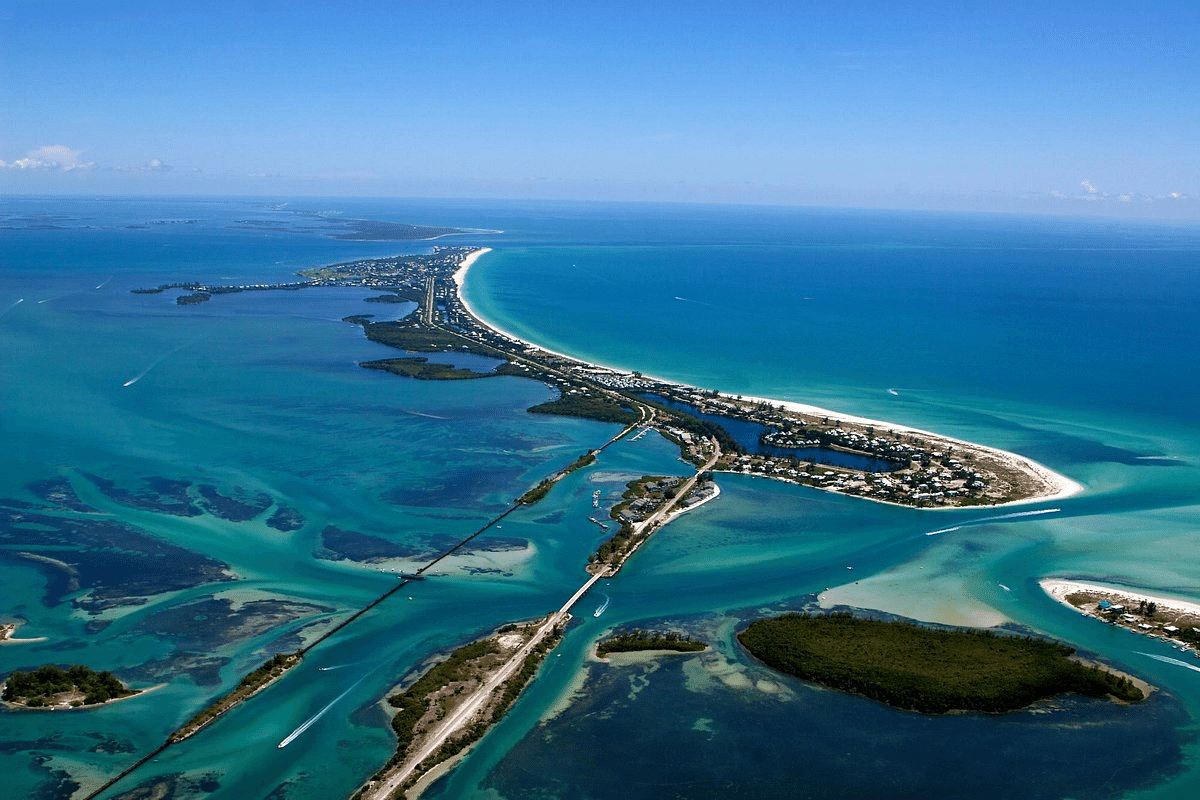 15. Boca Grande Pass
Boca Grande Pass is located just off the southernmost tip of Gasparilla Island and is one of Lee County's most famous beaches.
There's a small fee for entering and also a fee to get onto Gasparilla Island. But once you're there, you can enjoy all that Boca Grande offers, including swimming in the aquamarine Gulf waters, surfing, fishing, relaxing, sunbathing, and making new friends while you soak up the scenic Florida vistas. It's rarely too crowded, and the beaches are so soft that you might never want to leave.
Fort Myers beaches, final thoughts
Planning a trip to Fort Myers means getting ready for the time of your life. There are so many exquisite beaches to choose from that you might run out of time to experience them all.
Whatever you do, though, or no matter how long you're staying, check out some of these awesome rental options to make your stay more luxurious and turnkey.
Even if you're traveling with your best buddies from college, you'll be able to find the perfect place to call home while you explore the sandy beaches of southern Florida!