Looking for a vacation rental with a private indoor swimming pool? Look no further!
This year, skip the crowded public pools and high-priced hotel passes and opt for a secluded approach to swimming on vacation. We've rounded up 15 stunning vacation homes with private indoor pools that promise fun, relaxation, and plenty of room for the whole crew. From the Smoky Mountains to Big Bear Lake, these homes will ensure that your vacation is nothing short of unforgettable. Let's dive in!
1. Wilder – Sevierville, TN
The best part about staying at a home with an indoor pool? You can take a dip in any weather. Meet Wilder, the ten-bed mountain mansion located in the Smoky Mountain town of Sevierville. Nature lovers rejoice – this backyard features a large wooden pavilion with a chic lounge area and a sprawling table with room for 20.
Looking for more to do on your trip? Check out our Top Things to Do in the Smokies.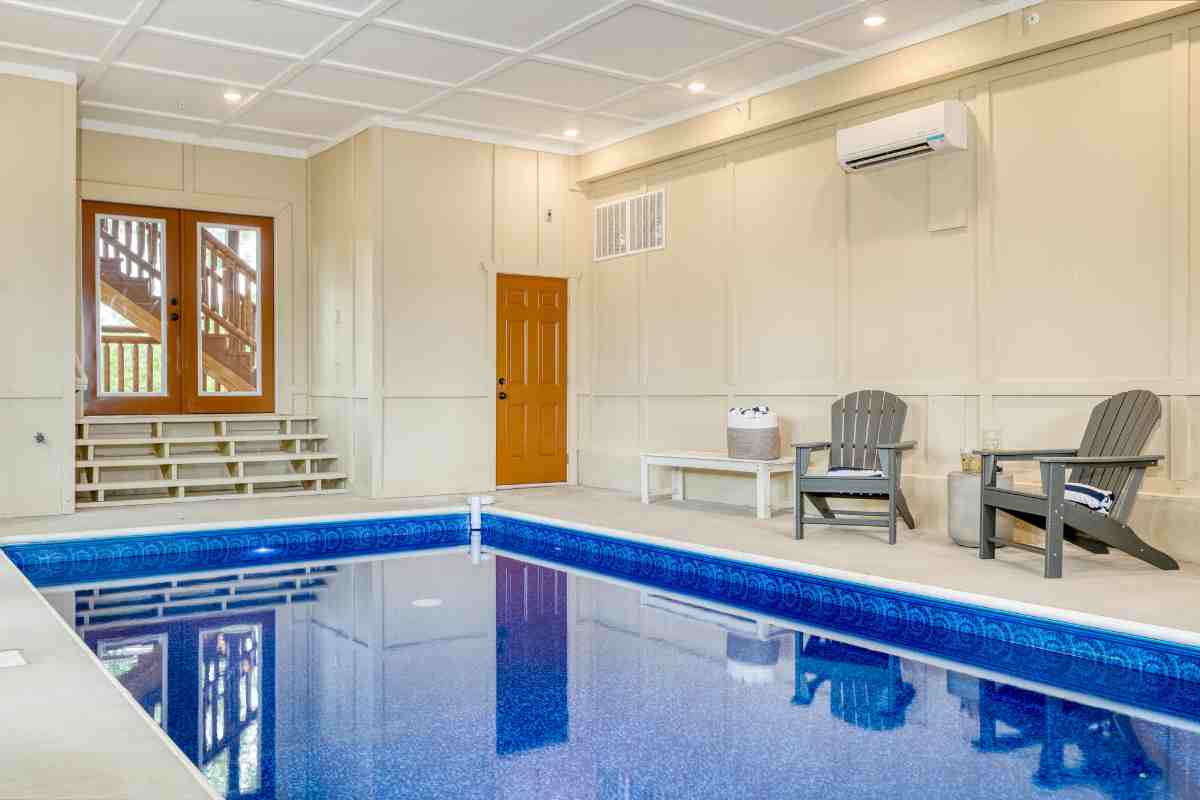 2. Bluestem & Bluebell – Sevierville, TN
Why not both? Book two neighboring homes, Bluestem & Bluebell, for plenty to do in the Smokies. Hang out with your crew in the spacious living area or soak up the stunning treetop views on the vast balcony. From swimming in the indoor pool, playing games in the game room, or watching a flick in the movie room, these stays have everything you need for an unforgettable vacation so grab your swimsuit and meet us there!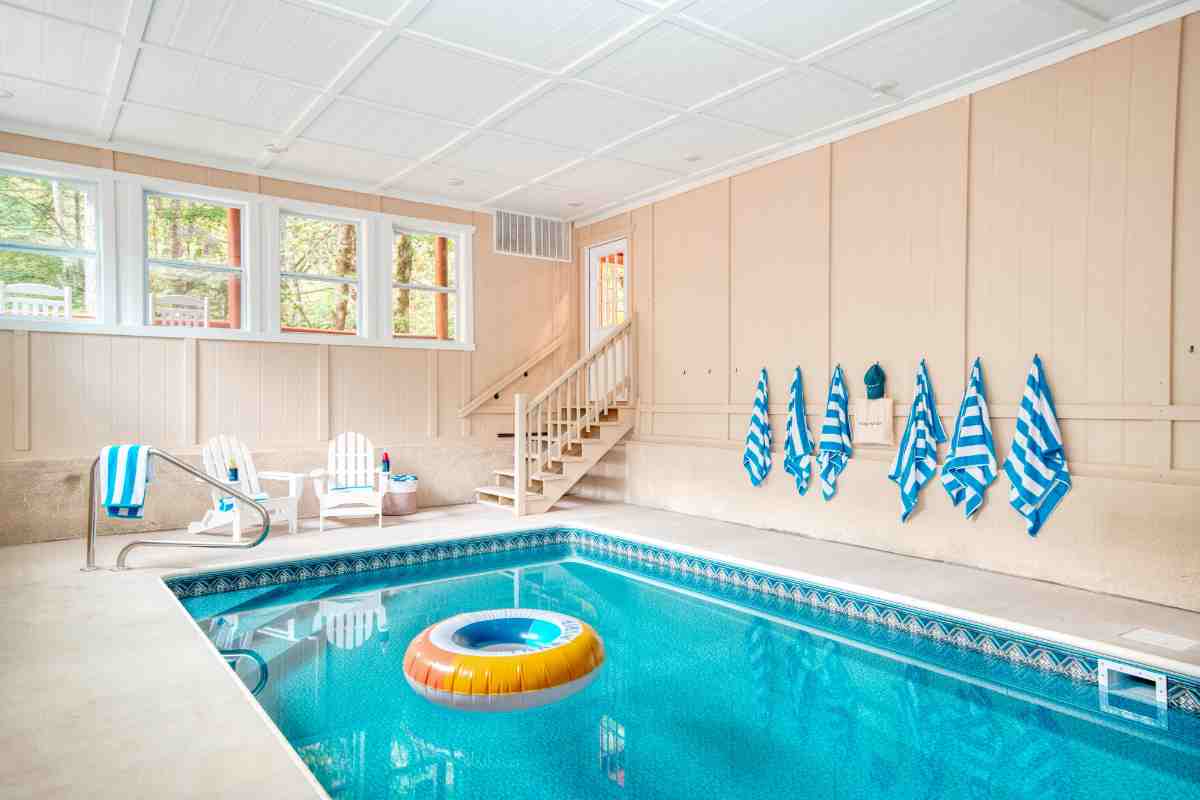 3. Wellspring – Berkshires, MA
A pool party without a pool is just a meeting. With two living areas, a pool table, a hot tub, modern interiors, and an indoor pool, Wellspring offers much more than just a cabin in the woods. Reconnect with nature in The Berkshires and unwind on one of the home's two balconies. Grab 11 of your besties and head here for an unforgettable weekend vacation.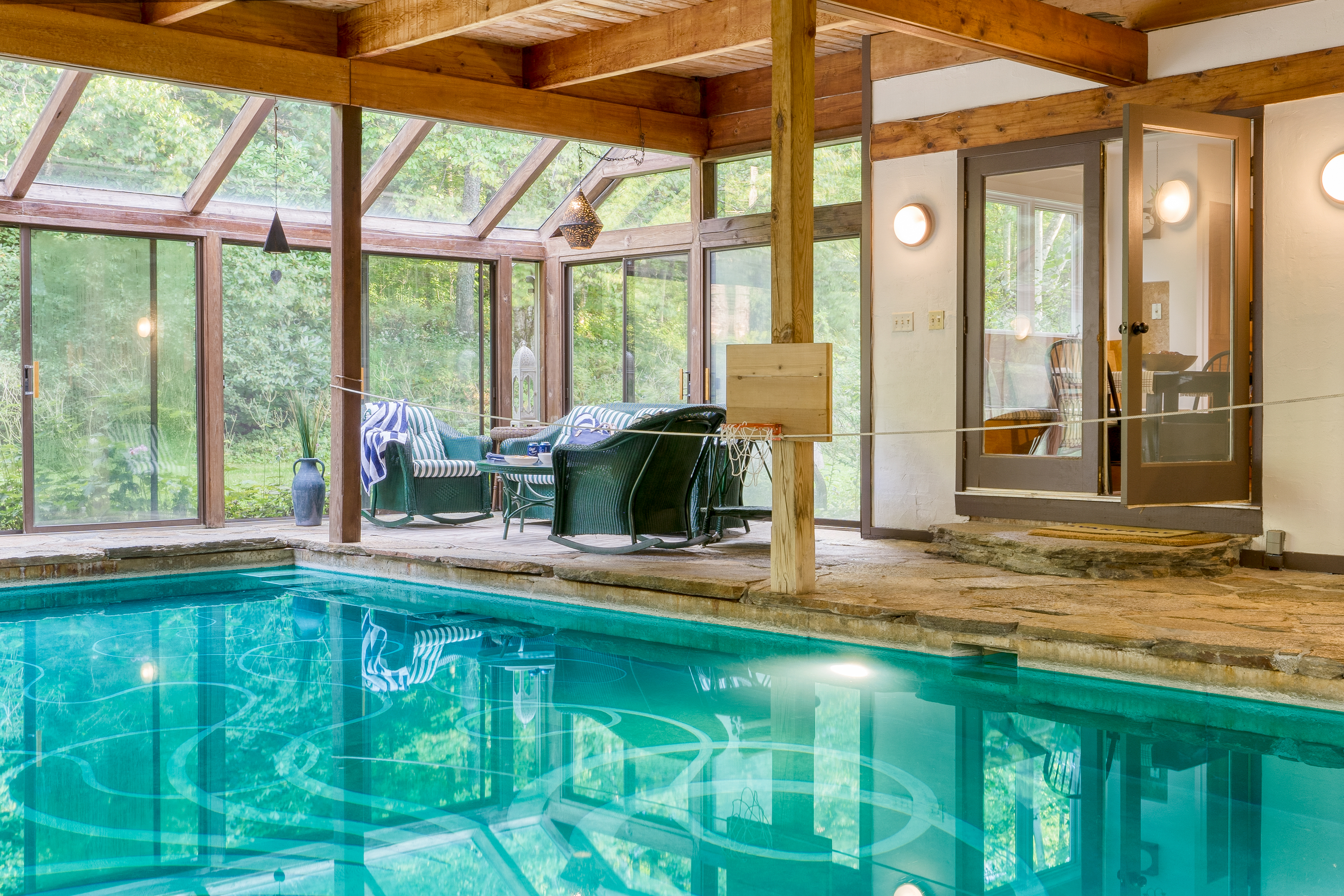 4. High Meadow – Park City, UT
Pack your bags and get ready for the ultimate Park City mountain getaway! This home's main room boasts a breathtaking floor-to-ceiling fireplace and panoramic mountain views, setting the tone for the rest of the awe-inspiring house. With an indoor pool, hot tub, game room, and fully equipped BYOB bar, there's always something fun to do here at High Meadow.
Craving even more to do on your trip? See our 35 Best Things to Do in Park City.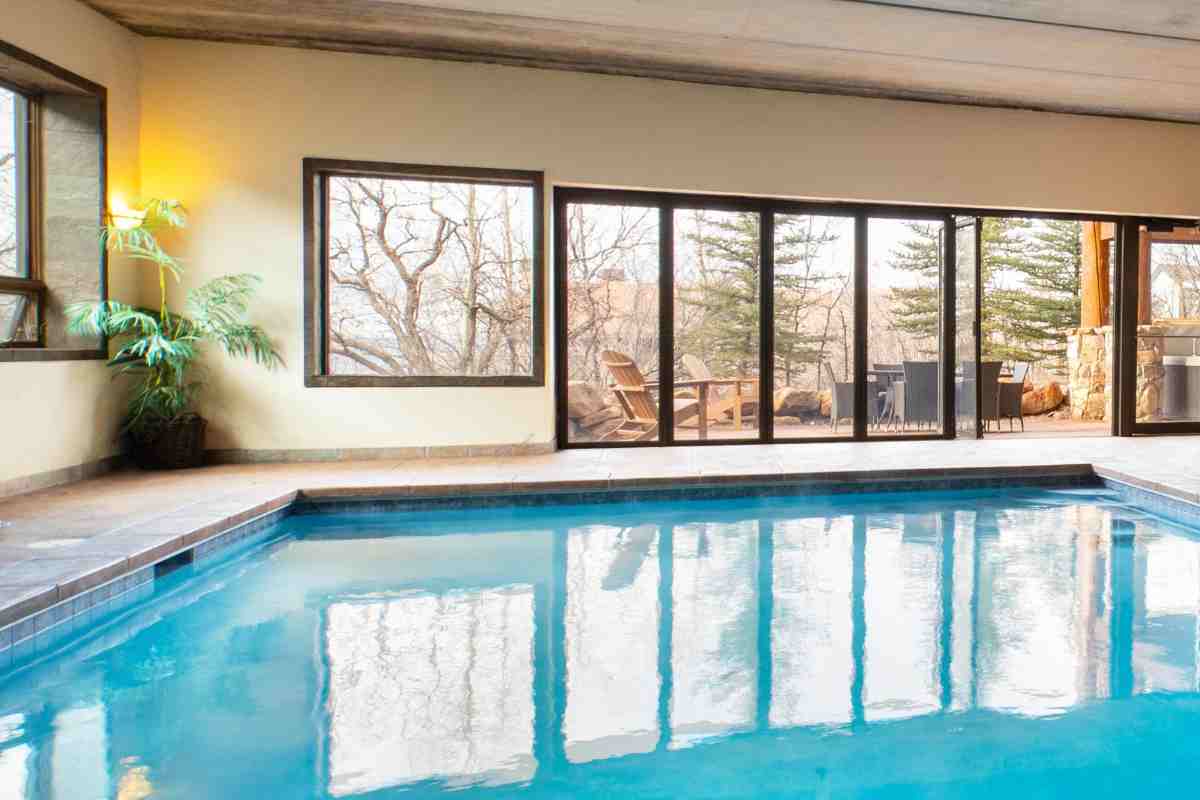 5. Crystalline – Sevierville, TN
Float on cloud nine, or float in the indoor pool. With three balconies overlooking the forest, you'll be living the chill life in no time at Crystalline in the Smoky Mountains. Find your zen via the indoor pool, hot tub, or movie theater. Later on, get the party started at the billiards table with a fresh vinyl on the record player.
6. Sugarland – Sevierville, TN
Discover the perfect blend of rustic charm and luxurious amenities at Sugarland in the Smoky Mountains. With plenty of indoor and outdoor space, you'll have all the room you need to relax and take in the mountain air. From its home theater and game room to an indoor pool and BBQ grill, there's endless fun for the whole crew. Get your grill on the covered deck and enjoy the al fresco meal you've been in search of.
And, pose! Make sure to check out our 10 Most Instagram-Worthy Spots in the Smokies.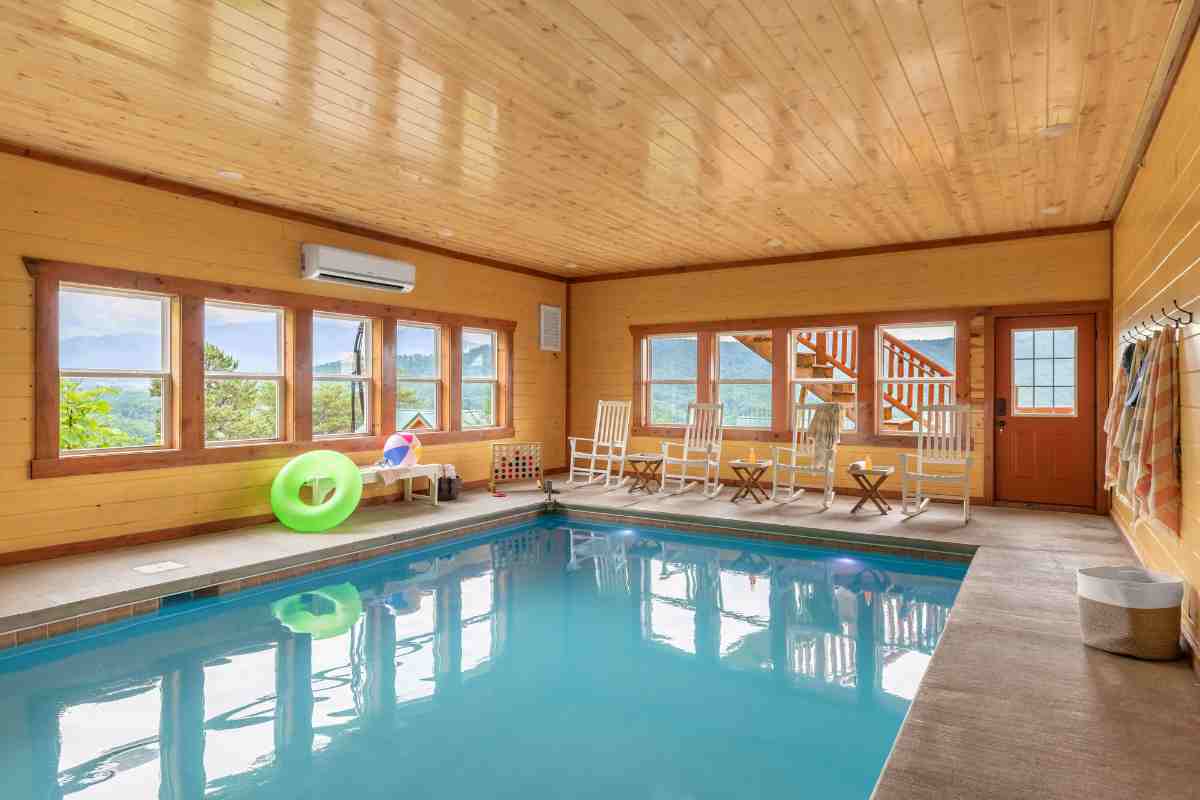 7. Daybreak – Sevierville, TN
Surrounded by stunning aspens and mountain views, you'll never want to leave Daybreak in the Smokies. This massive cabin has an indoor pool, pavilion, and eight bedrooms so you can bring the whole crew. Chill on one of the multiple balconies or whip up something delish in the spacious kitchen before you cozy up next to the fire. Decompress in the rec room with billiards, foosball, and classic movies.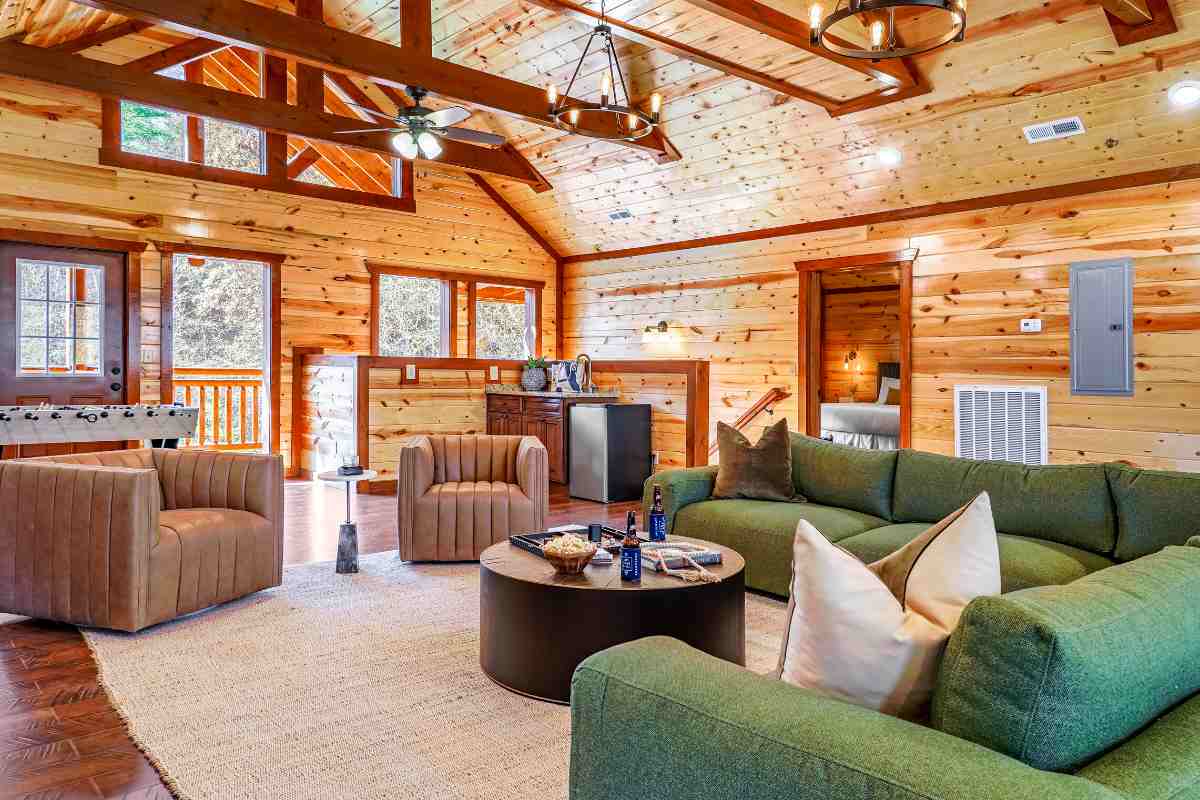 8. Ridge View – Sevierville, TN
Perched at the edge of a ridge in Sevierville, you'll find the lovely cabin that is Ridge View. This stay comes with a pool table, indoor pool, hot tub, two large decks, a spacious wooden pavilion in the backyard, ambient lighting, and so much more. Just a short 15-minute drive away is the family-friendly mountain town of Pigeon Forge, with activities like mini-golf and arcades.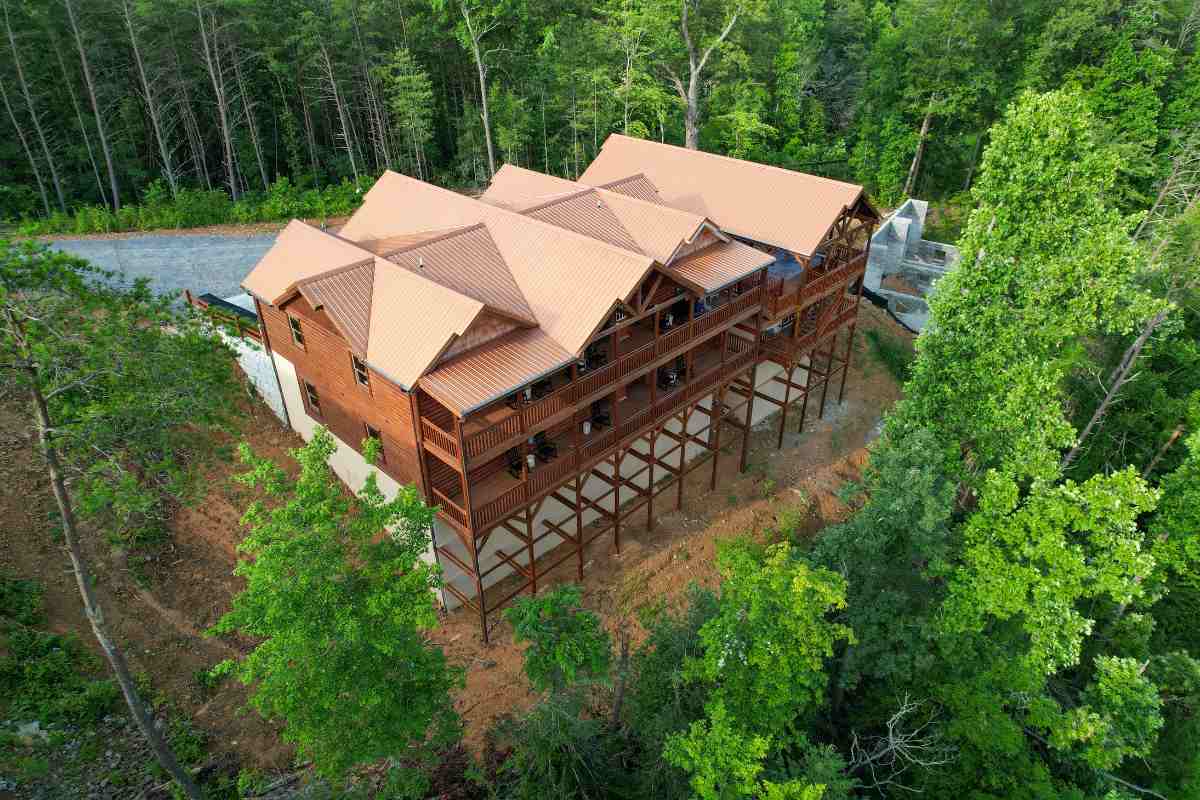 9. Duval – Sevierville, TN
Dive into Duval('s indoor pool). Budding chefs can show off their skills in the dreamy kitchen, while the upstairs balcony offers an amazing view of the treetops, perfect for your morning caffeine fix. Whether you're exploring downtown Pigeon Forge or relaxing in the hot tub, this Smoky Mountain stay will leave a lasting impression on you.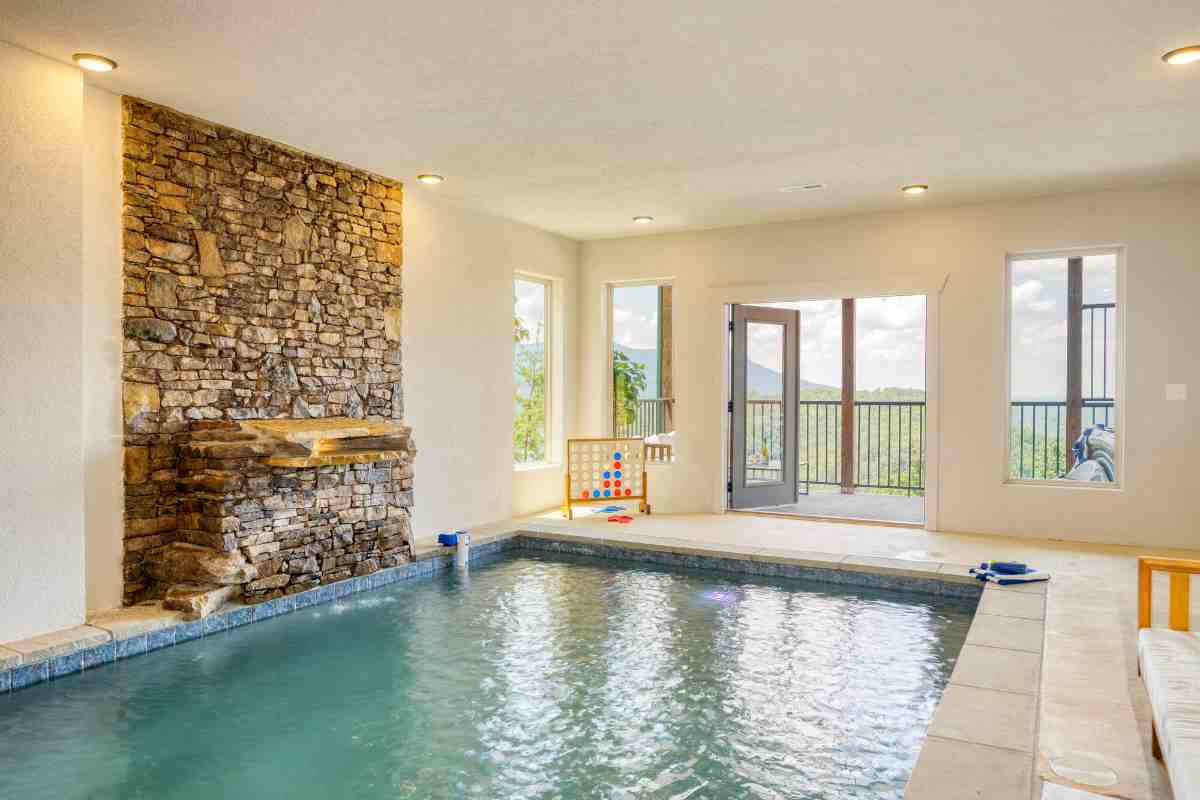 10. Copperhead – Sevierville, TN
Come on down to Copperhead in Sevierville, TN. This rustic retreat amongst the treetops is stacked with goodies like a hot tub, indoor pool, jacuzzi, home theatre, and game room – you name it, it's got it. Soak up those epic panoramic views all day long and when it's time to chow down, head to one of the two balconies and get your grill on by the sunset.
Looking for more vacation homes with game rooms? Check out our faves here.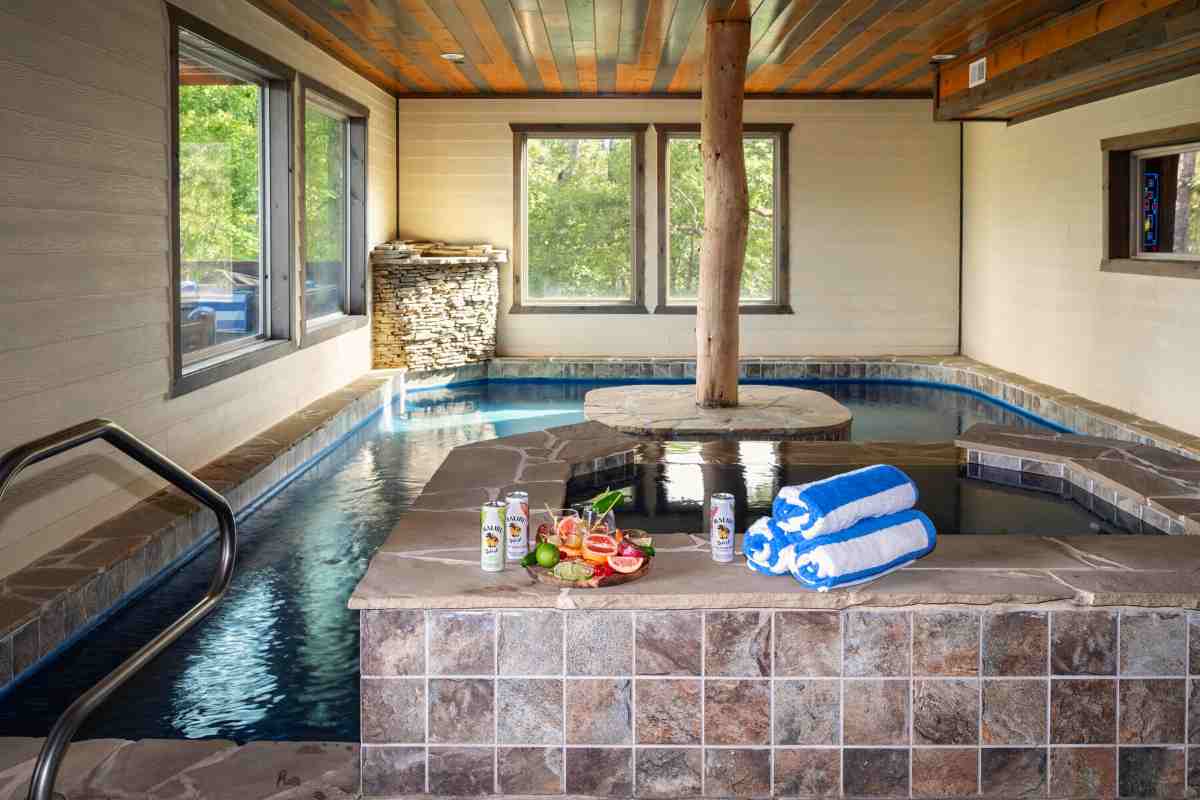 11. Elm – Sevierville, TN
Another Smoky Mountains cabin with epic amenities? Yes, please! Come to Elm to turn your phone on "Do Not Disturb" and turn on vacay mode. With this stay's private movie theater, indoor pool, three balconies, billiards table, and hot tub, you'll never run out of things to do.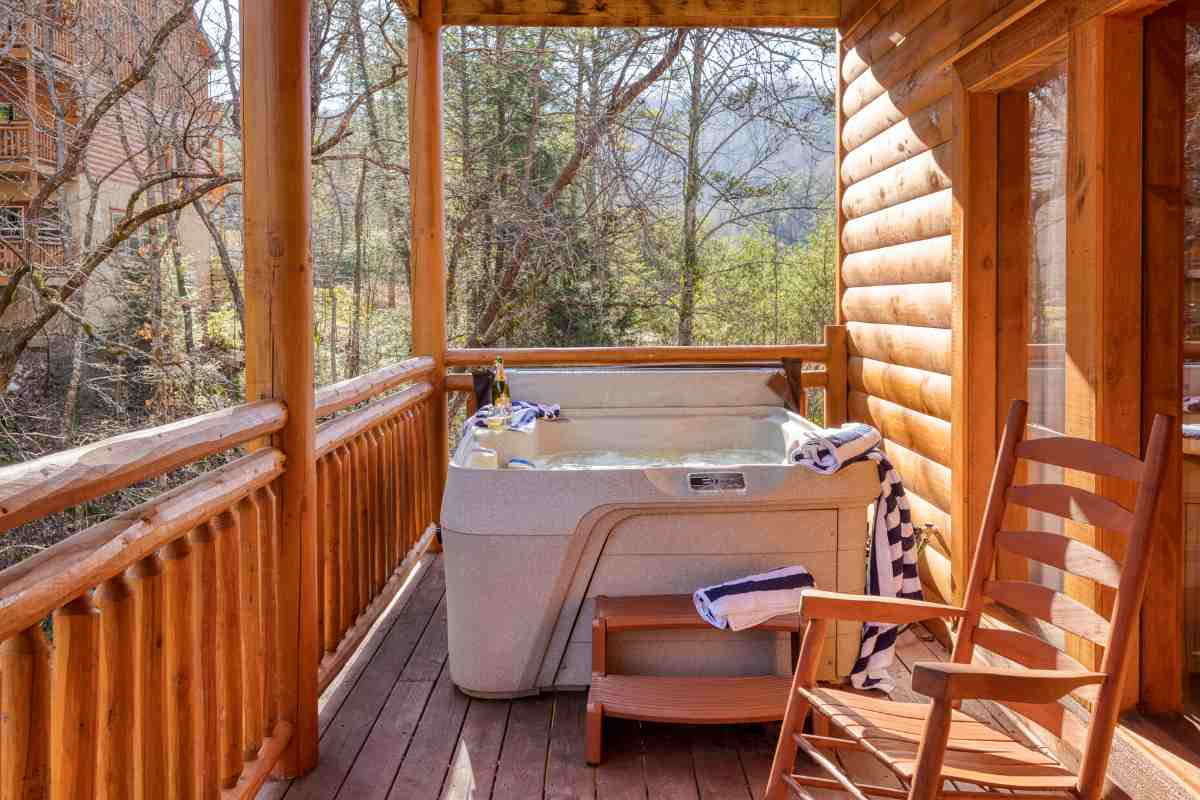 12. Honeypot – Big Bear Lake, CA
Escape to Honeypot in Big Bear for the ultimate year-round group getaway. This luxurious retreat features four bedrooms, a spacious common area, and a stunning indoor pool and a hot tub. The large living area with an oversized sectional and fireplace is perfect for game or movie nights, while the upstairs game room offers entertainment à la pool table and game systems.
ICYMI: we know all about the 43 Best Things to Do in Big Bear.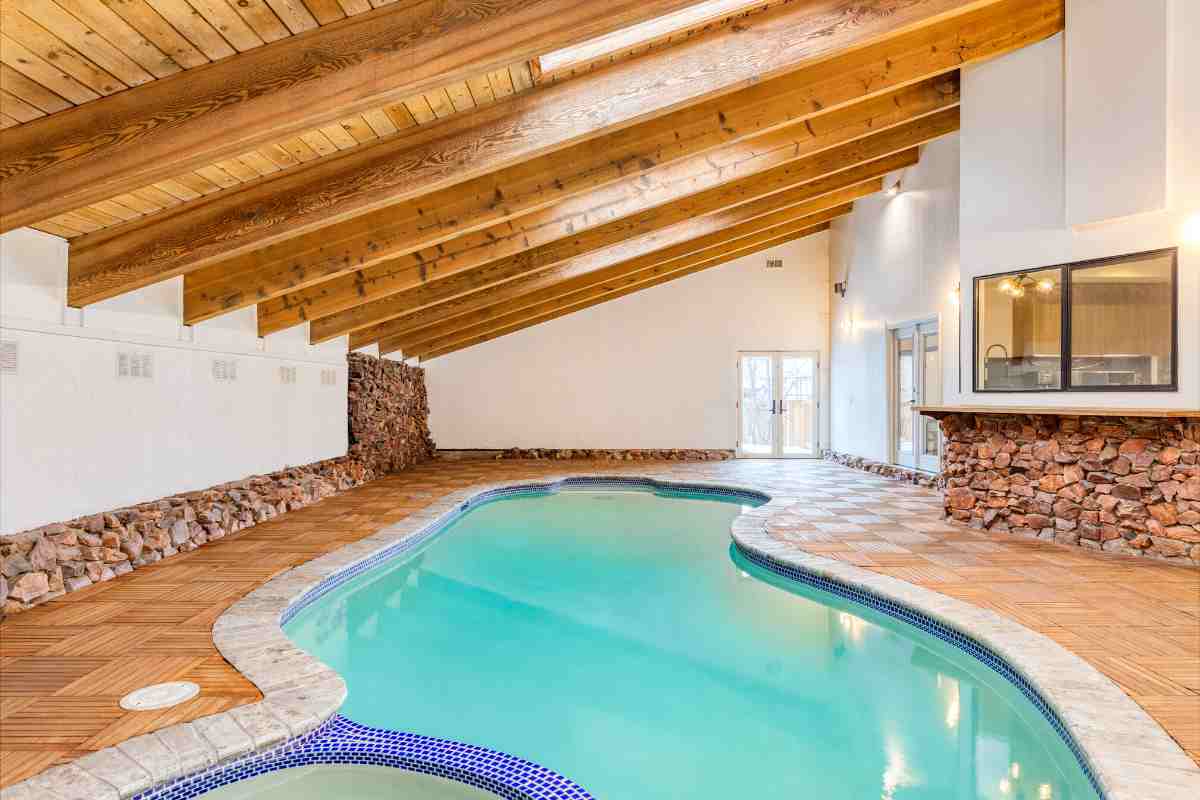 13. Haywood – Sevierville, TN
With endless views and top-of-the-line amenities, Haywood is a Smoky Mountains home that's got it all. Choose to unwind with a night spent hopping between the home's private movie theater, indoor pool, and three large balconies with a hot tub and plenty of rocking chairs. Or choose to get your heart rate up with some friendly competition around the billiards table, taste testing in the large kitchen, and dancing around the family room to hand-picked vinyl records.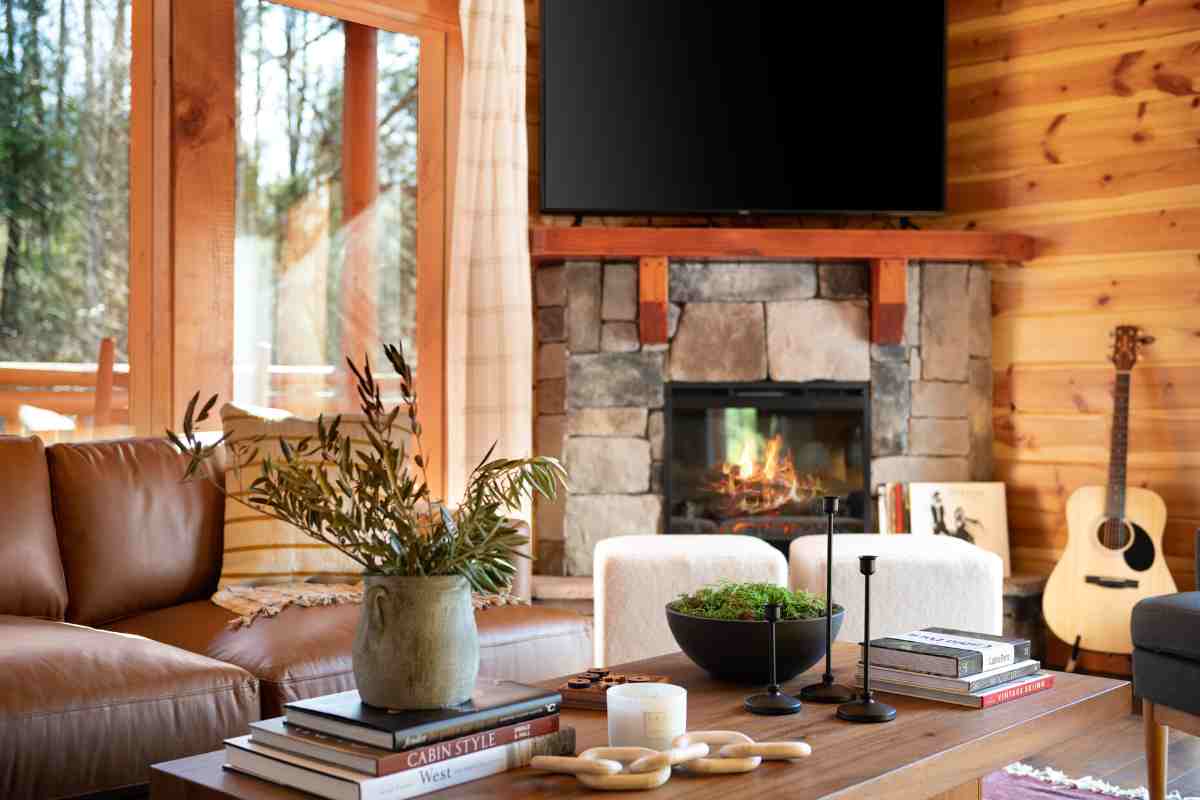 14. Sunriver – Sunriver, Central OR
Unwind at Sunriver, a secluded stay nestled at the foot of the Cascade Mountains at the renowned Sunriver Resort. Take in breathtaking forest views through the floor-to-ceiling windows of this home's impressive indoor lap pool. And to sweeten the deal, might we add that this home offers dreamy unobstructed views of Mt Bachelor – guaranteeing a relaxation retreat like no other.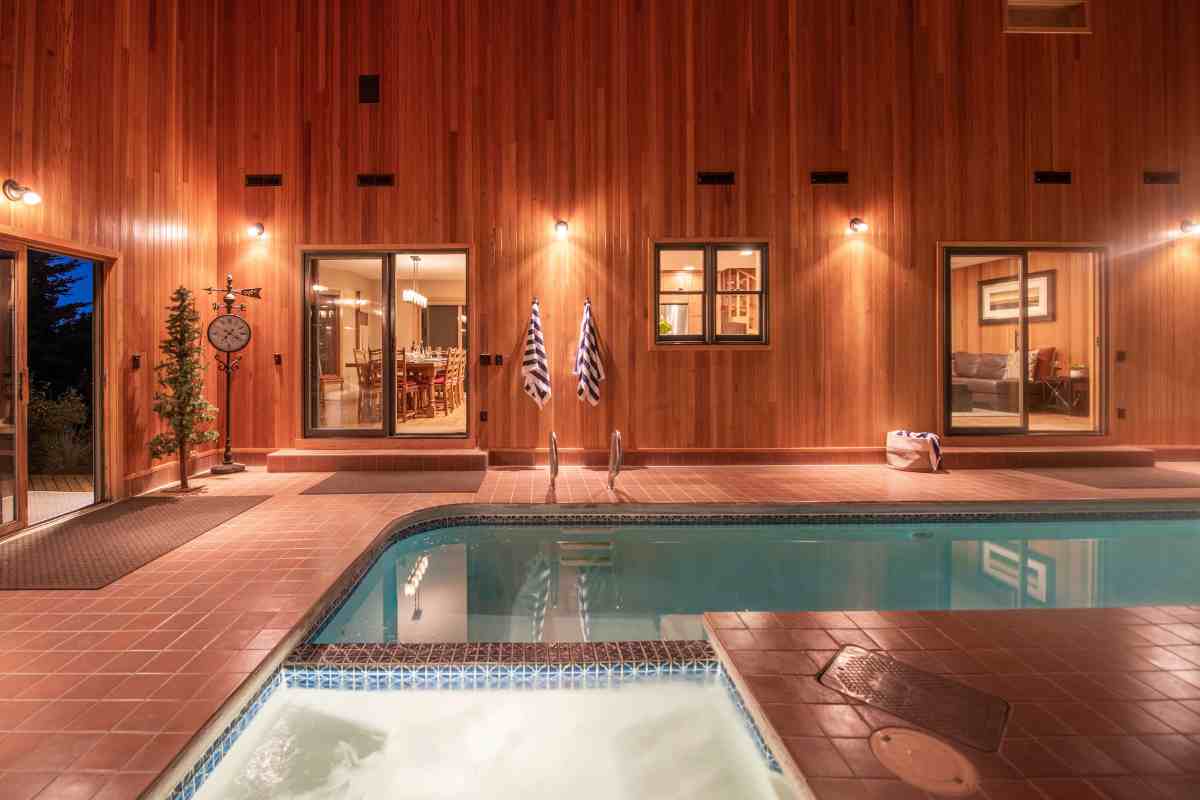 15. Sycamore – Sevierville, TN
Say hello to Sycamore. Lounge poolside, relax on the balconies, admire the home's local artwork, or take a soak in the hot tub. At night, cozy up with your squad around the fire pit. With a pool table and home theater, too, you really can't go wrong with this Smoky Mountain stay.